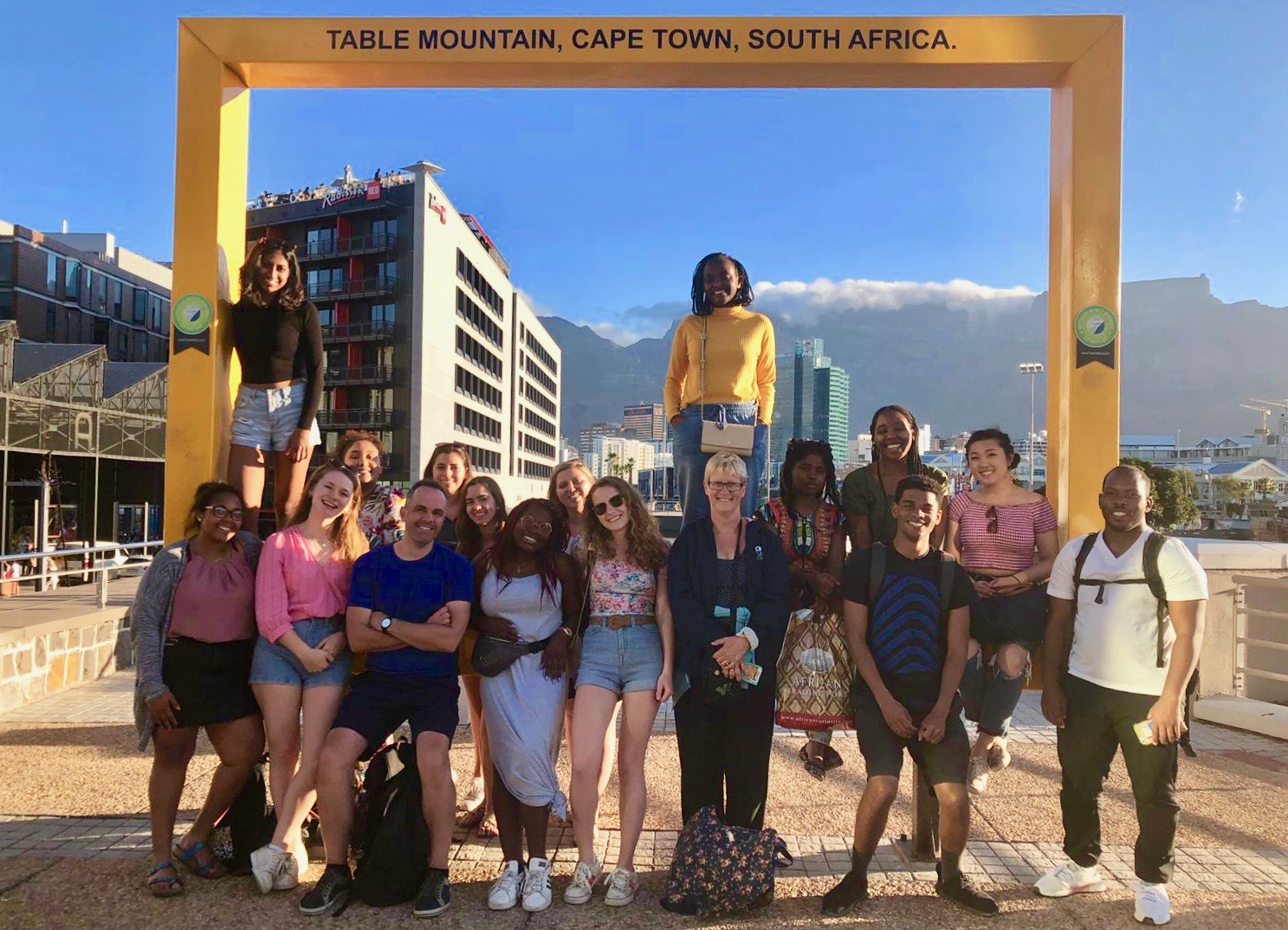 Racing down a set of stone stairs, the group of University of Pennsylvania students and their professor quickly assembled in front of a towering statue of Nelson Mandela. Photo snapped, they ran back up to the van, and, just as they got in, a torrential rain began.
It was the last moment of the last day of their tour of South Africa, made possible through a Penn Global Seminars course by Carol Muller, a professor of music and an expert in ethnomusicology. "Literally, as we slammed the door, the rain came pouring down," said Muller. "We had to beat the rain. We were determined we were going to get there."
Determination was one of several factors that drove this group throughout their discovery of South Africa's history as part of the course called Seeing, Hearing, and Encountering South Africa. 
Muller's class met throughout the fall semester, studying post-apartheid South Africa through history, politics, environment, art, and culture. The class then traveled to South Africa for two weeks in the winter, exploring museums, music, and other sites in Cape Town, Johannesburg, and Pretoria. 
During the trip, the students kept journals, thoughts which culminated in a final project to reflect on their experience. They took unique approaches: a painting, a written paper, a poem, a film, a photo essay, a musical score, a set of political cartoons. Muller has now made the projects accessible online (linked here and here). 
"It's a different kind of learning; you can't do it in a classroom," says Muller, who is herself from South Africa. "It opens you to life in a way you otherwise would not be exposed to. It's hands-on learning. It's learning for life."
Also on the trip was Nigel Cossar, director of Penn Abroad, who handled the logistics. "We often refer to Penn Global Seminars as an intensive lab; it takes the class to the next level. It brings the class to life," he says. "We saw that hands down with this music course. It wouldn't have been the same if they hadn't gone to South Africa."
Penn Abroad has offered the Global Seminar courses since the spring of 2016, starting with three the first year, six the next, and 12 this academic year. All costs for the international travel, an integral part of the course, are included in a flat fee of $950, subsidized by a donor and the University and eligible for financial aid. The courses are on a range of subjects and the destinations are in countries all over the globe. Muller's was the program's first to South Africa.
Sophomore Hyacinthe Uwizera is from Rwanda, but she had not been to another African country before this trip. As a computer science major in the School of Engineering and Applied Science, she has few chances for electives. "I want to go to other countries to learn," she says. "Penn made it possible and affordable." 
The course was very popular, with a notably diverse group of 16 students chosen out of 60 who applied. The draw, Cossar says, was the destination, the professor, and the fact the course met core requirements in two sectors, cross cultural analysis and arts in letters in the School of Arts and Sciences. 
"We were diverse academically, but diverse in other ways, too, from different places and different backgrounds. We could all contribute in ways that are unique and specific to us," said Michael Jean, a senior from Lakeland, Florida, and a double-major in history and comparative literature, with a minor in music. 
"During and after every trip or place we visited, we would have such thought-provoking conversations and debates, and some even got heated," says sophomore Sahitya Mandalapu, from Bethlehem, Pennsylvania, who is studying finance in the Wharton School. Going on the trip with such a diverse group of fellow students was important to the experience, she says.
"All of it was so intellectually stimulating and makes me want to travel more with people with different perspectives," says Mandalapu, whose parents are from India. "Your beliefs are challenged, you're introduced to perspectives you've never considered before, and it makes you conscious of the way in which you think about things."
The academic focus of the course was new for Muller, she says, examining post-apartheid South Africa as a democracy, incorporating music, but also considering a broad range of cultural and political issues. "I wanted a more general class," she says. "Students should ask themselves, how does traveling to South Africa shape how I understand their own worlds. That's what I want them to do."
Many of the experiences and discussions were centered around race, Muller says. "Even if you are a black student in America, the issues are sometimes not the same. That's what students learned from my class: Race means different things in different places," she says.
"We were talking about race, and ethnic differences, and how that was interpreted during apartheid, what it meant," says Jean, who identifies as Afro-Latino and is of Haitian and Dominican descent. "Having people of different races and ethnicities in that discussion was very interesting." 
Especially impactful, Muller says, was the Afrikaans Taal Monument, a homage to the language spoken by white Afrikaners, a museum once only open to white people. "What shook many of us was that our tour guide wasn't a white Afrikaner: he was a black South African," Muller says. 
Muller said the situation made many of the students uncomfortable, so they asked the guide why he was working at a museum that celebrated victory of the Afrikaners over the Zulu. Students learned that the guide tells the story according to who is in the tour groups. 
"He uses the Afrikaans monument to open a much bigger conversation with people who he knows have a different knowledge both about Afrikaans and Zulu history because history is about many stories told from many perspectives," Muller says. "It is empowering for the guide. But it is not what students expected."
Uwizera says she was confused at first but then found the good in the experience. "He tells them what's missing in the story. I found that is a great thing to have," she says. 
Muller says that the experience was "quite powerful" and what global engagement should be about. 
"Students learned there are very different ways of being black in the contemporary world, in relationship to oppressive histories. Global engagement shouldn't be about reinforcing the narratives we already know. It is about engaging with the world to find deeper understanding," she says. "And to the credit of every single person in our class, they were open to learning, and you don't always find that."
South Africa now has 11 official languages. "We talked a lot about language," Muller says. "The contestation of language, the monument to language."
For Uwizera, encountering language was challenging, as her first language is Kinyarwanda, which is not spoken in South Africa. "I would see people and feel a connection, and, even though it seemed familiar, I couldn't speak to them," she says. 
Another powerful tour experience was in Cape Town, at the Robben Island Museum, where Mandela was imprisoned. The guides were former prisoners there. "Just hearing the story from him personally was very emotional," Jean says. "I talked about it afterwards, interpreting public events through personal anecdotes and stories." 
The students created their own stories during the trip. At dawn one morning a group hiked Table Mountain, a flat-topped landmark in Cape Town, taking nearly three hours to go up and back. And on another day, a group of six got up at 5 a.m. to hike Lion's Head mountain. "We just decided to do it," Mandalapu says. "It was the most beautiful sight I've ever seen."
Along the way, they ran into a group of Penn alumni who were in Cape Town for a wedding. "Someone was wearing a Penn hat and another a Penn sweatshirt and they recognized the logo," says Jean. "That was crazy, running into Penn alums halfway across the world." 
Music was integral to the experience, especially for Jean. Now in the Penn Glee Club as director of the 11-piece band, Jean plays the alto saxophone and the clarinet, as well as the piano. The students met with pianist and film music composer Kyle Shepherd in his Cape Town studio. Another  highlight for Jean  was seeing a marimba ensemble and speaking to musicians after a theater performance. 
"We got into all these really interesting dialogues against the backdrop of this amazing music," he says. "The music was definitely my favorite part of the trip." 
In addition to journal writing, the students documented their travels in South Africa taking photos that they shared on the Instagram page PennGlobalSouthAfrica. Journaling was the foundation for their final projects. "I asked them to do a project to reflect on what they've learned, and use any rhetorical method, and explain why they made the choices they made," Muller says. 
For his final project, Jean created a piece of music, "Resistance and Restoration," for the marimba ensemble based on a South African folk song about healing after the trauma of apartheid. "Musically it was in a major key and it was a melody more hopeful than sad or tragic, and I wanted to reflect that in my musical piece," he says. "One that was hopeful and restorative without glossing over the tragedy and the trauma."
Mandalapu, although trained as a classical pianist, created a set of political cartoons. "I've never described myself as a creative person, but this was a creative project," she says. "It was a fun way to show my personality and get across my commentary."
The final projects focused on the time in the country, for Uwizera a poem on her first day in an African country that was not her own.
"South Africa is a magical place in many ways," Muller says. 
For Muller, a particularly moving moment was on that last day, her first visit to Freedom Park in Pretoria, which has the names of South Africans and others who died fighting apartheid. "For me it was so beautiful. It was beauty out of pain, and beauty that produced joy, and celebration," Muller says.  
That visit was just before their race to beat the rain. "That was a wonderful culmination, bringing, it all together," Cossar says. "To be under the statue of a man who quintessentially represents freedom."