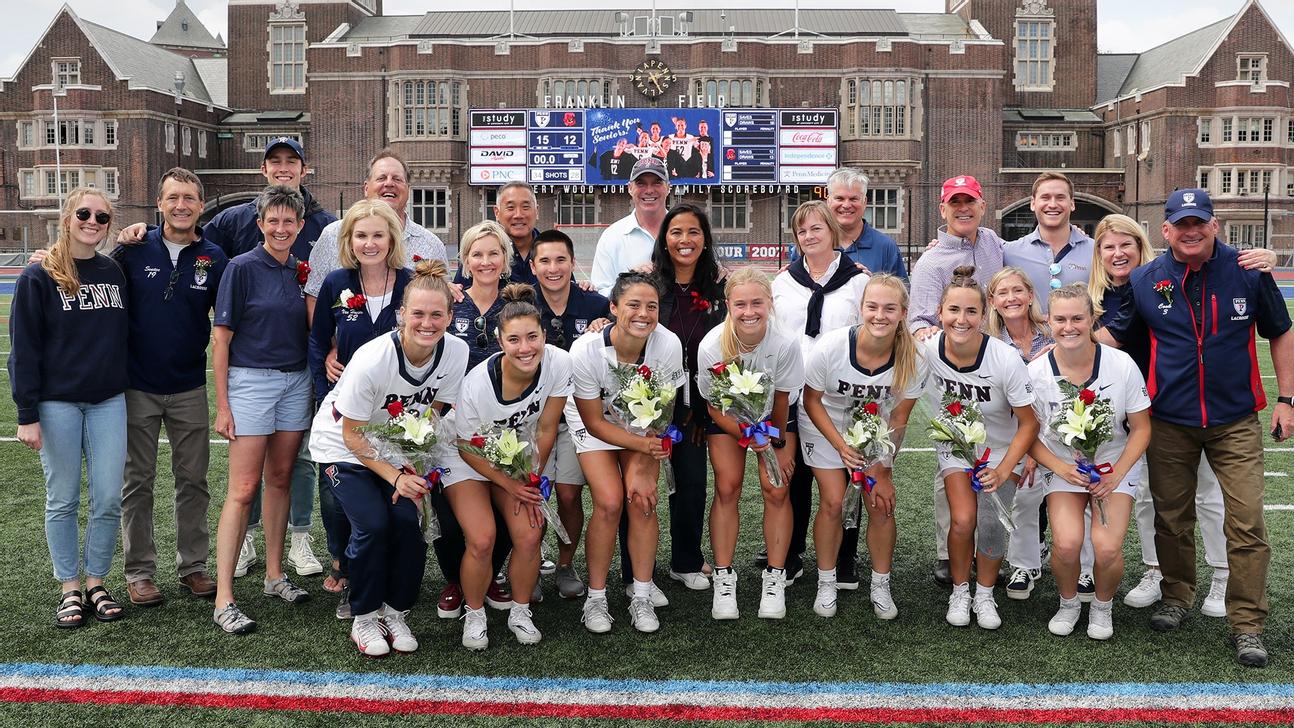 Saturday was Senior Day for the soaring women's lacrosse team, and the Quakers saluted their fourth-years in style, sapping Cornell 15-12 at Franklin Field to strengthen their record to 8-4 overall and a spotless 4-0 in the Ivy League. Fourth-years played a supersized part in the victory.
Fourth-year midfielder Caitlin Cook scored a goal in the opening minute to give Penn an early 1-0 lead. After Cornell tied the game at 1-1, fourth-year attacker Kennon Moon scored a goal at the 10:28 mark, which put the Red & Blue up 2-1. Fourth-year attacker Niki Miles added a goal mere minutes later to make it a 3-1 game, and another goal by Miles opened up a 4-1 lead for the Quakers with 6:05 left in the first quarter.
The Big Red did not go quietly into the night. They scored three straight goals to even the score at 4-4 at the end of the first period.
At the 11:02 mark of the second quarter, Moon scored her second goal of the game, which gave Penn a 5-4 advantage. Cornell then tied the game at 5-5, and second-year midfielder Anna Brandt answered with her first goal of the game, on an assist by Miles. The Big Red scored two goals in the final three minutes and entered halftime leading 7-6.
Brandt scored her second goal of the game at the top of the third period to even things up at 7-7. Cornell scored a goal at the 9:43 mark to take an 8-7 lead, but third-year midfielder Aly Feely found the net 12 seconds later to make it 8-8 all. Exactly one minute later, second-year midfielder Gracie Smith scored a goal, on an assist by second-year midfielder Paige Lipman, which put Penn up 9-8. The Quakers led the rest of the game.
Third-year attacker Julia Chai scored a goal in the third, on an assist by Moon. Moon, Miles (two goals), second-year attacker Erika Chung, and third-year midfielder Maria Themelis each scored in the fourth to clinch the win.
Miles had four goals, one assist, five points, three ground balls, and six draw controls. Moon had three goals, one assist, four points, and two ground balls. Cook had one goal, one point, and one shot on goal. Fourth-year goalkeeper Kelly Van Hoesen had eight saves.
Additional fourth-year players honored after Saturday's game were defenders Izzy Rohr, Lucy Svetec, and Grace Fujinaga.
Penn has two more home games. They play Princeton on Wednesday at 7 p.m. at Franklin Field and Dartmouth on April 29 at Penn Park. On Saturday, April 22, the Quakers take on Brown in Rhode Island.