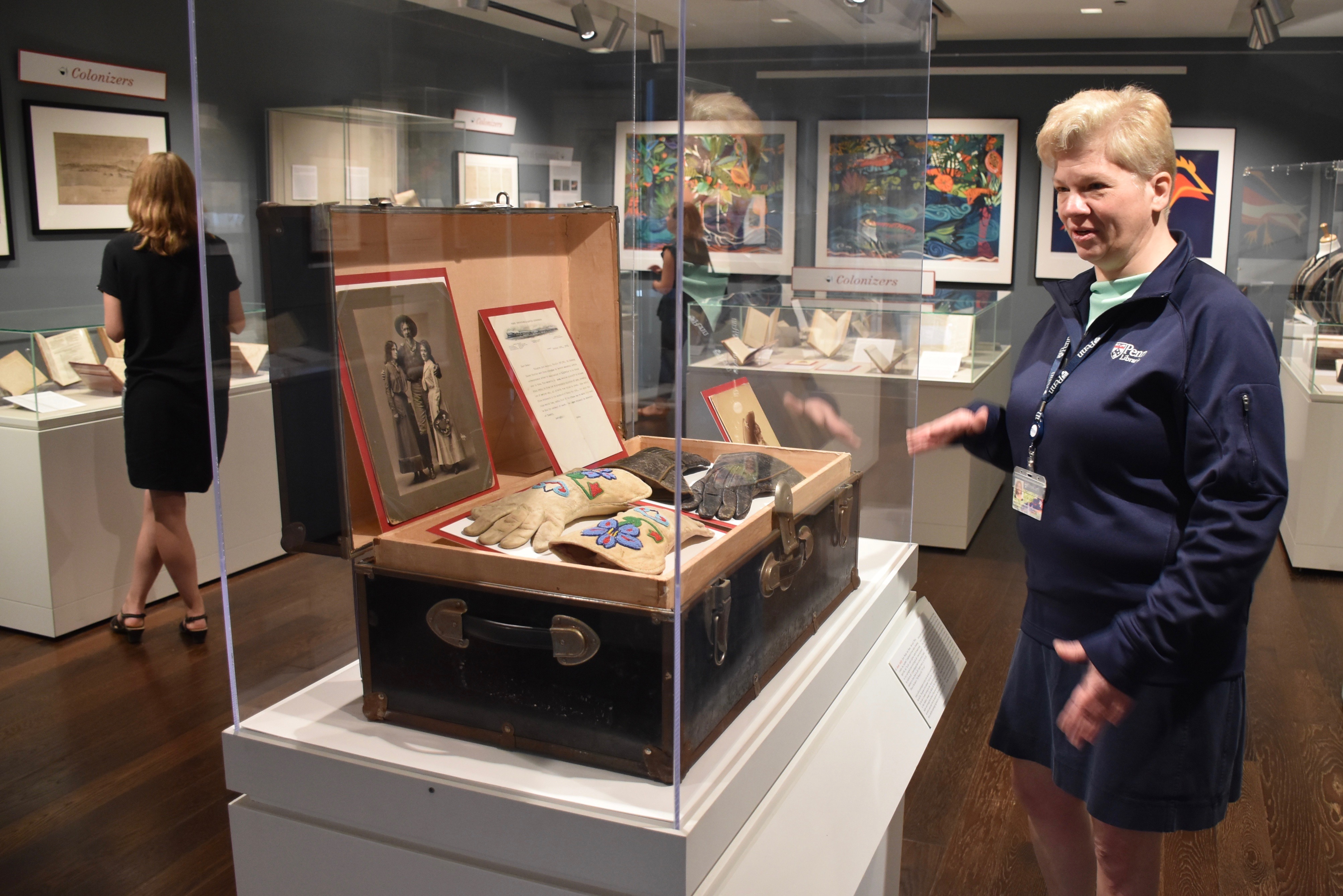 The two pair of gloves are well-worn, one black leather, the other cream-colored suede, with bright blue beading creating a flower on the smudged cuffs. Dated to 1900, they were worn by Annie Oakley, the sharpshooter who traveled with the Buffalo Bill Wild West Show. 
Those gloves are now displayed in the center of a Penn Libraries gallery, inside an open trunk with her name lettered on the lid, part of the exhibition "OK, I'll Do It Myself: Narratives of Intrepid Women in the American Wilderness." 
The trunk usually sits on the kitchen counter in the center of a New York City apartment, that of Penn alumna Caroline F. Schimmel. She has been collecting for more than 46 years, amassing more than 24,000 items, all about women in the wilderness in the Americas, from the North Pole to the South. 
On display through Nov. 11 in four locations in Penn's Van Pelt-Dietrich Library Center, the exhibition features 145 books, photographs, manuscripts, artwork, and memorabilia by 101 women and one man, dating from 1682 to 2015. 
"There are some wonderful rarities in the show, from Calamity Jane's autobiography to Dale Evans' boots and Annie Oakley's trunk," says William Noel, director of the Kislak Center for Special Collections, Rare Books and Manuscripts. "The exhibit shows not just how women contributed to the story of the American West but also how they helped shape the myth of the American West."
Schimmel donated her fiction collection, now more than 7,000 volumes, to Kislak starting four years ago, a vast range of books, from dime-store ranch romances to a Willa Cather first edition with her gift inscription. This fall, she added the fiction on view in the exhibition to her bequest. 
Regan Kladstrup, director of Kislak's Special Collections Processing Center, and Schimmel have worked together on the fiction collection and on the staging of the exhibition on campus. 
"It's a wonderful relationship with Penn, and it's ongoing. She continues to give to us," Kladstrup says. "It's much more than a hobby. It is a passion for her."
At the entrance of the sixth-floor gallery is a tiny black-and-white photo of Schimmel as a toddler, taken by her mother in 1946 at their home on Rodney Street in the Mount Airy neighborhood of Philadelphia; she is wearing a too-big cowboy hat, chaps, and gun in a holster. 
She is not, herself, a woman of the wilderness. Although the exhibition includes a Girl Scout manual from 1917, Schimmel was "very, very, very unhappy" when in her local troop, miserable in a tent soaked with rain during summer camp. But she says she was fascinated by women who were pioneers and explorers, and was driven to collect their work, especially at that time of the beginning of the women's movement.  
Schimmel went to work in the book department of an auction house after graduating from Penn in 1967, cataloging a Western Americana collection. She noticed that few women authors were included, so she researched and discovered scores of women chronicling their experiences in fiction and non-fiction, as well as in maps, artwork, and photographs.  
She then got a master's degree from the School of Library Service at Columbia University, and started a database to catalogue her growing collection. Works by women were not sought after at the time, and she was able to find many at little cost. She didn't follow an existing bibliography or collector's checklist. Instead she was, and is, in constant search of the unknown or undiscovered treasure. 
"Caroline Schimmel did what truly great collectors do, and that is to define a field," says Noel. "The whole field of women writers on the American West is one that Schimmel's collection helped to create and continues to frame."
A colloquium, "Women's Voices from the American Frontier," at the Kislak Center last month drew scholars from around the nation to see both the exhibition, and a selection of the fiction now in the Penn Libraries' collection. "I was blown away. I was in tears," Schimmel says of the two-day event. 
"It was extraordinary that so many of the speakers in this conference referred to Schimmel's collection or had used Schimmel's collection in their research," Noel says. 
Schimmel spent two years choosing the items to be included in the exhibition and writing the descriptions for the 96-page catalog. The exhibition was first on display at university libraries in Dallas and St. Louis before coming to Penn, its last stop.
Her favorite item in the exhibition? It is impossible to choose, Schimmel says. Kladstrup, too, finds it a challenge but, when pressed, selects a few not-to-miss highlights. 
Annie Oakley's trunk, in which is displayed an original photo of a young Annie in 1891, her chest covered with sharpshooting medals. And a souvenir card with a red heart pierced five times; she shot at it with her rifle when it was tossed 20 feet in the air.
"Although Annie didn't spend a lot of time living on the frontier, she embodies the characteristics of those people: Riding horses, shooting guns, and touring around with Buffalo Bill. It is just kind of emblematic of how Americans came to see adventures of women in the West," Kladstrup says. "She was a genuine sharpshooter, better than the guys. She demonstrated a courageous spirit and inspired so many." 
On the side of the lid is a special addition. "There's a little heart," Schimmel says, pointing to the side of the trunk. "She scratched a heart onto the lid. There it is, right there."
The hot pink western boots with sparkly rhinestones that belonged to the glamorous Dale Evans on a 1960s television show with her husband, Roy Rogers, also grab the eye. "She most certainly wasn't a woman in the wilderness, but she played one," Kladstrup says. 
Also pink is a slender autobiography of Calamity Jane with her wildly popular and wildly fantastic tales of adventure, along with photos of the author. Another impossible-to-miss item is Elizabeth Bacon Custer's floor-length dress, and one of the books she wrote to support herself after the death in the battle of Little Bighorn of her husband, George Armstrong Custer. 
The one male author in the exhibition, John Stedman, writes about his mixed-race slave wife, Joanna, who was not allowed to return with him to Europe in 1777. The two volumes include 106 detailed illustrations of her and the flora and fauna in Surinam in South America. 
The donation of her fiction to Penn Libraries was precipitated by Schimmel's move from Connecticut after her husband died. "I had loved the American Civilization Department," she says, explaining her decision, adding that some close friends had given their collections to Penn. 
She says she was also impressed with the enthusiasm shown by the Noel, Kladstrup, and the Libraries team. "I am very happy with how they have been treating my fiction collection, using it for academic purposes," she says.
Kladstrup unpacked and catalogued the books when they arrived at Penn, and she and Schimmel have formed a fast friendship. A Penn graduate herself, Kladstrup has been working at the Libraries for 32 years. She has supplemented Schimmel's research, traveled to find new acquisitions, and many times visited Schimmel's Manhattan apartment.
"In the guest bedroom, I sleep under Dale Evans' chaps and next to the Calamity Jane collection," says Kladstrup in recounting her stays. "I am completely surrounded by books. It's remarkable."