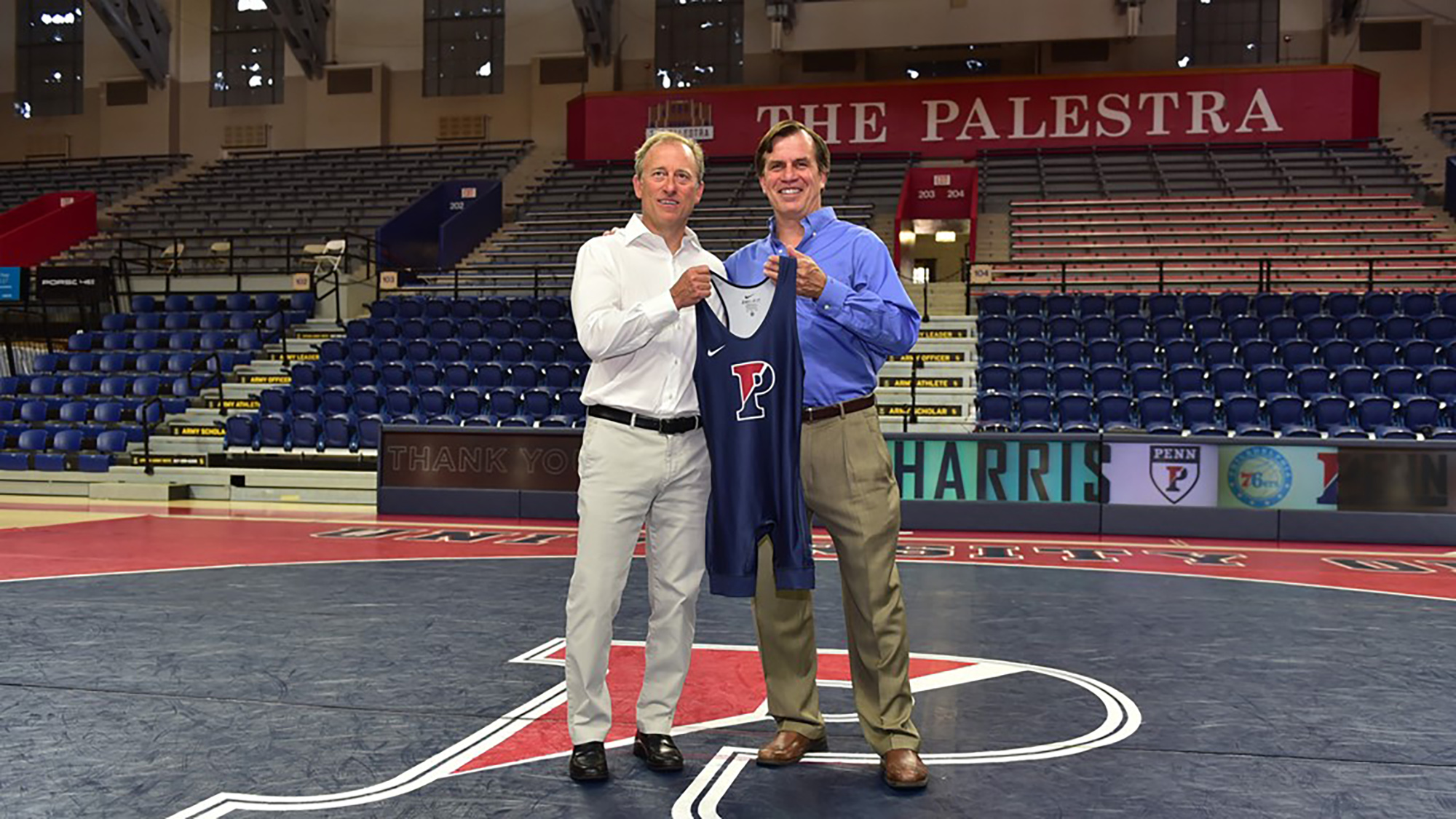 Josh Harris, a 1986 Penn alum and managing partner of the Philadelphia 76ers, and his wife Marjorie donated $1 million to the Penn wrestling program on Wednesday through their Harris Family Charitable Foundation.
Distributed over five years, the gift will support Penn wrestling's growth and development, and includes $500,000 that will be used to create the Joshua J. Harris Wrestling Assistant Coach Endowment. An additional $500,000 will be applied to team travel, recruiting, nutrition, equipment, salaries, and facility renovations.
"From an early age, wrestling taught me the virtues of hard work, grit, and tenacity," said Harris, who wrestled for the Quakers while an undergrad. "It's an honor and a privilege to be able to support Penn wrestling as it strives for excellence. I hope that the team will achieve national prominence under Coach Reina's guidance, and that, more importantly, these young athletes will learn valuable life lessons through their commitment to the sport, which will ultimately enable them to lead better lives."
The seven-figure donation supports Head Coach Roger Reina's plan and vision to solidify Penn wrestling as one of the NCAA's premier wrestling programs. Under Reina's direction, the University recently secured one of the top recruiting classes in the country.
"The Harris Family Charitable Foundation's support of the University of Pennsylvania wrestling team is remarkable, and will provide us the valuable resources at an ideal time to accelerate the growth of our program," Reina said. "Josh has long referenced how he's applied the invaluable lessons he learned as a wrestler to his incredibly impressive professional career. We are profoundly grateful that he is giving back in such an impactful way. Our program will be enhanced for years to come thanks to the powerful financial commitment Josh and his foundation have made."
Director of Athletics M. Grace Calhoun said Penn is extremely grateful for the support of Harris and the Harris Family Charitable Foundation as Penn Athletics aims big to create an unrivaled experience for the University's wrestling student-athletes.
"As we launch into our Game Onward fundraising campaign over the next several years, this gift will help enable us to obtain competitive excellence, a world-class student-athlete experience, and engage our campus like never before," she said.