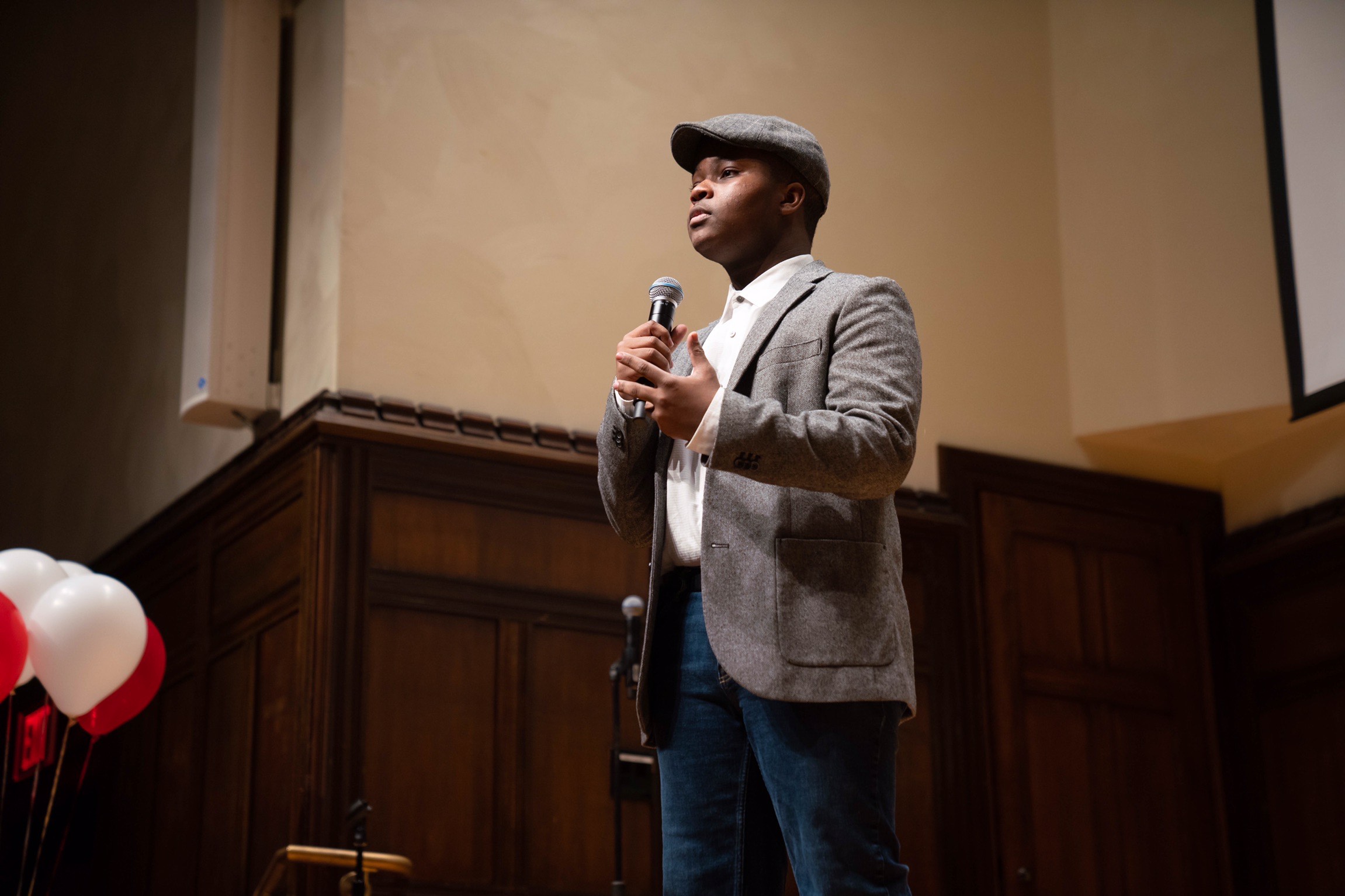 Humor, from antiquity to today, is the center of four decades of research by Ralph Rosen, professor of classical studies. Launching into a new book project, he decided to take on an undergraduate summer research intern, wondering what perspectives they both might gain. 
The Vartan Gregorian Professor of the Humanities, Rosen took a chance on a student not studying classics specifically, Jacques Thompson, who had impressed him during his Integrated Studies Program course last year. "He's got a lot of talent," Rosen says. 
The sophomore from Baltimore is headed toward a major in politics, philosophy, and economics and chose to pursue more literature-based research after science-based summer internships during high school. "We have been exploring humor in its entirety, the evolutionary aspect of humor and how it works in society," Thompson says.
Rosen's opportunity was offered through the Center for Undergraduate Research & Fellowships, specifically the Penn Undergraduate Research Mentoring Program for freshmen and sophomores. Each student receives a stipend of $4,500 for the summer internship. 
After extensive reading and discussions, Thompson decided to consider a modern perspective on what has come to be referred to as "immoral humor," thinking about today's comedians in relation to Rosen's research. "Is immoral humor bad? Should we try to censor it? If a racist joke is told to too many people, would it spread racist ideas?" asks Thompson. 
For his project, Thompson analyzed performances by comedians Dave Chappelle and Louis C.K. Both have created controversy with their particular brands of humor, particularly in these times of sensitivity to sexist and racist content. 
"I've been able to really dig into this field," Thompson says. "I've learned a lot as I've worked to understand how comedians of old paved the way to humor and comedy today. It's been a very illuminating experience."
Rosen supported Thompson's choice to focus on contemporary comics. "I am interested in the bigger questions," says Rosen. "Why do people of any period engage in derisive humor, aggressive humor, mockery, malicious humor, humor that just seems to be mean? And yet we all laugh at it, if it's done right. Then we feel guilty: Why am I laughing at that? Jacques became interested in that too, the edgy stuff that gets comedians in trouble if it is not just quite right." 
The research project was less about hard data, since nearly all the quantitative studies that attempt to address these questions are inconclusive, but they did consider other academic perspectives through the summer. "We did a lot of theorizing on what is right, what is wrong, ethical and moral arguments involving immoral humor by various philosophers on these topics," Thompson says. 
The author of two books on comedy and satire, Rosen has studied what he calls "scandalous humor" in ancient Greece and Rome. "I'm based in antiquity, but I'm just as interested in how this works in other cultures, including today," he says, for example his work comparing early rappers with the Greek comic playwright Aristophanes or the Roman satirist Juvenal. "I'm interested in satire in particular as a literary and performative phenomenon, which is cross-cultural."
Thompson says most of the authors he studied thought of immoral humor as harmful, suggesting that it should be censored or shouldn't exist, while others accepted it as a form of humor but characterized it as a deeply problematic art, or not art at all. 
Thompson argues against cancel culture and censorship. "The context of a joke really, really matters," he says, emphasizing the cultural and societal norms of the time and place are important to consider. "It's all about how the joke is told." 
Hoping to go to law school and be a politician, Thompson says his discoveries about humor may be useful in the future. "It helps to engage in meaningful discussions with people who find things unfunny," he says. "Through these discussions we may be able to bridge the gap between what is OK and not OK, and we may be able to reach consensus."
Also useful will be the confidence Thompson says he gained from conducting research. "I wanted to be able to jump into something unfamiliar and dig into it. I wanted to be able to get to that point without much hand-holding," he says. "Professor Rosen has been a great help to me this entire time. He's very patient and understanding, and he is passionate about this topic."
The faculty director at Riepe College House, Rosen has been a professor at Penn for 37 years. Currently he is on sabbatical to work on his new book about the science of laughter and the question of "seriousness" in satirical humor, especially in the context of Greek and Roman forms. "I'm interested in research being done by scientists on the biology and evolution of laughter and as an anthropological phenomenon," Rosen says.
Working with Thompson has added to Rosen's perspective, he says. "I was assigning new material, and I had to be reading along with him. We were shaping this together. Being able to consistently work on this topic gave me a discipline that was really useful and led to new bibliography and new thinking, particularly his insights into immoral humor and racist humor."
In the conclusion of the research, presented in a poster as part of the CURF 2020 Fall Research Expo,  Thompson says immoral humor is a necessary part of comedy. "It takes taboo subjects and satirizes them, and, like other art forms such as music and visual arts, they open up discussions about those topics. It is a tool that, like all tools, possess potential for misuse," he writes. "The jokes are funny, simple as that. People should not be ashamed of finding immoral jokes amusing; it's only when those jokes are used to harm others that immoral humor exposes its dangers."