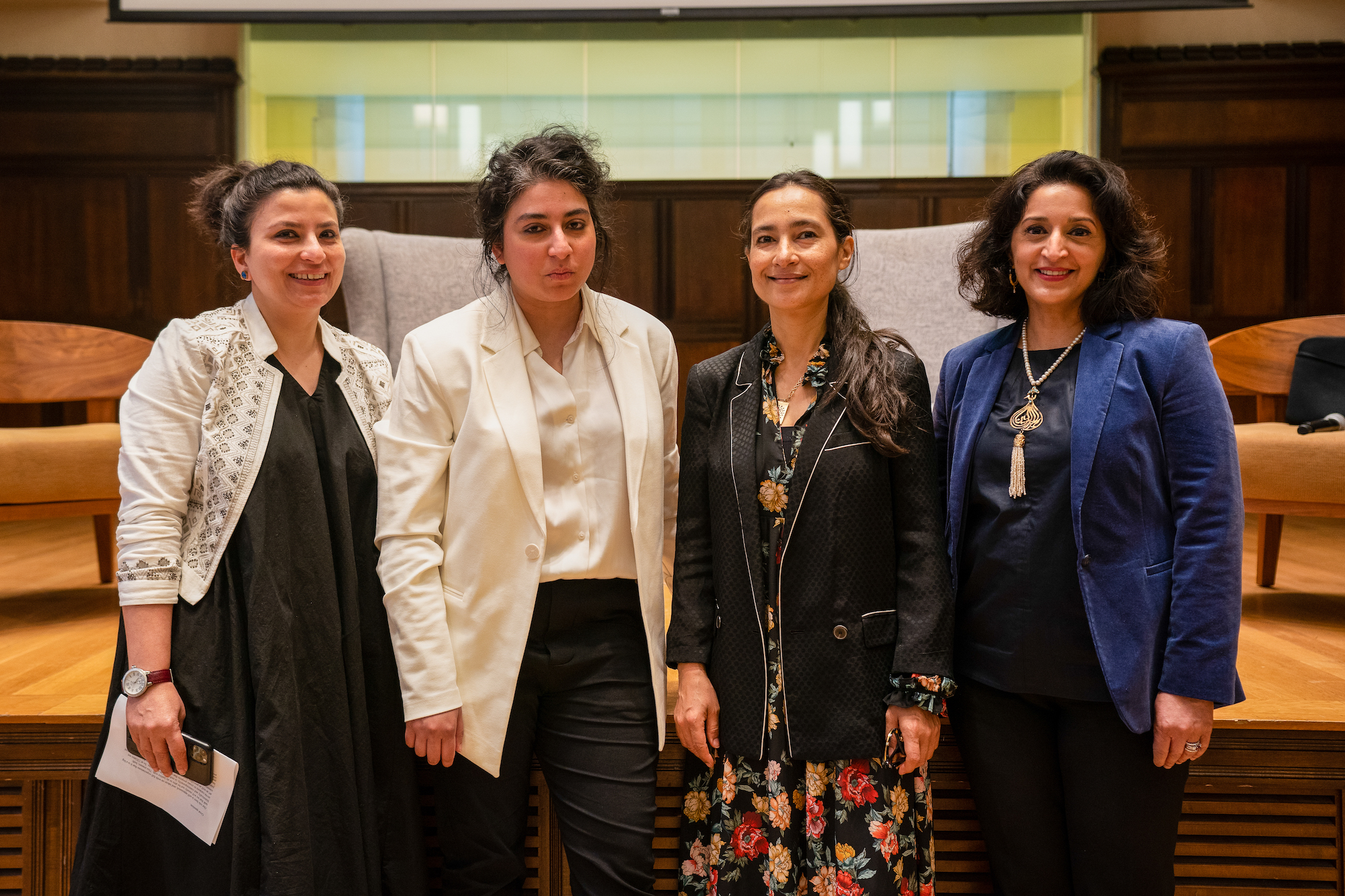 In the culmination of a four-part series on South Asian arts in the diaspora, Fariha Khan, co-director of the Asian American Studies Program (ASAM), moderated a conversation with Grammy award-winning musician Arooj Aftab, artist and MacArthur Fellow Shahzia Sikander, and Aisha Khan, executive director, president, and founder of Twelve Gates Arts in Philadelphia. The event marked the first time that four Pakistani women had shared a stage at Penn, said Fariha Khan, who asked the participants to speak about their journeys, both physically and intellectually. 
Aisha Khan said her story began, and continues, with working with and for artists. "You're my tonic," she said. 
Aftab, who came to the United States to study music in college, said she has always viewed the South Asian canon as linear and is interested in delving deeper. She is interested in questions like, What is a minimalist composer? What does that look like in conversation with old Urdu poetry? What does that look like in a jazz context?
Sikander, a painter who was named a MacArthur Fellow in 2006, grew up in a multigenerational household with extended family, "happily doing every cousin's art homework," she said. "I was always very introverted and loved the way that art would allow me self-expression."
For her, the journey unfolds in the moment. "It's the same way you create art. Every time you start from scratch," Sikander said. "It's an ongoing process." 
Sikander's father recently died, she said. From him, she learned to give attention to others and how that cultivates imagination. "Ground yourself in how you overlap with humanity," she said.
Fariha Khan asked the artists how they reconcile longing, yearning, or nostalgia in their work from the diaspora.
"Love in exile is something I've been thinking about since I self-exiled myself from Lahore," Aftab said. ("Love in Exile" is also the title of her latest album.) "You want a safe and quiet and nurturing space, to make a thing," she said. But you have to find love within this "because without love you won't be able to make any art."
"Was leaving Lahore a proclamation of your self-love?" Fariha Khan asked.
"Absolutely," Aftab said. "You know when to leave a thing. If it's not serving you, you're choosing yourself. You're choosing to love yourself. You're choosing to go to a place where you will find a better situation."
One experiences exile in many ways, Sikander said: "It's a state of mind." This is not defined by a binary between the nation and the diaspora, or a state of being away from her country of origin, she said. "My home is in the making. In the act of making, I feel at home. It doesn't matter geographically where I may be."
Fariha Khan asked how they grapple with the tension between using heritage forms while simultaneously critiquing sociopolitical events or issues in South Asia. 
"If one more person tries to talk to me about India and Pakistan and friendship or non, I'm going to, like, lose my mind," Aftab said. "You know what I mean? It's so terrifyingly boring."
At the same time, "the geographical fact of where I'm from is also in a very romantic way always just going to be a part of me," she said, but that this internal geography includes other landscapes. She spent part of her childhood in Saudi Arabia, and, "when the sun breaks in sky over a desert topography, that has stayed with me and is a part of my heritage, and you can hear that in my music. Wherever you are, it inherently becomes in dialogue with the art," Aftab said.
An audience member asked if there was any merit in finding a more pure, pre-Imperialist version of Pakistani art, or if that was a futile effort.
"Personally, I don't believe in anything that is pure," Sikander said. "All history is syncretic. The idea of something being incredibly free from influence is itself a difficult thing to address. I think context plays a huge role in how any project is understood, created, or dispersed into the world." 
To close, David Eng, the Richard L. Fisher Professor of English, who co-directs ASAM with Fariha Khan, commented on the idea of movement and action in the moment, which for him pushes against the idea that things can be separated into binaries. "That is insight that artists give us to the kind of polarization of politics that we face all around us today," he said.
"Art is how we learn to tell stories about our truths and how we negotiate a place in the world for future generations," Sikander said. "It is also about problem solving. It is pulling yourself out of a dark space into light. It's fluid." Creativity and storytelling are a beautiful gift, she said, and all of us have it.  
Any type of paradox or pendulum is a productive state that allows space to conjure up ideas, Sikander said. "How do you find something that can exist in the in-between?
"The Artists' Talk" is part of a larger project called "The Third Space: Unfurling Diasporic Arts of South Asia," a series that combines scholarship with artistic practice to highlight art of the South Asian diaspora as a distinct American contemporary art tradition. The series is sponsored by the Asian American Studies Program, The Sachs Program for Arts Innovation, the Department of South Asia Studies and Twelve Gates Arts.