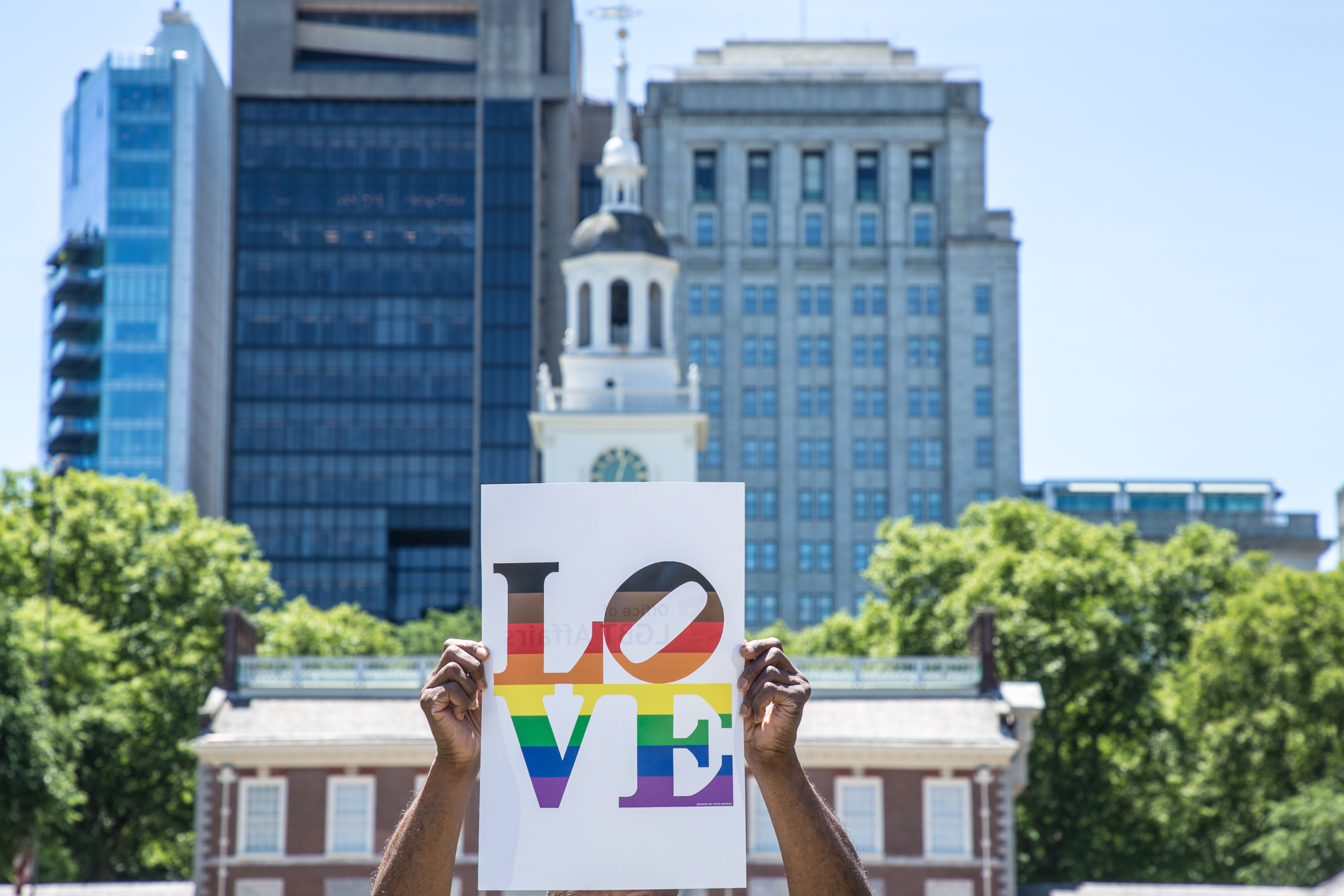 As policy fellow with Philadelphia's Office of LGBT Affairs, Sayeeda Rashid of the School of Social Policy and Practice (SP2) found herself in a room with the police force's top brass. Rashid was there to leverage support for Directive 4.15, a police policy that would provide additional protections for trans and nonbinary people, including the right to request the gender of the officer conducting a body search and the right to have pronouns respected. 
"I remember sitting in a room with all these top police officers in starched white shirts and no one talking. I had to figure out how to communicate," Rashid says. "What's the language that I know? What's the language they know? What can I say to create a bridge between our communities?"
Mobilizing change through communication has been a major part of Rashid's work, both in the Mayor's office and at SP2, where Rashid recently earned a master's in nonprofit leadership and a master's in social work. "Discernment is a skill I continue to strive for," she says. "Learning how to read a room, learning when and how to speak to the issues, and learning how to make space at the table will be a lifelong process. My main mission in life is to mobilize a group of people who are dedicated to a social cause and to work towards systemic change. To do that, it is my responsibility to actively challenge myself and to utilize my privileges—may that be via education, nationality, gender identity, or race—to create spaces where marginalized voices are centered and elevated. It is critical to the movement of justice and liberation of Black, brown, queer, and trans people."
Rashid has a vision for big, systemic change along with leadership ambitions; she hopes to secure an executive director position in a small to medium-sized nonprofit within the next five years. She's also a detail-oriented and a hard worker, running to secure event logistics and creating PowerPoint presentations, as well as drafting speeches and talking points for the office's leadership.
Not one to stand in the spotlight, Rashid attributes her success to the models and mentors she's had and is careful with what she calls "credit work." Testifying for a three-bill package in front of the Philadelphia City Council was, she says, "the first time, for me, not to be behind the scenes."
The package called for expanded access to gender-neutral bathrooms in city-controlled buildings, updated language about gender Identity and sexual orientation in the Fair Practices Ordinance, and requiring youth-serving institutions to adopt policy guidelines regarding anti-discriminatory treatment of transgender and gender nonconforming youth. "It was exciting," says Rashid. "It was also nerve-wracking to testify in front of council and on live television." 
Prior to graduate school, Rashid worked as a family counselor and a domestic violence advocate. "Although the individuals and families received crisis intervention and appropriate services, at the end of the day they were still faced with institutional oppression. There was an inequity of access to health care, food, housing, and general safety and wellbeing," Rashid says. She applied to graduate school to work for change at a macro level.
At Penn, she connected early on with the LGBT Center, "which was very welcoming the moment I started my orientation," she says. The Center is a space for students of all ages, says Erin Cross, Center's director. "We do a lot of myth-busting around the idea the Center is only for undergraduates during orientation. Having graduate and professional students know the Center is for them—and that they truly belong—is always one of our key tasks."
During Rashid's first year of graduate school, the Center had a panel discussion on what it means to be Black and what it means to be queer. "I was amazed by this conversation," Rashid says. "Seeing a queer woman of color leading this work in the city, I knew I wanted to do what she was doing. And her name was Amber Hikes."
Currently chief equity and inclusion officer at the ACLU's national office, Hikes is an organizer, social justice advocate, and SP2 graduate who made headlines both for her work on anti-discrimination legislation and the push to add black and brown stripes to the LGBT rainbow flag. At the time, Hikes was executive director of the Mayor's Office for LGBT Affairs. Rashid's second-year internship for the master's in social work was coming up, and Penn's LGBT Center was able to connect her with the office.
"I'm a first-gen college student," says Rashid. "Working in the mayor's office meant creating social capital. I knew that being in that space, I would have opportunities to meet with and learn from key change makers."
She says she felt passionate about advocating for LGBTQ communities and excited to have a supervisor who was "an unapologetic queer black woman." Rashid says, "This work is hard and incredibly rewarding at the same time. Every day, I'm inspired by Amber. She taught me how to do this work authentically and with confidence."
Rashid has worked on Philadelphia's first LGBTQ leadership pipeline, a recruitment initiative focusing on diversifying the boards of local non-profit organizations. The initiative was developed by Hikes and community leaders in response to rising reports of racism within Philadelphia's Gayborhood. Rashid helped coordinate the application process, conducting interviews and creating the curriculum, a six-month training period where fellows are coached on topics including leadership skills, board basics, finances, development, and personal branding. For the 2019 cohort, there were 20 fellows matched with 15 nonprofit organizations. "It was powerful to see the project's arc from the very beginning of the first application that opened to working with local nonprofit leaders to the graduation and board placement of the fellows," she says.
Last year, Rashid helped plan the LGBTQ State of the Union, a citywide event that provides a space for nonprofit leaders to present about their organizations, followed by smaller breakout sessions with leaders and community members. "What this does is provide opportunities for community members to have these interpersonal conversations with the EDs about accountability and transparency," Rashid says. "It creates a dialogue with people at the top and the people getting served by the organization." She is working with the city and community partners to plan a potentially virtual third annual LGBTQ State of the Union in 2020
Rashid organizes community conversations and events, including leading panel discussions for Asian Pacific American Heritage Month and Pride Month. The office has pivoted much of its work to address the needs of LGBTQ community during the COVID-19 pandemic. "The inaccessibility of the LGBTQ communities is intertwined with a myriad of factors, and during COVID it gets exacerbated," Rashid says. "If you were hungry before COVID, then you're hungrier now. If you needed services before, then the services are critical now."
The Office of LGBT Affairs produced a resource guide with need categories to give the community access to information about which organizations are operational and where they can go for help.
Rashid has also been working with the office to plan a couple of key events for Pride Month. "Pride is a time when queer folks get to be with one another, acknowledge and honor LGBTQ history, and renew the commitment to fighting for LGBTQ liberation that was, and continues to be, led by Black and brown trans queer folks," Rashid says. "This year, we celebrate Pride as protest."
This protest includes holding space for lamentation, as Rashid worked to put together a facilitated community grief session in response to the death of Dominique Rem'mie Fells, whose body was found in the Schuylkill River on June 8. "At a time when many people have been calling for racial and social justice, the devastating loss of Dominique Rem'mie Fells, a Black trans woman, was especially painful," Rashid says. "It was important that we hold spaces for community members to come together and grieve with the support of trained counselors." The Office of LGBT Affairs partnered with the Therapy Center of Philadelphia, the Department of Behavioral Health and Intellectual disAbility Services, the City's Office of Faith-Based and Interfaith Affairs, and the William Way LGBT Community Center to create a Black- and LGBTQ-centered experience for "collective grief and healing," Rashid says. 
The balance of conversation, celebration, and change runs throughout Rashid's work. "To create systemic shifts, you have to do cross-sector collaborations," she says. "You have to work with everyone—the government, nonprofit, and private sectors—to figure out how to fill the gaps to make the social changes."