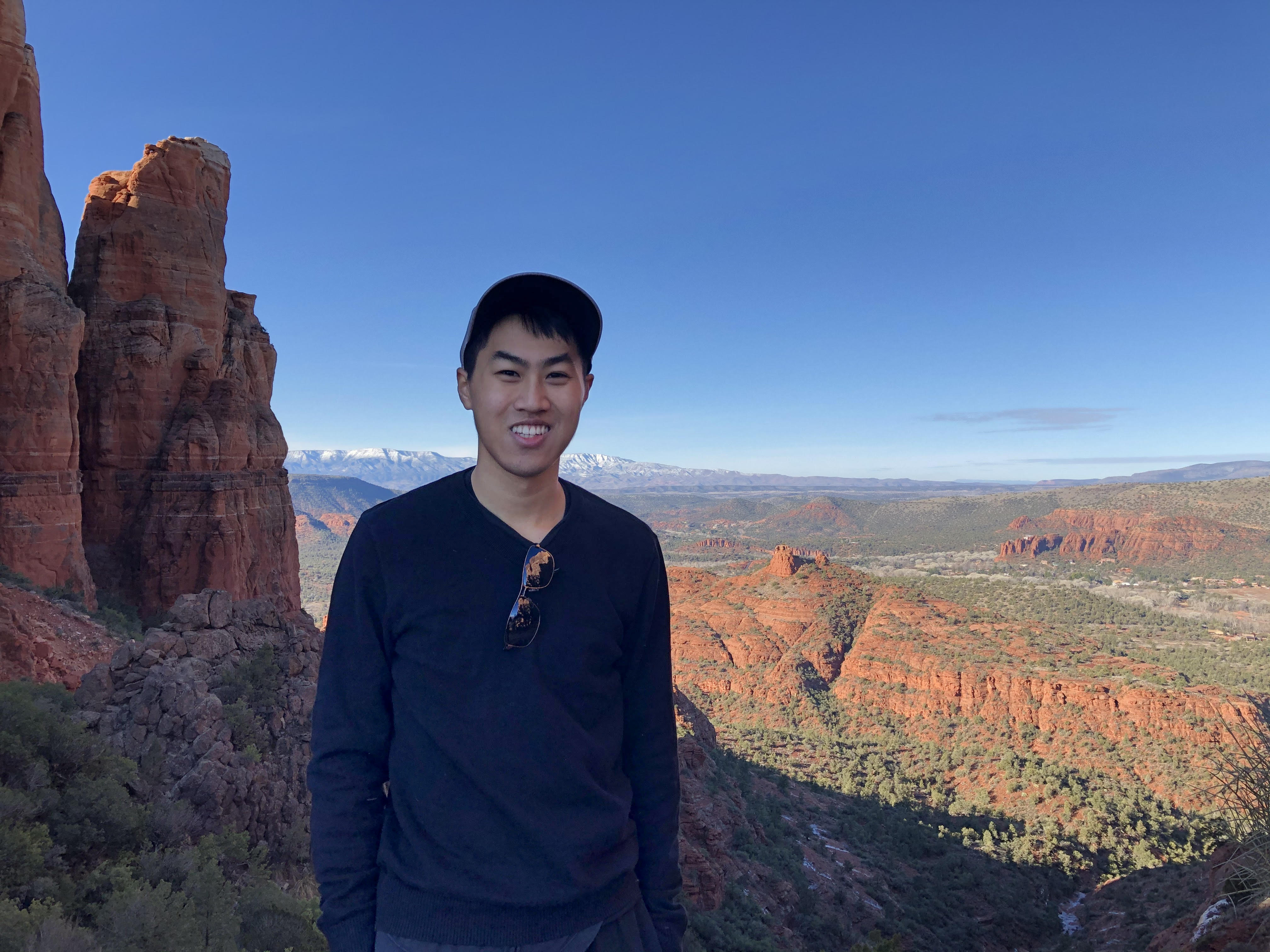 For the last several decades, the National Aeronautics and Space Administration has sent satellites to orbit the earth, using radiation reflected by the planet's surface to generate data on weather to wildfires to urbanization. 
To make sense of the reams of data these satellites accumulate requires expertise—and coding—that Paul Lin, a senior on the cusp of graduating, has acquired taking courses across schools and departments at Penn.
For his culminating thesis, the earth science major from Clarksville, Maryland, used this information, known as remote sensing data, to assess long-term and broad changes in plant populations in the Great Plains.
"I've always been interested in the environment and enjoyed being around nature," says Lin. "And an internship at NASA sparked my interested in the computational and the data side." 
Being able to take time to explore and integrate his wide-ranging interests was one of the key reasons Lin chose to attend Penn four years ago. 
"It seemed like a really nice place to explore a lot of different interests," he says. "The interdisciplinary nature of the school is something I've enjoyed and really appreciated."
Curious mind
Lin has made good use of those cross-school and cross-disciplinary programs during his undergraduate years. In addition to earning his bachelor's next week from the College of Arts and Sciences, Lin is submatriculated into the School of Engineering and Applied Science's Computer and Information Science master's program; he is on track to finish that degree in the fall. A course in the Stuart Weitzman School of Design, using geographic information systems (GIS), taught by Dana Tomlin, helped steer him down a more computational path, as did Jane Dmochowski's course Introduction to Remote Sensing.
"Those definitely cemented my interest with the more data-intensive aspects of earth science," Lin says.
During class with Dmochowki, a senior lecturer in the Earth and Environmental Science Department, Lin began exploring the kernels of a project that evolved into his senior thesis. The idea emerged from time he had spent during his sophomore and junior years in discussion with and helping in the lab of mentor Brent Helliker, a professor in the Department of Biology. Helliker's research focuses on plants' response to climate change, a topic that piqued Lin's interest as well. 
Lin learned that two types of plants, known as C3 and C4 plants, which differ in the molecular pathways they use to complete photosynthesis, can be distinguished from satellite images. Work by Helliker and others has shown that the distribution of C3 and C4 plants is closely tied to environmental conditions, such as temperature, precipitation, and carbon dioxide concentration in the atmosphere. Because satellite data allows for the investigation of large swaths of land with far less effort than on-the-ground studies, Lin wanted to see if remote sensing data could expose any shifts in the patterns of C3 and C4 plant growth. 
"Especially with climate change changing environmental variables, we wanted to see if any of those shifts had changed plant species distribution," Lin says.
While C4 plants do better under higher temperature conditions, higher carbon dioxide levels favor C3 plants. "The current dilemma is, with climate change we have higher temperatures and higher carbon dioxide," Lin says, "with one factor favoring C4 and one favoring C3. So the question is, which environmental variable has a bigger impact on the actual distribution of plants?"
To attempt to find an answer, Lin used data collected from 2010 to 2020 by the MODIS sensor on NASA's Terra satellite, which orbits Earth more than 400 miles above the planet's surface. He developed models to look for associations between temperature and rainfall values and the types of plants covering the land in three areas of the Great Plains, stretching from Texas to the Dakotas. In doing so, Lin applied skills he had acquired not only in his science classes—in remote sensing, earth science, and GIS—but also in his computer science courses, using data science and machine learning to inform the models he used in his analysis.
The results of his investigation did not reveal a straightforward story.
"In certain areas there does seem to be a slight shift, whereas in other areas it seems to be mostly stable for now," Lin says. "I think I'd have to do more work to see why that is. It might be that I didn't look at a long enough time range."
Regardless of the clarity of the outcome, the project put Lin's quantitative skills and passion for inquiry on display.
"Paul takes his work seriously and loves to get into the details," says Dmochowski, who co-advised Lin's thesis work with Helliker. "He has an enthusiasm for his work, sharing it, wanting to push it further. That was super impressive, especially in a pandemic, just how much he was able to accomplish."
Future minded
Lin's engagement with environmental science at Penn has gone beyond the classroom. Prior to the pandemic, as part of the campus organization Students for Environmental Equity, he and fellow students would host after-school programs for West Philadelphia elementary and middle schools, teaching the younger students about environmental topics. For these and his accomplishments in the classroom, as a junior, he was the recipient of a Udall Scholarship, awarded for leadership, public service, and commitment to environmental issues.
In addition to his internship with NASA at the Goddard Space Flight Center, he also completed a remote internship last summer with the University of Alaska that involved using satellite data to develop a wildfire detection tool.
Once he leaves Penn with not just a bachelor's degree but a master's as well, he hopes to land a job involving data science. Wherever he finds himself, Dmochowski believes a signature characteristic will serve him well. 
"He is the epitome of curious," Dmochowski says. "He's so driven by his curiosity, and that's a beautiful thing in a STEM student—in any student."