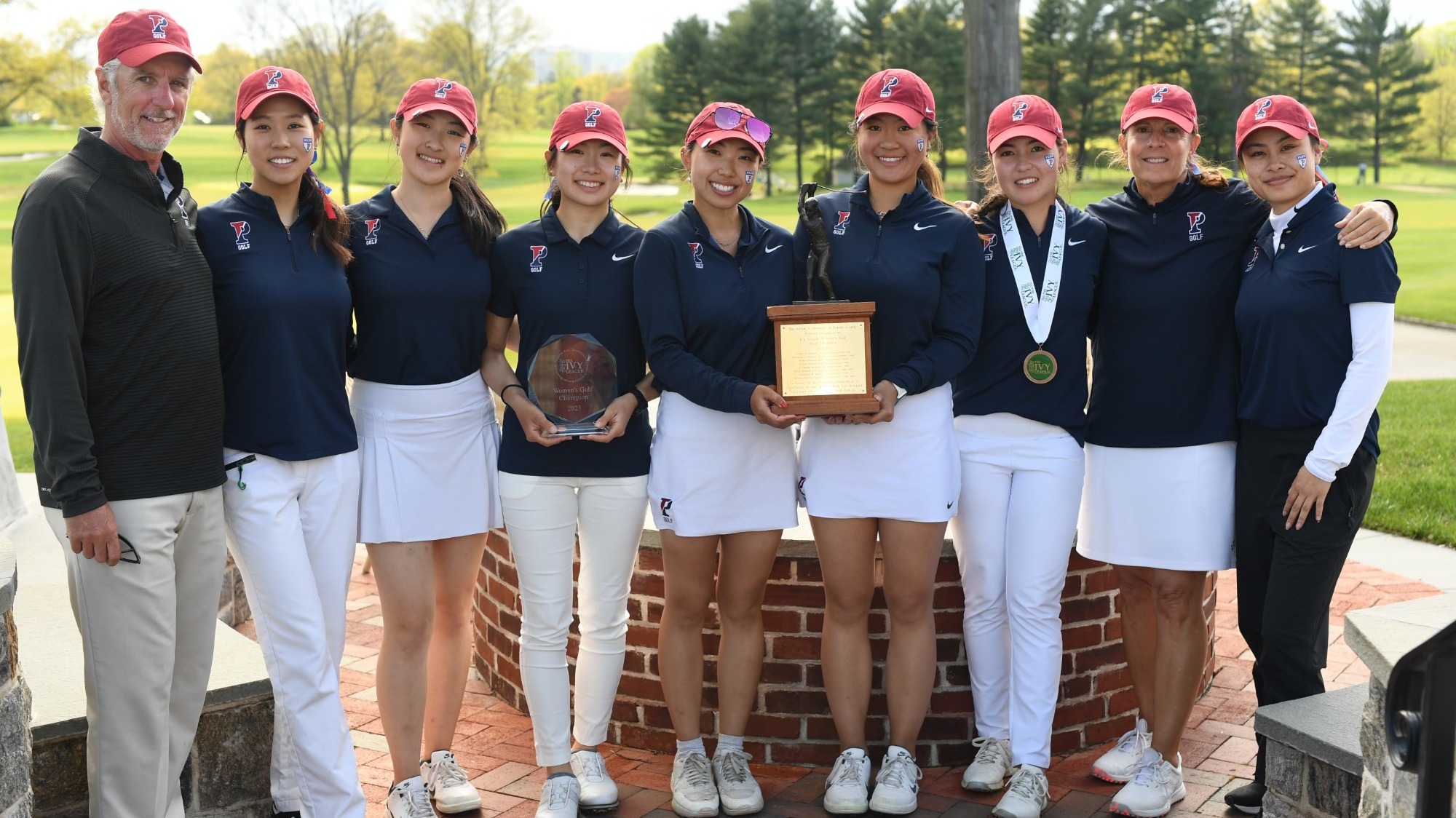 For only the second time in school history and the first time in more than a decade, the women's golf team has won the Ivy League title.
Teeing off in the three-day, 54-hole Ivy League Championships from Friday to Sunday at the par-72 Century Country Club in Purchase, New York, the Quakers finished with a team score of 906, outperforming second-place Harvard (910), third-place Dartmouth (916), fourth-place Yale (918), fifth-place Princeton (919), and sixth-place Columbia (953). (Brown and Cornell do not field varsity women's golf teams.)
Penn shot a league-best 8-over-par 296 on Friday, one stroke ahead of second-place Princeton, and they maintained the lead over the next 48 hours. The Red & Blue shot a 307 on Saturday and led Harvard by one point at day's end. On a rain-filled Sunday, the Quakers shot a 303, the best final-round score by a Penn team since 2010, the last time the Red & Blue took home the crown.
First-year Bridget O'Keefe shot an 8-over-par 224 across the three days, one shot shy of the school record for best tournament score at the Ivy Championships. Second-year Natalie Cao shot a 13-over-par 229. Fourth-year Selina Li, first-year Julie Shin, and fourth-year Susan Xiao each shot a 16-over-par 232. Lin had 36 pars, third-best at the Championships. Shin scored eight birdies, tied for tops at the Championships with Harvard's Isabella Gomez and Princeton's Catherine Rao. Cao scored an eagle.
O'Keefe finished third in the individual championships behind Gomez (3-over-par 219) and Rao (7-over-par 223). She was awarded First-Team All-Ivy recognition.
Cao finished sixth in the individual championships. Li, Shin, and Xiao were part of an eight-way tie for 10th place. All four received Second-Team All-Ivy recognition, marking the first time in school history that five Quakers earned All-Ivy honors.
The victory catapults the Quakers into the NCAA Regional Championships, which take place from May 8-10 in Georgia, Florida, North Carolina, Texas, Indiana, and Washington. On Wednesday, April 26, they find out their destination.