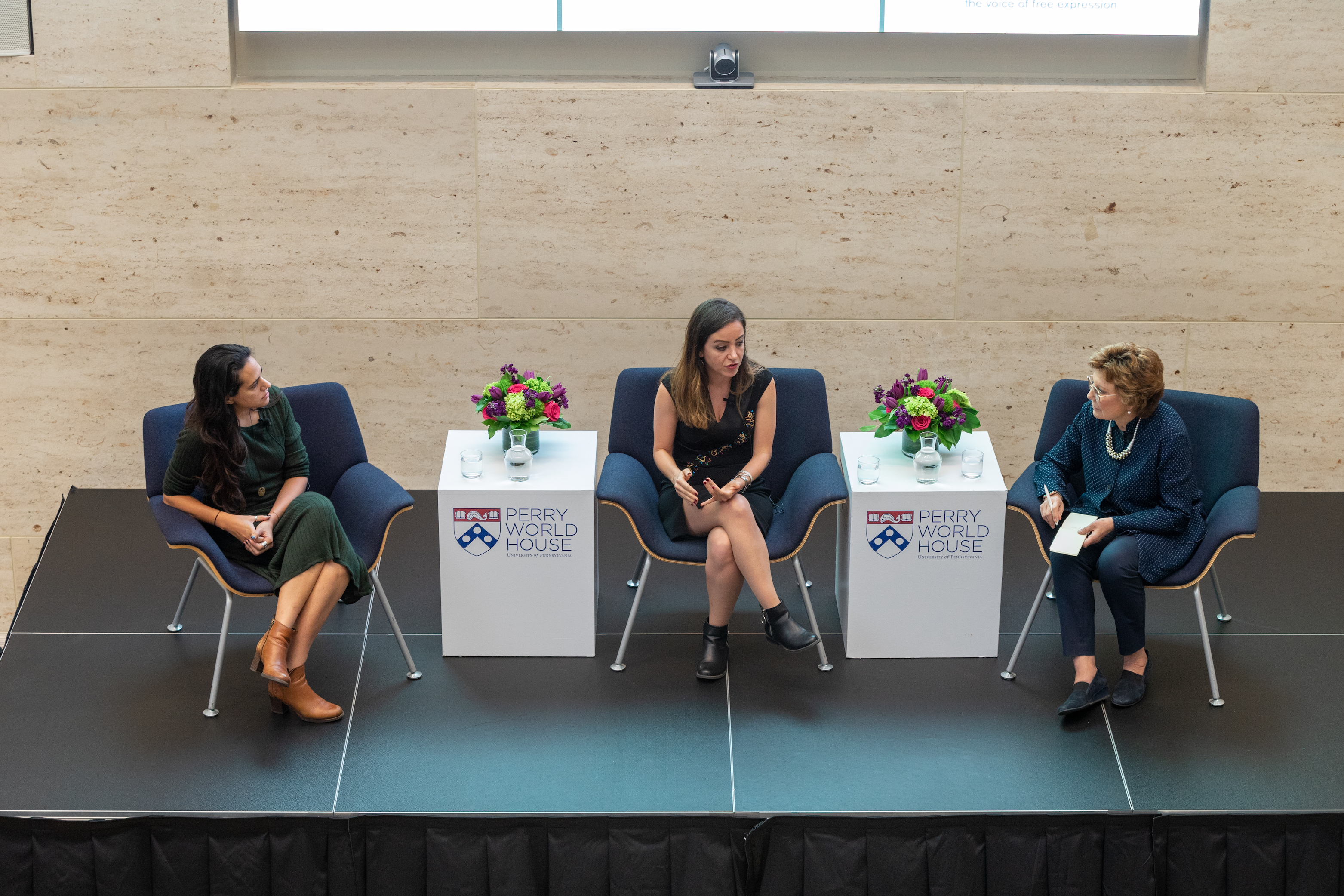 Hidden away in a file marked "not to be published," journalist Zaina Erhaim has saved notes she took while living and working in the war-torn northern region of her native Syria. Publishing those accounts would have risked her life and the lives of her sources and her family, friends, and other connections. 
"For a local journalist, you are either propagandist, or you could be dead," said Erhaim, who lives in exile in London. 
During four public discussions on campus last week, Erhaim described in detail the dangers she faced covering armed conflicts while in Syria, especially as a local female journalist. 
Erhaim was on campus through Penn's Writer at Risk residency, sponsored through a partnership among Perry World House, Kelly Writers House, and the Annenberg School for Communication's Center for Media at Risk. The residency is the second in what is expected to be an annual event. The first was Russian journalist Yevgenia Albats, who came in the fall of 2017. 
"I didn't plan to be a war correspondent; it just so happened war came to my homeland and made me a war correspondent," she said during a discussion with National Public Radio Middle East correspondent Deborah Amos, moderator of "Risk and Reward: Local Journalists Covering the Front Lines of War in Syria and Yemen" for an audience of nearly 150 people at Perry World House. 
Erhaim previously was a local journalist in Syria, working with the BBC, Alhayat, Orient TV, and other media outlets. She has also written for The Economist and The Guardian and contributed to three books. She now works as the communications manager with the Institute for War and Peace Reporting in the United Kingdom.
Also on stage in the keynote discussion was Safa Al Ahmad, a Saudi journalist and filmmaker who has reported on the war in Yemen and directed documentaries on the conflict and on protest movements in the Middle East for PBS and the BBC. Her participation was made possible by PEN America and the Index on Censorship.
"When we say we are covering Arab countries, each one is unique," said Al Ahmad, who also has worked in Iraq and Egypt. "I can't say a blanket statement that my coverage of different countries is the same. They are very, very different."
As a woman working as a journalist in her native Syria, Erhaim was a rarity, which put her at the most risk, she said. "In many cases being a woman, and a journalist, and local, they can't imagine those altogether," she said.
She had to have a male companion at all times because women are not permitted to speak for themselves in public. She had to fight to be recognized as a reporter, despite being educated in Britain. "First level of class is the international male reporter, next is the local male reporter, third is the international woman reporter, and at the bottom is the local woman reporter," Erhaim said. 
Even though she is a feminist who is an activist for women's rights, she eventually decided she had to wear a hijab from the local markets to be safe and to be effective in her work. If she didn't follow the rules, she was targeted and interrogated, and the male companions representing her paid the price by being arrested and beaten, she said. 
Extremists started to play a larger role in Syria by the end of 2013. "I realized I was not here to change through revolution; I was here to survive and tell the story I want to tell," she said. "I want to change, I want to battle that, but at the same time I want to be able to sustain my ability to stay, and at that point I had nowhere else to go." 
She has trained more than 100 media activists in Syria on journalism basics. She tells them they could be risking their lives to cover stories like an independent, western news organization.  
"If I tell them to report the story as it is supposed to be reported, to be objective, that is a death sentence," she said. "This is something I really struggle with. When giving a training to local women, I told them, No story is worth your life."
Helping international media organizations was especially challenging, she said, because they consider her and other local journalists as "fixers," asking for contacts and ideas and connections but not paying or giving credit for their work, all while putting them in danger. "They are taking advantage," she said. 
During the discussion, Diane Lin, a junior studying economics in the College of Arts and Sciences, asked about covering the stories of women in areas of armed conflict. 
Erhaim said there is the very real danger for women who speak out, especially being in pictures or on film. "In these areas for a woman to show her face on camera is very courageous, for herself and her families," she said. 
"My problem is men start wars. I cover wars," Al Ahmad said, "so I end up covering more men. I end up interviewing women as victims. I try not to paint them as victims, and I try to give the space to make them more than that, but it is challenging." 
Afterward, Lin said the answers to her question made an impression on her. "I thought it was interesting to hear her acknowledge her struggle over how to cover the role of women in conflicts," said Lin, who is from Beijing. "I don't see a lot of articles about the struggle of women in these areas of war."
"It was powerful to hear from women journalists," said Kai Song, a College sophomore from the San Francisco Bay Area, "to hear these women reporters talking about their own experiences and their own cultures and how it is directly tied to their stories." 
LaShawn R. Jefferson, Perry World House deputy director, said, "One of things that resonated especially today is that women matter. Women's voices matter. We should be asking ourselves who gets a say about who gets to speak, who gets to be heard, who gets to be reported, who gets to be seen? How you are in the world actually matters."
Throughout the week, Erhaim spoke in classrooms and met with faculty and students to describe her life and work. 
"The students I met had read and had prepared and asked so many questions that the professor had to stop them," Erhaim said in an interview. "For the students to meet and learn about a country very far away, that they might not be in touch with, is really inspiring, and learning their point of views and how they see these things from afar are enlightening for me." 
Erhaim originally was scheduled to come to campus in December 2018, but as a Syrian seeking asylum in the U.K., she was unable to obtain a travel visa due to the Executive Order 13769 travel ban. She was later granted an exception by the U.S. State Department. 
Explaining her background in a conversation with Annenberg Ph.D. candidate Natacha Yazbeck during the Center for Media at Risk colloquium "Independence in Times of Conflict and Populism," on Wednesday, she said she had a traditional upbringing, being taught only what the government allowed. Along the way, she got access to the internet and discovered the news from the rest of the world and decided to try to tell the stories of life in her country. 
She calls herself a feminist and activist as well as a journalist, but she said she can only take objectivity only so far. 
"I don't think you have to be neutral about human rights, when you are speaking about war criminals, when you are speaking about ISIS. For me being biased for human rights is not being biased as a journalist," she said. "For me I will use the media, and I will use the stories to change for the better."  
Erhaim has made several short films about women living and working in Syria. Her final public appearance at Penn was a screening and discussion of those films.
Her first conversation was on Monday with journalist and Penn faculty member Dick Polman, part of the Povich Journalism Series. He asked her about Turkey's invasion of northern Syria, a result of the U.S. decision to pull U.S. troops out of the Kurdish region.
"I don't think the conflict will be ending until people get the justice for all the casualties and all the crimes," she said. "We are going to be still witnessing so many waves of conflicts."
Polman asked her how she felt living in exile. "Being forbidden to go to the place that you most want to be at in the world is something that you cannot live with on a daily basis without a struggle," she said. 
That is why she became part of the Writer at Risk residency, she said, and also why she is now starting to write a book to finally publish those "not to be published" notes about her experiences. 
"I am privileged to be able to speak with you, and to be here, and to speak in English and to have access," she said. "I will be taking advantage of that access as long as I can." 
View the Kelly Writers House video of  Zaina Erhaim's conversation with Dick Polman.
Listen to a Perry World House Global Cable podcast "Telling the Story of Syria with Zaina Erhaim."