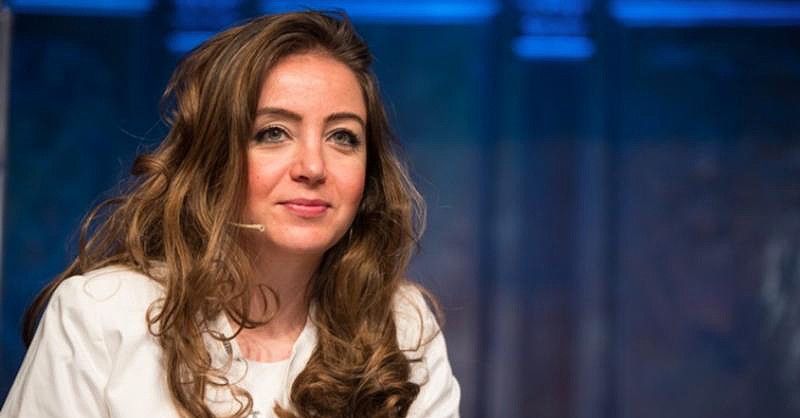 Syrian journalist Zaina Erhaim will be on campus next week through Penn's Writer at Risk residency speaking about the armed conflict in Syria, the importance of an independent press, and the challenges of working in war-torn areas for female journalists. 
Erhaim, who is living in exile in the United Kingdom, will make four public appearances on campus from Oct. 21-24, including a screening of her documentary films about the effects of the Syrian conflict on women. She will also speak in several classes, record a pair of podcasts, and meet with faculty and students. 
The Writer at Risk program is sponsored through a Perry World House and Kelly Writers House partnership, which this year also includes the Annenberg School for Communication's Center for Media at Risk. The weeklong residency is the second in what is expected to be an annual event. The first was Russian journalist Yevgenia Albats, who came in the fall of 2017. 
"We identify writers who are under threat, who have really covered the front lines of critical issue in their respective countries, who have tested freedom of expression and freedom of the press, who have lived and breathed it, and been punished for pushing for an independent press," says LaShawn R. Jefferson, Perry World House deputy director.
Erhaim originally was scheduled to come to campus in December, but as a Syrian seeking asylum in the U.K., she was unable to obtain the required travel visa due to the administration's travel ban. She was later granted an exception by the U.S. State Department. 
"I hope I will be shedding some light on local journalists covering their home wars, what they face, how they deal with the challenges, and what extra ones they face compared to the international ones, and raise some ideas about how gender would affect the local journalists' lives in conflict," Erhaim said in an email this week. "And I am surely going to be learning a lot from the discussions raised with the students and faculty, and getting new perspectives and ideas to work on."
Her visit to Penn was scheduled before Turkey's invasion of northern Syria, a result of the Trump administration's decision to pull U.S. troops out of the Kurdish region. 
"It couldn't be a more important moment for Zaina to come to campus," Jefferson says. 
"We're hoping to have robust analysis and discussion about what is happening in Syria now, and why it matters regionally and globally," Jefferson says. "Vilifying the media, jailing, intimidating, and killing journalists are all too frequent. Highlighting the critical role of journalists in maintaining democracy and accountability is absolutely necessary. In addition, focusing awareness on the ways female journalists encounter and overcome challenges to participate in journalism is key." 
Erhaim now works as the communications manager with the Institute for War and Peace Reporting in the U.K., and previously worked as a journalist with the BBC, Alhayat, Orient TV, and other media outlets in Syria. She has also written for The Economist and The Guardian and contributed to three books. She has trained more than 100 media activists in Syria on journalism basics and made a series of short films narrated by Syrian women. 
"I don't focus and speak about women journalists only because I am a woman but because they face extra difficulties, first for being journalists and secondly for being women working in conflict zones," Erhaim says. "Many more challenges are facing them because of their gender, especially in conservative societies." 
Her keynote address, "Risk and Reward: Local Journalists Covering the Front Lines of War in Syria and Yemen," will be from 4:15 to 5:30 p.m. on Tuesday at Perry World House. With NPR Middle East correspondent Deborah Amos as moderator, Erhaim will share the stage with Safa Al Ahmad, a Saudi journalist and filmmaker who has reported on the war in Yemen and  directed documentaries on the conflict and on protest movements in the Middle East for PBS and the BBC.
Erhaim's first public appearance will be at Kelly Writers House from noon to 1:30 p.m. Monday in a conversation with journalist and Penn faculty member Dick Polman, part of the Povich Journalism Series. 
A Center for Media at Risk colloquium featuring Erhaim, "Independence in Times of Conflict and Populism," will be from noon to 1:30 p.m. Wednesday at Annenberg.
Her final public appearance, "Gender and Violence in Rebel-Held Northern Syria," will be from noon to 1:30 p.m. Thursday at Perry World House. Erhaim will screen six of her films about women living and working in war-torn Syria.