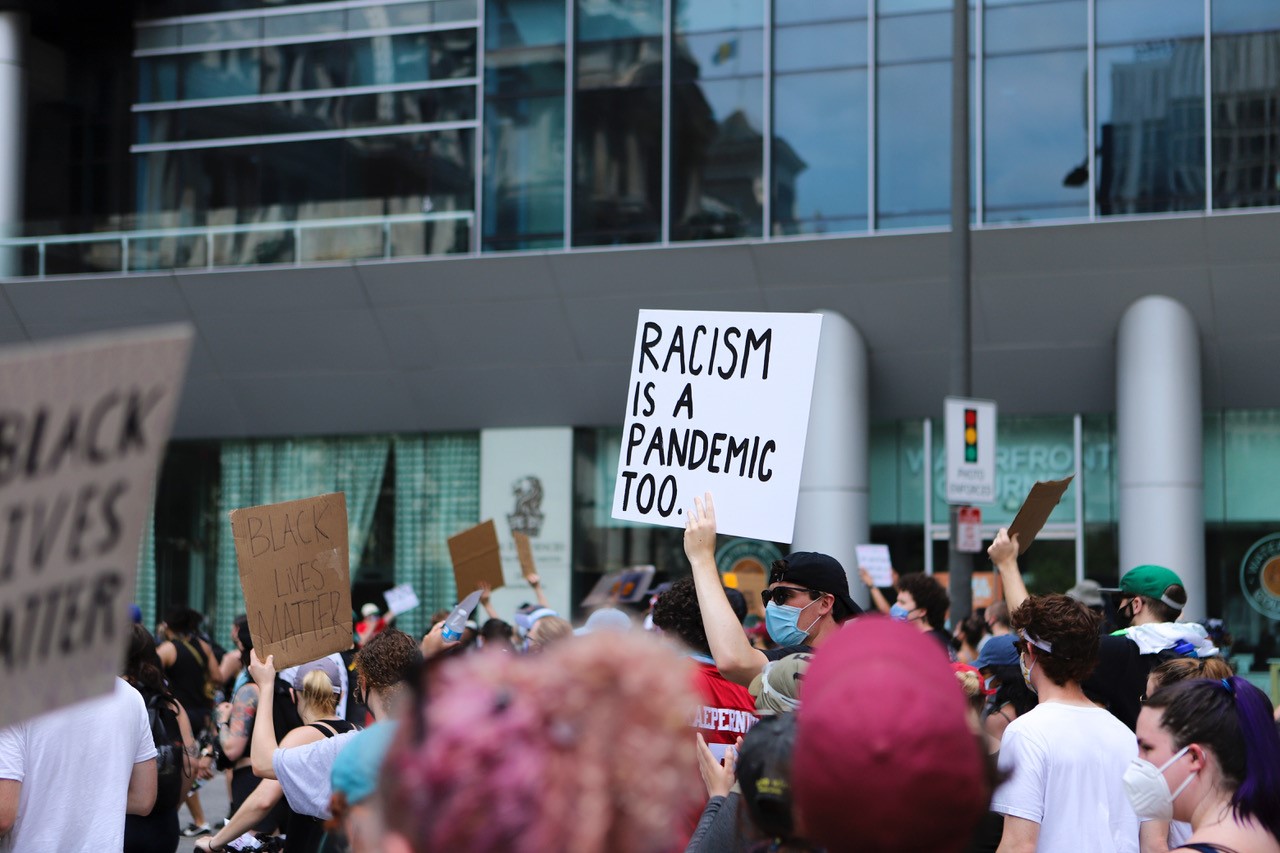 In the fifth of 13 interdisciplinary conversations in the "Racism and Anti-Racism in Contemporary America" preceptorial, a panel of Penn experts discussed the wide-ranging impacts of systemic racism on physical and psychological health. The virtual discussion led by Michael Delli Carpini of Penn's Stavros Niarchos Foundation (SNF) Paideia Program highlighted racial health disparities and policies that could support a more equitable future.
Panelists included Chief Wellness Officer Benoit Dubé; Ezekiel Emanuel, vice provost for global initiatives and Penn Integrates Knowledge (PIK) Professor; PIK Professor Risa Lavizzo-Mourey; Jennifer Prah Ruger, Amartya Sen Professor of Health Equity, Economics, and Policy; and Eugenia South, assistant professor of emergency medicine and faculty director of the Urban Health Lab.
Reflecting on vaccine rollouts and a new administration
Delli Carpini asked each panelist to share thoughts on current events, with early efforts of the Biden-Harris administration and the ongoing COVID-19 vaccine rollout top of mind.
Emanuel discussed the White House health equity task force, whose goal is to ensure that care and treatments for COVID-19 are distributed equally. "Equity is going to become pivotal," said Emanuel, who emphasized that this focus on equity could become a major legacy of the new administration.
Lavizzo-Mourey echoed this point and added that, beyond forming task forces and working groups, there's also been a visible shift to implementing equitable policies and plans. Biden has "gone even further than saying, 'We have to address these things,' to putting language in that says, 'We've got to measure it and make sure that we're actually closing those equity gaps,'" she said. "I think that it's a time to be optimistic and to put our shoulders to the wheel."
For Prah Ruger, restoring trust in the government is key, with a successful federal-led pandemic response an essential step towards rebuilding and maintaining that trust. "In a democracy, we need to trust our government and the people that surround our leaders, that they will take the measures that are necessary to protect the people," she said.
South has been thinking a lot about the COVID-19 vaccine, especially after seeing enormous racial disparities in uptake. "This is incredibly alarming that the communities and people who are hardest hit by COVID are the least likely to be getting vaccinated," said South, who recently authored an op-ed about vaccine hesitancy. If vaccine mistrust in Black communities is left unaddressed, South said, it could further perpetuate racial health disparities.
In the context of vaccine hesitancy, Dubé echoed the importance of understanding why people are distrustful and how a trauma-informed lens can support better community outreach. "What that means very practically is to get rid of 'What's wrong with you?' as an initial reaction and replace it with 'What happened to you?'" said Dubé.

A glimpse of existing disparities
Revisiting a question asked during the first health and wellness preceptorial conversation in December, which featured J. Margo Brooks Carthon, John Jemmott, Lisa Lewis, Quayshawn Spencer, and Howard Stevenson, Delli Carpini asked the panelists to share insights into the current state of racial disparities in health and wellness.
Lavizzo-Mourey shared stark statistics between Philadelphia County, with a majority Black and Brown population, and Montgomery County, which is predominantly white. These data highlight differences in life expectancy (76 years in Philadelphia versus 80 in Montgomery), high school graduation rates (79% versus 87%), and childhood poverty (34% versus 7%). In addition, data from January show that COVID-19 death rates were twice as high in Philadelphia compared to Montgomery.
"Social factors that make it relatively easy to have a healthy lifestyle—getting the education you need, having access to employment that pays a living wage—are the things that, in addition to access to health care, make such a huge difference in the disparities that we see in race," said Lavizzo-Mourey.
Emanuel shared another statistic illustrating how large health disparities are between Black and white Americans: "If you look at the average across the country, [Black populations] live 3.6 years less than [white populations] do. To put it in context, if you cure all the people suffering from cancer in the country, that would add fewer years to the average life expectancy than the disparity between [white and Black people]," he said.
For South, the answer to the causes of health disparities in America was simple: racism. "We can't forget that that is the root cause," she said. "We make choices on how we are going to spend our money in this country, and we make choices that demonstrate that we still do not value Black lives in the way that we value white lives."
Through her research on health in urban areas, South has seen the staggering impacts of neighborhood quality and long-term disinvestment in Black neighborhoods on health, citing the 20-year mortality gap between residents of the Philadelphia neighborhoods of Society Hill and Strawberry Mansion as one example. "We can't talk about neighborhood conditions without talking about residential segregation," she said. "And that is because of racist federal, state, and local policies, like redlining, the way public housing has been implemented, as well as things like discriminating lending practices, which is an ongoing problem."
What policies and actions could make public health more equitable?
"What we really need to do is get in underneath racism and change core values and the norms that we have in society," said Prah Ruger, emphasizing how racism is a form of hierarchy and domination with roots in American slavery that have created systems that continue to exacerbate racial inequality. "Policies that focus on changing values and norms, that provide a much more stable foundation for equity, I think is what this country desperately needs," she said.
"The conversation surrounding universal health care needs to continue. You shouldn't go bankrupt because you get sick," said Dubé about other necessary next steps towards addressing health care disparities. "I do think that looking at health care as a priority, and as something that is a basic human right, is still a conversation that needs to continue."
Several panelists discussed the importance of early childhood investment, including South's support of "baby bonds" as a way to reduce the wealth gap in America, and Emanuel shared a few examples of the power of early interventions. "That's government investment in the future, and I think that's where we have to begin thinking about getting rid of the disparities in this country," he said. "We need more of that mental framework, seeing these things not as spending more but as investments in the future."
The "Racism and Anti-Racism in Contemporary America" Preceptorial is a collaboration of the SNF Paideia Program, the Office of the Vice President for Social Equity & Community, the Office of the Provost, the Andrea Mitchell Center, Civic House, and New Student Orientation and Academic Initiatives as part of the Year of Civic Engagement.