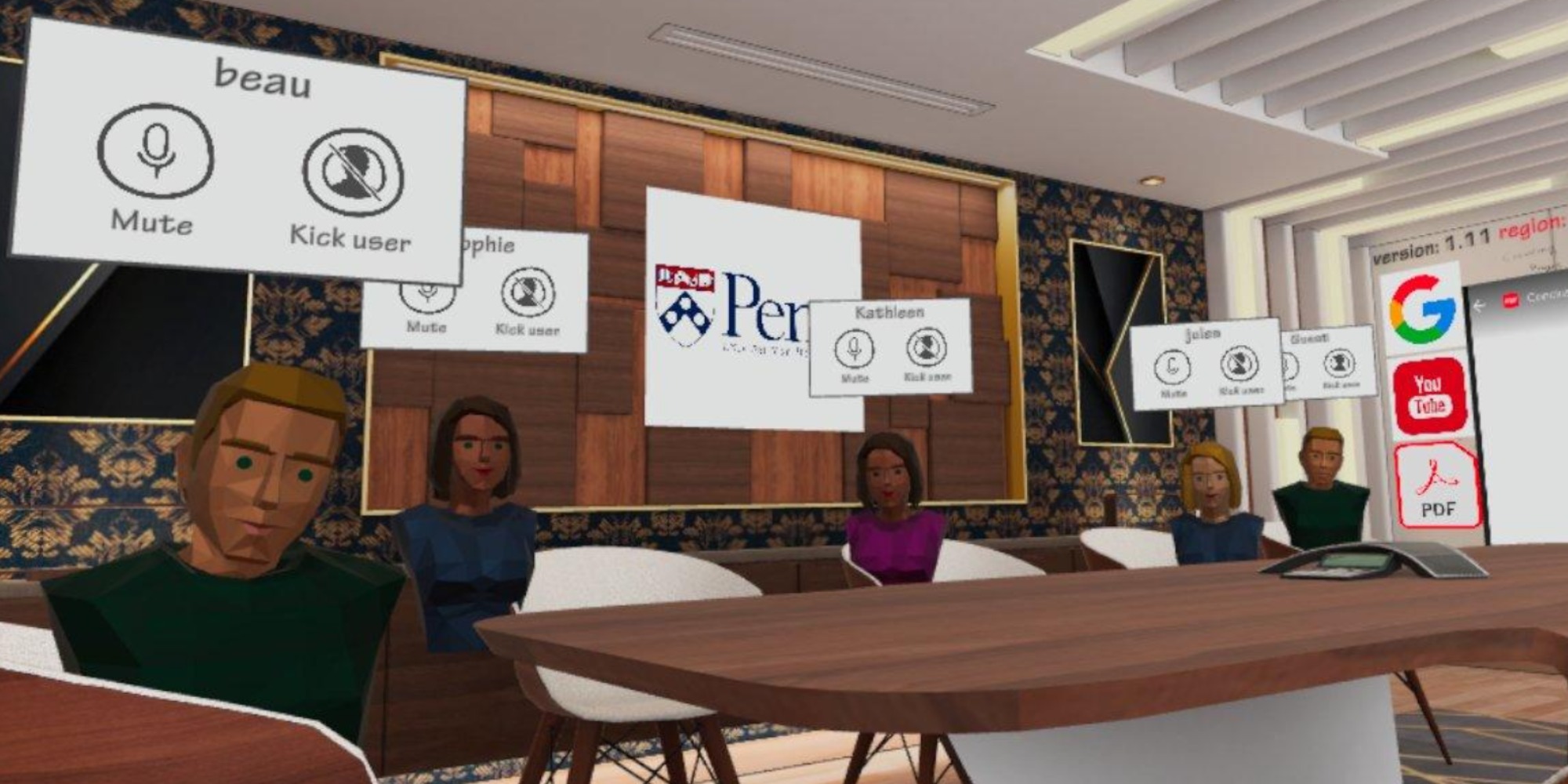 Seniors in Farah Jan's International Relations Thesis Seminar this past spring were able to attend class in-person and on campus without masks and without social distancing through the magic of virtual reality (VR).
Each evening at 6 p.m., students—from as near as Philadelphia and New York and as far as Tennessee, California, Arkansas, Oregon, Canada, and the Netherlands—would log into the PennVR app, which was designed by Jan for Penn students, put on their Oculus Quest VR headsets, virtually walk into an assigned room, and be transported to a Penn classroom, where they could sit, chat, converse, and interact as if they were in a campus building during pre-pandemic times.
Jan, a lecturer in the International Relations Program in the School of Arts & Sciences and an ardent VR user, she says was interested in testing teaching in VR because, after the University switched to online classes in March of 2020, she was looking for a new method of teaching online, and a unique and innovative way to better engage students.
"It was clear at time that we needed a new platform—a platform that is specifically designed for my students—where I could meet them and not be frustrated with the distance created by Zoom and the distractions of online learning," she says.
Teaching on Zoom, she says, takes away from the feeling of sitting around a seminar table, "and the VR room provides me that space where I am sitting around the table with the students."
She pitched her idea to Tomoharu Nishino, co-director of the International Relations Program, who gave his approval.
Nishino says senior seminar students in past years have reported that interacting with their fellow students and exchanging ideas in a seminar-type environment was a critical component of the class. Last summer, when it became apparent that fall courses would be held online, he says the program began contemplating inventive ways to make the senior seminar more personal and tangible for students.
"We were looking for different ways in which to make the class come alive a little bit more, so when Dr. Jan proposed an alternative to the standard Zoom meeting, we thought that it would an interesting thing to try," he says.
Jan designed the modern virtual Penn classroom herself, complete with a smartboard, carpet, wall art, a decorated ceiling, the Penn logo, and stylistic chairs around a sleek seminar table. It took eight months to create and is a combination of a seminar room in Williams Hall and Huntsman Hall.
Students in the course could choose their own avatar and where they wanted to sit. VR headsets were provided by the Van Pelt-Dietrich Library Center and Jan, who lent students headsets from her own collection and mailed them to students around the country and world.
Before their first class, students took part in an orientation and tutorial sessions to get accustomed to the headsets and the virtual world.
Although it was an evening class, Jan says it was held during the daytime in VR in order to reduce the exertion and tiredness common among students at the end of the day.
Julianna Emanuel, a May graduate who majored in international relations and attended the class from Philadelphia, says learning in VR was a change of pace and allowed for a change of style.
"It broke up the monotony of being on Zoom all day," she says. "I appreciated how it was different from all of my other classes. Being in a VR classroom is totally different than just sitting at my desk in my bedroom on Zoom, so it really changed how I thought in the classroom and how I approached online learning since it was a totally different environment."
Emanuel says it took some time to get used to the VR headsets, but once she became acclimated, her learning experience was transformed and she forgot that she was sitting in a room in her house.
"You're sitting at a table and you're looking at your classmates, and you have the ability to raise your hand, and you can see someone across the table from you raising their hand, too," she says.
Jan says studies have shown that when students learn something in VR, it stays with them and they remember it longer than something they learn on videoconferencing platforms.
May graduate Kathleen Curlee, who double majored in international relations and political science and attended the class from Arkansas, says this was her precise experience.
"I feel like I learned so much better from being in a virtual reality class than over Zoom," she says. "I feel like I don't learn very well at all on Zoom, but in virtual reality, I felt like I was actually there. I was looking at Dr. Jan, I could see where she was in the room. I could see how she was pointing at the screen. I could see her lecturing and I could see her looking at different students. It was a much better experience being in virtual reality, and I retained so much more knowledge being in that class.
"It was like I was actually in class around the people. It's a really unique experience to be like a thousand miles away from someone but still feel like you're right next to someone."
Penn is returning to in-person classes in the fall, but Jan says she plans to make use of VR in the future. She says she would like to see if there are any other programs at Penn that would be interested in using VR as a teaching tool, especially for remote and online courses. She also plans on introducing VR to Counseling and Psychological Services, where it could be used as an innovative tool for providing a safe space for students to talk.
"[VR] is something that we as an Ivy League institution should talk about and be leaders in," she says.