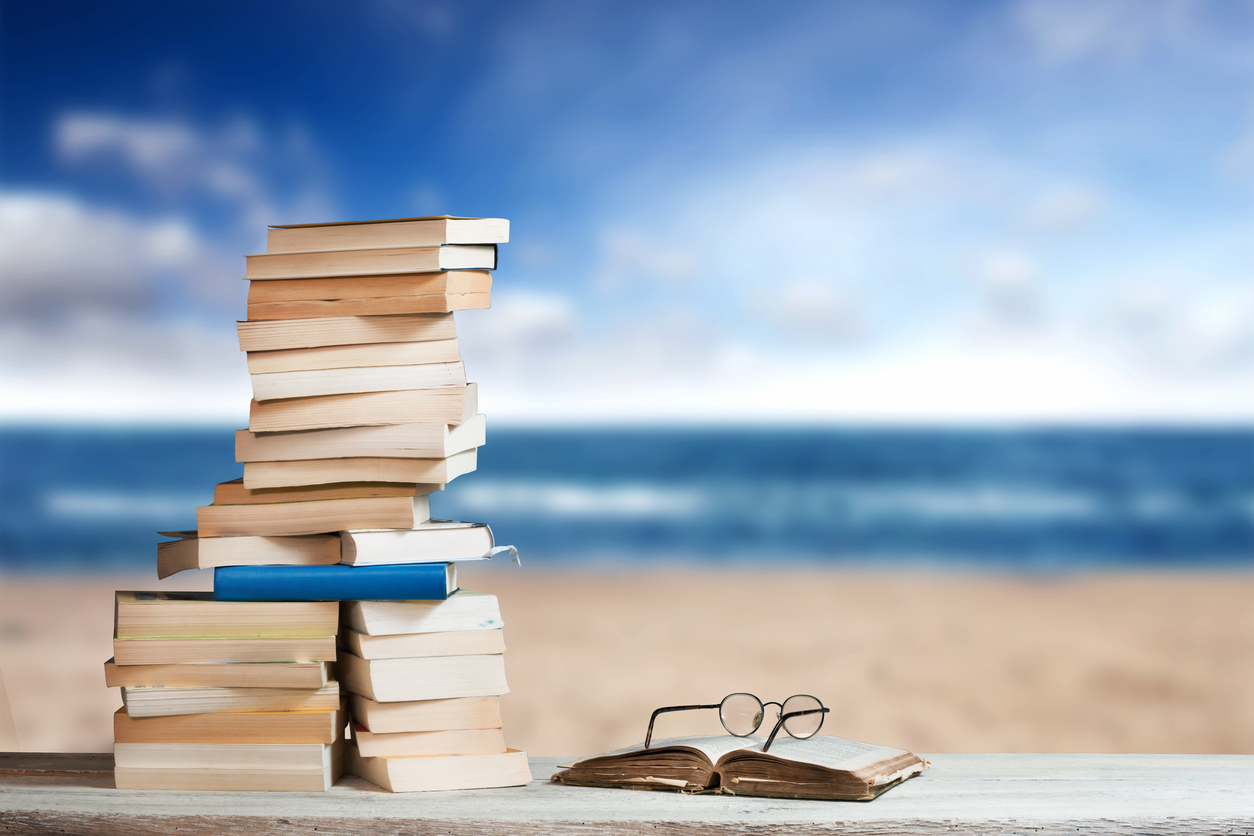 Readers, rejoice: the summer reading season is upon us. 
With long, sunny summer days ahead and plenty of time on the beach—the front lawn, a park bench, etc.—ripe for reading, the usual conundrum springs up: What to read? 
Eighteen Penn faculty and staff members share their picks for the summer, broken down by relevance to their field of study versus general interest, in an effort to help either compile or whittle down those summer reading lists. Grab an iced coffee, keep your bookmark at the ready, and settle in to get lost in any one of these 36 reads.
Book from the field: "Everybody Lies: Big Data, New Data, and What the Internet Can Tell Us About Who We Really Are"
Author: Seth Stephens-Davidowitz
"Penned by the New York Times op-ed contributor and visiting lecturer at the Wharton School Seth Stephens-Davidowitz, this engaging read discusses the implications for deriving insight from a new kind of information: the questions we ask Google. A supplemental departure from gut instinct theories and proponents of big data panacea, Stephens-Davidowitz's poses resounding questions about the uses (and abuses) of data collected online. Spoiler warning: Freud was a fraud."
Book of general interest: "Programmed Inequality: How Britain Discarded Women Technologists and Lost Its Edge in Computing"
Author: Marie Hicks
"Authored by former UNIX admin and assistant professor of history of technology at the University of Wisconsin-Madison, this groundbreaking work spans three decades of discrimination and exclusionary practices in Britain's post-war tech economy. Examining the relationship between gendered labor and computing, Hicks delves into the history of the 'feminized machine underclass' in the context of institutional and technocratic structures."
Chris Gruits, Executive and Artistic Director of the Annenberg Center for the Performing Arts
Book from the field: "How Early America Sounded"
Author: Richard Cullen Rath 
"As part of the Annenberg Center's 2018-19 season program, we'll present a series entitled 'The Philadelphians: Migrations that Made our City,' presenting some significant European and American-based ensembles, looking at early Philadelphia through the lens of music and performance. Part of my research for this programming encompassed a look at what the sound environment of Colonial Philadelphia would have been like. This book is a fascinating exploration of the way sound was central to early America and our nation's indigenous and colonial societies."
Julia Bloch, Director of the Creative Writing Program 
Book from the field: "News of War: Civilian Poetry 1936-1945"
Author: Richard Galvin
"Galvin brilliantly reads the work of a number of poets for their 'wartime poetics' and what those poetics reveal to us about how to understand the relationship between literary culture and political history. Galvin's work is helping me make sense of the role of poetry in our current state of affairs, too—including what, specifically, poetry can say about war—something I'm pondering as a poet, scholar, and teacher."
Book of general interest: "What We Lose" 
Author: Zinzi Clemmons
"In the summer, I get to read fiction, and right now I'm so enjoying Zinzi Clemmons's beautiful debut novel 'What We Lose,' which uses experimental storytelling modes to explore the experiences of its narrator, the daughter of a South African mother and an American father who is coming of age in Pennsylvania. I'm so taken with Clemmons' prose style—I feel as though this could be a book of poetry, with its elegant turns of phrase and its willingness to open to ambiguity and elliptical turns even as there's a rich sense of narrative."
John McInerney, Executive Director of The Sachs Program
Book from the field: "Carsick"
Author: John Waters
 
"For one related to our work, I loved John Waters book 'Carsick.' We picked John, a filmmaker, writer and artist, to speak at our grants announcement because his work is so connected to core Penn arts—cinema, writing, and the visual arts. This is a great read because it is both fiction and memoir. John first imagines what will happen if he hitchhikes across the country and then, at 66, he actually does it. It is so great to see such fearlessness at a time in someone's lives when so many people are stepping back from adventures and risk-taking."
Book of general interest: "The House of Broken Angels" 
Author: Luis Alberto Urrea
"This is the one book I am most excited to read this summer. Critics, and my sister, love this novel—the story of a weekend reunion of a sprawling Mexican-American family in San Diego. It has been described as both a sad and joyful story to read, a powerful testimony to the rich and challenging lives, and loving families of Mexicans and Mexican-Americans who have been a core part of the American story for generations."
Victor Pickard, Associate Professor of Communication, Researcher of Media Studies
Book from the field: "Antisocial Media: How Facebook Disconnects Us and Undermines Democracy"
Author: Siva Vaidhyanathan
"This timely book provides crucial context for the growing social problems connected to Facebook, a platform monopoly that has tremendous power over the world's communication systems. By discussing various perils unleashed by Facebook, Vaidhyanathan rings the alarm bells and begins an invaluable and long overdue conversation focused on what we as a democratic society can do about this run-amok technology."
Book of general interest: "Ill Fares the Land"
Author: Tony Judt
"For those of us who are trying to make sense of our current political moment and how we got here, 'Ill Fares the Land' offers a highly readable entry point for understanding why social democracy withers in the U.S. as it succumbs further to market fundamentalism. Based on a famous public lecture that Judt gave at New York University less than a year before he passed away, the book traces how we have shifted from asking whether policies are good for society as a whole to caring more about whether they encourage efficiency and profitability."  
Herman Beavers, Professor of English and Africana Studies
Book from the field: "Underground Airlines"
Author: Ben H. Winters
"I'm reading one of Winters' earlier books called 'The Last Policeman,' in which a police detective tries to solve a murder in the months preceding a cataclysmic event that will likely destroy the Earth. Winters' ability to ask the question 'What if . . . ?'  and then to take us through what he comes up with, made me know I had to read a book about what would happen if Southern slavery survived the Civil War and continued into 21st-century America."
Book of general interest: "Senses of Style: Poetry Before Interpretation"
Author: Jeff Dolven
"This is one of those summers where I plan to throw out everything I think I know about writing poetry and start from scratch. Dolven's prose is elegant and I'm intrigued by the question of style as it relates to poetry, since one of my undergraduate teachers told me that poets preoccupied with style wind up working for a newspaper or selling cars." 
Anne Esacove, Associate Director of the Alice Paul Center for Research on Gender, Sexuality and Women
Book from the field: "Love, Money and HIV: Becoming a Modern Woman in the Age of AIDS"
Author: Sanyu A. Mojola
"Mojola situates young Kenyan women's sexual behavior in the economic, social, and ecological forces that make the transition from childhood to adulthood particularly risky for young women, at the same time it provides temporary protection from HIV for young men. The book is an important corrective to the overly simplistic 'sugar daddy' narrative that dominates public and policy discussions of HIV risk and prevention. It's a winner of the American Sociological Association's Scholarly Book Award."
Book of general interest: "Hyperbole and a Half"
Author: Allie Brosh 
"A hilarious and smart graphic novel that includes one of the best descriptions of depression that I've ever read. Really, it's laugh-out-loud funny."
Henry Daniell, Interim Chair, Department of Biochemistry in the School of Dental Medicine 
Book from the field: "Obsessive Genius: The Inner World of Marie Curie"
Author: Barbara Goldsmith 
"I have read several books on Marie Curie before and can't wait to read the recent biography by Barbara Goldsmith, especially after reading the New York Times review on this book that gives a glimpse of human emotions and challenges in lives of scientists, especially women scientists. This will be a timely topic for others to read about as well."
Book of general interest: "Enlightenment Now"
Author: Steven Pinker
"I plan to read Steven Pinker's 'Enlightment Now' to get a realistic understanding of the world amidst illusion of skeptics who predict the end of the world or democracy. Reviews on this book are quite good."
Felicity Paxton, Director of the Penn Women's Center
Book from the field: "Rodeo: An Anthropologist Looks at the Wild and the Tame"
Author: Elizabeth Atwood Lawrence
"Trained as both a vet and an anthropologist, Atwood Lawrence is uniquely positioned to offer a rich interdisciplinary meditation on the cultural significance of rodeo. Her symbolic analysis remains deeply resonant, and this book is fascinating whether or not you have any prior knowledge of rodeo culture."
 
Book of general interest: "Song of Solomon"
Author: Toni Morrison 
 
"I discovered this astonishing novel as a low-income white teenager growing up in north London and it convinced me that I wanted to study all things American. The soaring beauty of Morrison's prose quite literally opened up new worlds for me. And Guitar's admonition to Hagar, 'He can't value you more than you value yourself,' was fundamental to my feminist awakening."
Benjamin Nathans, Associate Professor of History, Researcher of Imperial Russia and the Soviet Union
Book from the field: "Democracy in America"
Author: Alexis de Tocqueville
"Still one of the most insightful books ever written about America and Americans, and about the promise and perils of democracy as a way of life. Tocqueville has much to teach us about the predicaments of the age of Trump, and how we got here."
Book of general interest: "Brand New Ancients"
 
Author: Kate Tempest
"This spring, I team-taught in Penn's Integrated Studies Program with my colleague from the Classics Department, Professor Peter Struck. It was a fascinating dialogue between classics and history on the theme of 'Orthodoxies and Disruptions.' Tempest's poem does what its title suggests: make the ancient Greeks modern and fresh. One of my favorite lines":
 
The plight of a people who have forgotten their myths
and imagine that somehow now is all that there is
is a sorry plight,
all isolation and worry.
James English, Director of the Wolf Humanities Center and Price Lab for Digital Humanities
Book from the field: "The Throwback Special"
Author: Chris Bachelder
"When people ask me to recommend a contemporary novel, I often suggest Chris Bachelder's 'The Throwback Special.' Featuring a group of middle-aged men who gather every year to re-enact a notorious play from a 1985 Redskins-Giants game, it sounds like an exercise in pure silliness. And it is indeed brilliantly funny from start to finish. But it is also a truly poignant meditation on friendship, family, sex, race, masculinity, and aging.  When I served as a judge for the National Book Award in 2016, we named it to our shortlist; one of my fellow judges aptly described it as 'that rarest of things, the perfect comic novel.'  
Book of general interest: "The Sixth Extinction"
Author: Elizabeth Kolbert
"I only just read Elizabeth Kolbert's 'The Sixth Extinction' a few months ago. It is a riveting work of environmental history, truly a devastating and indispensable book. If like me you did not get around to this contemporary classic while it was in the news, I would urge you to move it to the top of your reading list."  
Ian Lustick, Professor of Comparative Politics, International Relations
Book from the field: "The Autumn of the Black Snake"
Author: William Hogeland
"This is a masterful and gripping account of how the U.S. Army was created, against the will of most new Americans, in order to recover from a devastating defeat of American forces by Indians in the Northwest Territory in the early 1790s, and how the campaign, and indeed, in a sense, the entire Revolution, was designed to serve land speculation interests by Washington and other leaders of the rebellion. In addition to Washington, the book focuses particularly on Anthony Wayne, the general who hailed from Pennsylvania, and the key Indian leaders—Little Turtle and Blue Jacket."
Book of general interest: "Struggle and Survival in Palestine/Israel"
Editors: Mark LeVine and Gershon Shafir 
"Too often even those well-informed about the struggle between Jews and Arabs in Palestine/the Land of Israel fail to appreciate the human side of this tragic conflict. Mark LeVine and Gershon Shafir have compiled the best ever collection of extraordinarily well-documented accounts of individual Arabs and individual Jews, from the 1880s to the present, most unknown to history, some second- or third-rank leaders, and how their lives—as farmers, Holocaust survivors, refugees, settlers, musicians, feminist activists, etc.—shaped the conflict, and were shaped by it. A truly amazing book."
Richard Weller, Professor and Chair of Landscape Architecture at Penn Design 
Book from the field: "Defiant Earth: The Fate of Humans in the Anthropocene"
Author: Clive Hamilton
"Hamilton is one of the most passionate and erudite advocates for reconceiving what it means to be human in the Anthropocene."
 
Book of general interest: "The Landscape Imagination: Collected Essays of James Corner 1990-2010"
Author: James Corner
"This is a compendium of essays by one of the most influential and exciting thinkers in landscape architecture of the last 50 years."
Anthony Aiello, Director of Horticulture and Curator at the Morris Arboretum
Book from the field: "Ginkgo: The Tree That Time Forgot"
Author: Peter Crane
"Ginkgos are among the world's most recognizable trees and have been around for two hundred million years, since the age of the dinosaurs. This book outlines the history of ginkgos, and tells the story of the interaction of people with this 'living fossil.'"
Book of general interest: "Journals of a Landscape Painter in Southern Calabria"
Author: Edward Lear
"Yes, it is that Edward Lear, whose travel journals are largely forgotten, but provide a fascinating glimpse into travel throughout the Mediterranean in the mid-1800s. Accompanied by Lear's remarkable illustrations, this book provides a look at life in far southern Italy."
Anthony Sorrentino, Assistant Vice President, Office of the Executive Vice President
Book from the field: "The Idea Factory: Bell Labs and the Great Age of American Innovation"
Author: Jon Gartner
"This history of Bell Labs provides a direct view into the birth and development of the Information Age. Gartner's a great storyteller who takes what may seem mundane–advanced math, coding, integrated circuit technology, transistors, and lasers—and weaves it into what I considered a fascinating history of how advanced science and technology drove American industry, enabled government-sponsored research, created Silicon Valley, and ultimately defined the 20th century as the 'American Century.'"  
 
Book of general interest: "The Lowland"
Author: Jhumpa Lahiri
"I can't say that this is a light summer read, however, it is relevant. Since the campaign and election of 2016, Americans are ensnared in a public debate defining immigration, nationalism, family, and identity as political issues. In this epic and intimate novel, published in 2013, the author portrays an extended Indian family's struggles to retain identity and culture as some choose to stay in Calcutta, while others immigrate to America. More than a story of immigration and nationalism, it is, at its core, a poignant exploration of family and how its bonds can solidify and fray in unforeseen ways."
Linda Chance, Associate Professor of Japanese Language and Literature
Book from the field: "The Tale of Genji"
Author: Murasaki Shikibu
"This is a book for long winter nights, but if you have no time then, fill your summer days with a romance that has lasted a thousand years. Be sure to get the Tyler translation, and do not dwell on Genji—he's an excuse to tell what it's like to be a woman back when there was no 'Me Too' sisterhood."
Book of general interest: "The Pillow Book"
Author: Sei Shônagon
"Dip in anywhere on a moonlit summer night. Sei's ripping, if somewhat entitled, wit—whether in the translation of McKinney or Morris—is an antidote to Genji and all things disappointing."
Jessa Lingel, Assistant Professor of Communication, Researcher of Digital Culture
Book from the field: "Custodians of the Internet"
Author: Tarleton Gillespie
"Whose job is it to make the internet more fair, tolerant, and democratic? Gillespie's book is a thoughtful, readable account of the demands we've placed on the web and how we might make it better."
Book of general interest: "Kindred"
Author: Octavia Butler
"Every book by Octavia Butler is a gift for rethinking assumptions about human connectivity, but I really love 'Kindred' as a thought experiment about race, history, and empathy."
Anthony Elms, Chief Curator at the Institute of Contemporary Art
Book from the field: "A Foreign Sound"
Author: Barbara Browning 
This book-length study of an odd Caetano Veloso album of covers is an incisive example of what criticism can be. Encompassing issues of cultural appropriation, translation, and citizenship, Browning's writing has had me stewing over the politics of influence, reevaluating an album I never liked much, and at a point or two nearly tearing up.
Book of general interest: "Riot"
Author: Gwendolyn Brooks
"Rereading this broadsheet, there is such generosity on Brooks' poetic processing of 'the language of the unheard' as it played out in the 1968 Chicago riots after the assassination of Dr. Martin Luther King Jr. Affection, violence, frustration, regeneration, and resistance circle and feed one another in the 'Warplands,' as reported on in these poems."