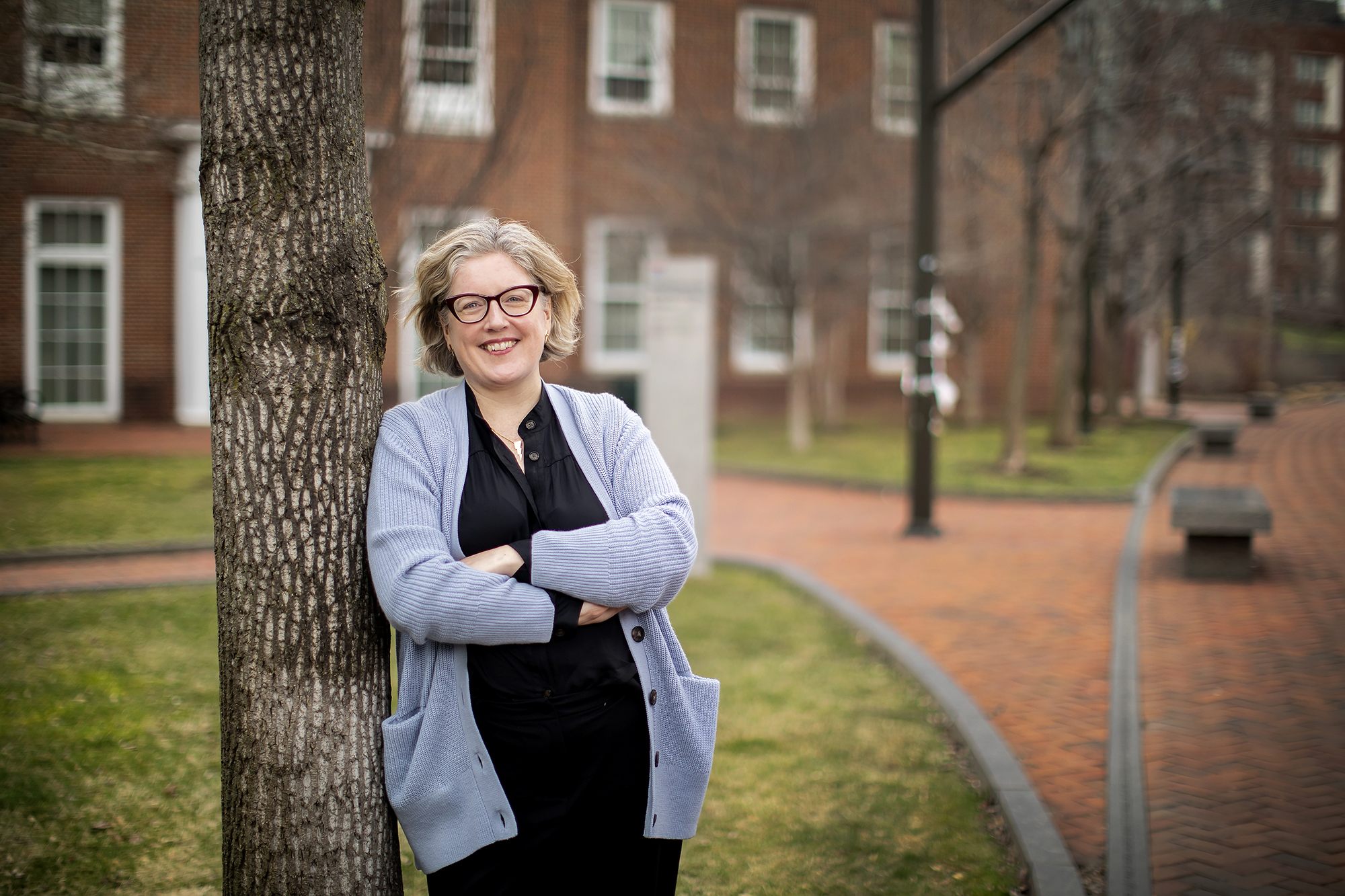 Emma Hart's former career tracking down art thieves was exciting. But for the new Richard S. Dunn Director of the McNeil Center for Early American Studies, the call of history was stronger.
Hart, originally from the United Kingdom, earned her undergraduate degree at Oxford University, where she developed her interest in early American history thanks to a teacher who did his Ph.D. at Penn, she says. She decided not to get her Ph.D. right away and instead studied fine and decorative art at Sotheby's. Afterward, she worked in recovering stolen art and antiquities for the Art Loss Register.
Her most thrilling moment was participating in a dawn raid with the London police on the house of a so-called fence, who kept stolen art until there was a good time to sell it.
"While the police held him under arrest in his kitchen we went around the whole house, and he had loads of stuff. We found ceramic cats in his cupboard that were on our database made by a very famous French ceramicist; he had jewelry; he had paintings under his bed," she said. "It was a treasure trove, and we nailed him because we were able to identify all these items as stolen."
The work was fascinating, she says, but not intellectually satisfying.
"I found myself in the British Library reading books on early American history in the evening," she says.
So, she decided it was time to pursue a Ph.D. and enrolled at Johns Hopkins University. She went on to teach at St. Andrews University for 19 years before coming to Penn in January 2021 to join the History Department. She took on the role of director of the McNeil Center in June when Daniel Richter, the Roy F. and Jeannette P. Nichols Professor of American History, retired after more than two decades at the Center's helm.
"As a scholar, administrator, and mentor, Emma is extraordinarily well prepared to assume leadership of the McNeil Center," Richter wrote in an email announcing Hart's new position. "I am confident that it will not only be in good hands but will thrive under her direction."
The McNeil Center facilitates scholarly inquiry into the histories and cultures of North America in the Atlantic world before 1850 and has been branching out from its primary focus on the mid-Atlantic region.
"Our graduate fellows are focusing on everything from early 19th century Barbadian slavery to the Great Awakening religious revivals in America in the 1740s to religion and environmental activism in 17th century in Philadelphia," she says.
The Center offers pre- and postdoctoral fellowships to encourage use of the Philadelphia area's rich manuscript, rare book, and museum collections; conducts a seminar series to promote intellectual community among local and visiting faculty and graduate students; and organizes national conferences to foster interdisciplinary research.
It also publishes "Early American Studies: An Interdisciplinary Journal" to highlight the best new scholarship in the field and sponsors the Early American Studies monograph series published by the University of Pennsylvania Press.
The groundbreaking center was established in 1978 as the Philadelphia Center for Early American Studies by the eminent Penn historian Richard S. Dunn, who died in January at the age of 93 and was pivotal in making the Center what it is today, Hart says. It was renamed in honor of its benefactor Robert L. McNeil Jr. in 1998.
It is one of only two centers that focus explicitly on early America and the only interdisciplinary institute. The fact that it's not just a history center makes it unique, says Hart, inviting scholars of everything from religious studies to material art and culture to literature.
"The conversation across all these disciplines is really important," she says. "It's also a friendly community; often academics can be competitive and hierarchical, but there's no place for any of that in the Center. You check your egos at the door, and we're here to geek out together about early America."
Hart knows the McNeil Center well, having been in residence as a Barra Sabbatical Fellow in 2016-17.
"Here, you have economic historians listen to papers by American literature scholars who then have to listen to papers by people from religious studies departments, and it really opens their minds," she says. "When I was the sabbatical fellow and writing my second book, listening to these different approaches completely changed the way I thought about what I was writing."
One of the challenges she plans to tackle in her new role is preparing scholars for thinking broadly about their future job prospects amid the ever-tightening job availability in academia for humanities scholars.
To do this, Hart is bringing in diverse experts to speak about their careers as archivists, curators, museum professionals, and librarians.
Another challenge she hopes to address is the impact that the pandemic had on young scholars, particularly those who had to care for children or had family obligations that made it difficult to participate in residential fellowships and even just to do their basic research and writing.
Some preliminary ideas are to have a summer writing camp with the opportunity to have a child-care stipend, so they can focus on writing up their research, she says.
"The research and the writing always fall under the bus if you're having to teach and manage child care, even though the reason you became a humanities professor is for your research and advancing knowledge," she says.
The Center's next event, "Teaching Independence" on March 25-26, will consider the challenges of teaching the Declaration of Independence, the history of the American Revolution, and the nation's founding, in the 21st century. Presenters will reflect on how educators can tackle the thorny public debates that have arisen around "founding" dates, in particular 1619 and 1776, and will address current debates over Critical Race Theory.
That's another big push for Hart: planning for the 250th anniversary of the Declaration of Independence, in 2026. She's working with centers and groups around campus and Philadelphia to mark it in a profound way.
"This is not the kind of anniversary that you can let pass without marking it, and early Americanists are particularly keen to do something because of the fraught political environment in the U.S., with the controversy surrounding the 1619 Project from The New York Times and the Trump administration's 1776 report."
From its brown bag lunches to Friday seminars to conferences, the McNeil Center welcomes anyone in the Penn community with an interest in early America, Hart says.
"If you're interested in doing any projects about early America, we're ready to help and we're a great resource for important parts of America's past," she says. "Especially with the 250th anniversary of the Declaration of Independence coming up, we are your one-stop shop."