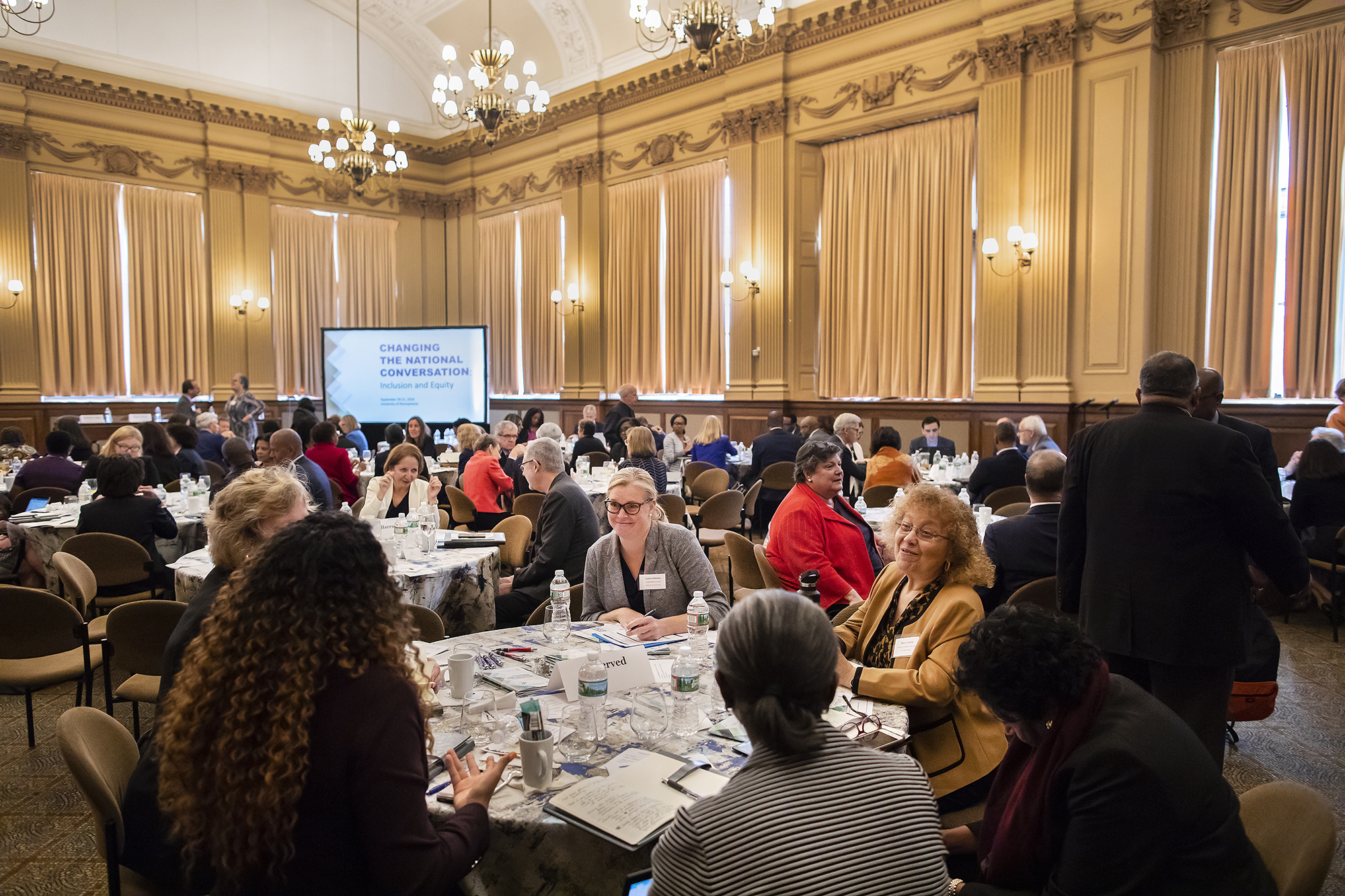 Penn President Amy Gutmann and Provost Wendell Pritchett recently joined more than 100 presidents, provosts, and senior administrators from dozens of colleges and universities across the country to discuss diversity and inclusion in higher education. 
"Changing the National Conversation: Inclusion and Equity" was hosted on Penn's campus Sept. 20-21 and co-sponsored by Penn, the University of Maryland, College Park, and Swarthmore College. The executive planning committee was chaired by Ruth Enid Zambrana from the University of Maryland, College Park and Debra Peréz of Simmons University served as its co-chair.  
The other committee members were Penn's Vice Provost for Faculty Anita Allen, Vice Dean for Diversity and Inclusion at the Perelman School of Medicine Eve Higginbotham, Senior Vice President and Chief Diversity Officer Joann Mitchell, and the Margaret Bond Simon Dean of Nursing Antonia Villarruel.
Gutmann presented the opening keynote address, which touched on her personal and professional journey, and underscored the importance of diversity and inclusion in enriching the educational experiences for all students and propelling innovation.  
"Solutions to complex problems must come from the academy," Gutmann said. "To take on the toughest problems, we must be at our very best, which means we must be maximally creative, which means we must be at our most inclusive and diverse to tap the widest range of great talent." 
Another featured speaker was Ruth Simmons, president of Prairie View A&M University and the former president of Brown University and Smith College. Simmons emphasized that since the makeup of diverse groups changes, strategies and institutional plans for fostering diversity and inclusion must be ongoing efforts rather than endpoints. 
Penn Integrates Knowledge Professor Risa Lavizzo-Mourey delivered the third keynote address, "The Secrets of Success," which underscored four focus areas for leaders: the importance of mentorship and sponsorship, community and inclusion, playing the long game, and walking the talk. 
The conference also featured panel discussions where participants offered perspectives and advice on tough questions confronting leaders in the academy; visible and invisible impediments to change; the trajectory of efforts from affirmative action toward inclusion; and sustaining inclusive and welcoming campuses.  
Before an audience that included leaders of community colleges, minority-serving institutions, liberal arts colleges, and research-intensive universities, Pritchett facilitated the closing plenary session, which discussed themes and strategies that emerged during the rich and wide-ranging discussions that had taken place over the course of the conference. The aim of the plenary was to identify ideas and initiatives that might be explored more fully, and opportunities for collaboration to support one another in advancing the important work of inclusion and equity through, in Pritchett's words, "generosity and tough love."  
Gutmann noted that we must "never forget that every person we empower through our commitment to inclusion and diversity carries that work forward. They use their success to bring success to others." 
That's not just a conversation changer," she continued. "It's a game changer for our nation and the world."