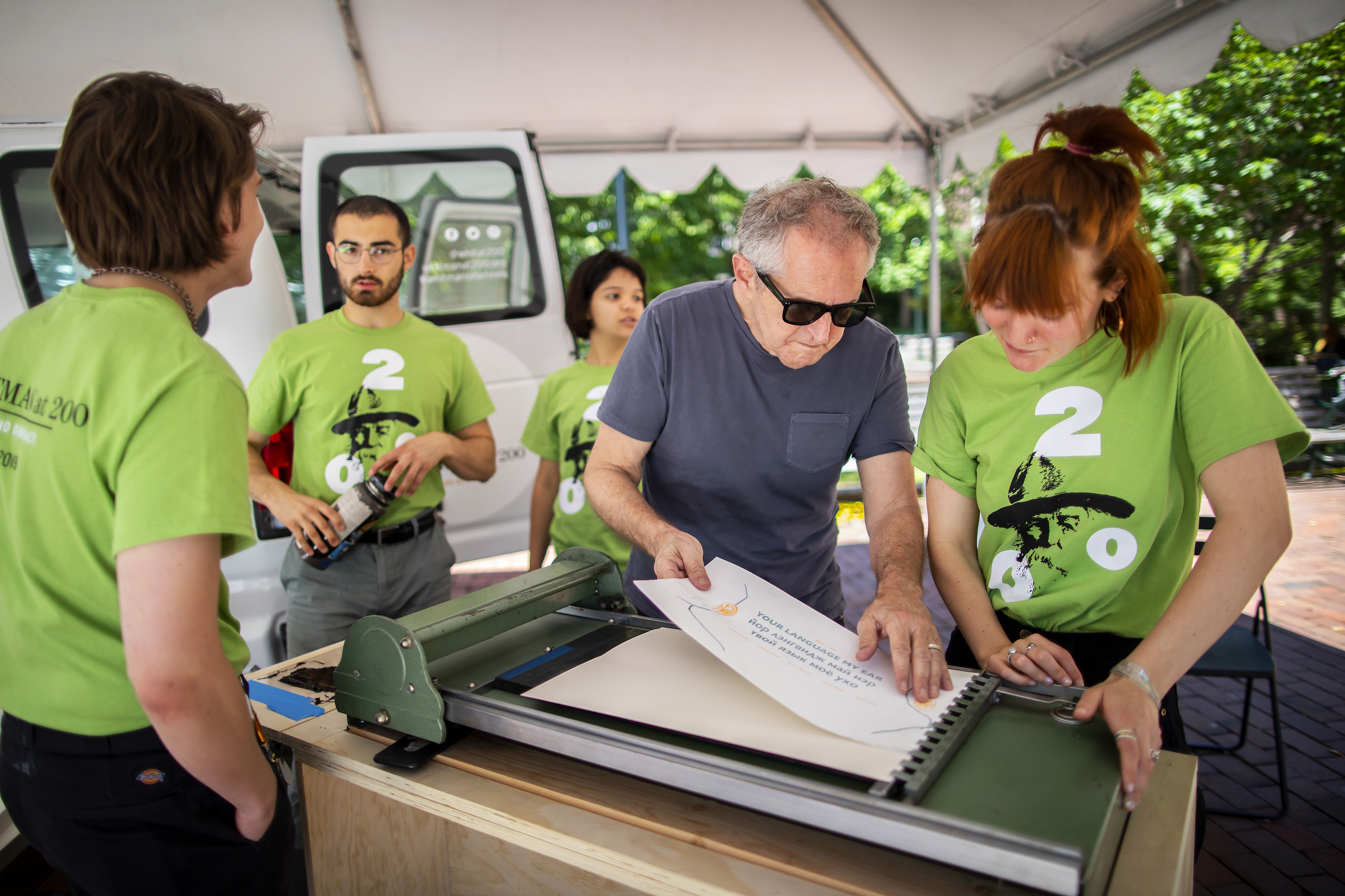 The metal letters inked and the poster paper in place, the mobile printing press was ready to create its first broadside in public, set up outside the library on Penn's Locust Walk.
"Let's give it a go!" said David Comberg, graphic designer and project leader, pressing the roller over the paper. Carefully peeling the poster back, the words of Walt Whitman appeared in a near-perfect print, prompting cheers. "It's working!"
Thus began the two-day appearance for the public art project as part of Alumni Weekend, the first of many scheduled through mid-June around Philadelphia, on campus and at community centers and schools, to demonstrate the art of printing and share Whitman's poetry. People are invited to print their own and take them home.
The main public printing event will be on Thursday, May 30, outside the Philadelphia Museum of Art and Friday, May 31, at City Hall as part of Whitman at 200: Art and Democracy, a region-wide celebration of the 200th anniversary of the poet's May 31 birthday. The yearlong project is organized by the Penn Libraries.
The press fits into a white van branded with "I celebrate myself," the first line of Whitman's famous poem "Song of Myself," the letters in various colors and typefaces. The van's interior is built out with shelves for tools and paper, with room to store the press and its custom wood table. This public art project, which includes five paid student interns, is funded by the Sachs Program for Arts Innovation and the Libraries.
"There's no digital component. Everything is manual and mechanical," Comberg says, while demonstrating the press, finishing a print that had a couple of stray dots of black ink. "Notice the minor imperfections. That shows it is authentic."
The public art project is the culmination of a unique spring semester undergraduate course, Walt Whitman and the People's Press, taught by Comberg, a senior lecturer in fine arts in the Stuart Weitzman School of Design, and Catherine Turner, a lecturer in English in the School of Arts and Sciences.
Printing Whitman's words on broadsides was a required project for the course, a nod to the poet's passion and profession as a printer. "My proposal was to teach a class on Whitman, but to do it in a way that it is very materials-based, because I'm in fine arts and one of the ways we learn is through making," Comberg says.
He partnered with Turner, also the senior associate director of the Center for Teaching and Learning, who was game to try a new approach for the course. "Everything in this class was a creative work, project-based, and really thinking about the text in a range of different ways," she says. "That was a great experience for me as a teacher, and as someone who talks to other teachers."
The 16 undergraduates in the course were required to produce several projects. Students were open to respond to Whitman in any way, and produced drawings, paintings, photographs, videos, music, even a test patterned after the LSAT. Another assignment was to write and produce a podcast on Whitman, now available on SoundCloud, created in conjunction with the Libraries' Vitale Digital Media Lab.
"The greatest part of the class was the diversity of people's mindsets when forced to respond to Whitman's poetry," says Omar Khoury, from Cincinnati, Ohio, a May graduate.
And in a precursor to the mobile press, each student hand-printed a 50-piece run at the Common Press, two versions of broadsides with excerpts of Whitman's poetry, or their interpretations. Some of their work is featured on the class's Instagram page.
"Especially with the printmaking aspect of the course, it was interesting to be so conscious of the design choices I was making with the typography and how it altered the meaning of the poetry," says Risa Sato, a rising junior in the Wharton School from Tokyo. "Aesthetics apply to not only visual art but also poetry and it was an interesting thing to be looking out for while reading Whitman's poetry."
The students' final projects were to make a proposal for a public monument involving Whitman. Khoury and rising senior Lucy Ferry were inspired by an existing monument in Germany to imagine a sculpture created by a stack of books. The titles featured are works by a dozen Whitman influencers, starting with Homer and ending with Whitman himself. To acknowledge that the authors were all white men from the Western Hemisphere, for each title there is a question. For example, 'Where is the voice of a woman?' for Whitman.
"Whitman's views on women and minorities are problematic," says Khoury, a double-major in English and modern Middle Eastern studies. "Our project was all about having a conversation with the past, not glorifying it."
Seen through the lens of history, Whitman's work is controversial, complicated, and contradictory, in issues of race, gender, sexuality, slavery.
"The students were engaged deeply in what he was writing and thinking about his purpose of uniting the nation through poetry," Turner says. "They were often troubled by his claims to be a universal voice, but they are also more aware of why he is relevant for the contemporary moment."
Khoury has been collecting quotes in the notes section of his phone since he was 13, now totaling about 1,400. "I've included a dozen or so from Whitman," he says.
"I have found his poetry speaks to me enough that I want to write it down, ruminate and reflect on it in the future," Khoury continues. "I understand that he has shortcomings, but generally he has a very humanistic world view. He has an element of both collective and personal identity, and that element of genuine human connection is what I find most appealing in Whitman."
And that human connection is continuing through the mobile printing press.
For Ricardo Phillips, who was the first in line to make a broadside that day in front of the library, the Whitman keepsake will remind him of his days as a Penn student.
"To use my hands to press something into this really nice paper, it is kind of translating something to me about my experience here," said Phillips, who graduated with a master's in non-profit leadership from the School of Social Policy & Practice on May 20. "The paper will wither away, but the memories won't."
Homepage photo: The students chose and printed fragments of Whitman's poetry for the course. Those interpretations are offered to the public to print with the mobile press.