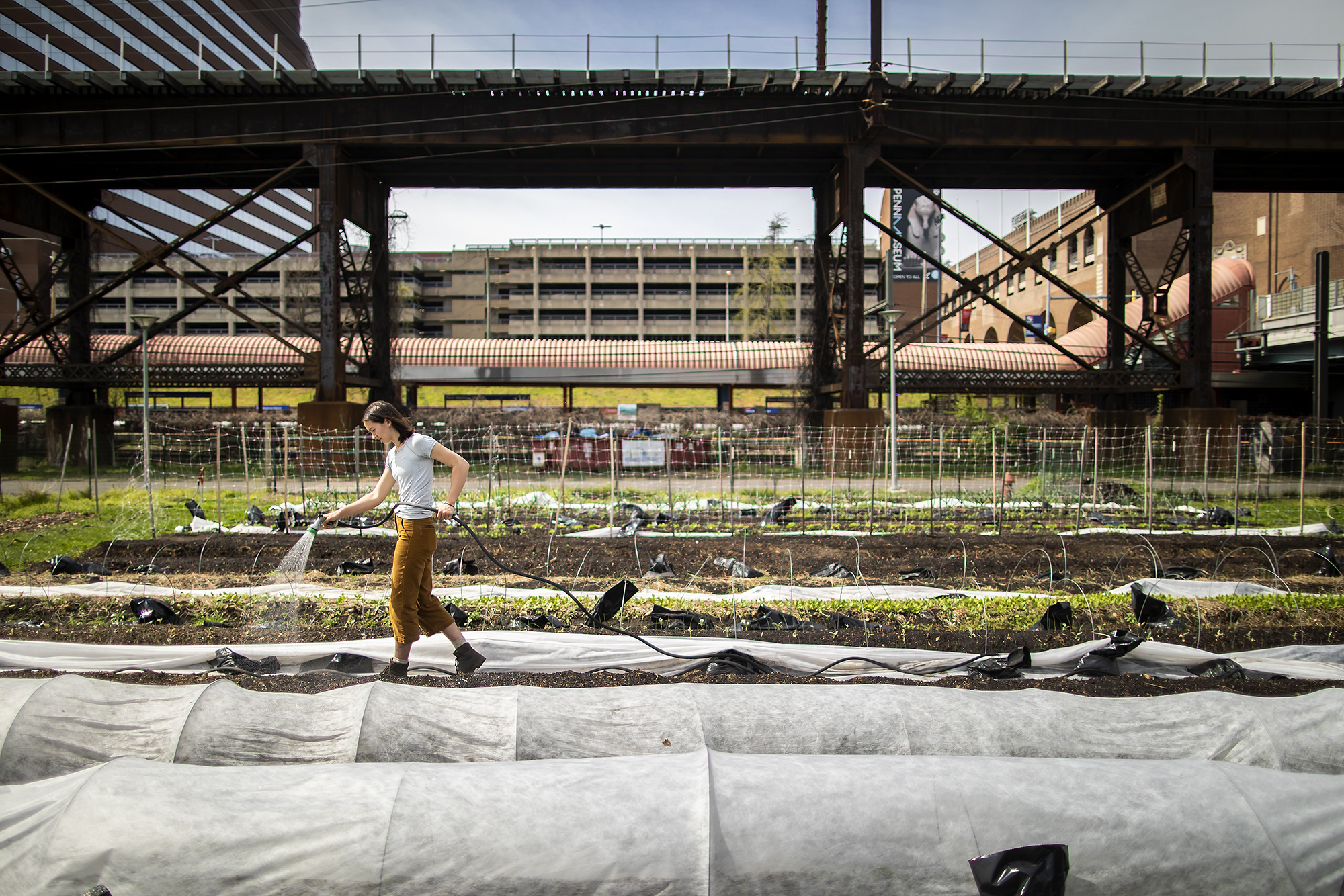 In its third iteration this year, Climate Week at Penn will kick off on Oct. 10, also Indigenous People's Day. That timing inspired the organizers to collaborate with alumni and students to frame a key event that highlights Indigenous knowledge and its role in addressing the emergency that climate change presents.
Talon Bazille, a Penn alum and a member of the Crow Creek Dakota and Cheyenne River Lakota tribes, is a rap artist and poet. His performance the afternoon of Oct. 10 under a tent on College Green, part of the "Native Lands, Native Knowledge" event, will be "a little different from a traditional hip hop performance," he says. He hopes to hammer home the ways in which Indigenous people's voices have been overlooked, dismissed, and devalued while pointing to the sacrifices and shifts in values that must occur to protect future generations from environmental harm.
"Often in my undergraduate days at Penn people were asking me what it's like growing up on a reservation, what it's like to be Native, all of these questions," says Bazille. "This is my opportunity to show them through a performance: This is what it really is, no sugarcoating."
Bazille's offering will complement a keynote speech by another Penn alum, Megan Red Shirt-Shaw, a member of the Oglala Lakota tribe, director of Native student services at the University of South Dakota, and a noted educator, writer, and researcher. A panel discussion will follow, moderated by Toyce Holmes, the staff advisor for campus group Natives at Penn.
Launching the event-filled week by lifting up voices that are frequently not given platforms to be heard is appropriate, says Melissa Brown Goodall, senior director of the Environmental Innovations Initiative, which serves as the administrative lead for Climate Week.
"We want to highlight the opportunity for each discipline, for every member of the community, to connect to the climate challenge," Brown Goodall says. "Climate Week is an amazing chance for people to explore how they can get involved and find their voice in ways that resonate authentically with who they are."
While the first two Climate Weeks at Penn, in 2020 and 2021, took place in the midst of the COVID-19 pandemic, this year, lifted restrictions and falling case counts are allowing most events to convene in person, some with Zoom options.
Groups across campus contributed programming with little prompting, says Simon Richter, the Class of 1942 Endowed Term Professor of German in the School of Arts & Sciences, who has helped organize each Climate Week and will be presenting this year on his work related to "floating cities" in the Netherlands.
"I continue to notice that people just spring into action when they hear about the opportunity to participate," he says. "There's a pretty high level of awareness on campus of both the importance of understanding climate change and of the need for climate action."
A marquee event will be the 1.5 Minute Climate Lectures on College Green, a spin on the School of Arts & Sciences' 60 Second Lectures that draws attention to the important target of keeping climate warming under 1.5 degrees Celsius on average to avoid the worst harm from heat, storms, fires, droughts, and floods.
In a slightly new format this year, the 1.5 Minute Lectures will include not only intentionally brief remarks from each speaker but also a panel discussion that will allow presenters to dive more fully into the issues they raise on how climate change dovetails with their academic fields. Faculty will offer talks on Wednesday, Oct. 12, with students giving their own talks on Friday, Oct. 14.
The planned events offer immersive activities, including a bioblitz in the BioPond and work days at Penn Park and Andrew Hamilton School in West Philadelphia, providing opportunities for hands-on action. Meanwhile scientific and academic-oriented talks, such as a lecture by climate scientist Michael Mann and a panel on electric vehicles hosted by the Penn Program on Regulation, will dive deep into timely environmental issues.
And as in past years, a number of gatherings will focus on social and environmental justice and equity, in Philadelphia in particular. These include a panel on climate justice in Philadelphia, an overview of a government-funded effort to evaluate heat and air quality across the city, and a workshop on how regulatory systems can perpetuate environmental injustice.
The week offers numerous other ways to get involved, such as:
On Monday, Oct. 10: Pete Psarras of Penn Engineering will discuss responsible deployment of carbon removal strategies, sponsored by the Kleinman Center for Energy Policy;
On Tuesday, Oct. 11: Penn alums whose work intersects with climate change in the corporate world will participate in a panel, organized by the Wharton Undergraduate Energy Group;
On Wednesday, Oct. 12: members of Women of Renewable Industries and Sustainable Energy (WRISE) will table on Locust Walk to raise awareness of their mission;
On Thursday, Oct. 13: Philadelphia public school students and teachers will convene and share personal climate stories in an event organized by the Penn Program in Environmental Humanities;
And on Friday, Oct. 14: a tour of Penn Park Farm sponsored by Penn Food and Wellness Collaborative, Natives at Penn, and the Greenfield Intercultural Center will engage participants in a conversation about the future of food and farming in the wake of climate crises.
View the full week's schedule on the Climate Week website at https://climateweek.provost.upenn.edu/.