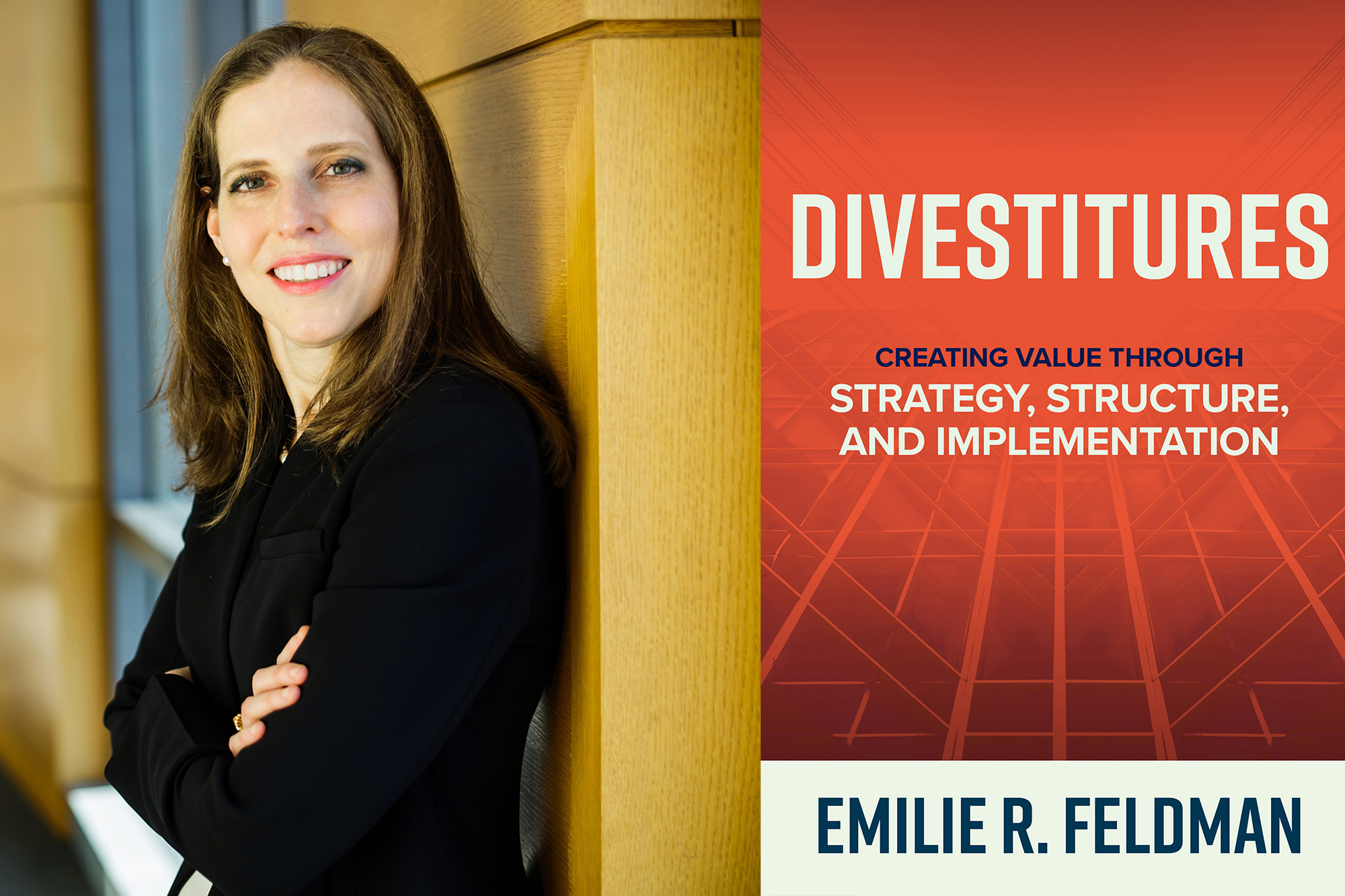 In her new book "Divestitures: Creating Value Through Strategy, Structure, and Implementation," Emilie Feldman, the Michael L. Tarnopol Professor and Professor of Management at the Wharton School, explains why divestitures are the lesser-known but higher-value corporate transaction.
"Divestitures are corporate transactions in which a company sells one of its businesses to another entity, spins it off into an independent company, or removes it from the company's portfolio through some other structure," Feldman explains. "In a broad sense, you can think of divestitures as the opposite of mergers and acquisitions, where a company buys a business from some other entity."
This is Feldman's first book and it is the only one on the topic to show business leaders how to dramatically increase corporate value through smart, strategic divestitures.
In her book, Feldman discusses how divestitures, on average, create more than double the shareholder value of mergers and acquisitions, and result in significant managerial, operational, and financial improvements for divesting companies.
"Investors generally respond much more favorably when companies divest than when they acquire. Shareholder returns to divestiture announcements surpass those of acquisition announcements, and the performance differential between divestitures and acquisitions persists for up to 36 months after the completion of these transactions," she says. "The performance gains associated with divestitures usually come from three main sources: sharper managerial focus, more efficient resource allocation processes, and clearer capital market perceptions."
Despite these benefits, only 30% of deal-making activities are divestitures.
While many view divestitures as last resorts for companies as a result of something that has gone wrong, Feldman says there's power in making proactive divestment decisions..
"Fundamentally, divestitures empower companies to change," she writes in her book. "Market conditions, consumer preferences, technologies, industry trajectories, regulatory environments, macroeconomic cycles, and even social mores constantly evolve, and companies must act to capture the value of dynamic circumstances and avoid being left behind. … This book has established that divestitures can foundationally reshape the businesses in which companies operate, and in the process, change their very strategies and identities as well. Accordingly, divestitures should be a central part of any company's strategic toolbox, in that they can create significant value when executives undertake them proactively, structure them efficiently, and implement them effectively."
Feldman's groundbreaking research on divestitures has spurred greater interest in an area with little prior research. Her book fills gaps in the professional and academic markets, providing the only available rigorous, research-based treatment of this strategic tool.
The text is excerpted from "Divestitures: Creating Value Through Strategy, Structure, and Implementation," (McGraw Hill, 2023). © Emilie R. Feldman. Reprinted with permission.