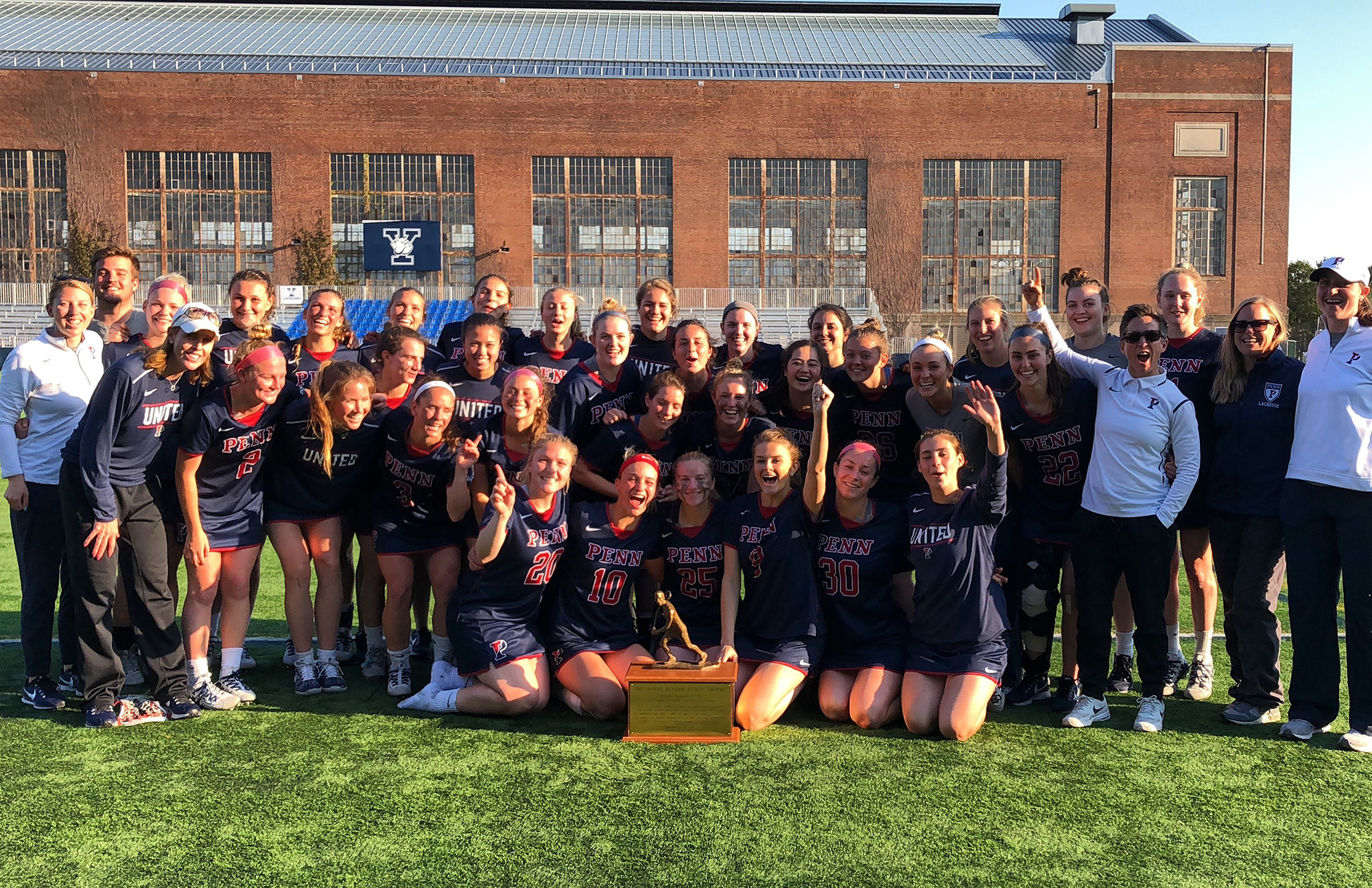 With both hands already full of Ivy League championships, the women's lacrosse program won another on Saturday in Connecticut. The Quakers (12-3) defeated Yale 14-11 to earn their 11th Ivy League title in the past 12 years, and 13th overall. Penn shares the conference championship with Princeton; both teams finished 6-1 in league play.
Battling the Bulldogs in the regular season finale, the Quakers broke open a close game with a 5-0 run and entered halftime with an 8-3 lead. Sophomore Erin Barry scored three goals in the first half, and freshman Zoe Belodeau and sophomore Gabby Rosenzweig added two each.
Yale rallied in the second half, but steady goal-scoring by the Quakers yielded a Penn victory and the Ivy League crown. Barry finished with 4 goals, her fifth consecutive game scoring 3 or more goals. Belodeau had 4 goals and 3 assists. Her 35 goals are a new single-season record for Penn freshmen, and her 67 points are third all-time in Ivy League history for a freshman.
Senior Caroline Cummings had 2 goals and 2 assists. Goalie Mikaila Cheeseman, a sophomore, had nine saves and notched her 10th win of the season.
Belodeau and Rosenzweig are tied for the team lead with 67 points—and both are tied for fifth all-time in a season by a Quaker.
Barry's 45 goals on the season and Rosenzweig's 41 mark the first time in program history that the women's lacrosse team has multiple 40-goal scorers.
Penn has won the Ivy League championship for three years in a row, after winning eight straight from 2007-14. Since 2007, the Quakers are 77-7 in conference play, equating to a .917 winning percentage.
The No. 2-seeded Quakers will take on No. 3 seed Dartmouth in the Ivy League Tournament on Friday, May 4, at 4 p.m. at Princeton. The game can be viewed on ESPN+.