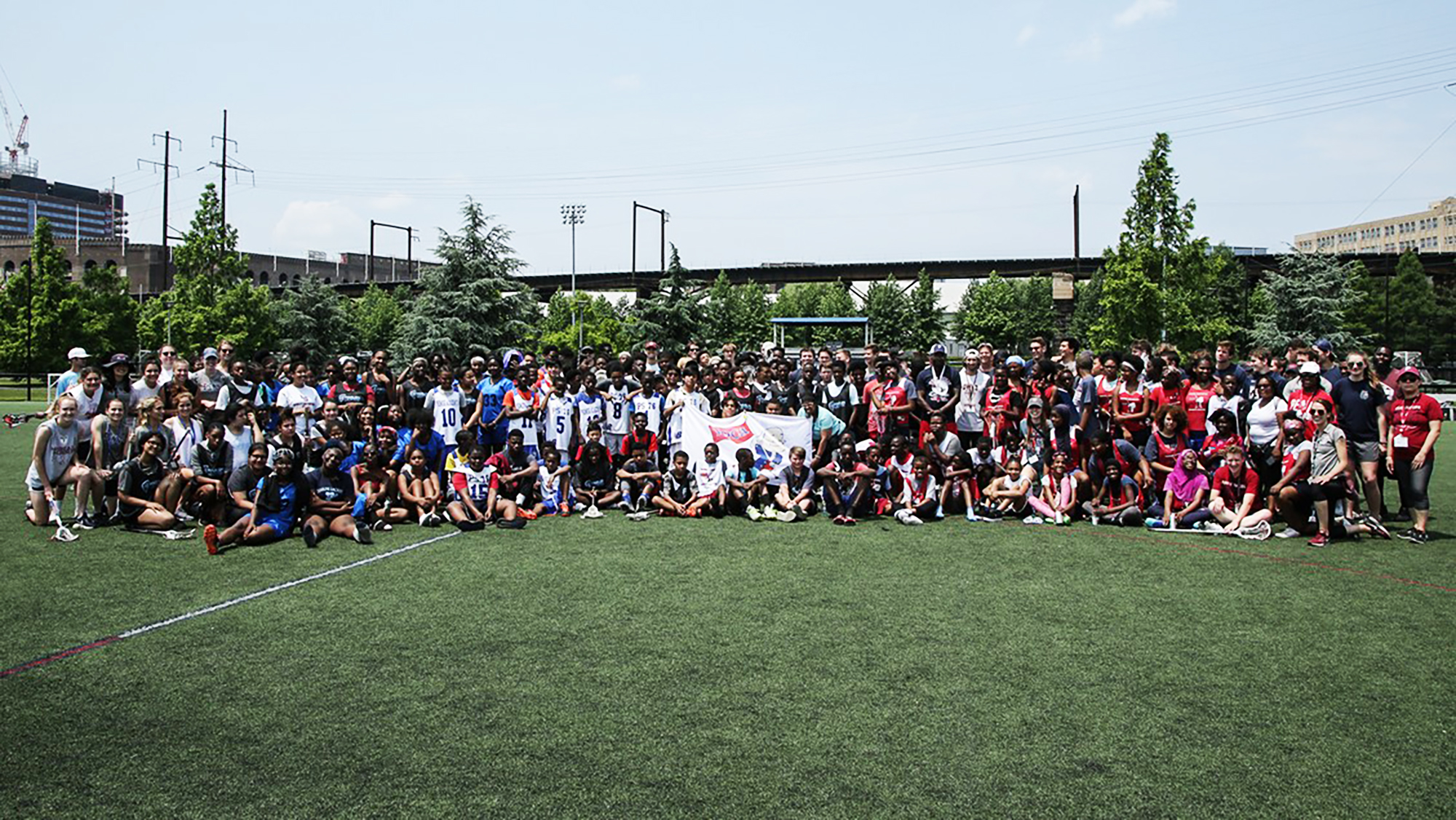 The Young Quakers Community Athletics, an initiative between Penn's Netter Center for Community Partnerships and Penn Athletics, hosted the fifth annual Urban Youth Lacrosse Jamboree on June 1-2 in partnership with the Penn lacrosse programs. The event featured four boys teams and four girls teams, an increase from previous years.
 
One hundred and seventy-five youth lacrosse players from the Young Quakers and Harlem Lacrosse and Leadership programs in Philadelphia, New York, and Boston, gathered at historic Franklin Field to learn, compete, and make lasting relationships through the sport of lacrosse.
 
This initiative, directed through the Netter Center's University-Assisted Community Schools program, creates mutually beneficial partnerships between select Penn intercollegiate athletic teams and West Philadelphia public schools.
More than 45 volunteers from both of Penn's nationally ranked men's and women's lacrosse programs served as coaches and mentors at the Jamboree, just as they do on a weekly basis during the school year.

"Thanks to everyone at the Netter Center and Penn Athletics for all the work they put in leading up to and during this fantastic two-day event," says James H. Greene Head Coach of Men's Lacrosse Mike Murphy. "The Urban Lacrosse Jamboree is an annual highlight for our program. It is a great opportunity to continue our friendships with the teams we host from Boston and Harlem, as well as our partners here in the City of Philadelphia. This weekend is an opportunity for us to give back to the sport we love, to the local community and our Young Quakers families, and to this University. It is also a lot of fun, and I know our program looks forward to it each summer."

"It was such a great day for all involved," comments Women's Lacrosse Head Coach Karin Corbett. "To see so many young lacrosse players make the trip was so exciting. My players enjoyed meeting young athletes, as well as imparting their love of the game and love of Penn to all those involved. It is amazing how much the program has grown and we are enthusiastic for an even larger and robust jamboree next year."
  This past weekend marked the sixth summer that the Urban Youth Lacrosse Jamboree has brought together young lacrosse players from West Philadelphia and other urban communities to Penn for a weekend of competition, team-building, enrichment, and fun. Players enhance their lacrosse skills while learning sportsmanship and teamwork. The college setting helps players envision themselves as college students and lets them work directly with collegiate coaches and athletes. The result is brighter futures, on and off the field.
 
"This weekend, a highlight of the Jamboree was the annual scavenger hunt across Penn's campus. The girls were able to make friends from other lacrosse programs while they posed in front of different landmarks," says women's lacrosse junior Teia Ross. "Volunteering at the event is just one way for our team to give back to both the West Philadelphia community and the lacrosse community. Playing lacrosse has opened so many doors for all of us Penn players, and the Jamboree is one way for us to open doors for younger students who have different backgrounds than many of us. By hosting different programs, the girls are able to create bonds with other girls like themselves through playing lacrosse and doing other activities with each other."
 
"One of the highlights of the jamboree this weekend was seeing our Young Quakes take the field and compete against other teams," says men's lacrosse sophomore Max Metalios. "The whole season we practice with them, but it was rewarding to see them play and win games. They went 2-1 today and we are all proud of the improvement they have made over the course of the season."