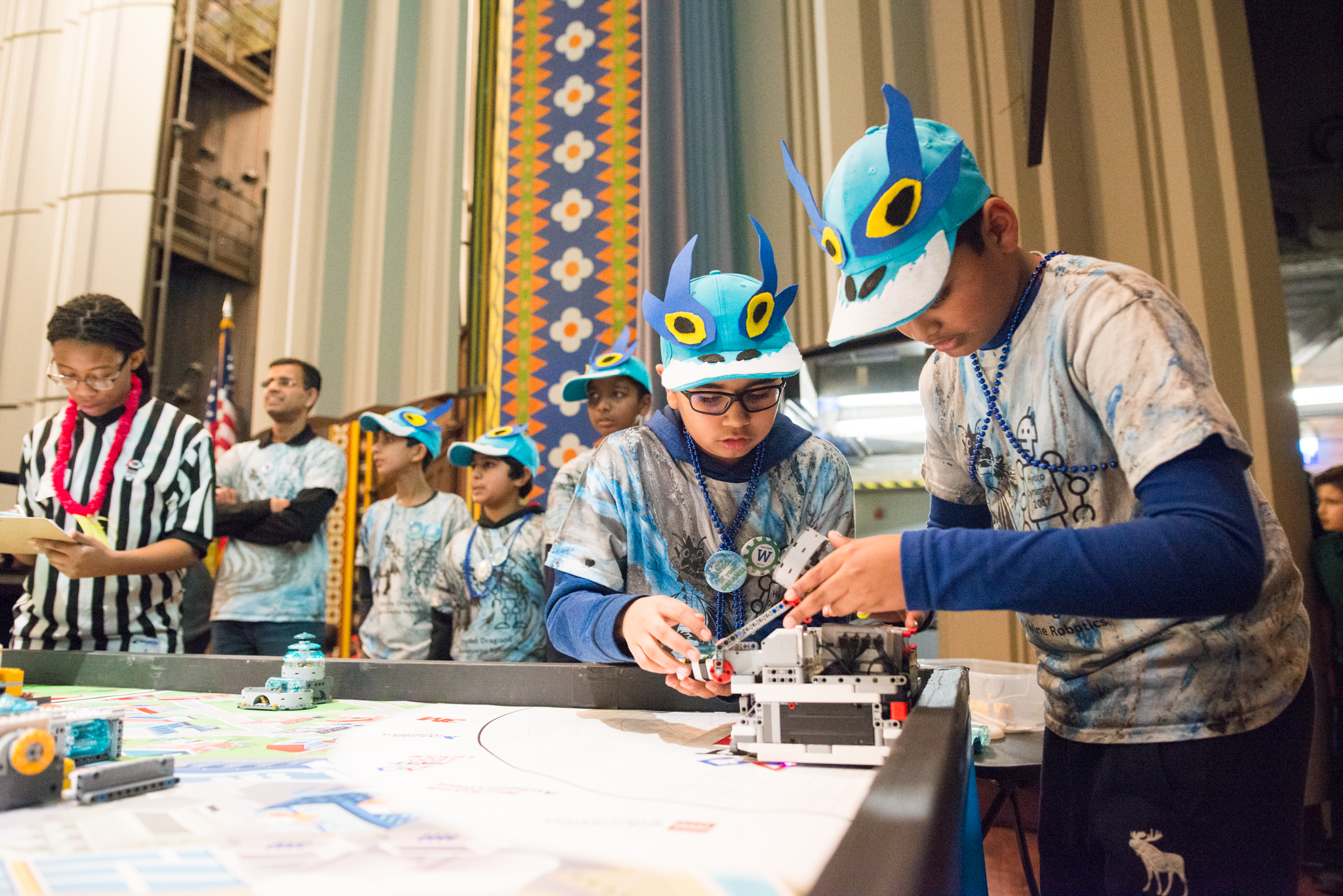 On Feb. 10, approximately 400 middle schoolers from schools in Southeastern Pennsylvania gathered around field models in Houston Hall to watch robots they had built out of LEGOs simulate collecting rain water, helping flowers grow, and putting out fires.
The students were participating in the regional FIRST LEGO League (FLL) tournament. FLL, a middle school robotics program that introduces students to concepts in science, technology, engineering, and math (STEM), has students work in teams to design and build robots to complete tasks related to a particular theme. This year's theme is water.
Each team consists of around 10 middle school students who work with coaches to research the topic, build a robot, and put together their own field models that their robots will interact with. They start out by participating in a qualifier, and the winning teams go on to compete in the regional tournament, which is held at Penn, and the world championship, which will be in Detroit this year.
Every year, Penn's GRASP Lab pays for the cost of registration for 45 public schools in Philadelphia, Chester, and Camden, N.J. It also recruits Penn students and other volunteers to mentor the students, judge or referee the competition, or help in other ways.
"When a Penn student is mentoring one of our Philadelphia public school teams as part of our grant program, they get access to a world that they may have never seen before," says Dan Miller-Uueda, the associate director for education and outreach at the GRASP lab in the School of Engineering and Applied Science and FLL outreach partner. "I think it broadens their perspectives on what obstacles students may face in getting to a school like Penn and how they can help others have the same level of access and success that they've had."
After completing field tasks with their robot, the middle school students also have to present a research project and demonstrate "core values," such as teamwork and cooperation. For their research projects, the students have to identify a problem that exists in the world having to do with that year's real-world theme and develop a solution. This year, students were tasked with coming up with ways to conserve water or make water filtration systems more efficient.
Miller-Uueda says these experiences allow the students to walk away with a belief in themselves and their ability to solve problems in addition to actual engineering problem-solving skills.
"They're learning how to become engineers, leaders, designers, and creators of tomorrow," Miller-Uueda says. "As someone who works in Penn Engineering, it's inspiring to me to see students be at their best and it gives me hope for our future."
Kathie Jin, an undergraduate in Penn Engineering, participated in FIRST Robotics in high school, which she says solidified her interest in Engineering. The FIRST community, she says, broadens horizons not just academically but also socially. She saw firsthand the effect FLL had on her younger sister, whom she says grew from a "shy, introverted person to a very extroverted excited person who is full of life." Penn's involvement in the FIRST community was a large part of why Jin decided to come here.
"FIRST LEGO League offers students a real-world perspective of how engineering and problems are solved," says Jin, who is now a volunteer coordinator at FLL. "It trains their critical thinking skills and teaches them how to break a problem down into smaller parts that can be accomplished easier. It places an emphasis on solving real world issues. So FIRST Lego League really is a stepping stone into something bigger."
Kendrick Davis, a Ph.D. student at the Graduate School of Education and head judge in the FIRST LEGO competition, has been involved in FLL since 2010. As head judge, he helps recruit and train judges and runs the judging and deliberation process at the championship tournament.
Davis says that one of the most important aspects of FLL is that, by exposing young students to STEM, it builds excitement about math, science, and engineering among young people and works to increase the pipeline of people going into those fields.
"The most rewarding part is seeing the students, coaches, and everybody involved in the process do something much more than they ever thought they could do and doing it together," Davis says. "It's rewarding to see the students come back year after year, the same students who hung their heads when they found out they didn't win an award, to decide they're going to try to do better."
Photo at top: Since this year's theme is water, the students had to create autonomous robots that would move through LEGO field models and accomplish tasks such as collecting rain water, helping flowers grow, and putting out fires.