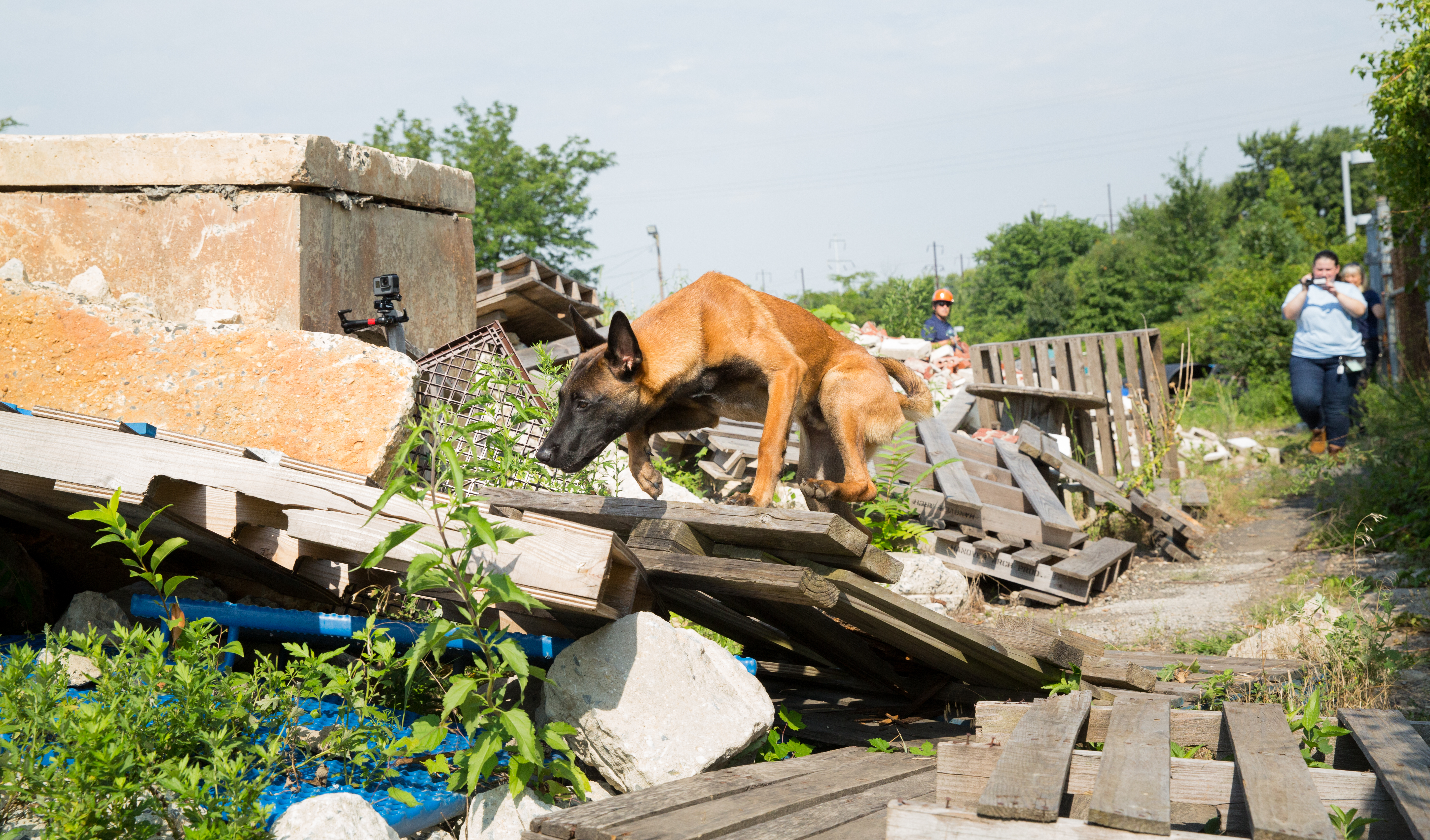 It began with seven puppies in one room. Five years later, the Penn Vet Working Dog Center has multiplied its footprint several times over, with 29 working dogs-in-training, 42 canine graduates, and a burgeoning community of close to 200 dedicated staff, students, interns, and volunteers.
"This place has really become so much more than I had ever imagined," says Cindy Otto, founder and executive director of the Center and an associate professor at Penn's School of Veterinary Medicine.
Otto dreamed up the idea for the Center in the wake of the attacks of September 11, 2001, when she deployed to Ground Zero to spend 10 days caring for the working dogs who searched the rubble of the fallen World Trade Center towers for victims. Otto then tracked those dogs in a longitudinal study to see whether the working conditions had any long-term effects on their health. As she gathered data, she became hungry for more.
"There was so much that we didn't know about these dogs," she says. "Being part of a premier veterinary school, it made sense to me to try to pull together the skills and knowledge here to develop a center for research, for training, so we could help ensure the success and welfare of these dogs."
The Working Dog Center (WDC) opened its doors in 2012, with a model that departed in significant ways from standard training programs. Where most working dog programs waited until dogs were older to begin specialized training, the WDC instead began training puppies at the tender age of 8 weeks old, allowing trainers to influence their early development. The WDC exclusively uses positive reinforcement, rewarding dogs for what they do right rather than punishing them for what they do wrong. And instead of dwelling in kennels when they're "off-duty," puppies live with volunteer foster families at night and on weekends.
The program's results—93 percent of puppies have gone on to "graduate" and enter careers as detection dogs—suggest the model is working.
"That's unheard of," Otto says. "Most working dog training programs are happy with a 50 to 60 percent success rate."
WDC graduates have gone onto a dazzling array of careers. In addition to becoming search and rescue dogs, puppies have entered careers detecting human remains, bed bugs, gas leaks, explosives, narcotics, and accelerants. A few have become diabetes alert dogs, and many have joined police K-9 units.
Producing and training dogs for law enforcement careers is an area of growth for the Center. Annemarie DeAngelo, the WDC's training director, came to the Center following a 31-year career with the New Jersey State Police. And Bob Dougherty, law enforcement canine coordinator, joined the staff full-time last year, bringing with him expertise from three decades working for the Cheltenham Township Police.
Now, in addition to training puppies to go into law enforcement careers, the Center also serves regional K-9 units, providing annual classes in patrol work and scent detection so handlers and their dogs can enhance their partnerships with new skills.
"I always say we're here spreading the gospel that positive training can work in the police world," Dougherty says. "We've seen handlers come in here with a problem with their dogs and within a year of applying different methods, it's not a problem anymore and they have a better relationship with their dog."
In addition to training, research, and education, the Center has engaged in a breeding partnership with the U.S. Transportation Security Administration as well as other partner organizations to develop dogs possessing the genetic and behavioral characteristics to make them optimum working dogs. The breeding program has produced seven litters of puppies so far.
As the WDC expanded in range and numbers, its physical space has grown apace. Once occupying a single training room and a few small offices; the WDC now encompasses a large kennel area and has dedicated indoor spaces for agility training, research, and ovarian cancer detection, as well as extensive outdoor areas to help improve dogs' search abilities and physical condition. The WDC's location on the Pennovation Works campus has been a boon to its operations.
"It is a perfect space," says Otto. "It provides us with the room for a rubble pile and all of the urban noise and exposure to help prepare the dogs for their vital careers."
Otto says she can't predict exactly what the next five years will bring, but some emerging projects offer hints. In one, the WDC is collaborating with Thomas Schaer, director of translational orthopaedic research and preclinical studies at the vet school's New Bolton Center campus to see how dogs can detect "hidden" infections of hip or knee replacements. These infections can slow healing; the hope is that the dogs could identify them at an earlier stage.
Another campus collaboration involves teaming up with the Penn Museum of Anthropology and Archaeology to evaluate whether dogs can detect smuggled antiquities. And the WDC is continuing its groundbreaking research in ovarian cancer detection, partnering with physicist Charlie Johnson of the School of Arts & Sciences and obstetrics and gynecology professor Janos Tanyi of the Perelman School of Medicine, along with the Monel Chemical Senses Center, to develop an "electronic nose" for earlier diagnosis of this insidious disease.
"When we started the Working Dog Center, we knew it was a vet school initiative," says Otto. "But we also knew we would involve other groups across campus, and not only that across the country and the world. There are so many exciting opportunities out there where we can contribute."
And the WDC has the team to do it.
"The attitude here is, well, we've never done that before, but how can we make it happen?" Otto says. "I'm so proud of the culture and the team that we have built."
Photo: Ammo, a 7-month-old Belgian Malinois, works the rubble pile at the Working Dog Center on the Pennovation Works campus. Trainers and volunteers hide amidst the debris to refine dogs' ability to detect the scent of a concealed person.