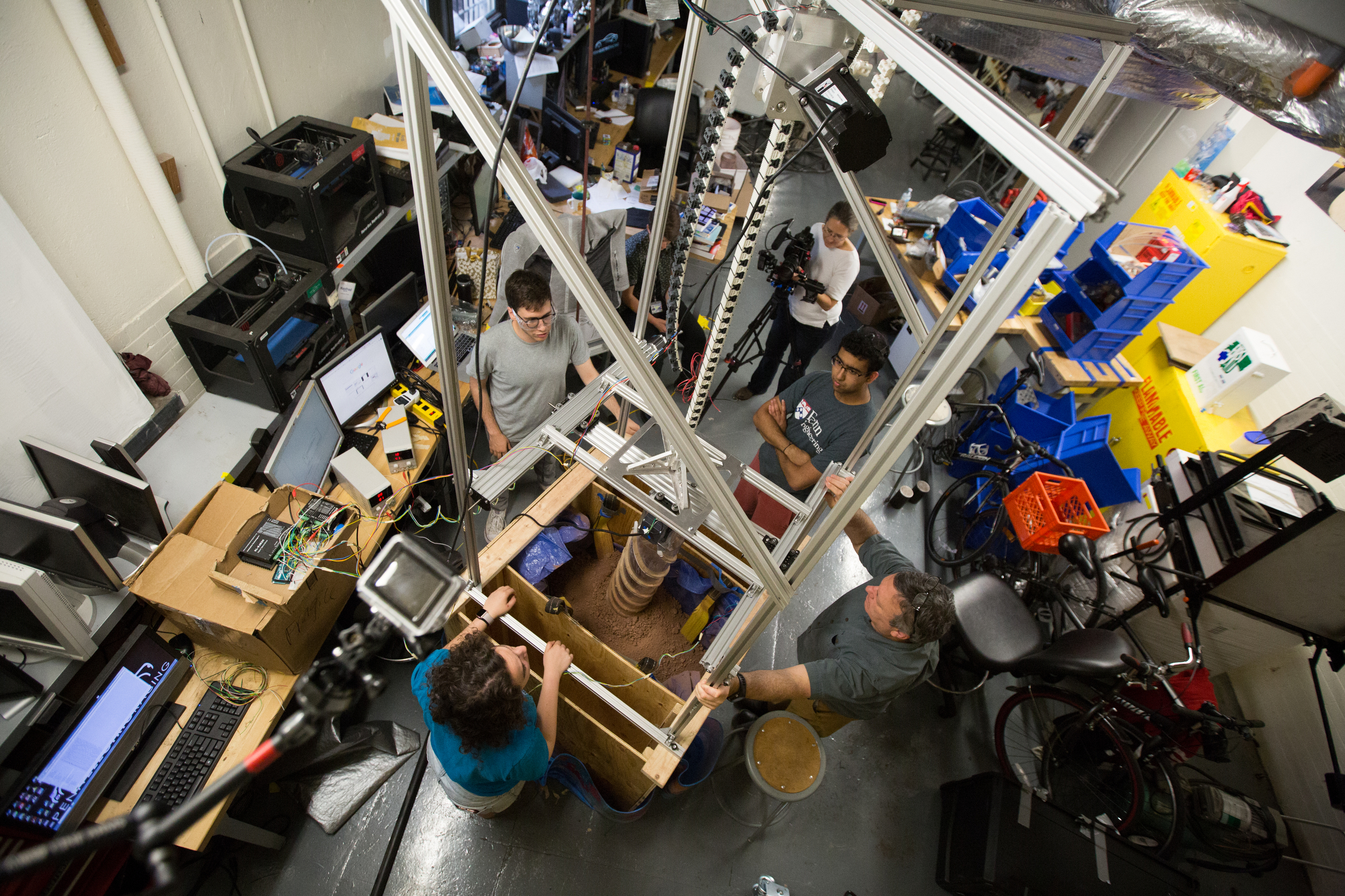 Wanda Lipps, Gautam Nagaraj, and Michael Gromis, all students in Penn's School of Engineering and Applied Science who graduated this past spring, watched as a large drill, supported by a boxy metal frame, dug down into a container of dirt and ice.
The students, members of the Mars Water Horizons team at Penn, were testing an ice drilling robot they had built as part of a NASA student challenge to design a system that could recover water from the surface of Mars. Their robot is designed to drill through Martian soil, extract a core of ice and clay, and then melt and filter it into drinkable water.
Thomas Eng, Wes Thomas, and Taeho Lee, all seniors at the time the project was started, were also members of Mars Water Horizons, advised by David Goldsby, a professor of earth and environmental science, and Jennifer Lukes, a professor in the Department of Mechanical Engineering and Applied Mechanics.
"Penn has offered countless resources to make this all possible," says Gromis, who double majored in mechanical engineering and economics at Wharton as part of the Jerome Fisher Program in Management & Technology.
Penn equipped the team with mentors to guide them through the project. They also received financial support through Senior Design, as well as access to the machine shop, 3D printing, software, and large work spaces.
The challenge culminated in a trip to NASA's Langley Research Center in Virginia where the team competed against seven other schools. It was inspired by the recent discovery of subsurface ice deposits on Mars.
"Being able to access these ice deposits," says Thomas, a mechanical engineering major who will be returning to Penn for a masters in robotics, "would make missions to Mars much more feasible mainly because by accessing these ice deposits and getting the resulting water, you can not only drink that water, but you can also use it in a chemical reaction with the CO2 in the atmosphere to produce methane, which can be used as rocket fuel."
The students describe their robot as a "glorified claw machine." The drill, which is attached to a series of motorized rails, is able to move to a location, drill through the soil, and extract clay and ice. Next, the drill moves over to the melting chamber, where it drops the ice. The ice is then melted and passed through their filtration system.
As the ice melts, the drill dumps the remaining clay out of the way and moves to a new drilling location to begin the process again. The students decided on this design, rather than building something that could melt the ice underground and then pump it up, because of the uncertain conditions the robot would face on Mars.
They faced many challenges throughout the building process, including having to build a drill from scratch that could extract both dirt and ice in one motion, since nothing else existed that fit their needs.
"The core drill was modified based off of actual ice drilling cores," says Lipps, who double majored in mechanical engineering and entrepreneurial management at Wharton, "and so we didn't really have to reinvent the wheel for the drilling process used. We kind of took what was used in industry and just combined it into this system in a new way that can be used on Mars."
The students also had to work within the design constraints NASA imposed to prepare them for the conditions that would be faced in space. The system needed to be compact and lightweight so that it would be possible to transport it to another planet, and it needed to be able to function in the low-gravity environment of Mars.
There's a lot involved in being able to successfully send humans into outer space and enable them to sustain themselves on Mars, Lipps says. The students were excited to be able to be able to work on creating a solution for a real world problem that could one day enable the exploration of other planets.
"My favorite part of this has been working on an actual project with a goal that's not just a grade," says Nagaraj, who double-majored in mechanical engineering and geology. "At the end of the day, we take a lot of classes at Penn and we do a lot of great things, but this project was something that we started from the beginning. ... We were able to say, 'OK, we're going to tackle a big problem, we're not going to tackle a small laboratory scale thing, we're going to do something that hopefully will have an impact even outside this world.'"
Photo at top: Penn Engineering students Wanda Lipps, Gautam Nagaraj, and Michael Gromis, all members of the Mars Water Horizons team, use a robot they built to drill through a container of soil, clay and ice. The goal is to create something that will be able to extract ice from the surface of Mars, then melt and filter it into drinkable water that could also be used as rocket fuel.