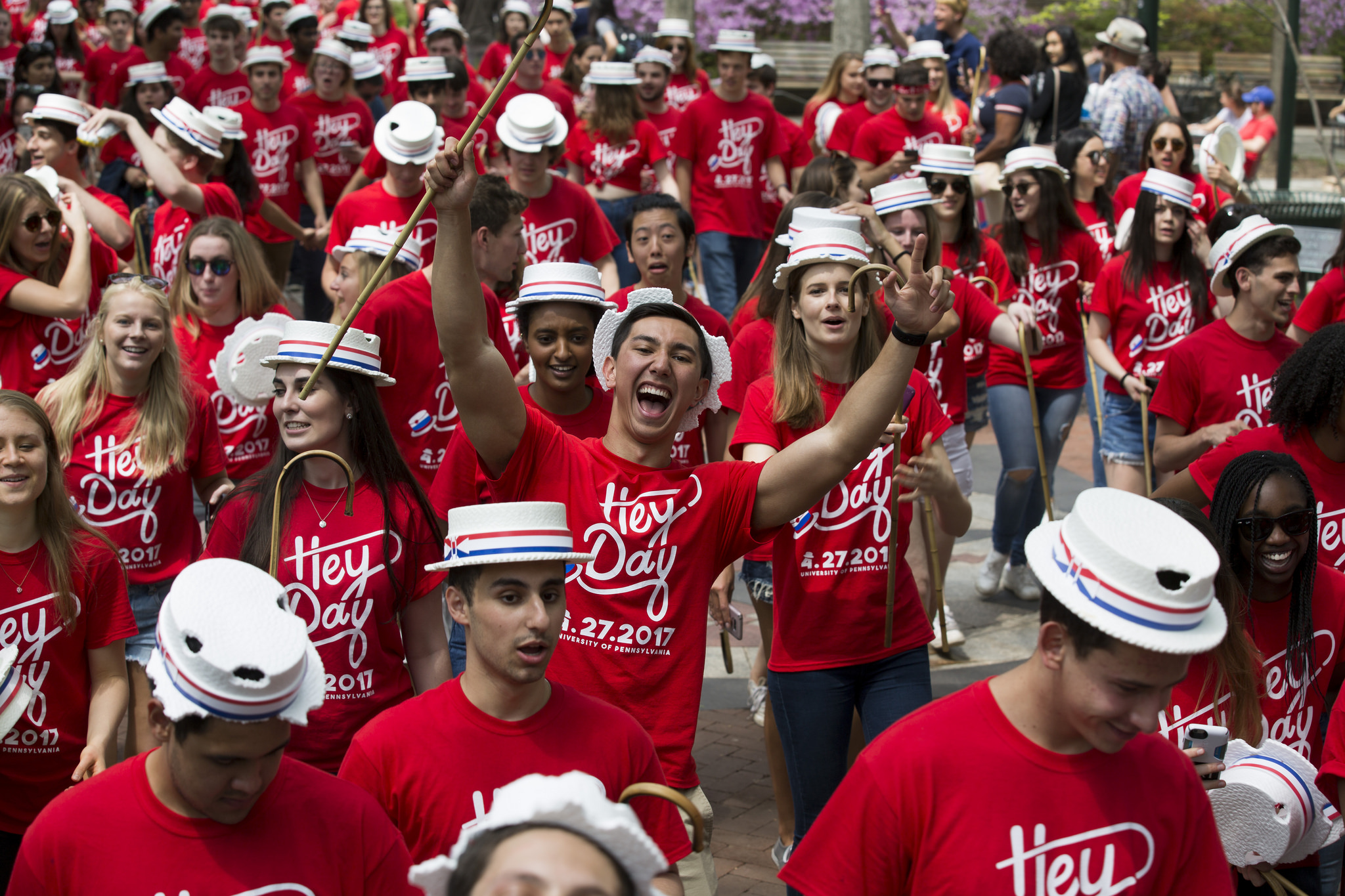 It is perhaps the most iconic memory of every Penn graduate: being swept up in a boisterous current of classmates in red t-shirts, outfitted with faux straw skimmer hats and bamboo walking canes that harken back to the fashions of 1916. It was that year when the beloved Penn tradition began, named "Hey Day" to make the event "strikingly characteristic of Pennsylvania," according to the University Archives and Records Center.
"Hey Day is definitely unique to Penn," said Anna Branch, a bioengineering major from Vancouver.
"Totally unique," agreed Elaine Ho, a fellow Hey Day celebrant from Washington D.C. "I don't know of any other school that does a similar thing."
"You see photos of Hey Day in admissions materials when you first apply, then you see friends go through it each year, and to get to be part of that tradition is really exciting," said Lavi Ben-dor, a finance major from Wayne, Pa.
Held on the last day of classes, Hey Day marks the official passage of the junior class to senior status. This year's festivities took place on April 27 and began, as they do every year, with a class picnic at Hamilton Village Green. From there they marched en masse down Locust Walk, cresting the Class of 1949 Generational Bridge and continuing to College Green, where Penn President Amy Gutmann awaited their jubilant arrival.
When the class quieted, she gave them the most anticipated, and no doubt easiest, "test" of their college career: "Who founded the University of Pennsylvania?" (Benjamin Franklin); How long is Locust Walk?" (One-half mile); and "True or false: The Class of 2018 will be the greatest class ever." (True).
Upon receiving their final response, Gutmann matched their enthusiasm when saying "By the power vested in me by the Trustees of the University of Pennsylvania, I hereby proclaim you: seniors! Congratulations."
Senior class president Darren Tomasso then took the podium to pass the gavel on to junior class president Makayla Reynolds, signaling the newly ordained seniors to conclude the events just as their predecessors did and their successors will continue to do: by biting holes in one another's Styrofoam hats, hugging, cheering, and singing a rousing rendition of "The Red and Blue."
The event was watched by the outgoing senior class from across Locust Walk, where their slightly calmer celebration, "The Final Toast," was simultaneously taking place. The name of this Penn Traditions event epitomizes Penn spirit as much as Hey Day does, making a nod to the final line of an unofficial University alma mater, "Drink a Highball": "Here's a toast to dear old Penn."
When asked what toasting "dear old Penn" meant to them, the seniors shared a common sentiment.
"We're toasting four years of hard work and a future of success and prosperity," said Timothy Bloom, a political science and ancient history major from Chappaqua, N.Y..
"We're toasting four years of Penn and the future, too, as we watch the next class coming through," said Sonya Kaiser, a Biological Basis of Behavior major from Paris.
Greg Olbarding, a history major from Cincinnati, agreed: "It's a toast to leaving the school in good hands with the juniors; they're a good class."