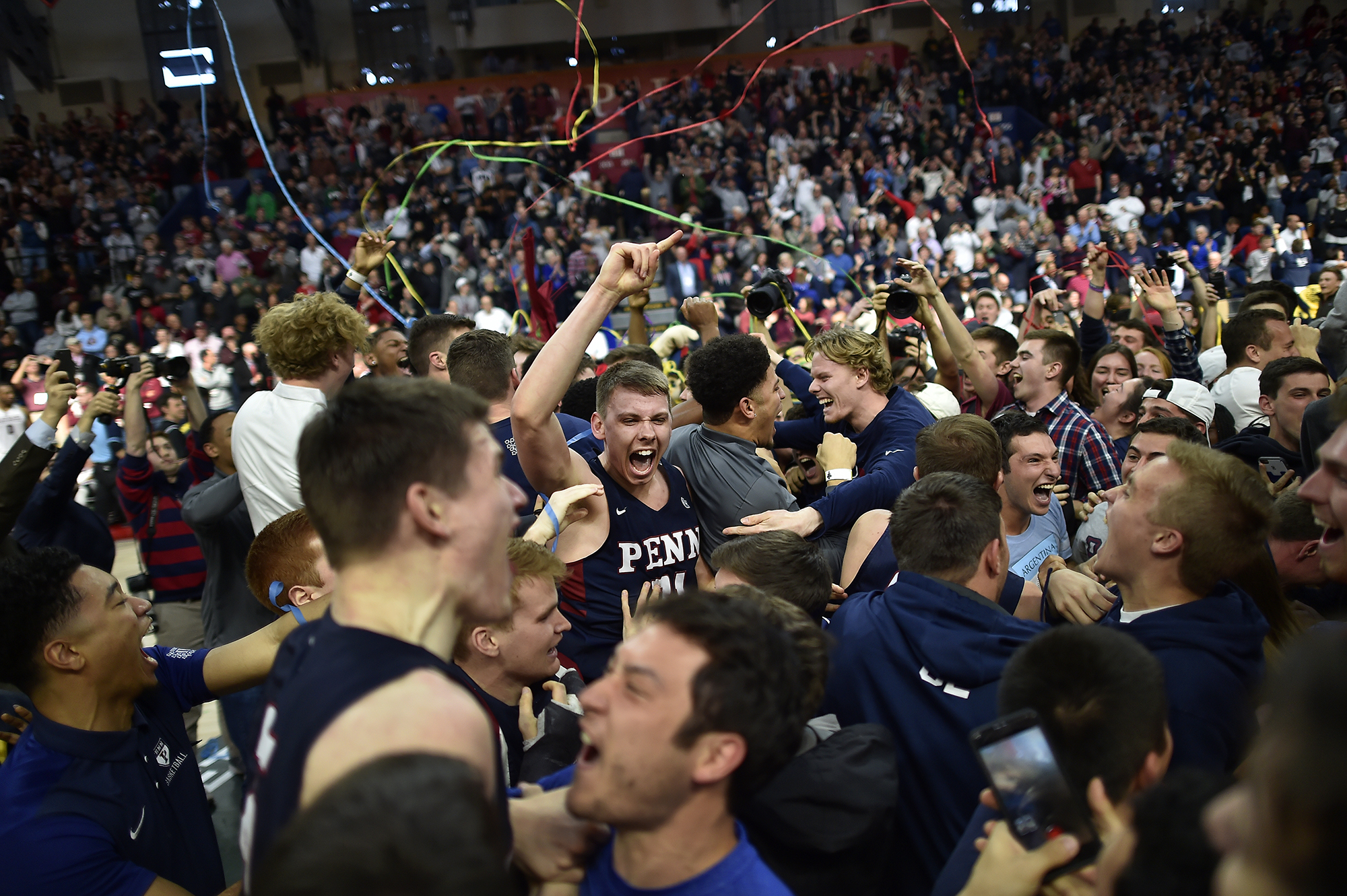 Reclaiming their spot atop the Ivy League, the Penn men's basketball team defeated Harvard 68-65 in the Ivy League Tournament title game on Sunday in front of a packed house at the Palestra. The hard-fought victory propelled the Quakers (24-8) to the NCAA Division I Men's Basketball Tournament, where they will face the Kansas Jayhawks (27-7).
Led by senior guard and co-captain Darnell Foreman, who scored 11 of Penn's first 13 points, the Quakers overcame a double digit-deficit and went on a 13-0 run to take a 34-32 halftime lead. Foreman was on fire in the first half. The Camden, N.J., native put up 19 points, and nailed a momentum-shifting 3-pointer just before the buzzer.
The Quakers showed their grit in the second half.
Stellar play by sophomores AJ Brodeur, a unanimous first-team All-Ivy selection, and Ryan Betley, second-team All-Ivy, helped Penn open a 45-32 lead. Harvard answered with a run of their own, which put the Crimson up 58-55 with five minutes remaining.
The Quakers tied it at 60, then senior Caleb Wood hit a clutch three-pointer to put up Penn 63-60. Betley added a bucket plus an and-one to extend the lead to 66-60. Harvard cut it to 66-63 and 66-65, but the Quakers hit their free throws, held strong, and were victorious.
"I wanted to be like Mike Jordan," said Foreman after the game, referring to the all-everything guard who played at Penn in the late 1990s. "Especially being a guard, you look at the past history of guards. The Ibby Jaabers, the Jerome Allens, even going back to Booney Salters. You want to be those guys. You want to be on the wall. You want that history. Now this team has it. This team is going to be remembered as the team that stopped the drought."
Brodeur finished with a double-double, 16 points and 10 rebounds. Betley scored 17 points; Wood contributed 12. Foreman had 19 points and 5 rebounds. The Quakers committed only 7 turnovers, shot 46 percent from the field (24-52), and 44 percent from behind the arc (8-18).
"I see a resilient spirit in our student-athletes that leads to resounding success in life, for themselves and their communities. It's a total team effort exemplified by Penn's excellent coaching, wonderful mentorship, and inspiring leadership," said Penn President Amy Gutmann. "It's that never-give-up, never-back-down, never-ever-stop-striving grit we seek to inspire and nurture in our students, and which we as a University strive to bring to everything we do."
The win marks Penn's first Ivy League title since 2007, and the Quakers' 26th Ivy League championship and 24th NCAA Tournament appearance. Steve Donahue, the John R. Rockwell Head Coach and Ivy League Coach of the Year, won his first Ivy title in only his third season.
Penn beat Yale 80-57 in the Ivy League semifinal on Saturday to advance to the championship game. The Quakers led buzzer to buzzer and outrebounded the Bulldogs 46-27. Brodeur scored 25 points on 10-13 shooting and grabbed 10 boards. Foreman had 11 points, 8 rebounds, and 5 assists.
On Thursday, March 15, the 16th-seed Quakers will take on No. 1 seed Kansas at Instruct Bank Area in Wichita, Kansas.
Photo at top: Quaker fans storm the court and celebrates with players after the team's win over Harvard in the Ivy League Tournament title game on Sunday, March 11.