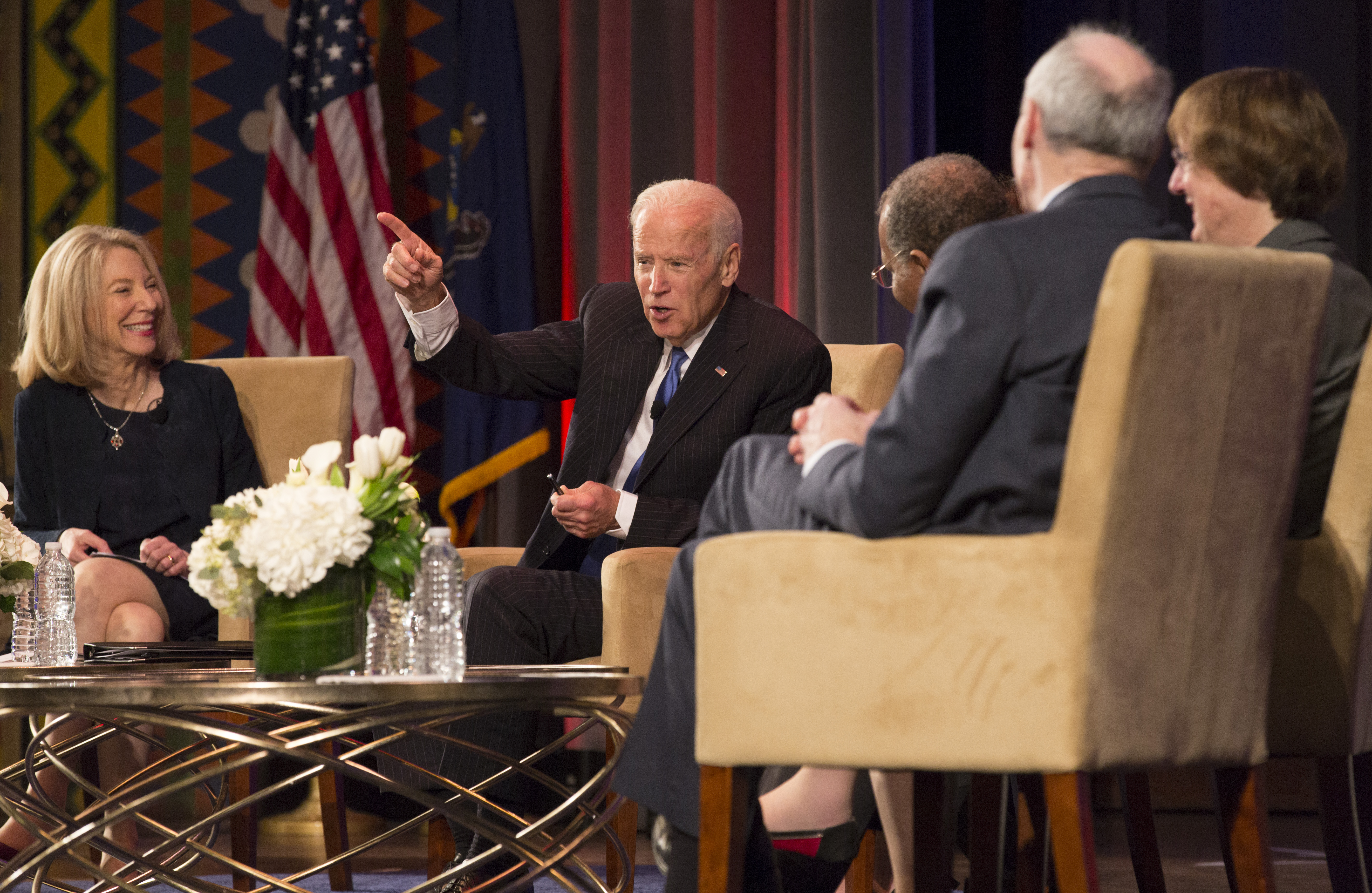 At the Feb. 28 David and Lyn Silfen University Forum, Penn President Amy Gutmann hosted a conversation about cancer, "A Formidable Foe," with a panel of distinguished guests, including former Vice President Joseph Biden, who will soon lead the Penn Biden Center for Diplomacy and Global Engagement.
Other panelists included Carl June, director of the Translational Research Program at Penn's Abramson Cancer Center and a professor of pathology and laboratory medicine at Penn's Perelman School of Medicine; Otis Brawley, chief medical officer for the American Cancer Society; Nancy Davidson, director of clinical research for the Fred Hutchinson Cancer Research Center and president of the American Association for Cancer Research; and Kim Vernick, a Penn Medicine patient and pancreatic cancer survivor.
Gutmann began by welcoming the panelists and the audience, more than 1,000 members of the Penn community packed into Irvine Auditorium to hear the experts' insights about a disease that touches so many.
"The American Cancer Society estimates that 1.7 million Americans will be diagnosed with cancer this year. Forty percent of us can expect to be diagnosed with cancer in our lifetimes," Gutmann said. "The prognosis today, compared to any other time in human history, is good. But for this team, delivering a good prognosis is not good enough."
Indeed, Biden is among those who have lost loved ones to the disease. His son Beau, a Penn alumnus, lost his life to cancer in 2015. Last year Biden kicked off the Cancer Moonshot Initiative at Penn, an effort aimed at accelerating progress in cancer research and treatment.
At the forum, Biden asked audience members who had been personally touched by cancer to raise their hands. A sea of arms went up. "You all know full well if someone you love is diagnosed, you try to learn as much as you can as quick as you can about the prognosis and about the particular cancer you're dealing with," he said.
He added that the need for collaboration—among research universities, medical centers, the private sector, and government—was a driving force in building the Moonshot.
"What I learned is that if we didn't make a single other breakthrough, if we were just able to aggregate the data we had and share it in real time, we'd be extending life for a lot of people," he said.
Vernick is one such beneficiary of innovation and collaboration among clinicians. At 52, she was diagnosed with advanced pancreatic cancer. A grueling, experimental regimen of chemotherapy and radiation at Abramson Cancer Center, followed by surgery, followed by more chemotherapy and proton therapy when the cancer returned, has given her a new lease on life.
"I took the terror and the fear and I shoved it to the back as best as I could, and I replaced it with hope and the mental toughness to fight this," she said. "Now I'm sitting here, I'm alive, I'm healthy as can be, I'm strong and I'm cancer-free. So it's not why Penn, it's of course Penn."
The University is where June developed his groundbreaking immunotherapy, which uses a patient's own immune system—aided by a bit of genetic reprogramming—to precisely and lethally target cancer cells. His CAR-T cell therapy has offered hope to people for whom every other option has failed. It's a breakthrough that has changed the face of cancer treatment during the past decade. The first patients to receive this therapy, in 2010, still retain these "serial killer" T cells.
"They have those cells on patrol. … It's like if you get a good vaccine, it will last for the rest of your life. We can now paint the cancer into a box and it can't get out," he said. "That's one of the tools we have that was absent before."
Brawley offered another, slightly different angle of cancer care, one that shifts away from a singular focus on screening and treatments and more toward prevention. Prior to the event, Brawley described the challenge to Penn, noting that the current "trends" have a tendency to elbow out other potentially helpful options.
"If we applied everything that we currently know, we could prevent at least 25 percent of all cancer deaths that are occurring now," he said. Put another way, we have the potential to save close to 150,000 of the nearly 600,000 people who died from cancer in 2016.
It's a sentiment Davidson shares. "I'm a treater by training, [but] we're not going to treat ourselves out of the cancer problem," the clinical oncologist told Penn leading up to the forum. "Treatment alone is not going to be the best possible solution. I really hope we're able to take our drive and motivation and scientific curiosity and bring it back into the prevention space."​​​​​​
To conclude the conversation, Gutmann shared questions from the audience and invited the panelists to gaze into a crystal ball, envisioning what advancements in the cancer field we might celebrate in 10 years' time. Their answers varied from vaccinations against half a dozen cancers and driving the smoking rate closer to zero, to developing precision prevention and treatment strategies and mobilizing the political will to do so.
Across the board, the speakers underlined the crucial importance of discovery and innovation, often centered at research institutions such as Penn, in reaching milestones in cancer prevention and treatment. "The great thing about this country is we have no respect for orthodoxy," Biden said. "To make new things, we have to break the old mold."
"The stakes are enormous here," Gutmann added.
Since 2009, the Silfen Forum has allowed for important conversation and debate in a public space. Late University Trustee David M. Silfen and his wife Lyn endowed the series, as well as funded two Penn Integrates Knowledge University professorships, the Silfen Student Study Center, a term professorship, and the David and Lyn Silfen Fund to support educational innovation in the School of Arts & Sciences. Previous forum topics have included the economic downturn, political polarization and public debate, and the future of higher education.