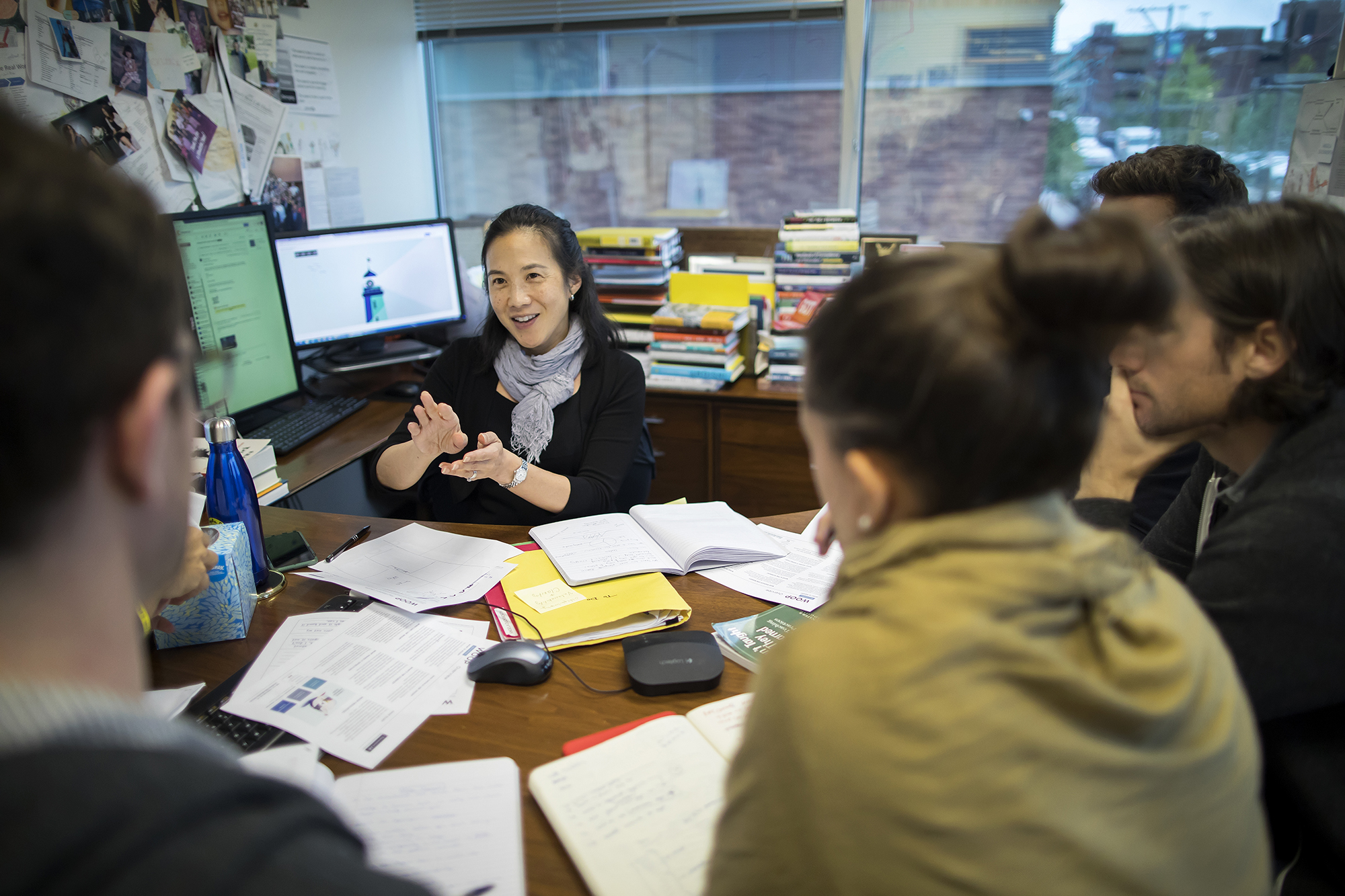 Have you ever made a commitment to exercise more often? You sign up with a gym and succeed for a time but soon, too soon, the enthusiasm fades. Eventually, your workout clothes gather dust and your gym membership does nothing but empty your wallet.  
In the short term, changing behavior is doable, even exciting, but it's really hard to make that change permanent. Ask anyone who has ever tried to quit smoking or eat less junk food. There's a reason the phrase, "You can't teach an old dog new tricks" exists within popular vernacular. 
But Penn researchers Angela Duckworth and Katherine Milkman, along with more than two dozen scientists across the country, have a project they hope will turn fleeting life modifications into long-lasting habits. Called the Behavior Change for Good (BCFG) initiative, it launched this fall with an ambitious goal: to understand and improve behavior change across the lifespan, across many domains, using strategies grounded in psychology and behavioral economics.
"There are billions of people in the world, pretty much all of whom have challenges related to goals they'd like to achieve, whether it's weight loss or medication adherence or finances," says Milkman, an associate professor in the Department of Operations, Information, and Decisions at the Wharton School. "Pretty much everyone is looking to self-improve, and whether they have a lot of resources or not, everybody could be better. Many things get in our way, but behavior is a struggle for everyone."
Duckworth and Milkman both felt a drive to focus on work that would have real-world implications for individuals, work that could lead to permanent shifts in the way people act.
When the University put out a call for projects for 100&Change—a MacArthur Foundation competition for a $100 million grant to solve a single, critical world problem—the pair and colleagues drafted a proposal that they argued could help with the challenge of "enduring behavior change." The team didn't win the grant (it was one of the top 200 proposals out of thousands), but Penn and the Chan Zuckerberg Initiative provided enough funding for an initial three years.
"We're creating experiments to improve behavior change," says Duckworth, the Christopher H. Browne Distinguished Professor of Psychology in the School of Arts & Sciences (SAS).
First up, the team is working on two projects, one related to gym attendance, the second to school performance. In the exercise experiment, dubbed The Step-Up Challenge, BCFG researchers have partnered with national gym chains 24 Hour Fitness and Blink Fitness, owned by Equinox. Combined, the two have memberships exceeding 4.3 million people, and the scientists are aiming for 10 percent participation, meaning hundreds of thousands of data points.
"We want people to go to gyms more," Duckworth says. "So we're going to deliver 28 days of support—questionnaires, videos, educational materials, and a scheduling tool, as well as incentive payments for 28 days of gym visits, along with associated text reminders about workouts—designed by scientists at Penn and elsewhere. Then we'll look at what the gym-going pattern is after the 28 days."
Lyle Ungar, a professor of computer and information science with appointments in the School of Engineering and Applied Science, SAS, Wharton, and Perelman School of Medicine, and Barbara Mellers, a Penn Integrates Knowledge professor with appointments in SAS and Wharton, are creating one such experiment. Based on the idea that different incentives motivate different individuals, their online tool will offer options for the type of message a user would like to receive.
"For one person, putting out gym clothes the night before works like a charm. For another, what she needs is a buddy. Maybe for a third person, something completely different might work, like thinking of this as being good for his children and grandchildren," Duckworth says. "Rather than telling people, 'Do this,' the tool gives them a menu and has them essentially choose their own treatment. That is the treatment."
Another idea, by Lauren Eskreis-Winkler, previously a postdoctoral researcher with Duckworth and now a postdoc at Wharton, plays on the idea that coaching someone else on a skill actually helps the mentor as much as, or more than, it helps the mentee.
"When someone is struggling, we think we have to help that person. But actually if you want to change behavior, it's sometimes more effective to ask the person who is struggling to teach the desired behavior to someone else," Eskreis-Winkler says.
She thinks the reason this might work relates to confidence. "When it comes to motivation, we are our own motivational psychologists. We know the tricks; they're just hard to implement," she says. "That act of teaching helps us."
Once the experiment protocols are complete, the BCFG research team will market the program to all gym members in these two chains, and each person will decide individually whether to participate. This part of the project will likely begin in early 2018. Before that, though, the team aims to get the school performance piece up and running, starting with 19,000 students in Orange County, Florida (home of Orlando), then expanding to other districts.
Given Duckworth's background as a former middle- and high-school teacher, and her research on grit, she holds this aspect of the project particularly dear. It will rely heavily on groundwork laid by The Character Lab, a 501(c)(3) non-profit she founded and runs.
The BCFG initiative's educational component will measure success by looking at factors like grade point average, but it's not only about test scores. One intervention Duckworth is building with Jeff Li, a middle school math teacher in Harlem aims to develop the capacity, and the habit, of taking proactive initiative toward personal goals.
"We do a lot for these kids, and they don't necessarily benefit from the opportunity to become independent," Duckworth says. "They tend to do what we ask them to do, but when do they actually get to the left side of the gear shift? At some point, they have to feel like they're driving their own car."
Down the line, BCFG will broaden its emphasis to include daily financial decisions about money and spending.
"School and gym have these beautiful parallels. We have the ability to measure variables cleanly, and that's our focus initially," says Milkman, the Evan C. Thompson Endowed Term Chair for Excellence in Teaching. "But we've made a commitment to eventually pivot and think about how we change the conversation around finances."
Many of the same principles the team applied to education and exercise will, in theory, work for handling finances, too. For instance, the researchers may test whether giving financial advice improves financial outcomes for the advisor. Or they could look at which is more effective: offering a choice about money versus mandating behavior.  
"The plan is to build on the knowledge we acquire," Milkman says.
This is just the beginning, she adds. "I don't think we'll ever solve completely how to change behavior for good. Right now we don't have an endpoint; we have projects that could occupy us forever if we keep rolling them out."
After three years, the researchers will evaluate where to go next and whether to continue pursuing answers to the questions this work raises. Regardless of when BCFG ends, Milkman and Duckworth hope its reverberations endure—aided, perhaps, by a page from one of their own playbooks.
Photo at top: The BCFG initiative's educational component, which will measure success via factors like the students' grade point average and personal goals, will rely heavily on groundwork laid by The Character Lab, a 501(c)(3) non-profit founded and run by Duckworth, who was a middle- and high-school teacher before turning to academia.