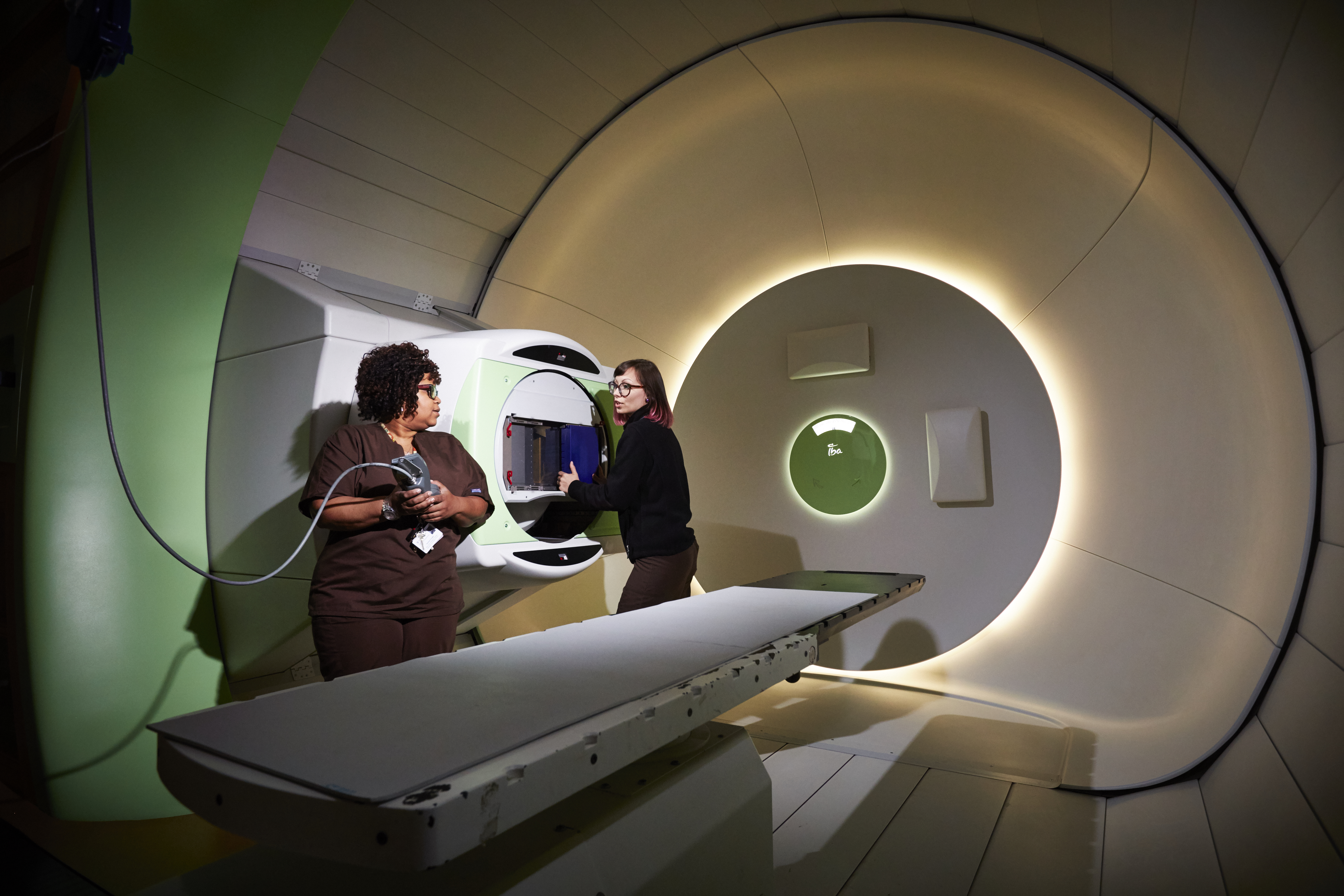 One proton corridor. Five treatment rooms. As many as 115 patients treated each day, and upwards of 5,000 who have received life-saving cancer care since the facility opened in 2010. As impressive as these numbers are, the outcomes are exponentially more so. Ask anyone involved in the Roberts Proton Therapy Center at Penn Medicine's Abramson Cancer Center—patient, physician, technician, engineer, receptionist, physicist—and they will have powerful personal stories to share about this unique facility and the people devoted to it.
High-tech
James Metz, who has led the development of the Roberts Proton Therapy Center since its inception, likens it to "a Star Wars movie set," and the comparison is an apt one. The arrival of its core component—a 220-ton particle accelerator—was nothing if not cinematic: On a bleak winter day in 2008 it entered Philadelphia on a barge, then completed its 3,700-mile transatlantic journey on a custom-built truck over a bridge secured by the Army Corps of Engineers.
Metz, who also chairs the Radiation Oncology Department at the Perelman School of Medicine (PSOM), says the particle accelerator, which sends protons down a beamline as long as a football field through three-story-high gantries, delivers the most cutting-edge proton therapy there is. It advances other critical areas of research as well, from basic biology to space travel, and to capitalize on these powerful capabilities, a research room was recently added to the five treatment rooms that tap into the proton beamline.
According to Kurt Morath, director of operations for the Hospital of the University of Pennsylvania, this research room makes the Roberts Proton Therapy Center one of only two facilities in the world with a full research beamline for protons, and the only one in the country to integrate both photon and proton modalities into a single room.
As a result, the facility has drawn the attention of a number of space technology vendors, such as NASA and SpaceX, because as Metz says, "one of the most dangerous particles in space, for both astronauts and electronic equipment, are protons."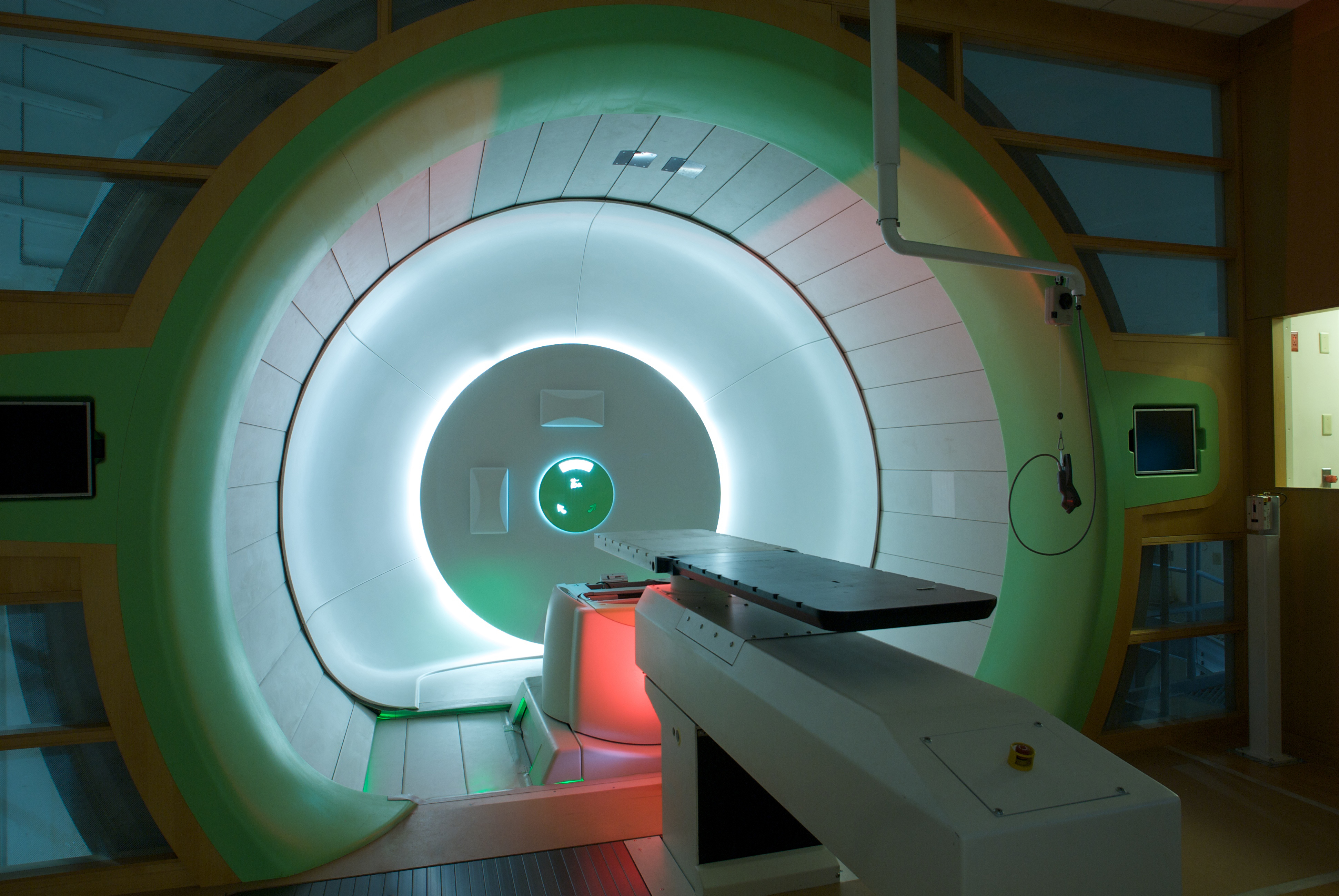 High-touch
In addition to the sci-fi appearance of the particle accelerator and its impressive applications to space travel, the Roberts Proton Therapy Center is also considered a leader in down-to-earth personal patient care.
"We're high-tech, but we have to be high-touch, too," says Metz. "We have to think about the holistic experience for patients coming through the Center."
Toward that end, complementary therapies such as reiki, acupuncture, massage, and even pet therapy are now available to patients, and work is underway to make the lighting, music, and wall art more conducive to relaxation.
They are also on the forefront of finding ways to reduce treatment time and maximize the precision of the "pencil beam" which irradiates a tumor, in order to spare as much healthy tissue as possible.
Because this is especially important for children, who can suffer the side effects of radiation therapy for years or even decades afterwards, pediatric patients account for nearly a quarter of the treatments given at the Roberts Proton Therapy Center. These children have coordinated care with medical oncologists and surgeons at the neighboring Children's Hospital of Philadelphia, and a team of pediatric radiation oncologists at Penn with a separate kid-friendly waiting area at the Center.
This care continues long after patients complete their course of treatment, says Fern Nibauer-Cohen, director of patient engagement and business development in the Department of Radiation Oncology. Nibauer-Cohen runs a robust Proton Alumni Group made up of patients who have completed proton therapy and wish to be a source of information and support for current and potential patients.
Training the World
In addition to providing unparalleled cancer care and unique research opportunities, the facility is known to be the leading training institute in the world for proton therapy.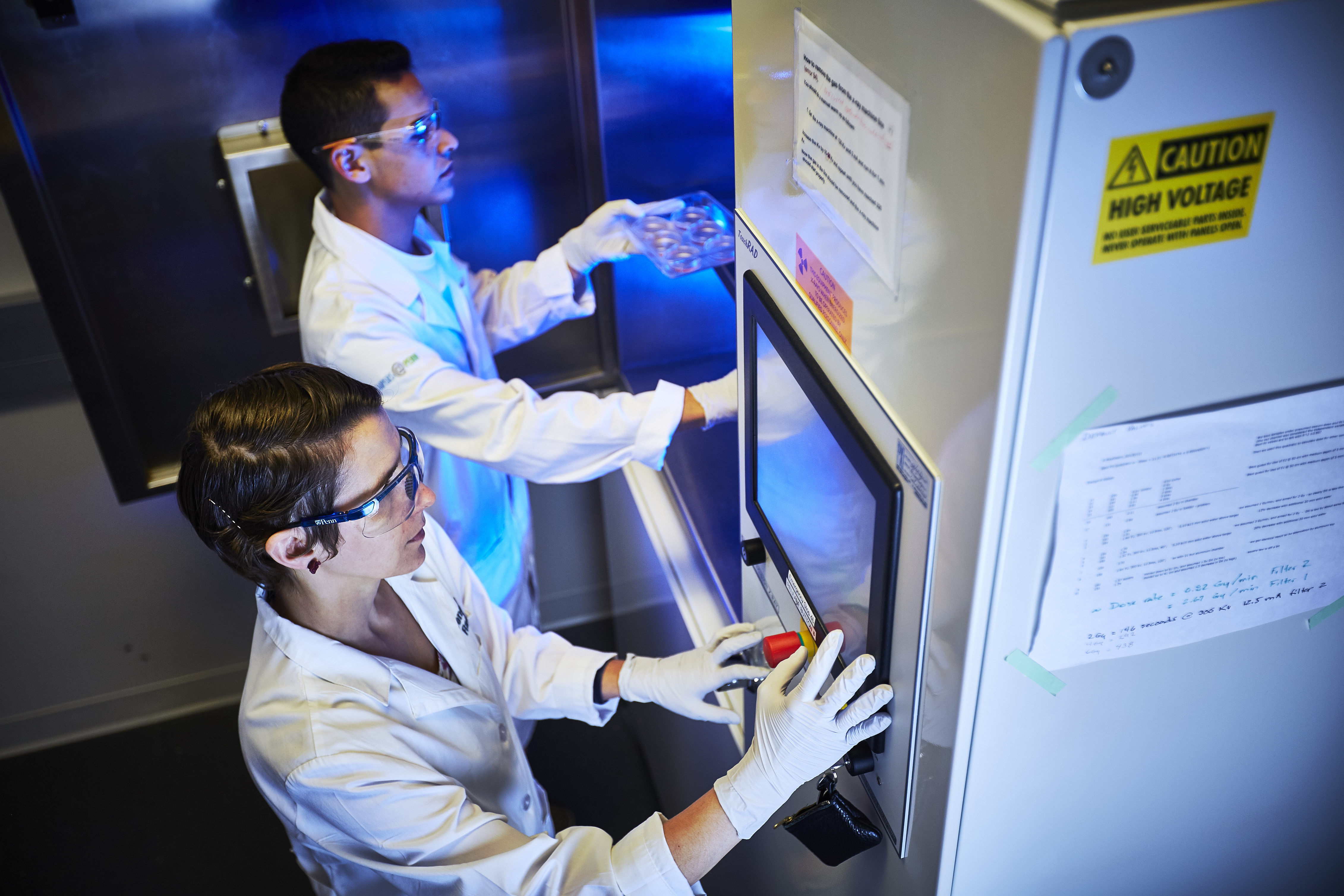 "We offer access to the most unique clinical environment of proton and photon therapy capabilities, all integrated under one roof," says Neha Vapiwala, associate professor and vice chair of education in PSOM's Radiation Oncology Department. "But having all of the best technology is only valuable if you have the faculty and staff expertise to optimally apply it to patient care, both now and in the future. We are very fortunate to have outstanding technical and human resources in our department, enabling us to collaborate with and train others in the field."
In addition to physicians and administrators looking to start a proton center, newly minted doctors interested in joining the next generation of proton therapy leaders are also coming to Penn to be educated on the ever-evolving technology. And as more proton centers are opening up, graduates of Penn's Radiation Oncology Residency Program are in increasingly high demand because of the rare expertise they acquire during their training here.
"Medical students, residents, fellows, faculty members, and practicing physicians from all over the world have sought training opportunities at our facility," Vapiwala says. "We are fortunate to attract some of the best and brightest to our training programs."
The Future of Proton Therapy
"I'm very proud that our team has been able to define how we use protons today, but really what we're working on is how we use protons tomorrow," says Metz, noting that the real promise of proton therapy lies in its ability to combine with other agents in ways that will change the cancer treatment paradigm as we know it.
"We're going to find new agents and be able to do things we just couldn't do before."
Photo at top: Protons offer a way to deliver radiation in a way that minimizes exposure to normal tissue. At the Roberts Proton Therapy Center, upwards of 5,000 people have received life-saving cancer care since the facility opened in 2010.