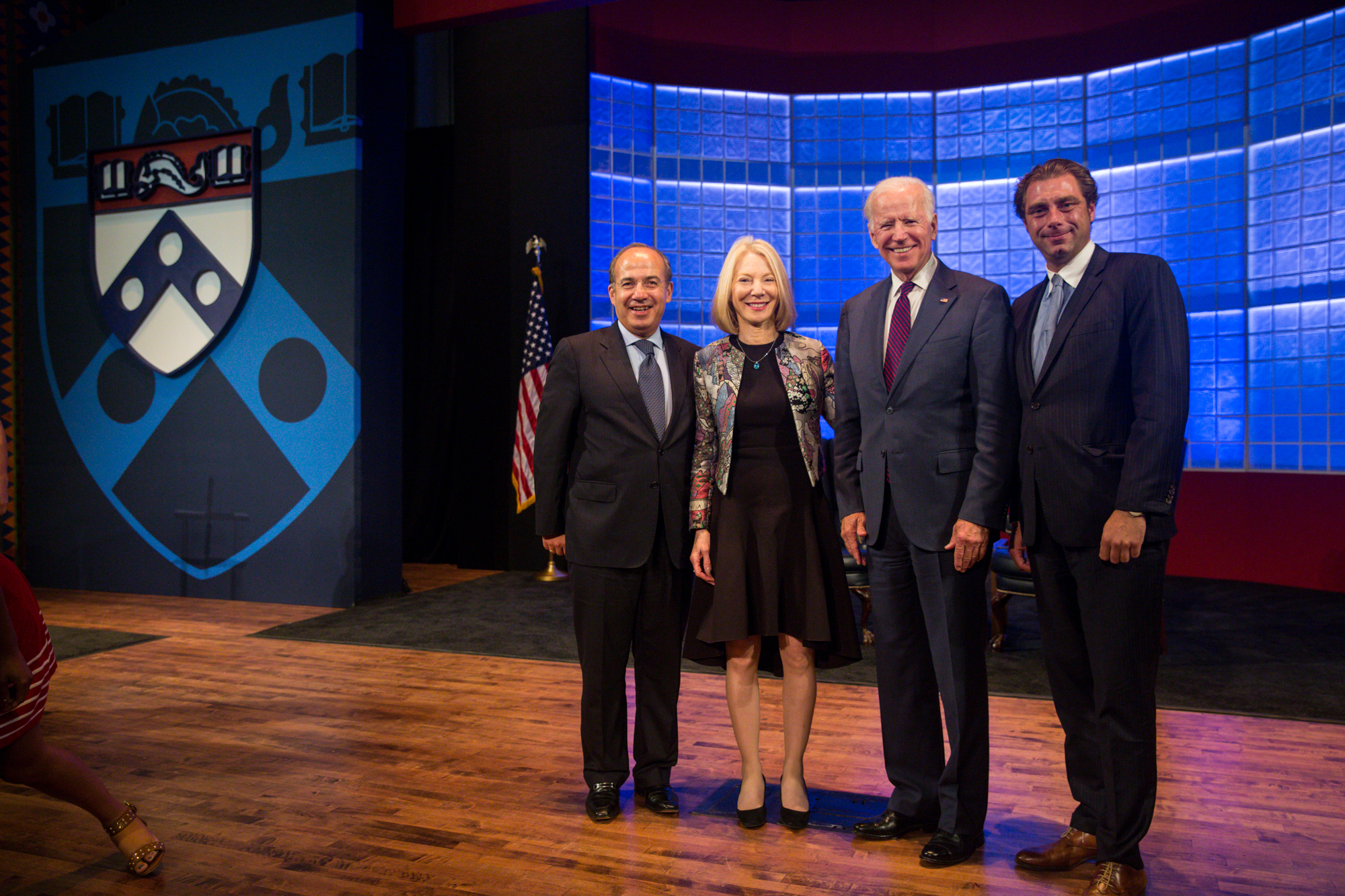 During a wide-ranging discussion on global issues, Former Vice President Joe Biden and former Mexican President Felipe Calderón agreed that cooperation and support between the nations is crucial for success.
The two leaders came together for the inaugural Penn Biden Global Leaders Dialogue, hosted by the Penn Biden Center for Diplomacy and Global Engagement. They spoke for more than an hour Tuesday in front of a sold-out crowd in Penn's Irvine Auditorium.
The conversation was the culmination of the two-day Perry World House fall conference, "The Future of the Global Order in an Era of Populism, Nationalism, and Retrenchment," part of Penn Global Week.
Penn President Amy Gutmann introduced the leaders: Calderón, who served as president of Mexico from 2006 to 2012, and Biden, now Penn's Benjamin Franklin Presidential Practice Professor and head of the Penn Biden Center.
"Great nations like Mexico and the United States do not lead by the example of their power. Instead, they lead by the power of their example," Gutmann said. "They lead by demonstrating their commitment to freedom and diversity, inclusivity and tolerance, to mutual respect and the rule of law."
Gutmann said that great leadership also comes through caring, and she saluted Penn students from Mexico who have started a fundraising campaign to provide earthquake relief. Managed by the Penn Mexican Student Association the effort, This One's For Mexico, has nearly met its $50,000 goal.
"Acting quickly and decisively they have responded to the heartbreaking images coming to us from Mexico after the earthquake," she said. "I'm so pleased to know that our students have risen to the effort. This is a very important time to test our resolve to help our friends and fellow human beings."
About 40 Penn students from Mexico had the opportunity to meet with Calderón Tuesday, and sat together in Irvine Auditorium during the dialogue. Calderón said Mexico has strong young citizens who will rebuild. "A new Mexico is coming, so thank you for your solidarity," he said to the crowd, which burst into applause.
Biden praised Calderón for his leadership regarding the environment, as Calderón referenced climate change and this month's devastating earthquakes and hurricanes.
"It is possible to have economic growth and to create jobs and reduce poverty and at the same time tackle climate change," Calderón said. "But we need to act right now and change a lot of systems. We need to fight and defend the environment and fight and defend economic growth."
Calderón and Biden agreed that nationalism, populism, and inward-looking policies of some nations are threatening the international order. They both spoke about the importance of strong, unified international organizations like NATO to deter expansionist policies of countries like Russia.
Supporting trade and cooperation between United States and Mexico is important to expanding opportunities in both countries, the leaders said.
"If we get this relationship right between Mexico and the United States it will be a benefit to the entire hemisphere," Biden said. "The future has such overarching potential for both our countries."
Calderón emphasized the significant amount of trade between the U.S. and Mexico, saying that Mexicans are the second-largest buyers of American products in the world, and important to the tourism industry and the security of the nation.
"The trade will be there, our nations are linked, and it is impossible to stop the trade by decree," he said, adding that he does not support renegotiating the North American Free Trade Agreement. "We need to remember NAFTA is good for the Americans, good for the Mexicans, and good for the Canadian people."
He added: "The worst thing to do to deter immigration to American from Mexico is to stop NAFTA."
Regarding immigration, Biden spoke of America's history of accepting immigrants from around the world throughout the nation's history: "That is our strength, constantly new blood, that's what makes us who we are."
Policymakers, scholars, and leaders from around the world traveled to Penn for the Global Order conference organized by Perry World House, an interdisciplinary policy research center that opened one year ago.
Tuesday's events include panels on military security, electoral politics, and global economics. Speakers included Wharton Dean Geoff Garrett speaking with Andrew N. Liveris, CEO of Dow Chemical; Admiral James Stavridis, dean of the Fletcher School of Law and Diplomacy at Tufts University, and former Supreme Allied Commander at NATO; Michèle Flournoy, CEO and founder of the Center for New American Security and former U.S. Undersecretary of Defense for Policy; and journalists from The Atlantic, Der Tagesspiegel, Caracas Chronicles, and Le Monde.
Monday's programming for select faculty and post-doctoral students featured academic conversations, with Penn professors moderating panels of experts on topics including human rights, environmental policies, and international economics and trade.
The conference marked the one-year anniversary of the Perry World House opening. "We set out to bring Penn to the world and the world to Penn," Gutmann said. "We have done just that, and so much more."
Photo at top: Former President of Mexico Felipe Calderón met with Penn students from Mexico before the Penn Biden Global Leaders Dialogue.