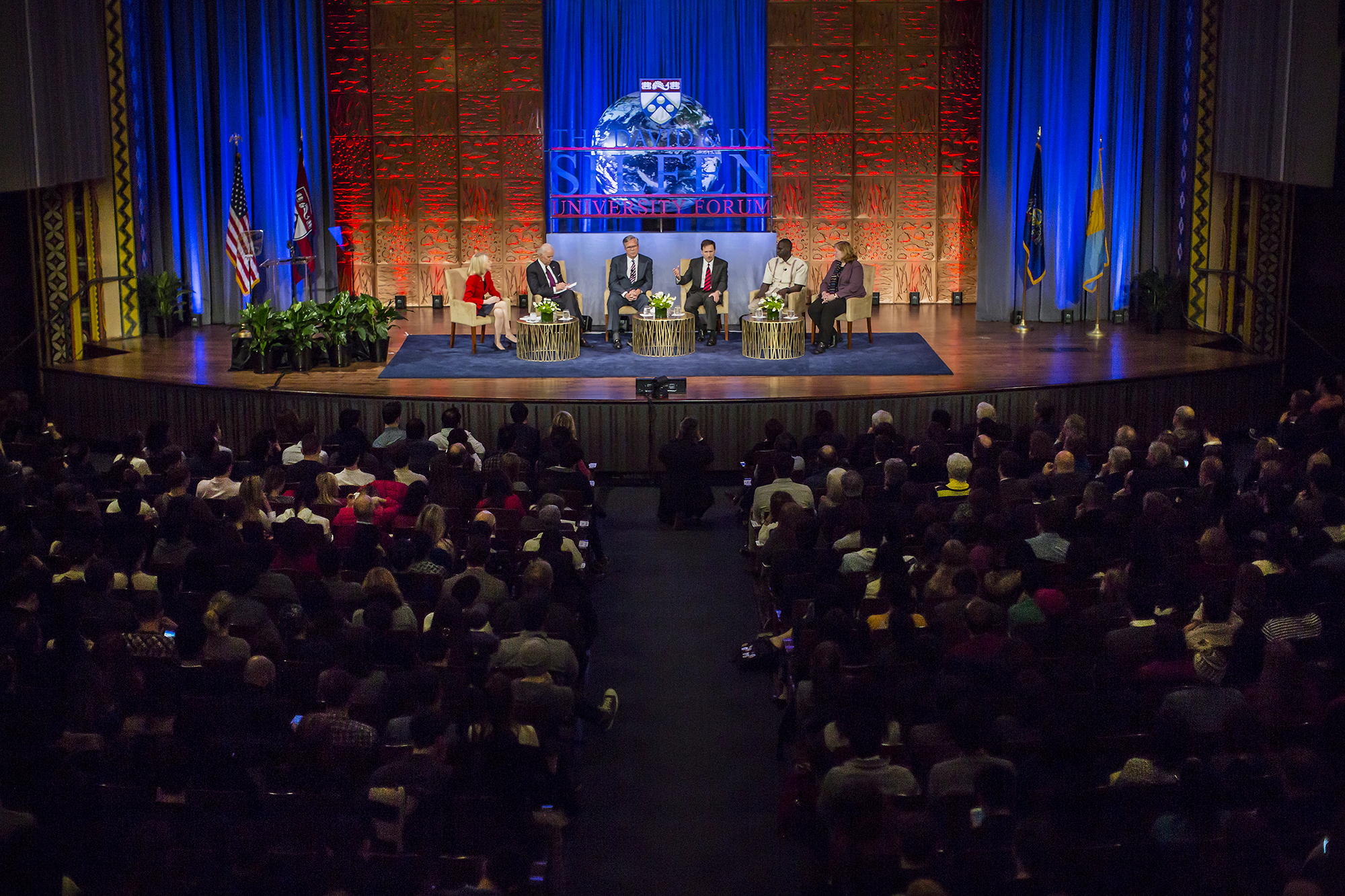 Dau Jok has had two moments in his life where he's felt "un-American."
The first, he recalled, was at the airport in Minneapolis.
"The TSA agent picked me out of 10 people, and he had my passport in his hand, and he was asking me what I'm doing in America, and it says U.S.A.," Jok said.
The second time was in Missouri. Along with 60 of his fellow U.S. Army Reserves officers, a colonel called him out as one of the "internationals."
"He looked straight at me," Jok said. "I was wearing the same uniform as everyone else."
Reflecting on these moments afterward, Jok raised the question: "Are we doing enough to educate one another, to engage one another, on what it means to be American, on what our values are?"
Jok, a 2014 graduate of Penn's College of Arts and Sciences, grew up in the midst of Sudan's brutal civil war. He lost his father to violence when he was just six. In 2003, he arrived in Des Moines, Iowa, with his mother and three siblings as refugees.
Directly, and tragically, understanding the impact of the world's refugee crisis, Jok joined four distinguished panelists at the David and Lyn Silfen University Forum, held on Thursday, Feb. 15. The topic, "People and Policy Adrift: A 21st Century Framework for Asylum Seekers, Refugees, and Immigration Policy," was unraveled by Jok, who runs the international nonprofit Dut Jok Youth Foundation, named after his father; Joe Biden, the 47th Vice President of the U.S. and Penn's Benjamin Franklin Presidential Practice Professor; Jeb Bush, the 43rd governor of Florida; Anne Richard, the former U.S. Assistant Secretary of State for Population, Refugees, and Migration and a visiting fellow at Perry World House; and Michael Doyle, a Columbia University professor and director of the Columbia Global Policy Initiative. Penn President Amy Gutmann served as the discussion's moderator.
Talking to more than 1,000 students, faculty, and staff in a packed Irvine Auditorium, Gutmann— the daughter of a Jewish immigrant who fled Nazi Germany—declared: "I am here with you today only because there was a country he and his family could safely flee to."
Today, the world is facing one of the highest levels of displacement on record. Recent reports from the United Nations note an unprecedented 65.6 million people currently forced from their homes. Often fleeing conflict, religious persecution, severe poverty, and extreme weather, among them are nearly 22.5 million refugees—half of whom are under the age of 18.
Daunting numbers indeed, the refugee crisis remains just one of a host of contentious issues surrounding immigration and the global movement of people in the 21st century.
"We may talk of nations and populations, we may debate and legislate about groups and nationalities, but at its core, immigration is about the fate of millions of individual people," Gutmann said. "Our decisions—or our failure to come to decisions—these are experienced by a child separated from her parents, by a family imprisoned in legislative limbo. Understand their agony—and multiply it by millions."
Gutmann challenged the panelists with her own questions, as well as those from the audience, diving into how different countries are managing refugees and asylum seekers, their realistic hopes for immigration moving forward, how social media plays a role in conversations around immigration, and much more.
She opened the dialogue by asking why immigration is so important to the U.S., and Biden chimed in: "It's who we are."
But, more than that, we are a nation of immigrants, and we are strong for it, he continued.
"Think about all your ancestors when they came, it wasn't like they said, 'This is an easy decision,'" Biden said. "No one is sitting around the table in Guadalajara saying, 'Let's sell everything we have, give it to a coyote, have him take us across the border, drop us in the middle of the desert, won't that be fun.' It takes people with energy, optimism, perseverance, a notion that they want to work hard, that's who we are."
We see often hopeful phrases like "country of immigrants" and "dreamers," noted Gutmann, but there's also talk of these people as "public safety risks," "terrorists," or "job stealers." This is not just in the U.S.—it's worldwide. How can we respond constructively to this kind of disparaging language?
Richard responded by explaining how mobility is simply "what we human beings do."
"We move, we don't always stay put, especially Americans," she said. "We should be sympathetic to people who want to better themselves by moving, we should be interested in their stories and what they want to do, and we should treat all of these people with dignity. This is some basic appreciation for this natural phenomenon of human mobility that I think we can talk about by starting with facts, and one of my frustrations is that there is a lot of rhetoric out there that is just bologna."
She discussed ideas people have that refugees are terrorists, or you can't trust them—"and it's just nonsense."
As I traveled around the world," she said, "I've met so many refugees. These are ordinary families who are trying to have a future for their families, first they want to get to safety, then they want to have a future, they want their kids educated."
Doyle agreed that it's an issue that revolves in large part around facts. That's precisely where universities have a role to play, he said.
"We can push back against the false narratives that have been associated with the migration and with refugees," he said. "But if we are going to change and persuade those individuals who are starting from the very negative point of view, the facts are not going to be enough."
In addition to good facts, we need good policies. We also need to speak to people's hearts, he added.
"There's direct correlations between willingness and welcome-ness toward immigrants and refugees and knowing one or having a friend who knows one and that holds up both in the United States and the U.K., where the issues are somewhat different but the Brexit votes were somewhat related to some of the current controversies we have here," he said. "We need to hear the voices of former refugees, current immigrants, we need to hear the voices of the sponsors who have experienced what it's like to be a welcoming citizen."
Gutmann also posed why DACA—the Deferred Action for Childhood Arrivals—is being tossed around like a "political football," in which Bush responded: "It's a wedge political issue on both sides, on the extremes of both parties. … Most politics seems to be, right now, focused on energizing your base rather than trying to forge consensus and bring more people to your cause."
It's noteworthy, Bush explained, because the DACA issue, in his mind, is the easiest to solve of the immigration issues.
"You think about it and the DACA, it's probably a misnomer, but we are talking about children who, through no fault of their own, came to this country because their parents came," he said. "To resolve that problem is an 85 percent popular move. … Talk about frustrating, even when it's 85 percent popular, Washington seems to add all the other things in to make it more complicated."
Talking after the event, Brian Zhong, a sophomore in the Biological Basis of Behavior Program, said he found the Forum enlightening, especially during such a crucial time.
"I think in the media and our daily lives, we just hear about the sound bites of what politicians are saying and it's just about scoring political points," he said. "It was very refreshing to hear a more academic, fact-based, evidence-based conversation, and from these leaders who have so much experience. … It's neat to see how these different perspectives can come together."
The Silfen University Forum series was generously endowed by the late University Trustee David M. Silfen and his wife Lyn to foster conversation and debate regarding important contemporary issues.
Previous Silfen Forum panel discussions have focused on topics such as "A Formidable Foe: Cancer in the 21st Century," "From Idea to Innovation: The Impactful University" and "Open Learning and the Future of Higher Education." More information regarding these discussions can be viewed on the Archives page.
Photo above: The panel addressed the topic, "People and Policy Adrift: A 21st Century Framework for Asylum Seekers, Refugees, and Immigration Policy," at a time when the world is facing one of the highest levels of displacement on record. Recent reports from the United Nations note an unprecedented 65.6 million people currently forced from their homes.