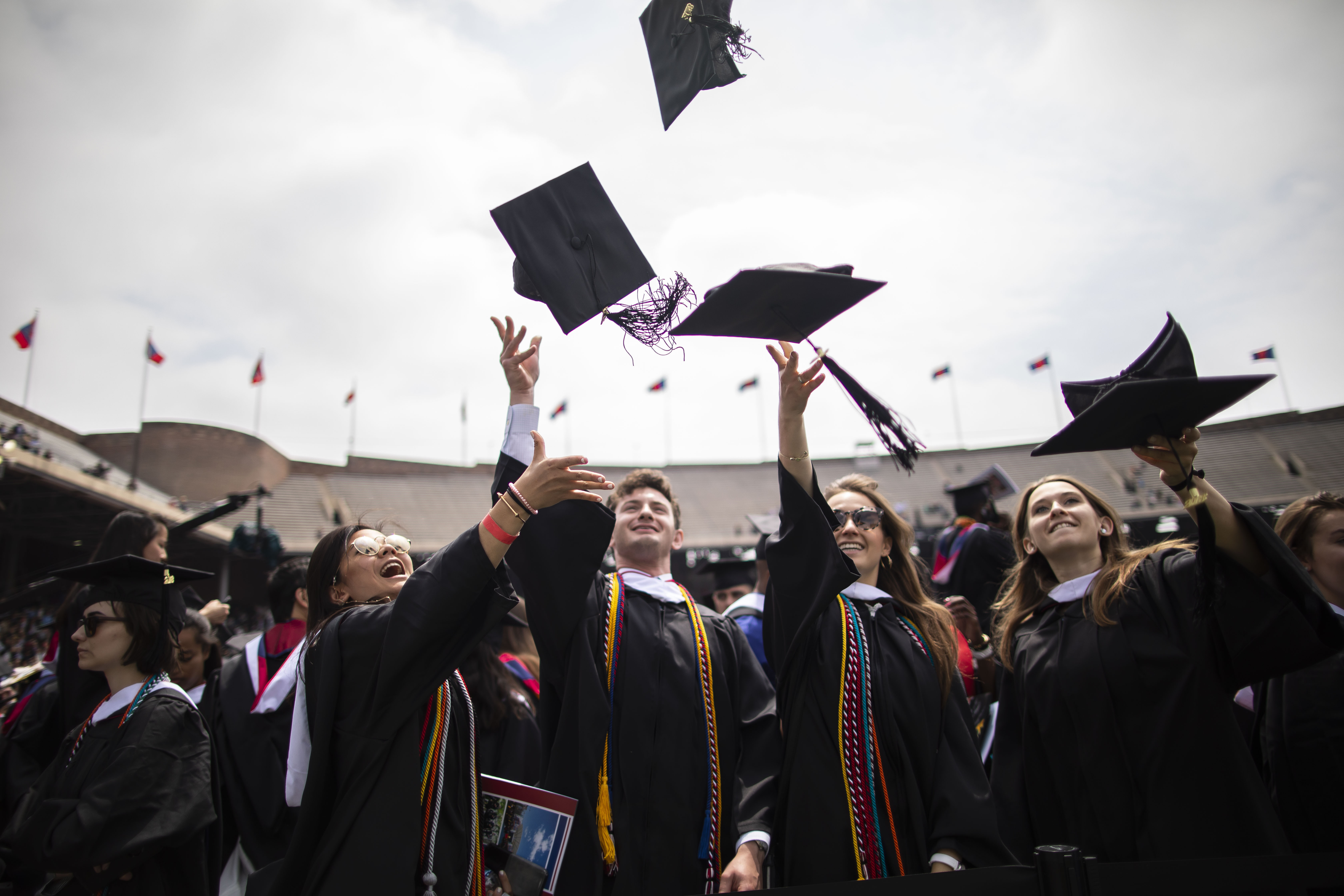 In her address to Penn's Class of 2018, Commencement speaker Andrea Mitchell imparted three life lessons based on her experiences as an undergraduate: Be curious, open-minded and engaged.
Before delivering her address, the chief foreign affairs correspondent for NBC News and host of MSNBC's "Andrea Mitchell Reports," was bestowed an honorary Doctorate of Humane Letters.
Penn President Amy Gutmann hailed Mitchell, an emerita trustee, as "one of the industry's most respected broadcast journalists" and referenced Mitchell's deep commitment to her alma mater. Last year, Mitchell and her husband, Alan Greenspan, made a gift to endow the Andrea Mitchell Center for the Study of Democracy. They have also endowed two Penn Integrates Knowledge professorships and supported the Department of Music Performance Fund, as well as Kelly Writers House. In addition, she served as vice-chair of the Penn Board and co-chair of Penn's record-breaking Making History campaign.
Mitchell spoke about how times have changed for women since she graduated in 1967 from Penn's then-College for Women.
"When I arrived as an unformed 16-year-old freshman, this great University gave me choices—at a time when it was not self-evident that women could strive to compete as equals."
Both Gutmann and Mitchell shared important lessons they first learned from their time as Ivy League undergraduate students. During her remarks, Gutmann led the graduates and their families and friends in a call-and-response to celebrate shared values.
"I'll start, if you'll back me up. Let me hear you say:
Liberty not chains.
Opportunity without limit.
Love without condition.
Learning without end!
Amen!"
Later, she told the class to speak up for these values.
"Speak the values we share," Gutmann said. "Speak them—when needed, sing them from the rooftops—with the unique voice that only you possess."
In her Commencement address, Mitchell said she was struck by how much of her life "is the result of accident, not design." She discovered her love of broadcast journalism serendipitously.
"I often think about how different my life would have been had I not wandered down the third-floor corridor of Houston Hall in the fall of my freshman year and discovered what was then the studio of WXPN."
The recollection brought Mitchell to her first lesson to the class: Be curious. "Do not presume to know who you might become, because you never finish becoming," she said.
She talked about the political issues that her generation and those before hers faced including the Civil Rights movement, the Vietnam War, World War II, and the Great Depression.
Today, we are living through a period that feels equally challenging, and disorienting," Mitchell said. "But now, the challenges are subtler, even more complex—the social dilemmas affecting race, ethnicity, gender. Problems that new laws can address, but not always fix.
"But in today's politics, facts are described as 'alternative,' and truths are often relative," Mitchell added. "So, my next lesson: Be open-minded. Never stop learning."
She encouraged students to use skills they've learned at Penn: "Evaluate your sources. Test your theories. Be smart consumers.
"If you know something is wrong, write that letter to the editor. Support a candidate of any political persuasion. Be involved. Speak up. Gain strength from the example of the teenagers in Parkland who transformed tragedy into purpose. Feel empowered by the women and men who are no longer willing to tolerate the abuse of sexual predators. #MeToo and #TimesUp can teach us."
Earlier in the morning, during the class procession on Locust Walk, Miranda Brickle, a School of Nursing graduate from Philadelphia, mused about serendipity in her own life. Brickle decorated her graduation cap with the words "God's Plan." She explained that the words are the title of a song by rapper, singer-songwriter Drake. It is her belief, Brickle said, that her path to a nursing degree was God's plan for her, not her plan for herself. At Penn, Brickle was an active member of the African-American Arts Alliance. She performed as an actor and was the Alliance's alumni relations officer.
On Locust Walk, proud Penn dad Yomi Akintorin snapped photographs of his son, Yomi Akintorin, Jr., walking with classmates in the School of Dental Medicine. Yomi Akintorin came to campus for the ceremony from Oakbrook, Ill., just outside Chicago. "It's been a long journey from high school. For him to get admitted to Penn was really exciting. It hasn't been easy. It's been rigorous, but now it's come to a happy ending."
"I'm glad to be done, finally," said Akintorin, Jr., who is heading to Phoenix, Ariz. for a residency in orthodontics.
Another Penn parent, Christine Williams, couldn't hold back the tears of happiness, waiting to cheer her son, Tim Schanstra, a biomolecular chemistry major from Hardyston, NJ.
She described the scene as surreal, saying, "I've been crying all morning. I feel like I just dropped him off and now he's graduating. Penn has become our home, too. We're very proud."
Gutmann conferred bachelors, masters, and doctoral degrees upon some 5,000 graduates. Honorary degrees were awarded to Mitchell and seven other recipients: marine ecosystem research pioneer Sylvia Earle; Freeman Hrabowski, president of the University of Maryland, Baltimore County; sociologist and scholar Elihu Katz, Distinguished Trustee Professor Emeritus of Communication at Penn's Annenberg School for Communication; Yannick Nézet-Séguin music director and Walter and Leonore Annenberg Chair for The Philadelphia Orchestra, and the music director designate of the Metropolitan Opera of New York; author and Wall Street Journal columnist Peggy Noonan; historian, Pulitzer Prize-winning author, and Harvard professor Laurel Thatcher Ulrich; and Hamdi Ulukaya, philanthropist and founder, chair, and CEO of Chobani.