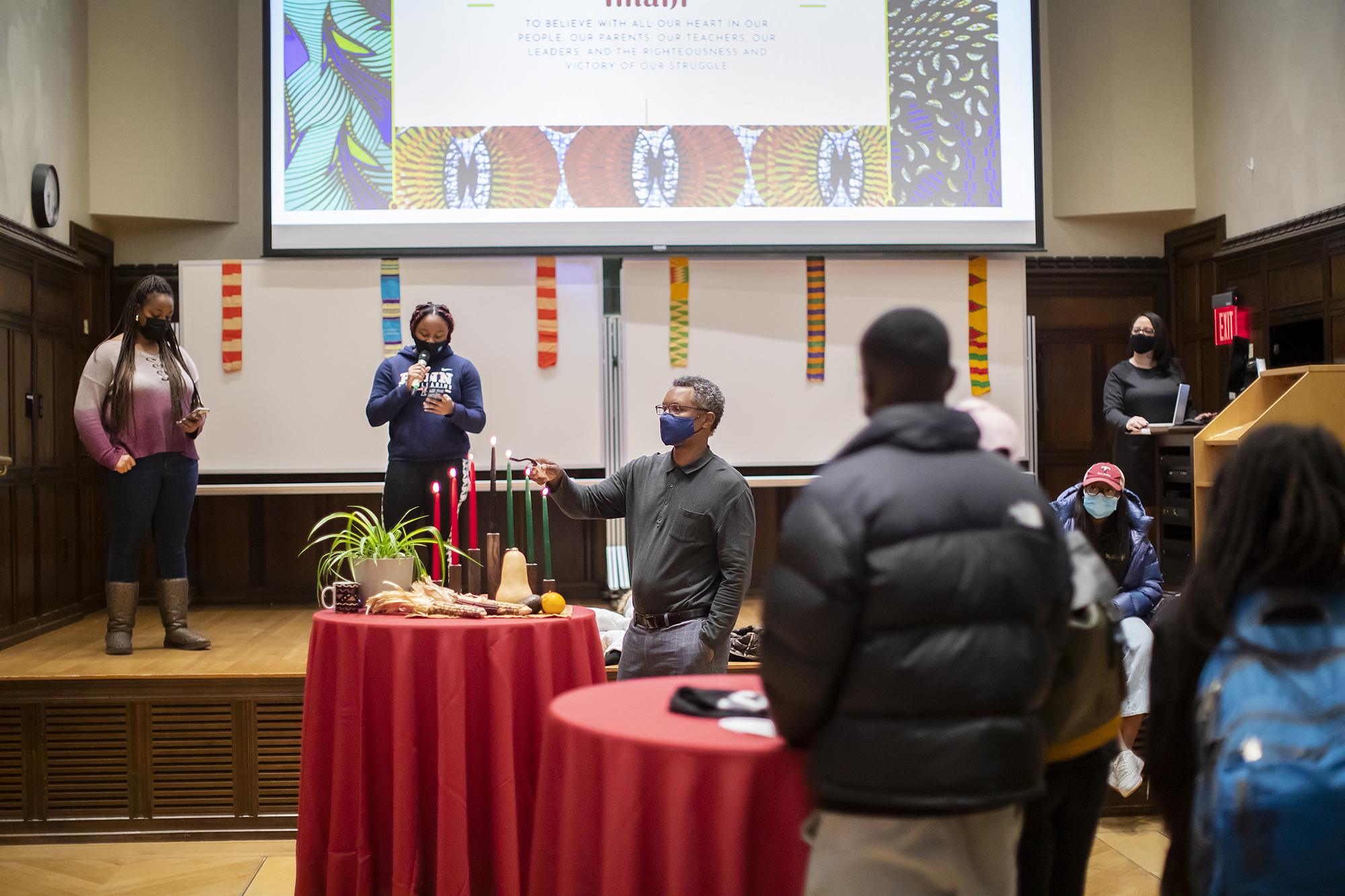 "Normally, you get gifts at the end of Kwanzaa," said Brian Peterson, director of Makuu: The Black Cultural Center. But as with most things, this year was a little different. A Dec. 9 event was hosted not in the Hall of Flags but in the ARCH building, and the communal meal had shifted to pre-boxed food. Nevertheless, it was a time to come together and foster a sense of community, he says.
Given past few semesters, it was vital to close out the year with this celebration, says Peterson. "Kwanzaa at Penn, celebrated for the past 30 years, is a moment to recognize the seven core principles—unity, collective responsibility, cooperative economics, creativity, self-determination, purpose, and faith—and to inspire students as they head into final exams. It also brings together faculty, staff, community partners, and alumni and allows Makuu to share a small gift and a meal, which for this year, was grab-and-go," he says.
Chime Amaefuna, a junior from King of Prussia, Pennsylvania, majoring in biology and minoring in Africana studies, was among those passing out gifts as co-chair of the Black Student League (BSL). "This has already exceeded my expectations," Amaefuna said of this year's Kwanzaa event.
Amaefuna's main aspiration was a sense of unity. Because of remote learning, many first and second year students did not have a chance to meet upperclassmen, he said. "There's a disconnect."
BSL is trying to make some of these connections, Amaefuna said. "We want to create a safe space for Black underclassmen, create that space for them to be in Black community."
The Kwanzaa gift offered this year was crewneck sweatshirts reading "Black Penn" in greyscale against a black background. The sweatshirts were first introduced in May during a BSL trip and have since became a coveted item, said BSL vice president Zaria Franklin, a senior from Atlanta majoring in psychology.
"Seeing 'Black Penn' is very empowering," Amaefuna said. The sweatshirts will "get more people talking about the Black experience."
Guests also included Jane Morris, executive director of the Center for Undergraduate Research and Fellowships (CURF). This was her first Kwanzaa celebration, Morris said. "I think this is really delightful." CURF and the cultural centers are both housed in the ARCH building. "We're neighbors," she says. "We support one another."
Kwanzaa starts on Dec. 26 and goes through New Year's Day. It's not a religious holiday but a cultural one, Peterson said, and at Penn the celebration predates Makuu. It was created in 1966 by Maulana Karenga, professor of Black studies at California State University, Long Beach, in an effort to bring the African American community together after the 1965 Watts riots in Los Angeles.
Alumnus Mckayla Warwick, now executive director of the restorative justice initiative Collective Climb, attended the event with four high school students associated with her organization. "Getting to come here and hopefully connect with current college students was a great opportunity," she said, adding, "the spirit of our work is definitely spiritually connected to what Kwanzaa represents."
"For Black students at Penn," Warwick said, "Kwanzaa represents a time to come together and a time to celebrate the shared experiences we've had, a time to reflect on some of the challenges that we've overcome." The principles of Kwanzaa also reflect the academic experience, whether "we're talking about things like collective economics, or we're talking about things like unity," Warwick says. For many, it regrounds "our purpose as we go into finals and as we kickstart a new semester, or maybe if you're a senior, what comes next for you."
The Makuu Kwanzaa celebration is "also a great place to eat good soul food" and comfortable clothes to wear during finals. "I still have three Kwanzaa shirts at home, and I wear them all the time," Warwick said.
Peterson began by thanking guests for coming and entreated them to "watch out for each other; take care of each other. I know how difficult this time of year is in a regular year, and these have been two very irregular years."
"As I think about this extraordinary holiday," said Chaz Howard, University chaplain and vice president for social equity and community, in a video message, "I think about 'first fruits.'" We are the fruits of our families and those who walked the campus before us. "The prayer—and the hope—is that our work will also bear fruit for those who follow us."
Peterson asked elders for permission to have the celebration, and then began with an affirmation to honor the ancestors. Peterson offered the name of a relative who had passed and called for names from the audience "to honor them and recognize them." Each name was followed with the response, "asé," meaning "so it is."
Peterson then discussed the Kwanzaa principles, lighting a candle after the mention of each one. He concluded the ceremony not with a communal meal as in years past but by inviting guests to take a boxed dinner on their way out.