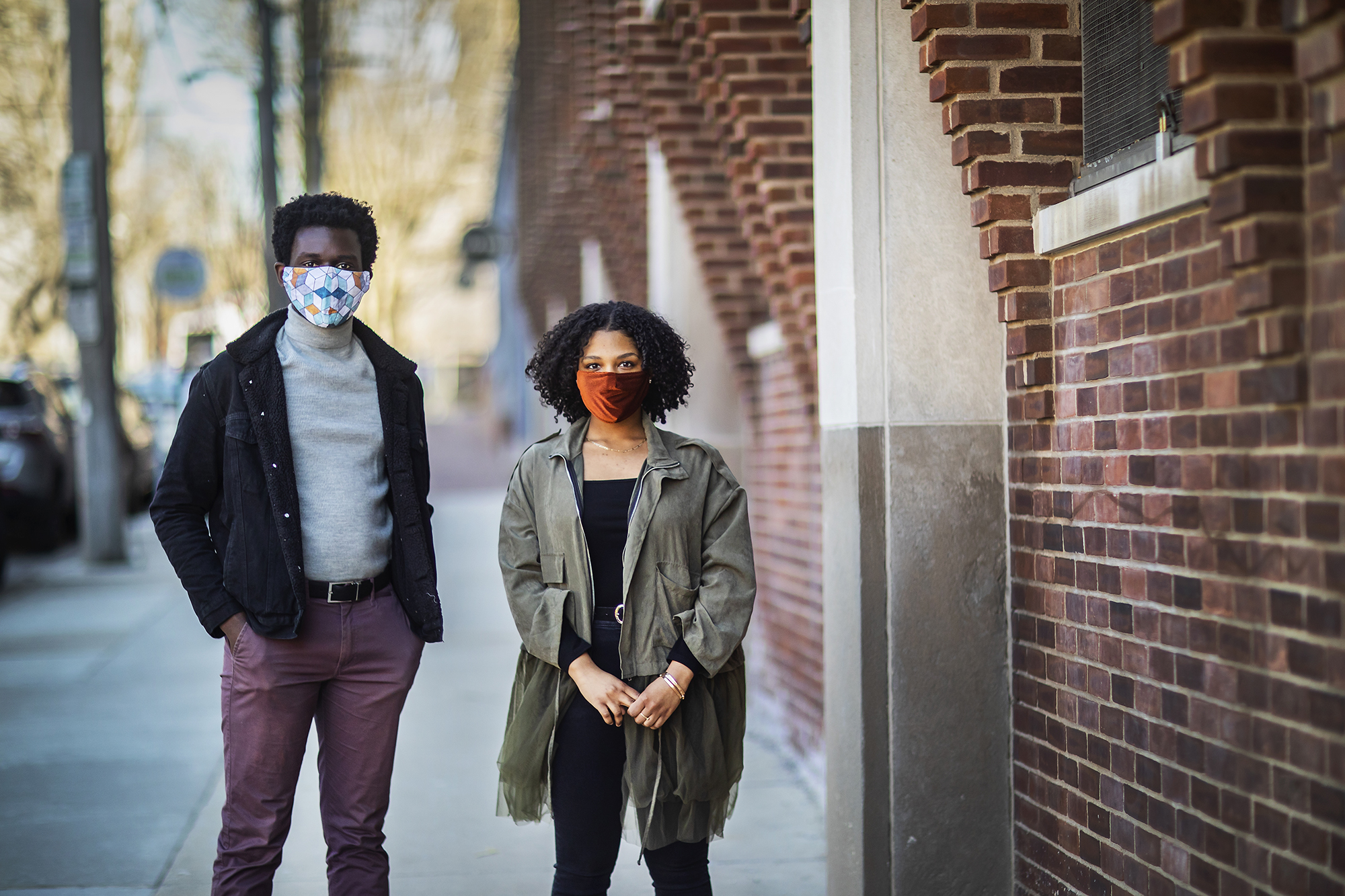 It's the summer of 2020 and obituaries are stacking up. COVID-19 is affecting Black and brown communities in disproportionate numbers. Then there's Ahmaud Arbery. Breonna Taylor. Daniel Prude. George Floyd. Rayshard Brooks. Philadelphia has come out of isolation and taken to the streets. On Interstate 676, protestors are blockaded by SWAT teams, then tear gassed. Responding to a domestic dispute, police officers fatally shoot Walter Wallace Jr., a 27-year-old father with a history of mental illness, in the Cobbs Creek region of West Philadelphia. In the midst of this, three Penn graduates—Hyungtae Kim, Kwaku Owusu, and Mckayla Warwick—are starting to have misgivings about the relevance of their financial literacy project.
The three were recently awarded a President's Engagement Prize in order to embark on their financial literacy project, Collective Climb. Their proposal was designed to utilize West Philadelphia's community assets—including shared wealth, immigrant knowledge systems, and inspired high school students—to combat poverty using a two-pronged approach of financial literacy and debt reduction.
But something didn't sit right with them, Warwick says. "How do we talk about debt when people are really, really talking about Black bodies dying?"
By summer's end, the group had pivoted from financial literacy to restorative justice. When Collective Climb met with West Philadelphia youth, they discussed economics along with police brutality and incarceration, Warwick says. They ultimately decided that the latter was a more urgent conversation in the wake of civic unrest and would "represent the core of what Collective Climb really wants to touch on, and that is a conversation around liberation," Warwick says. "Collective Climb is contributing to a larger radical tradition," Kim adds.
Using the same two-pronged approach, the group decided to continue to work with West Philadelphia youth. Rather than teaching them about finances, Collective Climb would train them to become restorative justice practitioners, Warwick says.
Engaging and teaching
The first prong is proactive, Kim says. Partnering with YEAH! Philly and Education Culture Opportunities (ECO) Foundation, the group engaged in "Collective Kickbacks," gatherings centered around such themes as radical Black joy and restorative technologies to facilitate conversation.
This was a pilot version of a longer six-month program, Owusu says, through which Collective Climb has recruited eight West Philadelphians aged 15 to 19. The program will ground them in Black feminist methodologies, Kim says, and teach research and analysis skills, restorative justice training, and conflict resolution. These individuals are each offered a stipend of $1,200 and will train the next cohort of youth.
Kyle "the Conductor" Morris has been working with Collective Climb to open up space for these meetings at the ECO Center at 5411 Market St., where he runs the ECO Foundation. "A lot of the work we do is in violence prevention through education, cultural experiences, giving young people jobs, giving their families therapy, whatever services they need," he says. "People need to figure out what the need is and fill gaps."
Collective Climb began filling one of those gaps by hosting "a support group for young people just to get them to unpack some of the violent things that have been happening," Morris says, noting that Walter Wallace was killed within walking distance of the community center.
Collective Climb then began to augment their program, adding the teaching component to Collective Kickbacks. "By giving young people the tools to do research, you're allowing them to bring forth a lasting change, or at least be able to spark the change with funding that typically only goes to places that have the research to back it up," Morris says. "The fact that you have an opportunity to create space for people to come up with their own solutions, for young people to have their voices amplified, to have their thoughts, their ideas be welcome and to channel their energy into some radical change… That's what it's all about."
Encouraging restorative solutions
The second prong of Collective Climb's restorative justice project is the reactive piece, Kim says. In order to subvert the school-to-prison pipeline in underserved Black communities, Collective Climb is working with The University of Pennsylvania's Division of Public Safety to create an intervention point when police arrive on the scene. This technique, called diversion, is a procedural intervention used within the juvenile justice system to create an alternative to arrest, Kim says.
"When a youth commits an offense that warrants police intervention, police file the case to the juvenile probation officer. It is then either brought up to the DA's office or directly to a sitting court and prepared for sentencing or hearing," he says.
Diversion is a "substantive engagement of the holistic circumstances of the entire offensive," says Kim, urging juvenile offenders to redress the harm they might have caused and encouraging restorative solutions for both parties.
Diversion also has the support of the West Philadelphia community. During the month of October, Collective Climb initiated a door-to-door campaign in West Philadelphia from 40th to 47th streets and from Market Street to Baltimore Ave. They talked with 174 residents in total, 88% of which said that a youth diversion program would have a positive community impact, Warwick said.
The group's pivot has also met with warm reception from the President's office, Owusu says. Collective Climb wrote up a new plan and summary of their logic, but decided to keep the name the same, which comes from the Akan proverb, "climb a good tree and we will rise."
The name still addresses the need for unity and hard work, Owusu says. "To actually face this and start making changes, we have to do it together. The climb is hard work; it's not something that's going to be easy," Owusu says. "These are very challenging and tough topics that we're addressing, this juvenile justice space and preventing violence inside of the community."
This is important work "that we're dedicated to," Warwick says. "We're really, really lucky doing work that fulfills us in a time like this."
Homepage image: Kwaku Owusu (left), and Mckayla Warwick (right), two of the three Collective Climb members.