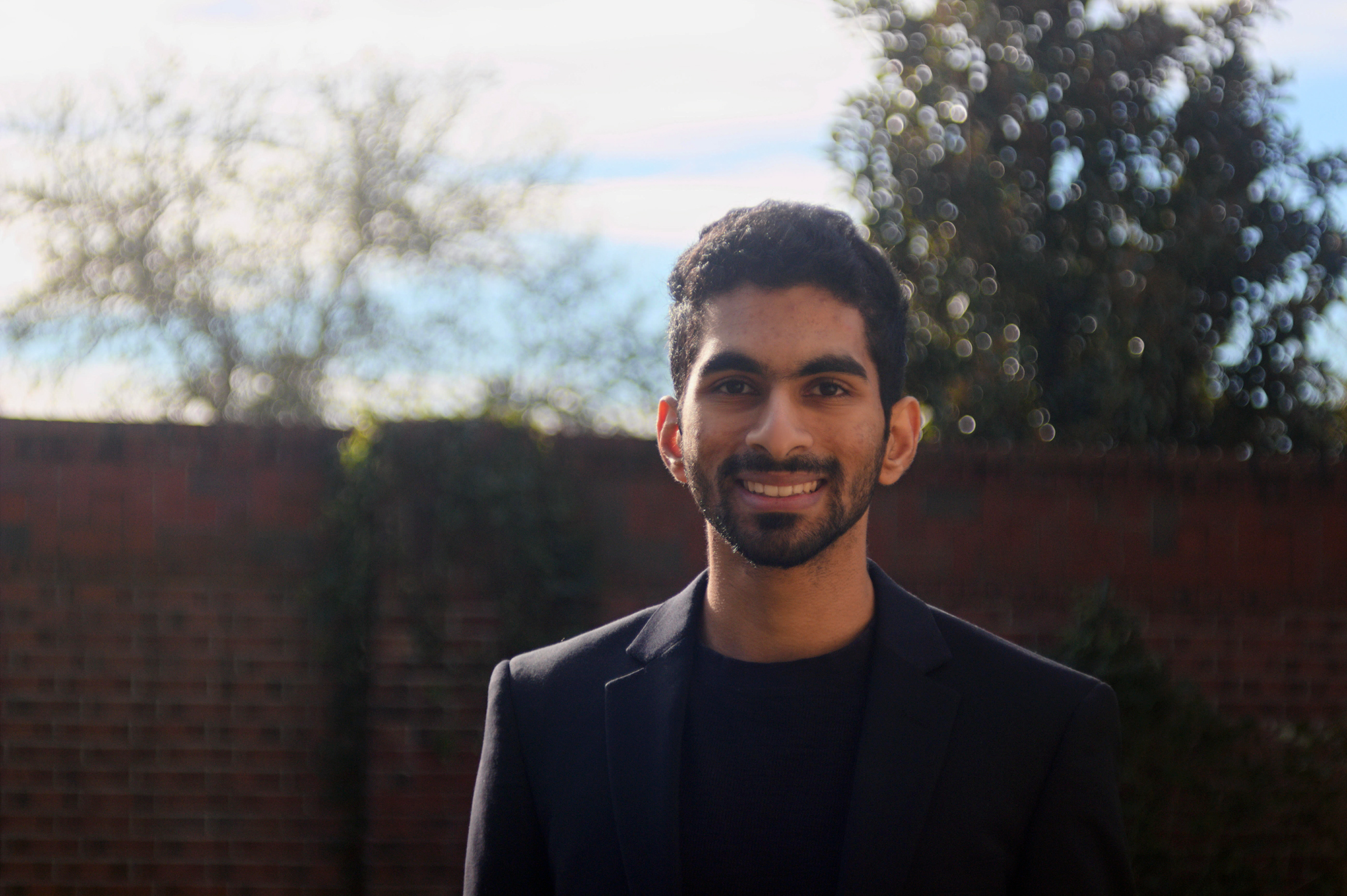 Nikil Ragav's inventXYZ program is dedicated to bringing high-tech, hands-on education to high school students everywhere by setting up makerspaces, or collaborative work spaces, at partner schools across the country.
His proposal to address that need was selected for the 2020 President's Innovation Prize, which includes an award of $100,000, and an additional $50,000 living stipend.
Ragav, from Sugar Land, Texas, graduated from Penn last year from the Jerome Fisher Program in Management and Technology (M&T) studying electrical engineering in the School of Engineering and Applied Science and operations at the Wharton School.
"Nearly every job, regardless of industry, from manufacturing to marketing," says Ragav, "is fundamentally changing due to advances in robotics, AI, automated manufacturing, internet connected electronics, and data science."
Implementing his idea
Since winning the prestigious Innovation Prize in 2020, Ragav has been busy implementing his idea. He launched a new website at inventXYZ.com
In summer 2020, after schools had to go virtual, he launched the "inventsummer" program where students could sign up directly to learn to build and code real-world projects. For example, students got a chance to build and code a handheld Pong video game while applying algebraic systems of equations and inequalities. They also learned about self-driving cars with expert mentors at Nuro and Google X.
This summer, in a series of new, intense, week-long programs, students can learn from mentors how to build and code projects. Courses include: Code your own COVID Spread Simulator, Visualize Senate Election Data, and Build a Portable Music Synthesizer. Students can sign up at inventXYZ.com/summer.
In addition, Ragav deployed a curriculum project completely virtually in the Centennial School District, in Lower Bucks County, where AP Statistics students coded a COVID-19 spread simulator. Assistant Principal Joe Plum of William Tennent High School in Warminster, Pennsylvania, says he was empowered and energized by the impact of the program.
"I was blown away by the presentation students did," says Plum. "The level of sophistication, the rigor of the project, and the quality of the product was phenomenal."
At the end of the course, the students gave a presentation where Penn's Executive Vice President Craig Carnaroli was in attendance.
Carnaroli expressed to Ragav how much he "loved watching the students' reaction to applying what they learned."
Lisette del Pino, a senior in Penn's School of Arts & Sciences studying math and computer science, joined the inventXYZ team in fall of 2020 as a lead curriculum developer blending computer science, math, and data science.
"Our inventcurriculum integrates real-world, hands-on STEM and computer science projects into core classes," says del Pino. "For example, in Statistics, students code a COVID-19 spread simulator, implementing core concepts such as the binomial distribution in Python to model real-world phenomena. In World History, students recreate ancient civilizations in VR. In Government, students use data science techniques to analyze the text of major Supreme Court cases in a new light."
inventXYZ aims to empower the inventors of tomorrow through practical, real-world experiences and education for all students regardless of income or background.
"Our goal is to help high school and district administrators, who aren't really industry experts in any of these new fields, demystify the future of work and prepare students with hands-on STEM and computer science skills in each of their core courses to prepare them for the future of work in any field," Ragav says.
inventXYZ's innovative curriculum, what they call an "inventcurriculum," enables students to build and code a hands-on technology project in each academic class and blends tech industry standards with Common Core and Advanced Placement standards.
Setting up 'makerspaces' in schools
To help schools deploy the curriculum, inventXYZ works with high schools across the country to set up makerspaces, or collaborative work spaces. inventXYZ's standardized makerspace design called "inventorspace," includes equipment for automated manufacturing, electronics design, augmented/virtual reality, filmmaking, and digital music.
Ragav and the inventXYZ team are working to sell 12 more of these virtual inventcurriculum experiences.
He was invited to present to 30 school districts in Kansas City in January through the Kansas City STEM Alliance ecosystem. Several schools signed up for a virtual project after watching the presentation.
Martha McCabe, the executive director of the Kansas City STEM Alliance, says she was pleased to learn about the initiatives at inventXYZ, and is excited about the opportunity to bring STEM projects and develop STEM skills in English and language arts classes.
"Our STEM education programs through the KC STEM Alliance currently reach over 10% of all students," she says. "However, we know that many students are not engaged in robust, relevant coursework in STEM, especially at the high school level. I also believe that regardless of the education or career pathway a student chooses, gaining STEM skills helps all students become creative, innovative problem-solvers."
Ragav also set up a short professional development workshop called "inventfuture" for school district administrators and high school leaders to see examples of the future of work and collaboratively design how to integrate new technical skills into core courses to prepare every student.
He is also working to help design a makerspace in Kansas City funded by football player Travis Kelce of the Kansas City Chiefs, which plans to open later this year. Operation Breakthrough, an organization that works with low-income students in urban Kansas City, currently works with preschool to middle school-age students and is building the makerspace to expand its support to high school students.
"It has been great partnering with inventXYZ," says Mary Esselman, CEO of Operation Breakthrough. "With Nikil's electrical engineering background and experience with makerspace design, he has added an important voice to our work in designing a set of nimble multi-functional STEM labs that will support workforce development and entrepreneurship both today and tomorrow."
And Ragav has been busy building his team by hiring interns and full-time teammates to help develop the curriculum. He is looking to recruit those who have worked as teaching assistants or have a blog or YouTube channel about technical projects in virtual reality, electronics, hands-on industrial design, web development, or music signal processing.
"Why be 1 of 100,000 people at a Microsoft or Google when you can be 1 of 10 people at inventXYZ working on technical projects that are just as sophisticated, get the opportunity to develop curriculum and mentor high school students?" says Ragav. "So many recent college grads tell us, 'I wish I had that when I was in high school.'"
Ragav believes inventXYZ is a chance for all students to make that dream come true.