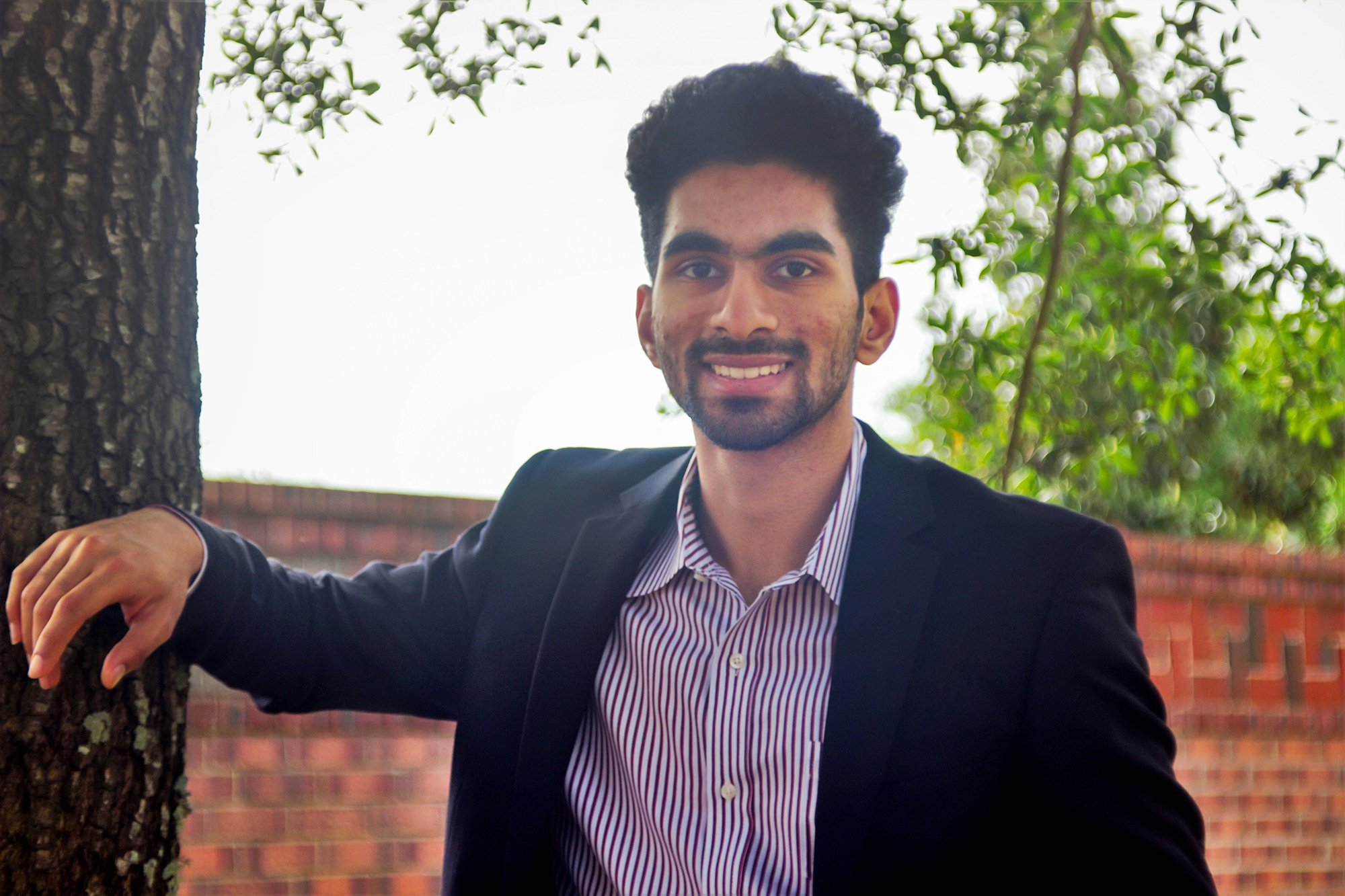 Nikil Ragav's inventXYZ program is dedicated to bringing high-tech, hands-on education to students everywhere by setting up makerspaces, or collaborative work spaces, at partner schools across the country.
His proposal to address that need was selected for the 2020 President's Innovation Prize, which includes an award of $100,000, and an additional $50,000 living stipend.
Sixty-four seniors submitted applications for both the President's Engagement and Innovation Prizes this year, with proposals spanning an array of innovative and impactful ideas.
Ragav, a senior from Sugar Land, Texas, in the Jerome Fisher Program in Management and Technology (M&T) studying electrical engineering in the School of Engineering and Applied Science and operations, information, and decisions at the Wharton School, recalls the moment he received the call from President Amy Gutmann to tell him he had been chosen.
"I had just woken up when my phone rang, and I did not recognize the number and thought at first it might be spam," he says. "I let the Google screen caller ID pick it up first. It said, 'This is a call from President Gutmann's office.' I quickly answered the phone."
"She said the principal factors in the decision were a mixture of the past performance of the project and its future potential," recalls Ragav. "My parents and I were ecstatic after hearing Dr. Gutmann and learning about receiving this great honor." 
In its fifth year, the President's Innovation Prize is awarded to a senior or team of seniors to pursue post-grad entrepreneurial projects with the potential to make a positive difference while also engaging the community. Founded by Gutmann in 2016, the Innovation Prize is intended to help Penn students design and undertake innovative, commercial ventures that make a positive difference in the world.
"Nikil has marshalled the resources to create a 'wow' space in which art, electronics, robotics, social studies, coding, and more come together in a dynamic, exciting, and interactive way," says Gutmann. "inventXYZ shows us the power of high-tech, hands-on education to transform the classroom experience, and it underscores the idea that 'innovation' has a home in each and every discipline."
Ragav decided to pursue this particular project because he saw a problem within the community that needed to be solved.
"The world is changing rapidly with technology like machine learning, internet-connected electronics, computer-controlled manufacturing, web applications, and augmented reality," he says. "These technologies aren't just staying in one industry, but are becoming essential for unlocking efficiencies and new capabilities across every single industry and job level. What are students learning in high school? They aren't learning the technical skills to be successful in tomorrow's world."
inventXYZ's mission is to bring cutting-edge skills to every high school student regardless of income or background. According to Ragav, each core class will have a hands-on project where students build technology. Each project will last two to-three weeks and cover the same class content as the unit it replaces.  
"For example, English class will be exactly as normal for most of the year except for a two-week project in which students code a web app that uses natural language processing to analyze poetry and find similes and metaphors," he says. "In algebra, students might build a GameBoy-type device and code a Pong video game to learn about how the slope of a line, inequalities, and systems of equations are used in the real world. In biology, students might design a virtual reality software to model protein folding in 3D instead of just seeing 2D line diagrams. In orchestra, students might design their own violin and use a computer numerical control mill to manufacture it."
For high schools, inventXYZ designs standardized makerspaces, called inventorspaces, with high-tech equipment and provides a curriculum, called inventcurriculum.
The "inventorspace" includes equipment for automated manufacturing, electronics design, augmented/virtual reality, filmmaking, and digital music.
The "inventcurriculum" enables students to build and code a hands-on technology project in each academic class. The innovative curriculum blends tech industry standards with Common Core and Advanced Placement standards. This means that instead of a handful of students taking, say, coding as an elective, all students learn these things because they're built into the standard curriculum.
By the time students leave high school, they would have built around 20 projects, learning skills such as how to develop AR simulations, laser-cut, build electronics, and use machine learning across subject areas, says Ragav.
inventXYZ is designed to provide a curriculum to accelerate all students, including women, racial minorities, and rural students, who traditionally may not have access or who may face stigma choosing to study STEM fields.
"The goal is to provide this type of learning to every school in America regardless of its location or income level of its students, especially in underserved communities," Ragav says.
When a school district or independent high school decides to work with inventXYZ and integrate the curriculum projects in their classes, inventXYZ works with the school through the entire process of designing an inventorspace, procuring equipment, implementing curriculum, and training teachers.
"The way it works is that we talk with superintendents, principals, and teachers, and go through their syllabuses and learn what sections students struggle with the most," says Ragav. "We infuse those units with a project on important cutting-edge practices across industries so that students find the material more engaging and relatable. After this, we coach the teachers at a week-long workshop to work through the project as if they were students. As students build the projects in each class, an inventXYZ team member visits the school to assist and observe."
Ragav says this program is different from others because it takes place directly in high schools during regular course hours.
"This means that schools don't have to create an entirely new class, hire curriculum developers, and hire new teachers," he says. "It also means that every single high school student learns these skills, not just the few that could have taken the elective. Because of this, the program is super affordable per student."
The project has already started to make an impact. In 2019, inventXYZ ran a pilot program with a rural Pennsylvania school district. It hosted a professional development session for the high school teachers, and 180 students from that school are building inventXYZ's projects this year.
Ragav says the goal over the next year is to finish building a full-scale inventorspace at the Saint Mary's Area School District in northern Pennsylvania, where the pilot program took place, and expand to four high schools. inventXYZ is also developing more curriculum projects.  
"We really want to learn as much as possible from teachers and students so we can streamline the projects as much as possible," he says. "We want the projects to be really easy to follow, be exciting, and leave teachers and students feeling empowered."
Ragav and inventXYZ also plan to hire a team of graduate students specializing in computer graphics and mechanical engineering to detail the project and help develop troubleshooting instructions.
Currently, inventXYZ is working on a virus simulator project for a statistics class to help students understand the coronavirus crisis. The goal is to understand how exponential it is and the proper mitigation steps, says Ragav.
"I don't think the vast majority of the population understands how a virus spread is so exponential," he says. "Students will code the simulator and figure out which nodes to isolate and stop the spread. The other aspect is a simulation showing people bouncing around, and by changing the probability of transmission between people that touch and the rate at which people move around, students can see how the slope of infection and recovery are massively affected."
One of Ragav's mentors is Gad Allon, the Jeffrey A. Keswin Professor and professor of operations, information and decisions, and the director of the M&T Program at Penn.  
"Nikil has devoted quite a bit of time and energy on this project from the very beginning, even working summers," Allon says. "It is great to see the University recognizing both innovation and persistence. It's good for Nikil to be recognized and the prize will allow him to work on his passion with financial backing."