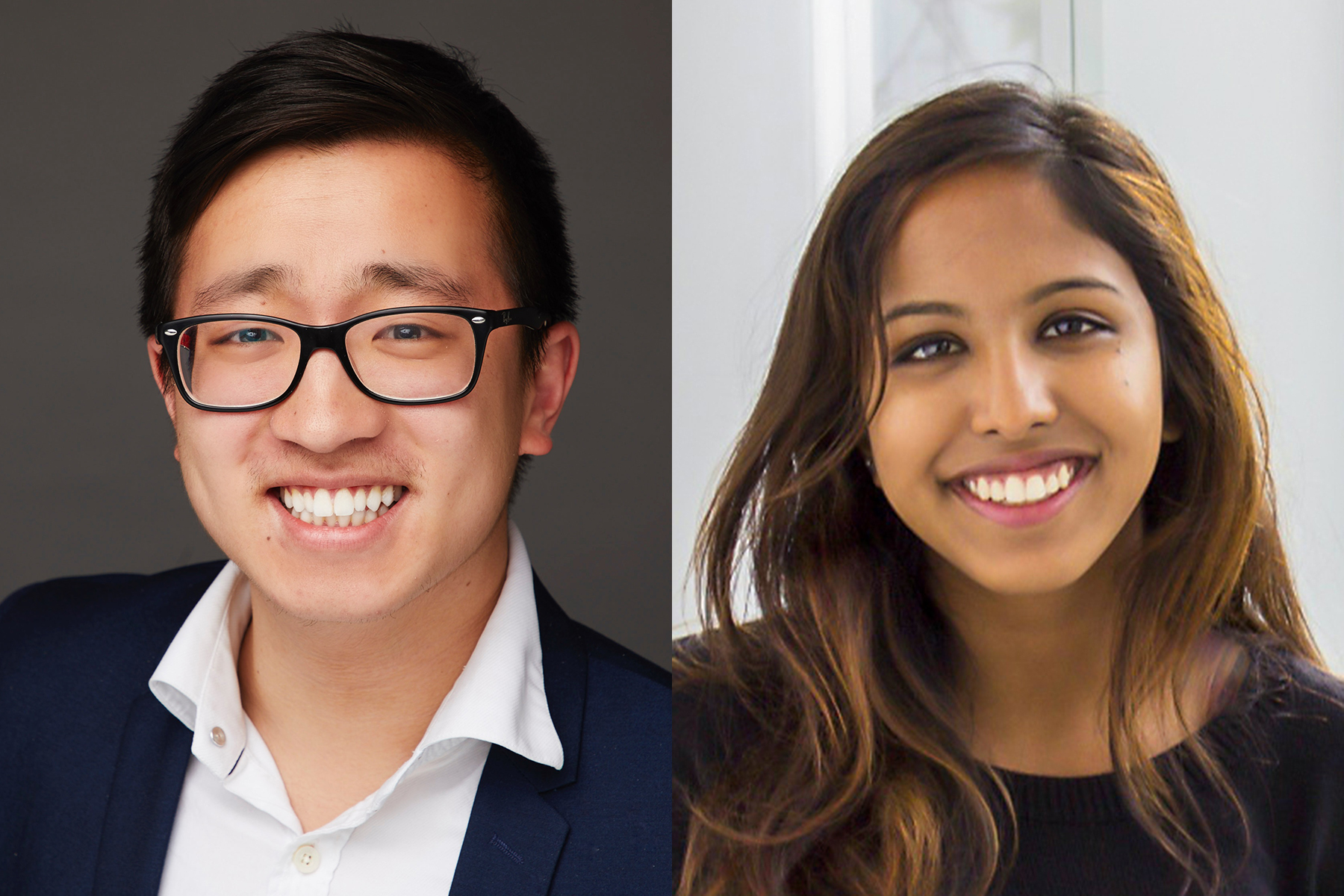 When they were freshmen, Philip Chen and Meera Menon were paired in a race around the University of Pennsylvania campus to solve a series of challenges in a game, part of the introduction to the Wharton School.
Now seniors, they have been friends ever since that day, in many of the same classes and clubs, at every birthday party and celebration. So, it was natural that they would team up again to pursue the challenge of the President's Engagement Prize. 
Their shared love for theater led them to propose a nonprofit centered around improvisational theater, as their experience on the stage has helped them in all their pursuits, including their business degrees. 
The Unscripted Project is designed to run 10-week improv courses for students in grades 6 to 10 in Philadelphia public schools taught by teaching artists from the Philly Improv Theater, which was founded and is headed by a Penn alum.
Unscripted is one of the three projects chosen this year to receive the President's Engagement Prize, which awards $100,000 to fund each project and a $50,000 living stipend for each student. Founded by President Amy Gutmann in 2015, the Prize is meant to empower Penn seniors to design and undertake post-graduation projects that make a positive, lasting difference in the world.
"The skills taught by improvisation go far beyond the stage," Gutmann says.  "Improv theater truly has the power to transform: to help us better understand points of view that differ from our own, and to show us how to persevere in the face of challenges.  Meera and Philip have experienced this transformative power firsthand, and they are extremely well-prepared to make a meaningful impact inside the classroom and beyond."
The project's mission is to use improv training to empower students to speak confidently, collaborate effectively, and embrace the value of practice and perseverance. The goal is to transform how young people view their potential within and beyond the classroom.
"We are both passionate about the arts and we see the real effect on our lives day to day. We are hoping that we can impart these values and skills to others," says Menon, a management and finance major and international development minor from San Ramon, California.
"Everything we've learned to this point in terms of our theater experience has translated to success in the real world," says Chen, a real estate and finance major and cinema and media studies minor from Melbourne, Australia. "We truly believe to our core that improv is a transformational tool: the ability to operate in uncertainty, be adaptable, and be able to react appropriately, is crucial right now."  
Ensuring long-term sustainability is a critical part of their plan for Unscripted, and that's how what they've learned at Wharton is especially useful.
"We used our business education to our advantage in the design of this project, with a detailed methodology designed step-by-step as a startup," Chen says. "While we believe in the idea, it is the design, infrastructure, and plan around it that allowed us to bring it to fruition."
Now in time zones 17 hours apart, the two students talk for hours each day, usually when it is late at night for Chen in Australia and early in the morning for Menon in California. 
The time difference was especially challenging when they learned they won the Prize. Menon received a voice-mail message and an email asking her to call Gutmann. "I was so excited and so grateful. I tried to call Philip like 20 times, but he didn't pick up," she says. "I messaged him and said to call me." 
But at that moment it was the middle of the night in Australia. "I woke up with a hundred messages from Meera and missed calls from a Philadelphia number. I called Meera immediately and found out we won. Then it was a whole day of utter shock, excitement, and gratitude, celebrating with family and talking to Meera for hours," he says. "I spoke with Dr. Gutmann at 1 a.m. my time." 

Art of performance 
Chen and Menon chose improv because it is something most people can do, regardless of experience. "We wanted to make sure our design approach was accessible to everyone, not just the theater kids," Chen says. "Improv is basically learning life skills through a series of games and exercises. It has to do with listening and collaboration but most important is the concept of "Yes, and," which is learning how you can react to unexpected situations." 
Chen has been on the stage since fourth grade, the year his elementary school offered performing arts classes. That experience led him to join the Young Australian Broadway Chorus, a theater training program. In high school he was cast in lead roles in musicals and was even in a professional production of "The King and I." Chen said one of his most memorable experiences at Penn was being part of "Yellow Face", a pioneering play celebrating Asian American identity by the Front Row Theater Company his junior year.
Menon's first role on stage was in kindergarten, as the mother pig in a musical version of "The Three Little Pigs." Although interested in the arts during high school, she became more involved while at Penn, taking an introduction to acting course with David O'Connor. He suggested Marcia Ferguson's Theatre Arts course "Beckett Shorts," a MainStage production of four short plays by Samuel Beckett, in which Menon was both an actor and the dramaturg. In February she played two roles in the production of "The Government Inspector" in another theater course.  
It seemed natural to ask Ferguson, senior lecturer in theatre arts in the School of Arts and Sciences, to be their faculty advisor for Unscripted, which is the first arts-based project chosen in the five-year history of the Engagement Prize.
"On a personal level their project thrilled me, the idea of providing improv training and bringing public school students into the realm of imagination, creativity, physicality, and ensemble building," Ferguson says, noting that budget cuts have eliminated much of arts programming in the city's public schools. "I've seen the arts make such a difference in students' lives." 
Ferguson's help was instrumental in the project's success from the beginning, Menon says, from connecting them to people in theater and education, evaluating the feasibility of their budget and program, helping design the education model, and charting the strategic direction. 
Finding connections through Penn
Both Menon and Chen have Liz Sutton as their Wharton academic advisor, and it turns out that she loves theater, too. "She's so supportive and someone we never hesitate to go to," Menon says.
Sutton suggested they connect with the Detroit Creativity Project, run by actor Mark Evan Jackson and his wife, Beth Hagenlocker, who oversees the daily operation of The Improv Project in Detroit schools, a model for the program the Penn team is creating. 
"Beth was our first major contact. By then we had really thought about what we wanted to do and the method to approach it," Chen says. "She loved the idea of starting this in Philadelphia." 
Hagenlocker decided to mentor the team by providing advice on everything from nonprofit management to curriculum development. She connected the pair with Greg Maughan, a 2006 Penn graduate who founded and heads the Philly Improv Theater, a comedy theater that produces and presents improv, sketch, stand-up and variety comedy, and a training program for children and adults. 
Since starting the nonprofit 15 years ago, Maughan had hoped to bring improv classes into Philadelphia public schools but needed a partner since he didn't have enough staff, funding, or time to make it happen. 
Maughan says he was immediately impressed with Chen and Menon, saying they were organized, prepared, and intelligent and both demonstrated "an easygoing, thoughtful and inspiring kind of charisma that will serve their effort well, particularly when it comes to forging connections."
"We are very excited that this is going to move forward," Maughan says. "Once again Penn kids show up and want to make the world a better place and have the ability to pull it off." 
Philly Improv Theater will be the main nonprofit partner for Unscripted, and provide significant resources, including expertise to adapt curriculums. Once a middle school teacher in Camden, New Jersey, through Teach for America, he's offered to ensure the exercises and lesson plans are aligned to state standards.
Unscripted will have access to the nearly 50 teaching artists at Philly Improv Theater, established comedic performers with specialized training. Maughan will also help with overarching strategy and supervision of the program, as well as networking to help find sources of funding.
School partners
As part of her Penn experience, Menon had been teaching financial literacy in Philadelphia public schools through the Netter Center for Community Partnerships' Bridges to Wealth program. 
Menon and Chen were waiting in a hallway for a meeting and met Frank Rosado from the Benjamin B. Comegys School. By the end of the conversation, Rosado, who had studied acting at UCLA, asked them to bring the improv course to his school. 
"It was a series of beautiful coincidences," Menon says. 
They also forged agreements to bring the course to the Philly Agile Learning Center and at the Science Leadership Academy, where the team ran a pilot class. "We got really great results," Chen says. 
One student was in the corner on her laptop, refusing to join in the improv games, but by the end she was fully engaged, they say. In a survey afterwards she checked the box that she wanted to do it again. 
"We saw that impact. We saw kids having fun, getting out of their comfort zone in that one hour," Menon says. "Imagine what we could accomplish in the 10-week course." 
Business sense
Chen and Menon see their role as connectors, bringing together professional teaching artists with students, providing the curriculum and training, and pursuing academic research. "We are in a good position to create that infrastructure," Menon says. "We want to build this network and make it sustainable."
Menon, who has had an interest in entrepreneurship aimed at doing good since she was in high school, says a Management for Social Impact course was important because it explained how to reconcile business with nonprofits and how to structure initiatives committed to making change but with sustainable revenue streams.
The pair have several ideas for sustainability, pledging to raise an additional $100,000 in funding through grants, donations, and other revenue streams. One idea is to offer the program to schools in the Philadelphia suburbs with the means to pay for the program. 
The coursework could be valuable to other audiences as well. Wharton is offering improv to business executives, and well as undergrads and MBA students. 
"That was an ah-ha moment that reaffirmed we are on the right track," Menon says. "That Wharton is starting a body of research on improv is significant because it shapes development, leadership, and business success." 
They plan to measure Unscripted's success by student surveys at the start, middle, and end of the workshop series, as well as teacher evaluations, and repetition of specific improv exercises to test the development of skills such as public speaking, confidence, and collaboration. 
Looking ahead
Their proposal projected a 10-week program at the three schools with about 90 participants and a 10-week program at five schools with about 150 participants by the spring of 2021. Their hope is to add an additional five middle schools in the second year. 
However, if they are not able to get into classrooms in the fall, Chen and Menon will concentrate on developing an app-based platform for teachers and home educators, short lessons with clear goals and demonstrations of their improv curriculum accessible virtually. 
"We are committed to go into schools when we can in a responsible way," Chen says. "In the meantime, we are adapting and using our time and resources towards the same goals."
Maughan has spoken with the team about next steps during this time of coronavirus restrictions. In fact, he says he sees this as a "potentially critical partnership" for the future of the Philly Improv Theater as they reformat their business. 
"I believe in them," Maughan says. "There are enormous challenges getting this program up and running in next 12 months. They are certainly capable of meeting these challenges. Their Penn education has prepared them, and the work they did putting this project together."
Chen and Menon have a long-term goal to provide every Philadelphia public middle school student access to free improv training.  "We hope it will last our entire lifetimes and beyond," Chen says.