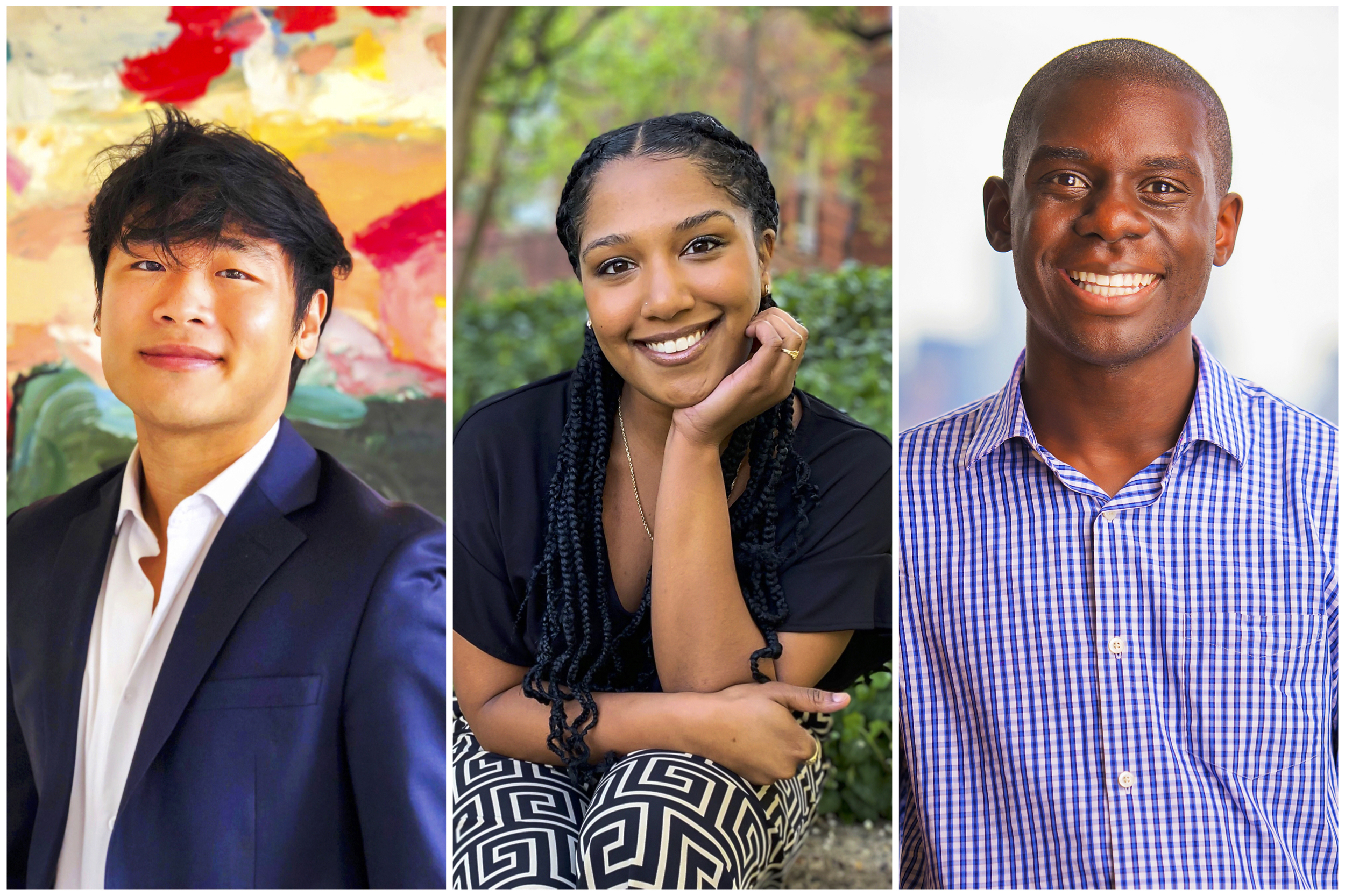 "Climb a good tree and we will rise" is an Akan proverb that speaks of working together to overcome adversity, says Kwaku Owusu of Bay Shore, New York. This vision of rising together provides both the name and inspiration for Collective Climb, a financial literacy project developed by Owusu, Hyungtae Kim, and Mckayla Warwick that won a 2020 President's Engagement Prize (PEP). Inaugurated by President Amy Gutmann, the accolade provides a $100,000 award and $50,000 per-student living stipend for graduating seniors seeking to make impactful change on a local, national, and global scale. Collective Climb will utilize West Philadelphia's many community assets—shared wealth, immigrant knowledge systems, and inspired young high school students—to envision a more empowered future.
"Collective Climb's two-pronged approach to fighting poverty by combining financial literacy with a debt-reduction model is tremendously timely, incredibly innovative, and deeply rich in potential," says Gutmann. "Kwaku, Mckayla, and Hyungtae have identified a real need in our local community, and their interdisciplinary approach to problem-solving embodies the very ethos of the President's Engagement Prize."
Owusu, who is studying statistics at the Wharton School, began meeting with Kim, of Philadelphia, in the dining hall at Hill College House to conceive their project. "Kwaku and I are the children of immigrants, and food and collegiality are really important and intimately entwined," says Kim. Hill and Penn's many dining halls became an important site for both this and their friendship since freshman year, as the two had first met as singers of the Penn Glee Club.
Owusu felt their team could benefit from the teaching and mentoring experience of Warwick, a sociology major from Lynchburg, Virginia, whom he had met through the first generation, low income community. Owusu and Kim set a preliminary meeting with Warwick at the dining hall, and the group clicked immediately. "We all add something different, and we're not doing this alone," Owusu says. "It's about unity, it's about friendship."
While each individual brings different expertise to the project, all have a shared vision of community-minded commitment to relationship building that is essential for the success of their project, according to their mentor Glenn Bryan, assistant vice president of community relations in the Office of Government and Community Affairs.
The Penn group will begin their work with 15 teacher-nominated students at Sayre High School through a paid after-school program that will train these young leaders to become financial educators. As part of this initiative, Collective Climb will also initiate "community pots," or a system of peer-to-peer lending circles that leverages collective wealth to tackle debt. Each student will make a projected monthly contribution of $10 that will enable the entire group to then buy bundled credit card debt. By targeting the debt of contributing parties on a revolving basis across an eight-month cycle, the students will be on track to achieve $100,000 of debt forgiveness for these families and others bundled in the same portfolios.
This model of lending circles or community pots to kickstart economic growth is seen both in the Korean, Chinese, Desi, and Latinx immigrant communities as well as in Ghana as the susu. "For a small amount of money, the susu allows you to save and pool your money," Owusu says.
"This brings a sense of community and upliftment in ways that differ from existing financial-literacy programs," Warwick says, adding that West Philadelphia is the perfect place to launch the project. "We are doing this work in a place where there is such a rich history of people of color owning businesses, organizing locally, and creating spaces for fellowship," she says.
Collective Climb's plan of leveraging community resources to tackle the debt burden in West Philadelphia was heartening to Bryan, who is a lifelong resident of the area. "The students were spot on in terms of looking at this as a major issue and identifying a plan and partners to get this done," he says.
The group will partner with West Philadelphia Financial Services Institution, the Enterprise Center, and the Netter Center for Community Partnerships, specifically at Sayre High School.
Warwick, having been deeply involved with Netter Center programs, connected her team with the Center during Collective Climb's planning stage to learn more about engaging with West Philadelphia youth. "We were impressed with the students' thoughtfulness and focus on incorporating community and youth voice," say Candace Eaton, the Netter Center's High School Program manager, and Joe Brand, site director of the Sayre University-Assisted Community School. "We very much look forward to continuing to work with Collective Climb and seeing the impact they will have on the youth and families with whom we engage."
As a history major, Kim made sure the proposal fit within a culturally relevant and historically inflective framework. "What often happens in financial literacy settings is that they're extremely removed from the lived experiences of the individuals attending these courses," Kim says. "It's important for us to situate this larger conversation around the historical experience of these communities that have experienced a lot of disenfranchisement and inequity. This helps us both pivot away from a deficit model and empower the individuals we hope to serve."
One of Kim's primary influences was Grace Sanders Johnson, assistant professor of Africana studies at Penn. She has taught both Kim and Warwick, who say Black feminist thought underpins the project's ethical foundations.
"It's important to collaborate with our communities and what they are already doing instead of presuming greater expertise, and this is a way of engaging with many intersections of power," Johnson says. "You don't need to bring everything to the table. The knowledge is already there."
"It's a reimagining of the pedagogy around financial literacy," Kim says. "We're not just proselytizing different Wall Street financial technologies but also acknowledging how there are valid financial practices happening within the immigrant and people-of-color communities, collective wealth being our principal example." In doing so, they will center the autonomy and self-determination of the community they will serve, Kim says.
This underpinning is vital to the project, according to Brian Peterson of Makuu: the Black Cultural Center, who helped to advise the group and found them both "flexible and grounded culturally," he says. "It couldn't be just financial literacy. It had to have a cultural component and had to put people first," Peterson says.
"A lot of communities that have been underserved also have a beauty there," Peterson says. "So let's look at this collective wealth within each other, not in terms of finances but support and resilience."
Kim, Owusu, and Warwick have a long-term vision for this collaboration. "We definitely don't believe this is a one-year project," Warwick says. "This is work that is going to have to exist in this community for a very long time, and we are excited to take that on."
Collective Climb will translate this vision into a tangible legacy that changes lives, Peterson says. "I'm just really happy for them. I'm happy for Penn and for Philadelphia that we get to benefit directly from this work." This work will continue to partner Penn and West Philadelphia on the collective climb to economic empowerment.
Editor's note: (July 28, 2020) In light of protests around the nation for the livelihood and safety of Black people, the Collective Climb team decided in early June to pivot their mission, operations, and intended impact. Going forward, instead of focusing on financial literacy and empowerment, they will enter the juvenile justice space as a restorative justice practice with a diversion program to protect Philadelphia's youth from punitive, carceral systems.