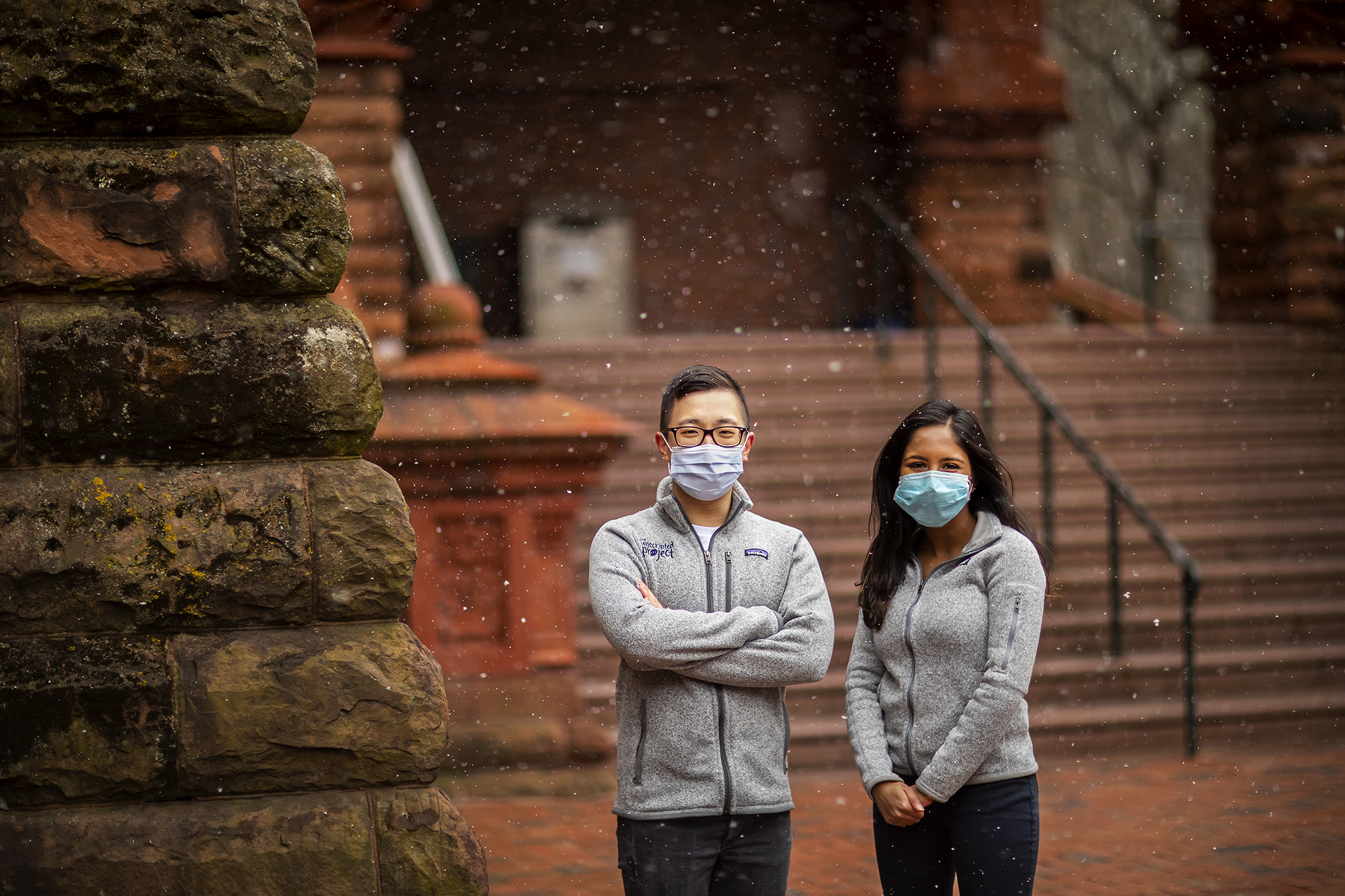 Improv is much more than comedy sketches when teachers work with teens, helping them build confidence while fostering social, emotional, and communication skills. And the games can be fun, a welcome addition to an academic world confined to computer screens.
Bringing the joy and power of improv into Philadelphia public schools is the mission of The Unscripted Project, a new nonprofit created by University of Pennsylvania Wharton School graduates Philip Chen and Meera Menon, supported by a 2020 President's Engagement Prize.
During the fall semester, Unscripted placed four local teaching artists—professional improvisors with experience in the classroom—in six schools to teach a unique 8-week improv curriculum in class workshops. Unscripted also became certified to provide professional development to classroom teachers on how to incorporate improv into their lesson plans.
As it turns out, improv works on a virtual stage, necessary since classes are not meeting in person due to pandemic restrictions.
"I think the one skill we need these days is how to improvise, how to adapt to the uncertainty we face every single day," says Chen, who was a real estate and finance major at Penn. "We want to prove that the art is not just a supplement to your education but an integral part of your development as a child, a student, a human being."
The Unscripted Project is expanding this spring semester with five teaching artists working in seven schools and with one nonprofit partner, reaching more than 200 public school students. The professional development program for educators is fully underway. And a fundraiser in December surpassed their goal.
"There is always a sense of urgency: This is our responsibility, this is an incredible opportunity to do the most that we can with it. The amount of trust and support is amazing and humbling," says Menon, who was a management and finance major at Penn.
Award winners
The President's Engagement Prizes are competitively awarded each year to academically excellent and civically engaged Penn seniors to design and undertake local, national, or global projects in the year after they graduate. Each project receives up to $100,000 in implementation expenses, and each student $50,000 in living expenses.
"Meera and Philip understand that effective communication is at the heart of successful relationships. Learning how to collaborate is key," says Penn President Amy Gutmann. "Their program Unscripted uses imaginative games and exercises to train students how to improvise and it opens doors to new possibilities."
Marcia Ferguson, senior lecturer in theatre arts in the School of Arts & Sciences, is mentor and project advisor and the first member of Unscripted's board of directors, a self-described troubleshooter and sounding-board.
"Philip and Meera continue to amaze me with their commitment, dedication, and follow-through for The Unscripted Project. They never let the pandemic interfere with their mission, or slow them down," Ferguson says. "They have moved forward with skill and energy, and never lost the momentum for the project that the President's Engagement Prize started."
The Unscripted Project in January won in the "educational entrepreneurship" category of the 2021 Greater Philadelphia Innovation Awards. Penn Graduate School of Education faculty Michael Golden and John Gamba of Catalyst@PennGSE, a center for global education innovation, nominated them for the award, writing: "Meera and Philip are the real deal in terms of entrepreneurial spirit and social impact in Philly Schools."
Chen and Menon together crafted Unscripted's mission, "to equip students with the building blocks for personal and professional success through the power of an improv education," and their vision, that "every child leaves school prepared to embrace challenge, seize opportunity, and unlock their own potential."
Creating a curriculum and a plan
Friends since their first days as Wharton freshman, Chen and Menon got to work right after their May graduation, each settling into their own apartments in Philadelphia and diving into research on several fronts, on improv and its benefits to children and teens, as well as the nuts and bolts of building and managing and sustaining a nonprofit.
"The benefit of having to be at home and not able to do anything else is that it's given us tremendous time to reflect on what Unscripted is, and what we stand for. It allowed us the time to think very clearly, particularly about how we do this right," says Chen.
They designed an improv curriculum that could work in a Zoom world, consulting with advisors and mentors at the Philly Improv Theater in Philadelphia and The Second City in Chicago, and partnered with Rick Andrews of the Magnet Theater in New York City to create the final product.
The curriculum details games and activities for eight weekly one-hour lessons and a ninth class for an ending showcase. Each week the classes focus on various aspects of improv: the importance of listening and acceptance, how to build scene and character, using empathy and persuasion, employing different points of view, the craft of storytelling, all threaded with the power of play and humor to help make students comfortable with each other.
"I believe this curriculum was even more important during the fall semester for those students who were experiencing the dislocations and isolations of online schooling," says Ferguson. "The kind of community they found through the program turned out to be an important lifeline for them, connecting them to the teachers and to their peers in fun and impactful ways, and creating community right when it was most needed."
Implementing their vision in the schools
Connecting with principals and teachers, Chen and Menon partnered with the schools and arranged the nine weekly workshops for each of 12 virtual classrooms for a total of 108 sessions. They reached 145 students in middle and high school. The programming is offered at no charge for the schools; the goal is to bring improv to students who would otherwise not have access to an arts education.
The pair recruited professional teaching artists, all trauma-trained with experience teaching improv and drama. "Even though we are so vastly different in age and experience, we're able to form a community and have respect for each other," Chen says.
One of the artists who taught two classes last semester, Susan LaPalombara, has been performing and teaching theater to children for more than 30 years. The opportunity with Unscripted came at a crucial time, she says, since live theater is closed down. She's found a connection with the students, she says, even through computer screens.
"Being able to share my love of improv and craziness and love of kids and being silly, it is a great outlet for me," she says. "My goal working with young people in this realm is to really get them to understand that they have this wealth of creativity inside them that they might not even know they have."
A music teacher at Franklin Learning Center, Michelle Frank, says Unscripted was a "gift" for her students, especially with classes all online. "Unscripted pivoted easily and brought the art of live performance, emotional expression, and community building straight to our students' screens.The experience was cathartic for our students and was easily their favorite hour of the week," Frank says. "Seeing the students learn new ways to be creative and express themselves has been a true joy, and so necessary during these tough times."
Both Chen and Menon have taken improv classes themselves. "I think I'm becoming a better improvisor by just constantly putting myself out there, being silly and failing and getting comfortable with that feeling," Menon says. "I'm really glad I'm not doing this by myself. I think it very much helps to have a partner who is my friend, but who also holds me accountable."
Chen agrees, saying they continue to be "great friends" even with the stresses of managing a new endeavor. "We have realized so much about ourselves and how to operate in the world: how to be leaders, and community members, and educators," he says. "Every day we improvise. Every day we see the challenges ahead of us. Sometimes we have to dive into the deep end and see what happens. And that's what we did. And it has been so rewarding."
Professional development
The pair applied to the Pennsylvania Department of Education to be certified to teach professional development courses for classroom teachers to earn continuing education credits. Menon and Chen ran a pilot program for 20 teachers, four hours over two days, teaching the tenants of improv, how to play and also how to facilitate the games.
"We tried to adapt to what the teachers needed to bring improv into their classrooms, to work together to figure out what we could modify to make this most applicable and interesting to their students," Menon says.
The educators—many music or drama or English teachers—rated the training a 9.7 out of 10 in an assessment. "I feel like I share some of the same fear that my students must feel about risking making a mistake in front of other people," one teacher wrote. "All that positive feedback made me feel more comfortable to take risks. It was the happiest and most engaging (professional development) I've ever been to."
News of Unscripted is spreading among the teachers by word of mouth, and the project is receiving more requests, both for professional development and to bring improv to classrooms, Menon says.
During the spring semester Unscripted is teaching 16 classes to 226 students in seven partner schools in Philadelphia, including four from the fall semester, and three new schools, as well as a new nonprofit partner, A Better Chance, in the suburbs west of the city.
Chen and Menon are posting about their progress on Facebook and Instagram and in a blog on the Unscripted website. They were also featured in a story on 6ABC.
The impact of improv
Research is built into the model, asking students and classroom teachers to fill out surveys at the beginning, middle, and end of the semester, designed to measure growth in several categories.
"It is so important that we create a program that has a positive impact on our students," Menon says. "We continuously test the program to ensure students benefit, and to make sure the program has a real impact. That's really important to us."
They just completed an impact report based on the fall semester. More than 80 percent of the students said they felt more confident in front of their peers and that they believe they are better communicators as a result of taking the class. A vast majority, 92 percent, said they felt closer to their peers. About two-thirds reported improvements in social and emotional wellness. Nearly all of the students self-identified as people of color, two-thirds Black or African American.
Students responded that they learned "how to think quick on my feet," and "how to adapt to different things," and that that the class "was such a safe space,"according to surveys. "I enjoy stepping out of my comfort zone and acting like someone different," one student wrote. "Also it can help with some real-life situations."
Helping with those real-life situations is a main goal of Unscripted. "Communicating, listening to each other, understanding different points of view, that's what's important in improv and in life," LaPalombara says. "Developing a sense of community and communication is so important."
For that reason, Chen and Menon are starting a "drop in" program for students who want to continue to participate in games and stay connected with the artists. Unscripted is offering scholarships to high schoolers to continue their improv studies at Comedysportz in Philadelphia.
Making Unscripted sustainable
The pair organized Unscripted's first fundraiser after securing 501(c)(3) nonprofit status. The December virtual gala—featuring recorded performances by Penn performing arts groups Penn Glee Club, Penn Masala, and Without a Net—raised $24,000 including corporate matches. "It was heartwarming to see people care about what we do," Chen says.
Chen and Menon are learning how to work with donors and foundations, and researching how to provide fee-based content, teacher development courses, and improv classes to well-funded schools. Their goal is to create a sustainable revenue stream to fund the free classes to underfunded schools and underserved students. Their next goal is to get into 20 classrooms in Philadelphia public schools.
"I firmly believe that Philip and Meera's vision will fuel this project into the future, and that it will expand to more and more schools, widening their potential to change more and more lives," Ferguson says. "Their vision is eventually to bring the program to all Philadelphia schools, and I believe they will reach this goal in time."
Chen and Menon say they are committed to Unscripted for the long haul. "Having the ability to run a program like this with real, tangible impact in the trajectory of a student's life is extremely rewarding," Chen says. "It's really important to us to work to make the arts and improv a core part of education and ensure that Unscripted is around, well, forever."
Homepage image: Chen and Menon, both settled in Philadelphia, are committed to expanding The Unscripted Project and are focusing on making the nonprofit sustainable.