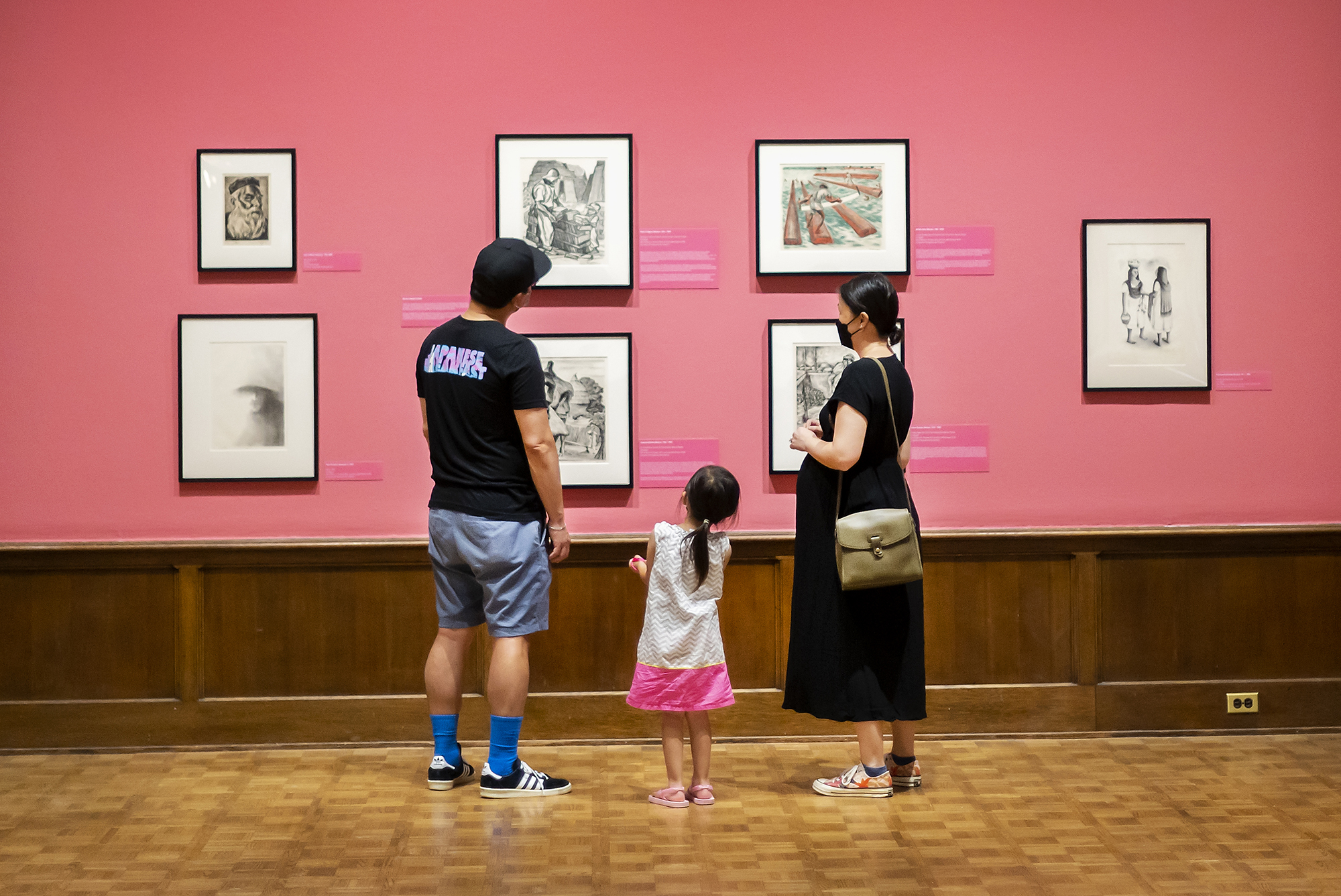 With backdrops of green-patterned wallpaper and paint the color of pink flamingos, prints created for middle class Americans from 1934 to 2000 are featured in Penn's Arthur Ross Gallery exhibition, "From Studio to Doorstep," through Aug. 21.
The artworks are from Associated American Artists, a company founded in New York in 1934 with the intention of selling prints through mail-order, offering an affordable alternative to the gallery model. The prints, signed and numbered in runs of 250, initially sold for $5 apiece. The works were created by artists, some of them well-known, for $200 in advance.
"It was a totally new way of marketing artwork, meant to be shipped to wherever people were across the country," says Lynn Dolby, University Art Collection manager and exhibition curator. "These prints were not necessarily meant for a museum audience; they were meant for the home and are very intimate in scale."
All of the 37 prints in the exhibition come from the nearly 100 in the Penn Art Collection and most have not been exhibited before. Many were donated by the late Anne Jaffe Portenar, a 1949 Penn graduate, and her husband, Myron A. Portenar. Anne Portenar was friends with the company's artistic director for three decades Sylvan Cole, whom she credits with igniting her interest in collecting the prints, Dolby says.
The Gallery's entrance wall is covered with green-and-white wallpaper that Dolby had made, recreating a pattern sold by Associated American Artists in 1953 designed by artist Arnold Blanch. A print of an abstract floral paintograph, also from 1953, "Floral Magic," by Blanch hangs there. "I thought we had to reunite these for this entry wall," Dolby says.
Also in the entry is the one artist proof in the exhibition, "Grey Nude," a 1953 woodcut by Milton Avery. "It's interesting to see an artist proof and to see what the original looked like," Dolby says. "We're very lucky to have this in the collection." The media vary, including woodcut, etching, linocut, engraving, aquatint, and lithograph.
Some of the Gallery walls are painted the mid-century color "Pink Flamingo," which Dolby chose as a nod to the time period and also as a contrasting backdrop to the mostly black-and-white prints.
"Traditional imagery of rural America or small town America were very popular, prized for creating a sort of American unity," Dolby says.
The advertisements that were published in the popular magazines of the day, touting the $5 price—about $88 today—and encouraging groupings of multiple prints to decorate the home, are also featured. Although the early advertising seems geared toward a white, middle class audience, Dolby says, artists were of different races and ethnicities. For example, this exhibition includes prints by five Mexican artists.
"From Studio to Doorstep" is the 11th exhibition since 2010 created with works from the Penn Art Collection and the first curated by Dolby. Two College of Arts and Sciences students were involved with preparing and promoting the exhibition as interns. Rising sophomore Zoe Vaz with the Art Collection team and rising junior Xiaoyang (Sunny) Hua with the Gallery team, participated with funding from the Summer Humanities Internship Program administered through the Center for Undergraduate Research and Fellowships.
The exhibition is organized roughly chronologically, starting with "The Balers," a 1934 etching by George Elmer Browne and going through to a 1986 lithograph by Clinton Adams, "Still Life with Quotations." The company ceased operation in 2000.
The company also was interested in educating their consumers, so the prints came with a label explaining a bit about the artist, as well as a certificate of authenticity signed by the artist. Dolby included images of these, when available, with the artworks.
The signature image for the exhibition is a 1972 etching, "Home Run," by Stanley Kaplan of a baseball player swinging his bat. "It's such a summer image," she says. "It's very Americana."
But her favorite is a 1937 lithograph by one of the most famous artists represented, Thomas Hart Benton, is the print "Goin' Home," created from a drawing of a family in a horse-drawn cart that he made in 1928 in North Carolina's Smokey Mountains.
"I just love the imagery, the nostalgia of a horse-drawn carriage," she says. "And I think the fact that the driver's back is to us, he becomes a sort of like every man. This is a very familiar theme. I just love that piece."