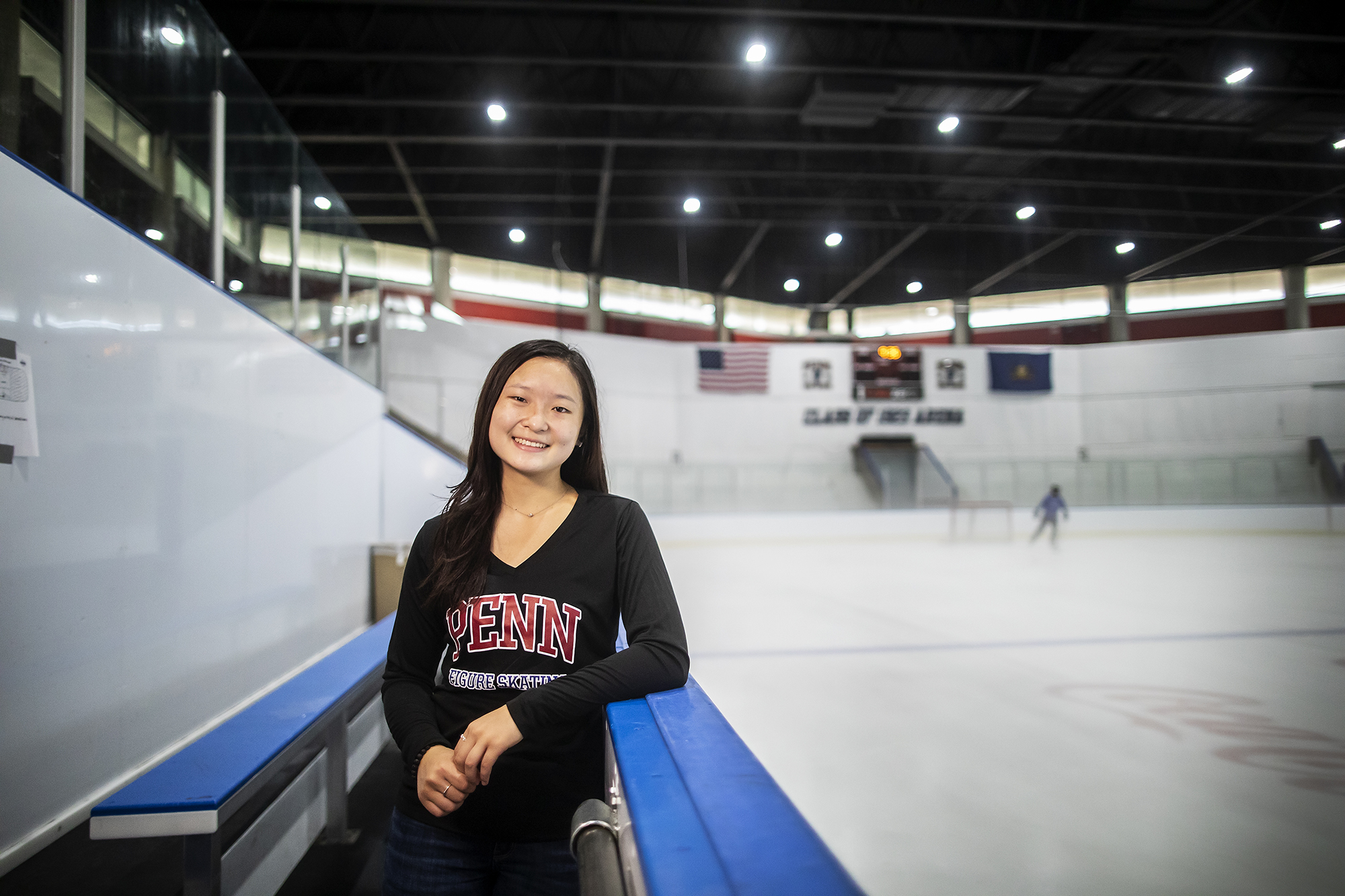 "When you're not swimming well, you feel it," says Hannah Liu, a freshman in the College of Arts and Sciences. "You're trying to push against the water." When she's swimming well, Liu glides, rotating to streamline her body, working with the flow rather than fighting it. "Then you touch a wall and are like, 'Woah. This is amazing.'" 
Based in Lincolnshire, Illinois, Liu's family would go to China every summer. She began training in Xian while the city was hosting the 2008 Olympics. Coming back to America, Liu found that swimming was a predominantly white sport. "There are pictures of me on the podium where there's rarely any other Asian people," she says. Sometimes this contributed to other people's lowered expectations for Liu's own athletic performance, she says. 
The stereotype is that Asian Americans are good at academics rather than athletics, Liu says.
"The model minority myth really destroys the idea of merit" because it attributes success to race, Liu says. "I've heard people tell me, 'Oh, of course, you're smart because you're Asian.' They don't say, 'Oh, of course you're smart because you study hard and you work hard and you don't give up,'" she says. "And even worse, they go, 'Wow, you're fast for an Asian swimmer.'"
Asian Americans are competing at the highest levels of sport, a topic discussed in David Eng's Introduction to Asian American Literature and Culture course during the 2022 Winter Olympics. Eng, the Richard L. Fisher Professor of English and Asian American Studies, introduced current events to discuss persistent themes around Asian American identity. Figure skater Nathan Chen and snowboarder Chloe Kim have won gold for their U.S. teams, and Eileen Gu, a snowboarder, and Beverly Zhu, a figure skater, competed for China. Gu was lauded for her gold on Chinese social media (while being described as "ungrateful" by a Fox news anchor); Zhu was mocked for a skating faux pas.
When Asian Americans are discussed in negative ways, "xenophobic comments come out," says Jeremy Ridge, a junior from Concord, California, majoring in computer and cognitive science with a minor in creative writing, and a member of the wrestling team. Chinese Americans who chose to compete for China in the Olympics "got a lot of flak" in the American news media, says Ridge. "This is a double standard."
Gloria Lee, a junior in Penn's Vagelos Integrated Program in Energy Research, belongs to Penn's Figure Skating Club. While she was "impressed and proud of Eileen Gu," Lee felt disheartened hearing news reports "saying how Eileen Gu betrayed America by competing for China. When do you want Asian American athletes to be representing America and when do you not want Asian American athletes? You're basically only worth what you can put up at the Olympics," Lee says. 
Growing up in Highlands Ranch, Colorado, Lee felt disconnected from an Asian American identity, which she realized while taking Eng's course in 2020, Lee says. "It really just allowed me to reflect and have a lot of insight on my own childhood," she says, leading her to recognize microaggressions she had previously characterized as normal. Lee was the only person of color on her high school's soccer team, and "a lot of people thought that I wasn't going to be good," Lee says. "The stereotype ran rampant that, if you're Asian, you're good at school and not at sports."
"The model minority myth suggests that Asian Americans are all nerds," Eng says. "Sports has traditionally functioned as a privileged site for national belonging in U.S. culture and for the social reproduction of patriotism and citizenship. Asian Americans are often sidelined in this narrative."
Jerry Xiang has always a been strong skater. He plays left wing, an offensive position, "very fast, very quick," he says. Now on the ice hockey team at Penn, Xiang started skating at age 3, and switched to hockey when he was 5. "Hockey is like football in Canada," says the Huntsman Program junior from the British Columbia town of Penticton. "All your friends, they're all playing hockey, so you also want to get into it," he says. 
After moving to a new town at age 10, Xiang had tryouts with new coaches and new teammates. He was put on a lower-level team than some of his friends, and "one friend told me that I should have been placed on the better team based on my performance," Xiang says. "He pointed out that it might have been due to race. But I didn't mind it because I was in the top five for points in the league."
As a high scorer growing up, Xiang did not have issues with getting sufficient ice time. He does remember coaches making comments. Xiang remembers an incident when he was around 12 years old, when the hockey team was asked to start wearing dress clothes to games. Two of the players showed up in shirts that were slightly wrinkled, and a coach started mocking their attire. "Darius, what is that?" Xiang remembers him saying. "Do you need Jerry's mom to iron it for you?" This was a reference to Asians in the dry-cleaning industry, says Xiang.
"There was a player from Taiwan who came to our city to play hockey; he was on the receiving end of many worse remarks," Xiang says. Xiang tried to keep his head down and ignore offensive remarks. He felt that the best response was to show his value on the ice. This "old school" mentality was part of the sport, Xiang says, but mostly he felt he was treated fairly.
While Xiang has always been one of a handful of Asian hockey players, figure skating has become increasingly popular in North America, possibly because of the award-winning Michelle Kwan, Lee says. Four of the six figure skaters on the 2022 U.S. Olympic team were Asian American: Nathan Chen, Karen Chen, Alysa Liu, and Vincent Zhou. She's overheard others say Asian Americans are "taking over the sport of figure skating."
Hearing this was a shock, Lee says. "What does this have to do with anything? Why do you see this as an issue?"
In Eng's class, Lee learned that some of this disassociation comes from a lack of fully belonging to either Asia or America, she says. "In America, when people look at me, I'm not seen as American, and if I go back to China people can tell that I'm not Chinese-born, Chinese-raised. So, you don't really fit in anywhere," Lee says. 
Training in China taught Liu hard work and discipline, to push past pain. In America, she learned how to treat her body well and know when to stop. "If I didn't start my training in China, I don't know if I would have that same amount of grit that I have now," Liu says. "This is where my passion lies, where my talent lies."
Watching Asian American athletes like Nathan Chen, Chloe Kim, and Eileen Gu compete and win at the Olympics "is the first breakthrough of the bamboo ceiling," Liu says. "That's one of my biggest goals: to be an Asian American athlete in swimming on the national stage, to show other Asian Americans 'Hey, you can also do this.'"