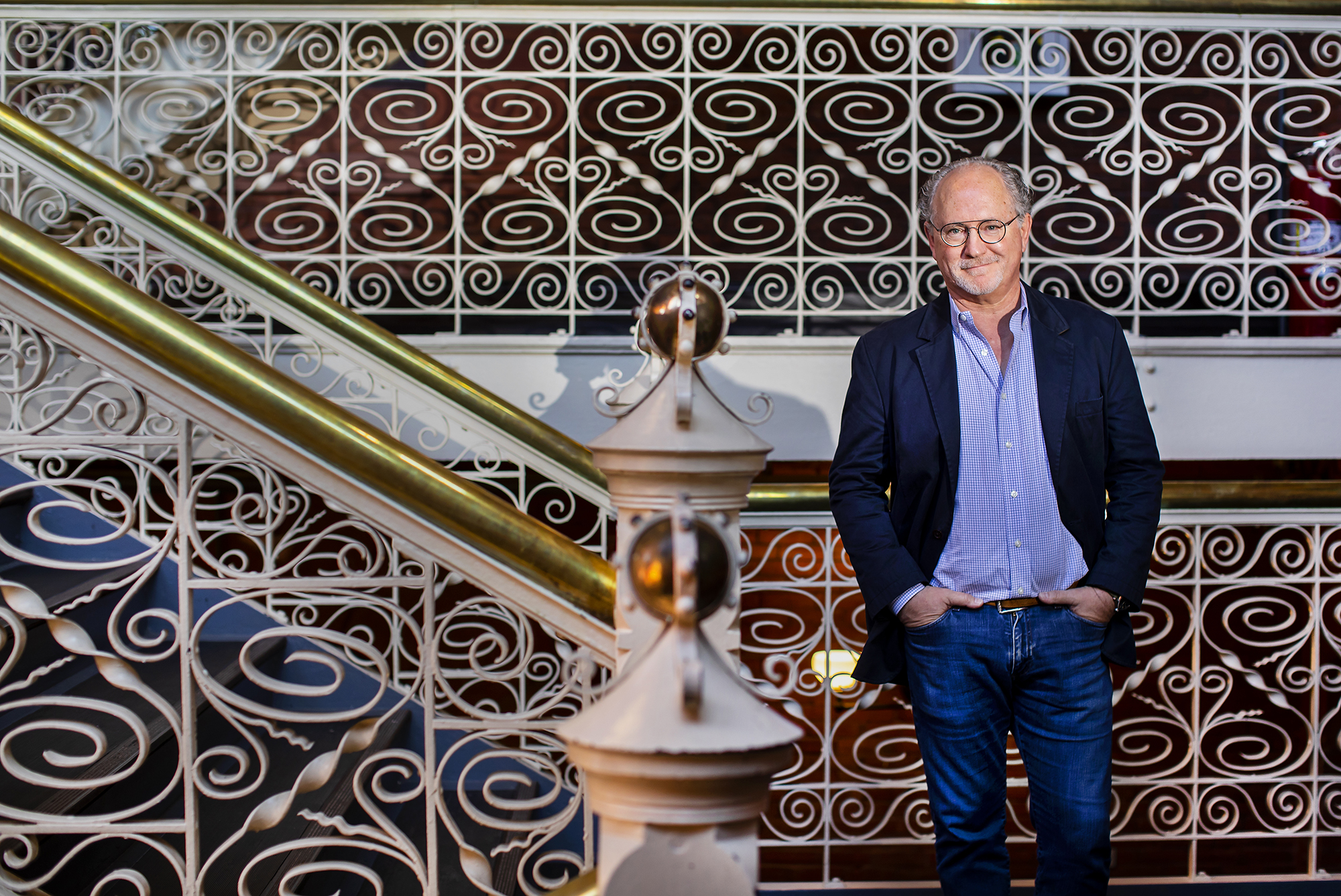 Mark Alan Hughes, faculty director of Penn's Kleinman Center for Energy Policy and a professor of practice in the Stuart Weitzman School of Design, had never created an audiobook before. 
"I write very long, highly punctuated sentences," he says. Luckily, his editor for "Livable Cities," an Audible Original published in September, understood how to gently tweak those sentences to be read aloud, without losing Hughes' voice. It was particularly important for a subject Hughes was proposing to turn on its head. 
Books about urban life, he contends, often become a laundry list of what's wrong with cities. "That's a very conventional agenda, but it's just so boring and negative," he says. "I tried to say, cities are the place—the only place, in fact, I'm willing to argue—where all the good stuff happens. The challenge is to preserve or, in some places, recover all that good stuff that makes cities livable."
Nine chapters go on to argue that "people create cities to find refuge, facilitate exchange, and construct meaning. They sustain cities to establish freedom, acquire identity, and curate knowledge. And we trust cities to maintain health, promote nature, and ensure survival in the face of existential challenges like climate change." 
Below is an excerpt from the 2021 Audible Original, "Livable Cities," read by Hughes. 
A key element of Penn's vision for his Holy Experiment was its gateway settlement, Philadelphia. In the summer before his arrival, Penn sent his surveyor Thomas Holme to lay out his "great towne" on high ground lying between the Delaware and the Schuylkill Rivers. 
In his instructions, Penn used a phrase attached to Philadelphia for almost three-and-a-half centuries, that it would be a "greene country towne, which will never be burnt, and allways be wholesome." The words "green country town" have become a kind of permanent marketing slogan for Philadelphia—which is exactly how Penn used it, as he advertised for investors and settlers. But it's the last two phrases that both ground Philadelphia in history and connect it to the future. 
To understand what I mean, let's briefly travel back across the Atlantic. 
In 1665, London was devastated by an outbreak of bubonic plague. As many as 100,000 people died out of an estimated population of 450,000. The very next year, the Great Fire broke out and burned for five days, destroying about one-third of London and leaving homeless about 100,000 survivors of the Great Plague. It took 50 years to rebuild London after 1666 and it occupied much of the city's energy and imagination for decades. 
A young Penn was studying law in London during the period of the planning and reconstruction of the city and was probably influenced by key elements of the plans, which included a grid of wide streets and regularly spaced open squares. In addition to facilitating property development, these features provided sophisticated mechanisms for fire suppression and waste removal, two of the anxieties of the age. 
With the lessons of London in mind, Penn and Holme laid out Philadelphia in a rectangle running two miles from east to west and one mile from north to south. Two wide streets, Broad running north to south and High running east to west, divided the rectangle into four roughly equal quadrants.
Broad and High Streets were 100 feet wide—wider than any street in 17th-century London. An open square forever free to all was placed in the center of each quadrant and a fifth square was placed at the intersection of the two largest streets and reserved for public buildings. Each of these features remains intact and fit for purpose more than three centuries later, which is extremely rare if not unique in the United States.  
The features have directly and indirectly guided the city over the centuries, as grid streets and open squares were placed in neighborhoods as the city grew from its original two square miles, as Broad Street was extended into the longest straight city street in the country, and as the ideas of a "greene country towne" were adapted to a metropolitan scale.  
I've called out five principles in this brief history: green country town, holy experiment, a community never burned and always wholesome, inhabitants living quietly without prejudice against their conscience, and privileges that develop into rights based on the simple fact of inhabiting a city of brotherly and sisterly love. 
Philadelphia's founding sets up the idea of livability and links to many of the themes of this Audible original. I've made a case for why colonial Philadelphia was an icon of livability. But the world today is full of such cities. Humans have always needed physical settings or cities, if you will, to work out and realize their potentials as people and their aspirations for community. 
This book is not organized around urban problems that prevent cities from being livable. Instead, it is about the benefits that people derive only from cities and about how to unlock those benefits for all. 
The text above is excerpted from "Livable Cities," written by Mark Alan Hughes and reprinted with permission from Audible.
Hughes is founding faculty director of the Kleinman Center for Energy Policy and a professor of practice in the Stuart Weitzman School of Design. He is also a faculty fellow of the Penn Institute for Urban Research, a senior fellow of the Wharton School's Initiative for Global Environmental Leadership, a senior fellow of the Wharton Risk Management Center, and a distinguished scholar in residence at the Robert A. Fox Leadership Program.