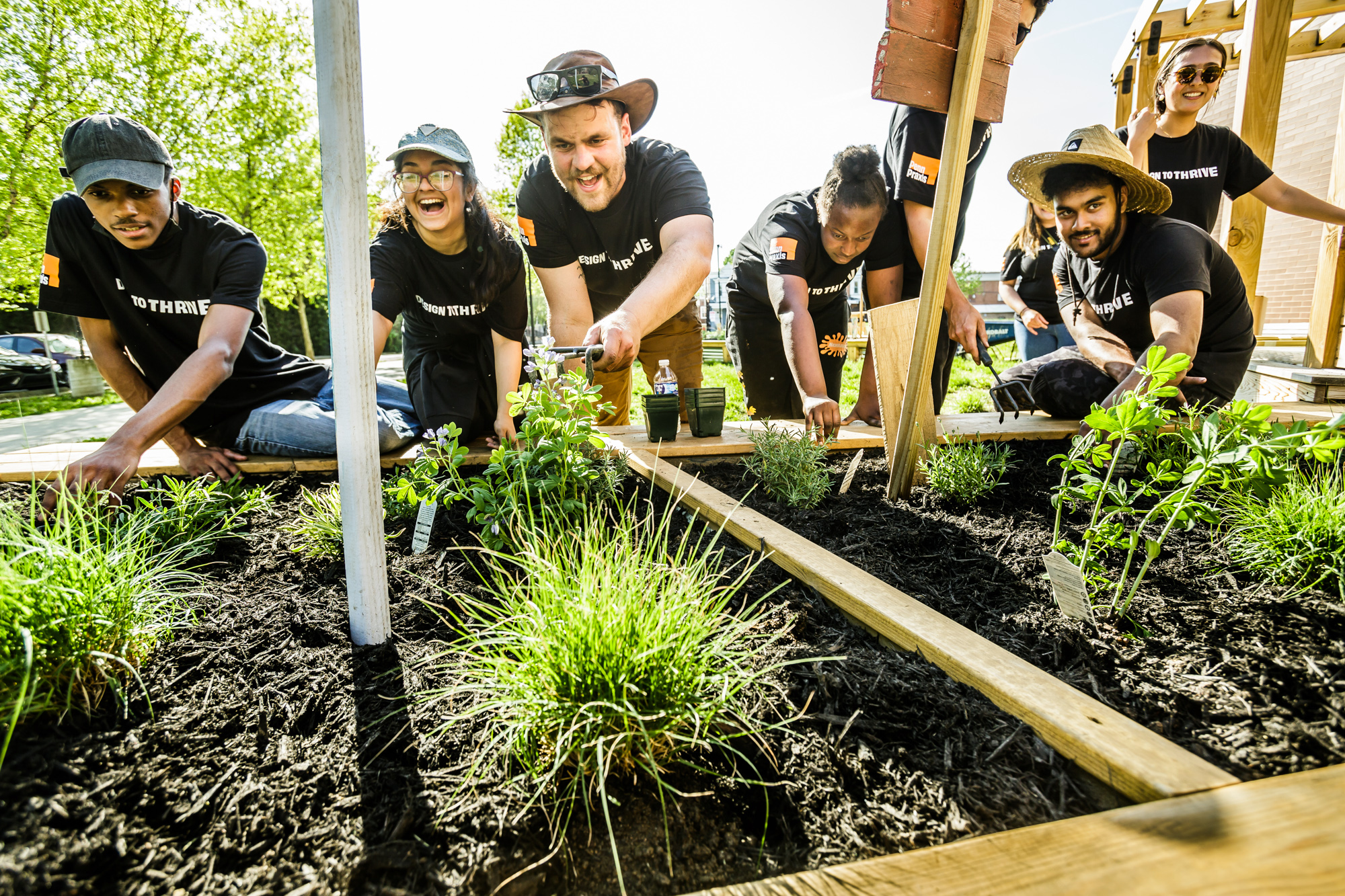 With science experiments, garden plantings, and twirling flags, the Netter Center for Community Partnerships celebrated its 30th anniversary at West Philadelphia High School, one of four area secondary schools the Center supports with in-school curriculum, after-school and summer programming, as well as family and caregiver initiatives. Students at William L. Sayre and Paul Robeson High schools were also in attendance to showcase their work in a range of activities, including music, art, design, robotics, health, and sports.
The University-Assisted Community Schools Spring Celebration was one of several events commemorating the 30th anniversary, said Rita A. Hodges, Netter Center associate director. "With this event, we wanted to provide an opportunity to highlight the innovative work local high school students have been doing in partnership with Penn undergraduate and graduate students, faculty, staff, and community partners to improve education and learning for students of all ages as well as to improve student and family health and wellness."
The event included a health and wellness fair for blood pressure screenings, COVID vaccinations, and infection testing. Other services included those provided by Emily Dunuwila, who graduated from Penn with her master's degree in 2022 and now is working at West Philadelphia High School as a Netter Center Silverman Fellow to offer a social emotional learning space afterschool.
While attending Penn's Graduate School of Education, Dunuwila said, she became curious about addressing stress relief from an educational standpoint. She started The Calm Space in a corner of the West Philadelphia cafeteria, where students stop in to unwind, Dunuwila said. She offers a listening ear and mindfulness interventions, like body scans and sensory tools such as Pop Its and stress balls.
"Disruptive behavior is coming from a root emotion," said Dunuwila, who was at the fair to engage with students and talk about her work. "The Calm Space provides that interruption, a space to be vulnerable."
Bianca M. del Rio, the Netter Center's executive director of University-Assisted Community Schools (UACS), presented awards to UACS part-time staff, students, and teacher partners, as well as Penn student leaders. "This is so important," del Rio said, "to see the benefits that can come from the University and the community coming together. My work is coordinating those partnerships and bringing people together to address real-world issues and improve academics for students from kindergarten through age 20-plus."
Partners who engage regularly with UACS were also in attendance, including representatives from the Children's Hospital of Philadelphia, Penn Medicine, the Penn Center for Public Health, Penn Dental Medicine, Penn Presbyterian Medical Center, Uplift Philly, and the Anti-Violence Partnership of Philadelphia.
The Center plans to deepen and expand its work in West Philadelphia by "further mobilizing and integrating academic and institutional resources for UACS from across the entire campus, connecting them with the resources and assets of the broader community," Hodges said. "UACS programs are effective because they involve a place-based, participatory, democratic approach that is mutually beneficial. The approach centers the voices of community partners and engages students at all levels in active learning and program design and implementation."