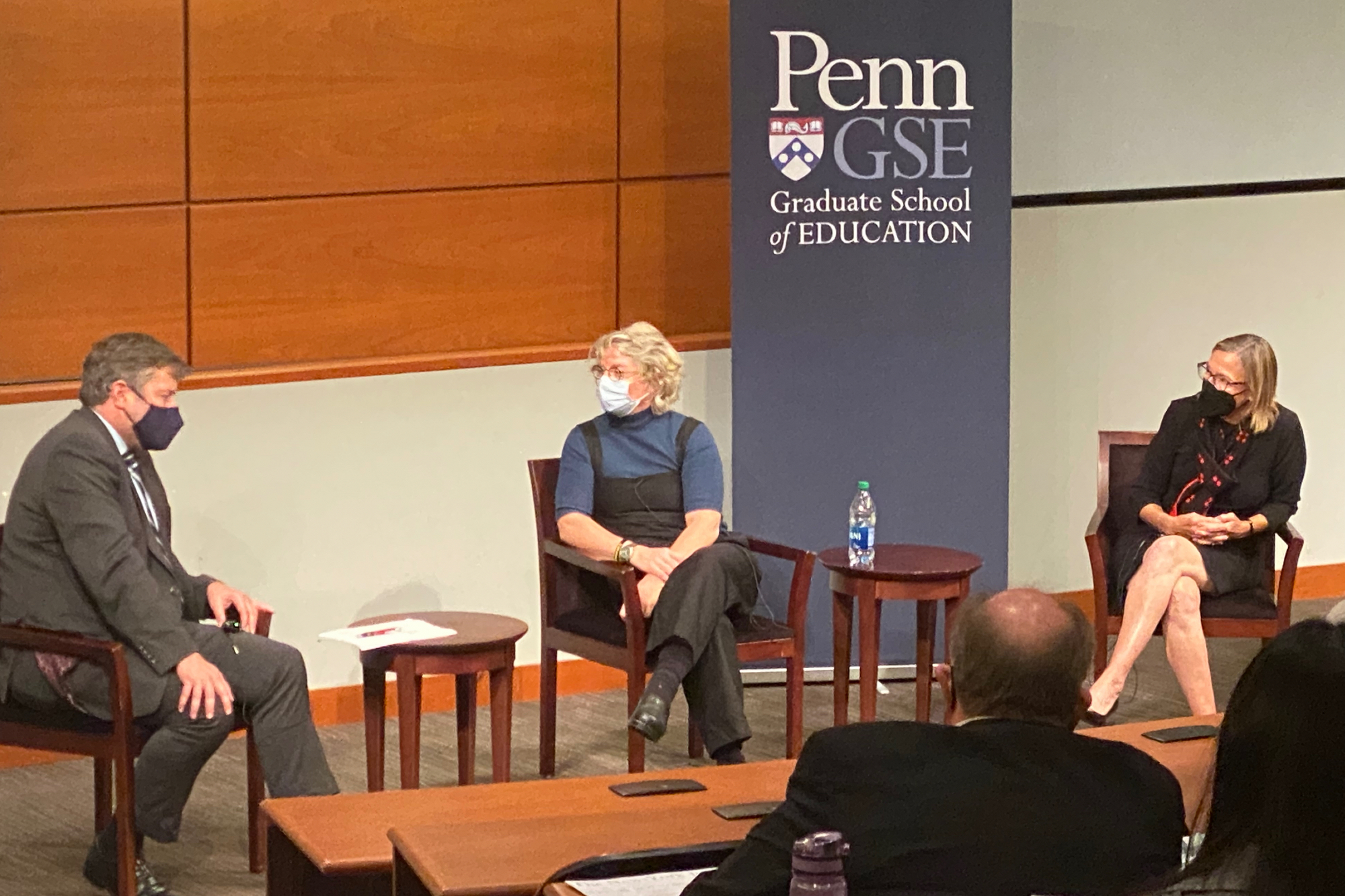 Modern interpretation of the U.S. Constitution should include opinions of those who were disenfranchised at the time, including women, African Americans, and immigrants, said best-selling author Jill Lepore, a Harvard University history professor and staff writer at The New Yorker, during a guest lecture at Penn.
Lepore, the guest speaker at the Steven S. Goldberg and Jolley Bruce Christman Lecture in Education Law, spoke to an audience both live and live-streamed in her talk, "Amend: Teaching the U.S. Constitution in an Era of Constitutional Crisis," and in a Q & A with Penn's Graduate School of Education Dean Pam Grossman and Carey Law School Dean Theodore Ruger.
"I do really believe that we are at an urgent moment in thinking about education and, in particular, the intersections between education and the law," said Lepore, who received an honorary degree from Penn in 2020. "I think the nation as a whole right now really is suffering from an impoverished political imagination and from the underdevelopment of our Constitution."
Lepore's new long-term research project is focused on collecting and building an online archive of the texts of thousands of proposed constitutional amendments from 1787 to today, especially by those who were excluded from the official discourse.
In her introduction, Grossman described Lepore as "a celebrated and widely read scholar who enlivens the present with vivid stories of people who have been forgotten or flown under the radar."
Lepore is the author of 14 books, including the international best-seller "These Truths: A History of the United States" in 2018, due to be published as a textbook edition in 2022; "The Name of War," which won the Bancroft Prize; "New York Burning," which was a finalist for the Pulitzer Prize in history; "Book of Ages: The Life and Opinions of Jane Franklin," a finalist for the National Book Award; and "The Secret History of Wonder Woman." Her most recent book, published last year, is "If Then: How the Simulmatics Corporation Invented the Future." She is also host of the podcast, The Last Archive.
As a staff writer for The New Yorker "she engages so many topics having to do with American history, law, literature, politics, truth, and untruth but also issues around friendship and loss and other aspects of the human condition," Grossman said.
Much of Lepore's scholarship explores absences and asymmetries in the historical record. She teaches classes in evidence, historical methods, the humanities, and American political history. In 2017 she launched a one-semester course on democracy titled Arguing with American History.
"And she uses primary source documents, as it looks like we are doing today, to have students argue over competing historical interpretations," Grossman said, referring to a document distributed to the audience to start the lecture: the front page of The New York Packet newspaper from 1787.
On Page 2 Lepore called attention to an article about New York Federalists being called upon to "deliberate on a new Constitution for the United States of America." On Page 3 she noted an advertisement "for an enslaved woman and her child who are for sale."
Lepore said it is important to think about the implications of the fact that the American people were asked to decide on a system of government in an era when the economic foundation was the institution of human enslavement.
She argued that it's difficult to imagine how to go forward in "thinking more carefully and more imaginatively about what's possible in the Constitution" without recovering and including other points of view expressed at that time. The stance of "originalists" she said is just the opposite.
Originalists, Lepore said, believe that the only ideas that should be considered from the 18th century are those in the Constitution itself, along with the Federalist Papers, notes from the Constitutional Convention, records of the ratifying conventions. "I think that's actually really, really dangerous. First of all, it's terrible history. Second of all, I think it's quite bad politics. It's quite bad for a modern political community," she said.
Lepore argued that the thoughts of others expressed at that time should be considered in the interpretation of the Constitution, like Jane Franklin, Benjamin Franklin's sister, who wrote letters to her brother.
"I think we might want to think about constitutionalizing the writings of many other people who commented on the Constitution. For instance, the annual Colored conventions that were held throughout the 19th century by Black freedmen, calling for equal rights, calling for the immediate abolition of slavery, calling for civil rights, regardless of race," she said, noting the writings by Frederick Douglass.
"The Constitution is nothing if it is not ratified by the people. That's what was done two-and-a-half centuries ago," Lepore said. "I think a piece of intellectual and political labor that the United States needs today is a new spirit of ratification, a new spirit of deliberation around the Constitution."
She has started a collaboration with the Comparative Constitutions Project, which has a website with the texts of the world's constitutions that are available for scholarly analysis but also for states or nations that are drafting their own constitutions.
"We're working on locating, categorizing, and analyzing all the proposed amendments to the U.S. Constitution that had any appeal whatsoever from 1787 to the present," she said, adding that about 12,000 made it to the floor of Congress.
More importantly, she is searching for proposed amendments that didn't make it to that floor, reading through texts from women's rights and Colored conventions, immigrant and foreign-language newspapers, and immigrant rights and environmental rights organizations, among others.
The Constitution is "effectively unamendable" at this point in American history, she said, which is a "political and constitutional deformity" in the nation's system of government. The number of proposed amendments has dropped steadily since 1982 when the Equal Rights Amendment was defeated, she said, while income inequality and political polarization in the nation have increased.
"Very few amendments are even proposed anymore because the nature of polarization means no one believes they would have any success with them," said Lepore. It is imperative to "break out of a notion that how we interpret the Constitution comes down to a handful of documents written in 1787," she said.
"Most people living in the United States today, citizens and non-citizens, were never meant to be included in the constitutional order written down in 1787," she said. "And I think we feel it."
Grossman asked Lepore about the possibility of an amendment guaranteeing children a high-quality education. A nationwide campaign for such an education-rights amendment would not get through Congress, Lepore said but "would nevertheless be a good driver of the other actual actionable initiatives and also have a deliberation about what constitutes high quality education."
In revising her book "These Truths" for a college textbook edition, Lepore says she is adding a new chapter on the period from the end of the Barack Obama presidency to the Jan. 6 insurrection at the U.S. Capitol, an event that she believes indicates an "imploding" of the Constitution.
"If there's anything, that would be a wake-up call," she said. "This was an incredibly difficult chapter to write."
Jill Lepore is the David Woods Kemper '41 Professor of American History at Harvard University, Harvard College Professor, and Affiliate Professor of Law.
Pam Grossman is the Dean of the University of Pennsylvania Graduate School of Education and the George and Diane Weiss Professor of Education.
Theodore Ruger is the Dean of the University of Pennsylvania Carey Law School and the Bernard G. Segal Professor of Law.