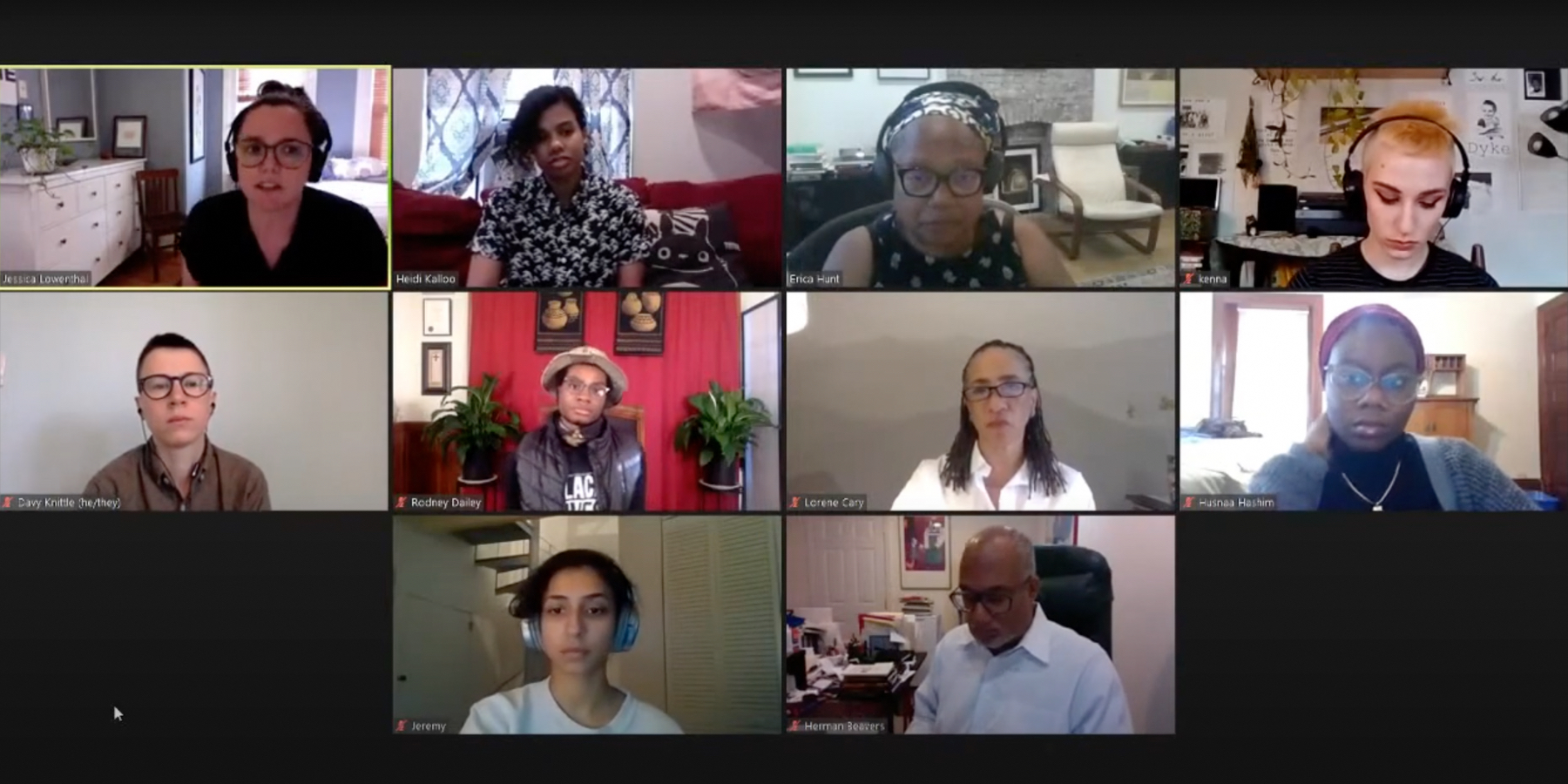 Kelly Writers House held a forum on racial justice featuring faculty, students, staff, and alumni reading written works, their own and those by others, that speak to these times.
"We firmly now and always stand against racial injustice, inequality, and police brutality. We resolutely affirm that Black lives matter. And we are committed as always to amplifying the ideas and voices of our community, many of whom are engaged daily in the necessary work of change," said KWH Director Jessica Lowenthal to begin the event, reading from the statement written with Faculty Director Al Filreis and members of the staff. 
Livestreamed and recorded, the videoconference forum was one step in that effort, said Heidi Kalloo, assistant program coordinator. The Writers House is forming a working group for racial justice to connect its community and share readings, writings, ideas, resources, and projects to provide information and comfort and to "challenge racist assumptions and structures.
"We wanted to take this opportunity to raise our voices, unite our intentions, and promote direct actions," Kalloo said. 
Rodney Dailey, who graduated from Penn in May, an English major with a concentration in African culture, read two original poems that speak to his personal experience with racism. "It's in times like these that we find strength in one another and in uplifting one another's voices," he said during his introduction. 
"It seems in order to wake from this nightmare society is in need of a kind of collapse, a revolutionary reformulation. We must no longer accept Black death and suffering as a byproduct of the machine," he said. "A new politic entirely must be formed. I believe racial justice must be waged on all fronts."
Dailey read a poem, "Blackface," that he wrote while attending a private high school in his hometown of Boston. The poem "seemed itself a premonition staring back at me from the past," he said. "I wrote this poem after having seen a splotched black face in the bathroom of my high school, marker still in hand, a wide grin on the white boy's face."
The last line of the poem is, "You then behind your bathroom door, proceed to take off what is not yours, what I cannot." 
Husnaa Hashim, a rising senior English major in the College of Arts & Sciences, read from a piece she wrote about transnationalism within grassroots movements, speaking about the history of slavery, genocide, colonialism, and recent police killings.
"What transnationalism does for people is act as a gossamer thread, a bodily vein, or a thin spider's web to connect people across space which inherently undermines the power of the state to continue to subjugate and repress the power of the people," said Hashim, who was the Youth Poet Laureate of Philadelphia two years ago. 
Author Lorene Cary, a senior lecturer in English at Penn, read an essay she had published, Choose #Blacklife about riding her bicycle along with the protesters in Philadelphia on the first Saturday of June. Some of her earliest memories growing up, she said, are watching scenes from the war in Vietnam and the Civil Right Movement in America in the 1960s. 
"I thought the world had gone crazy. I thought that adults were incapable of governing us," said Cary, a Penn alumna, during the forum. "And I didn't know how we'd get out of it. But I did feel like if I made it through to an adulthood, I would try to be a different adult."
While on the sidelines of Philadelphia's protests, she said she would stop riding to cry and pray and text her family photos as she watched history unfold again.  
"One of the family text responses to my messages on Saturday was that I was there to protect the protesters. We were joking, but there were many of us masked Godmothers that day, handing out water, nodding to one another, watching from a distance, with love and pride and fear for their lives," she read from her essay.
Several in the forum read work by other writers, including Herman Beavers, professor of English and Africana studies, who chose selections from Toni Morrison's collected essays, a poem written by Ai after the Los Angeles riots, and a poem by Lucille Clifton. 
Andrew Depass, a rising sophomore from Philadelphia majoring in economics at the Wharton School, read an essay published by the Hampton Institute about understanding the role of police toward abolitionism. 
"Over past few weeks I've really felt exhausted sometimes, confused, hopeless, scared, and also inspired by the movement that we are living in," said Depass. "I guess I do realize radical change in America's system is needed because it has been set in its ways for so long."