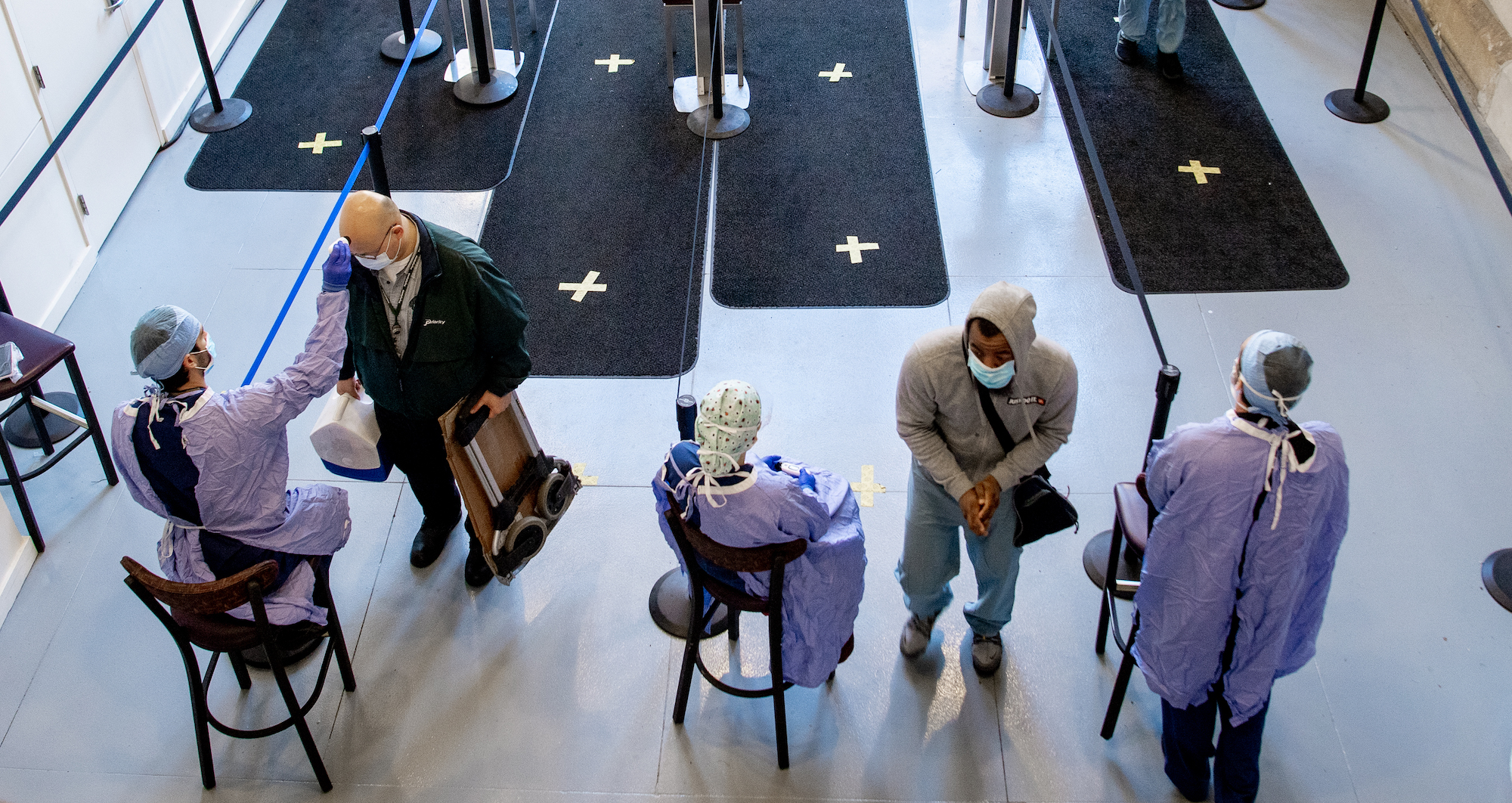 The stories have become all too common though no less heart-wrenching: A patient with COVID-19 takes a quick turn for the worse yet can see no one outside the hospital. The nurse who has been treating him facilitates video calls with his family and holds his hand as he progressively gets sicker. Eventually the patient joins the more than 78,000 people in the United States who have perished from this novel coronavirus, the nurse sitting in for family who otherwise would have been by his side. 
As the medical community and public health officials have learned more about how COVID-19 spreads, hospitals across the country, including those in the University of Pennsylvania Health System, have dropped the numbers of visitors permitted to almost zero except under special circumstances. Nurses have found themselves in a new role, as substitute loved one to the ill. 
"We've always been patient advocates, patient support. When patients didn't have family members, we've stepped in," says James Ballinghoff, chief nursing officer at Penn Presbyterian Medical Center (PPMC). "Now it has completely fallen on us to be that bedside person, both for COVID patients but also for the other patients in the hospital who don't have COVID but still can't have visitors. We're providing that emotional support." 
Beyond that, the Penn Medicine nurses working during this pandemic have had to nimbly change their workflow processes to maintain social distancing and conserve personal protective equipment (PPE). They have stepped into different jobs, taken on tasks typically completed by others, and supported each other, all while doing their regular jobs and experiencing the same stressors as the general population. 
"Our nurses have the same external pressures as everyone else. Their children are not in school.  They have childcare issues. And many are concerned for elderly parents," says Colleen Mattioni, chief nurse executive at the Hospital of the University of Pennsylvania (HUP). "On top of all that, they have the additional stress of caring for extremely sick patients. Yet they come here fully engaged to do what needs to be done to provide the best care possible. They are dedicated and extremely courageous professionals." 
Filling the gaps creatively
By mid-May, Philadelphia had more than 18,200 confirmed COVID cases and 894 deaths. Social distancing measures implemented at the state level have, so far, prevented a surge that would overwhelm local health care systems, yet HUP, PPMC, and other facilities within Penn have seen a steady stream of these patients.  
To accommodate this, by late March the whole health system had set up tents outside emergency departments to triage patients, testing and sending home those with milder symptoms who could self-quarantine without risk. More severe cases, those who needed treatment from a care team, went inside. At PPMC, two intensive care units filled up with COVID patients, Ballinghoff says. 
"PPMC tends to have a higher level of critically ill patients," he says. "That's our niche, to care for a higher complexity of patient. At that time, we were seeing probably more patients on ventilators than others in the region." To minimize total interactions with suspected COVID-19 patients and to preserve critical resources such as PPE, the hospital moved fast to adjust its typical care models. 
"We looked at working in teams, clustering bedside care, to care for these types of patients and limit the exposure of the clinicians," Ballinghoff says. "For example, one nurse might go into four different rooms, a cluster of COVID patients, and his or her team members would be outside the rooms, functioning in a support role, doing the documentation, managing IV pumps. Rather than exposing two or three nurses to the patient, only one person gets exposed." 
PPMC also tapped into the expertise of its operating room nurses, who have significant experience properly putting on and taking off PPE—what's known as donning and doffing—and who couldn't fully do their regular jobs as elective procedures got canceled. 
Mattioni says she's seen the same level of innovation and spirit at HUP, with nurses volunteering to work at Princeton Medical Center, a Penn regional hospital, when that facility had a greater need or requesting education to prepare themselves to care for COVID-19 patients should the need arise. "You see a lot of nurses who really feel this is their purpose, that they can make a difference, and that they have the expertise to do it," she says. "They're caring for each other as well as their patients." 
Support for patients and each other 
For nurses, the care they provide never stops, even after treatment orders have been filled. That was true before COVID-19, Mattioni says, but has been amplified now, particularly in light of recent no-visitor policies. 
At HUP, for example, the clinical nurse specialist who runs the Patient Family Center has started conducting virtual visits. "She's having conversations with families, listening to their concerns, supporting them," Mattioni explains. "We're trying to keep our patients connected with their loved ones as much as possible." 
Luckily, the technology for such long-distance links exists and is accessible. At both HUP and PPMC, nurses on floors with COVID patients have facilitated daily video calls, and Mattioni says she's heard from families what a difference this makes. "This support has been such a comfort to them. People are very appreciative that the nurses are trying to be surrogate family to their loved ones."  
Nurses are also buoying each other. Ballinghoff describes care providers who haven't seen their children in weeks or who have found temporary housing over concerns about bringing the novel coronavirus home. "It takes a toll on you," he says. 
"That's our comfort after a really hard day dealing with death and different challenges, to go home to your family and loved ones," he adds. "In many cases, our nurses can't do that so they're serving as a support for one another." That's happening at the hospital and community level as well, with small perks like free parking and free coffee to make shifts a little easier, alongside bigger picture offerings like virtual mindfulness sessions and more in-person time with administrators, who can answer questions and listen to feedback. 
Local restaurants have donated food, too. And Penn's School of Nursing is doing all that it can, surveying faculty—many of whom are trained as clinical nurses—about their willingness to return to the hospital setting, as well as working with organizations like Tommy John loungewear to offer donations to nurses. "Tommy John donated 2,000 gifts for distribution to HUP, PPMC, and Pennsylvania Hospital nurses. Working with Health System leaders, we allocated those to nurses who are in high COVID-19 areas like the emergency department, the ICU, and general care units," says Rosemary Polomano, associate dean for practice at the nursing school. "We're looking at ways to engage other companies in giving, too."
Polomano says that "the Penn Nursing community is trying to do our part in anything extra we can for nurses on the frontline." This includes sending needed supplies and equipment to HUP and deploying Penn Nursing Psychiatric/Mental Health Track nurse practitioner students and faculty to work with the Health System Employee Assistance Program team to provide behavioral health services remotely. 
Different foe, same resolve
The word "unprecedented" has been used frequently to describe life in the time of COVID-19. Though it is unlike anything most people have lived through, School of Nursing Dean Antonia Villarruel argues what's not unprecedented is how nurses have stepped up, even once they understood that treating patients with the illness could jeopardize their own health and that of their family and even in the face of great uncertainty all around. 
"When you think about HIV, when you think about Ebola, it's nurses on the frontline who spend the majority of time with patients, who put themselves at risk," says Villarruel, the Professor and Margaret Bond Simon Dean of Nursing. "That's just what nurses do. We're not the only ones, but that's what nurses do."  
At HUP, that accounts for about 3,000 nurses; at PPMC, nearly 900.
Another 979 work at Pennsylvania Hospital, Penn's third hospital in the city.
"I'm continually amazed," says Ballinghoff, who has been PPMC's chief nursing officer since 2012. "Nurses are serving as innovators, coming up with creative ways to preserve PPE and to create workflow processes that are the most efficient for the clinical staff, while simultaneously limiting the amount of exposure that any clinician has to a COVID-positive patient."  
Mattioni, who has been HUP's chief nurse executive for about 10 months, echoes the praise. "There is no better place to receive nursing care. Penn Medicine nurses have the skills, knowledge, courage, and fortitude to care for COVID-19 patients. We are poised to make a difference, and I truly believe we will," she says. "The world is watching."
James Ballinghoff is the chief nursing officer at the Penn Presbyterian Medical Center. 
Colleen Mattioni is the chief nurse executive at the Hospital of the University of Pennsylvania.
Rosemary Polomano is associate dean for practice and a professor of pain practice at the University of Pennsylvania School of Nursing and a professor of anesthesiology and critical care at the Perelman School of Medicine.
Antonia Villarruel is the Professor and Margaret Bond Simon Dean of the University of Pennsylvania School of Nursing and a senior fellow at the Leonard Davis Institute of Health Economics.