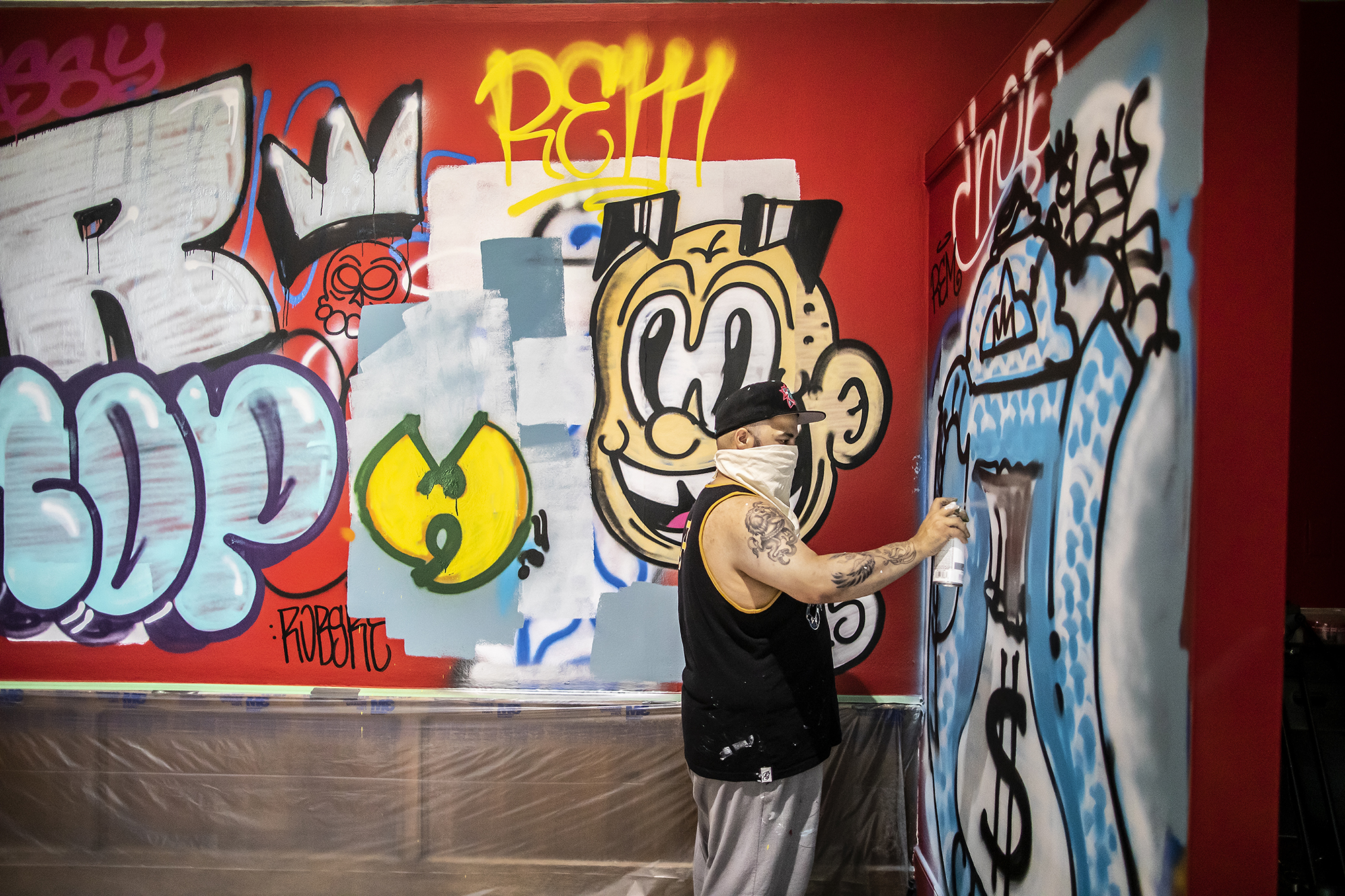 Artist Roberto Lugo grew up in the Kensington neighborhood of Philadelphia. His father, a factory worker, would ride his bike across the Benjamin Franklin Bridge to his job in New Jersey as a spray painter who specialized in powder coating. Like his father, Lugo also became a specialist in spray painting, but his expertise was in graffiti, working with his friends to make their mark on the walls of the city.
A ceramicist and social activist, poet and professor, painter Lugo's graffiti now is on the walls of the University of Pennsylvania's Arthur Ross Gallery in the new exhibition "God Complex: Different Philadelphia," on view until Dec. 19.
"It's a total departure in the way that we have traditionally presented the University collection, and I think that's very exciting," says Lynn Marsden-Atlass, University curator and executive director of the Arthur Ross Gallery. "I mean, not in my wildest dreams did I anticipate that he would ask me could he graffiti the walls. It's a great idea."
As a guest curator, supported by a grant from The Sachs Program for Arts Innovation, Lugo was asked to interpret works in the Penn Art Collection, made up entirely of objects donated to the University. Lugo was especially focused on the large collection of historic portraits, which are mostly of white men by white men.
The portraits Lugo painted on ceramic—works he created for the exhibition—are of individuals who historically would not have been featured on a luxury item such as porcelain: people of color, including himself and his family, who are of Puerto Rican heritage.
What Lugo hopes, he says, is that exhibition visitors see possibility. "When they come in here and realize not just the fact that a person of color is the maker but also that the people that I'm choosing to represent are not white men," he says, "it's not a statement against these figures at all. It's more just talking about this is what history has given us, and it's not the full story. You know, what does our full story look like?"
Lugo, who calls himself the Ghetto Potter, spoke during a virtual gallery talk and an in-person opening reception at the exhibition on Sept. 10.

Two Philadelphias
The gallery is divided by a wall with an opening in the middle.
On one side—painted the same blue of the Independence Hall room where the Declaration of Independence was signed—hang formal portraits from the 18th and 19th centuries in Penn's collection, including Benjamin Franklin, George Washington, Abraham Lincoln, and University Provost John Andrews (1810 to 1813).
On the other side, a cacophony of colors and shapes are layered upon a deep red undercoat, words and symbols and names, including Lugo's tag "Robske," and those of family and friends who taught him graffiti in the streets of Philadelphia.
Under that opening is a large ceramic, "Bridges," on a graffitied pedestal, with a portrait of Lugo's father on the side facing his artwork from the Philadelphia of today and a portrait of Benjamin Franklin facing the formal portraits from the Philadelphia of previous centuries.
"It became this centerpiece for how I would think about the rest of the work, these relationships between different Philadelphias, two really different experiences," Lugo says. "My Philadelphia exists in the same Philadelphia that Penn exists in."
Lugo has given that centerpiece ceramic to the University for the Penn Art Collection and says his father is "thrilled" about his portrait being part of the collection. "To think about my father being in Penn's collection is really inspiring for me," says Lugo. "I'm really proud of that."
Another work Lugo donated to Penn is a portrait of Rebecca Cole, the second Black woman to earn a medical degree in the United States and the first in Philadelphia, that he painted with one of his graduate students, Molly Hutter.
"I feel like it's a really great representation of what we were trying to do in this exhibition: We have a woman and a man of color painting a woman of color, and that is a much different process than I think historically has happened in art," Lugo says.
In glass cases in the center of the gallery are ceramic teapots made by Lugo for this exhibition, with portraits of pioneering Black women, among them contralto Marian Anderson, who donated her archive to Penn Libraries, and Sadie Tanner Mossell Alexander, the first Black woman to graduate from Penn Law.
On pedestals are larger pots, like "Bridges," that Lugo hand-built with coils, featuring portraits on opposite sides, like Barack Obama on one and hip-hop artist Slick Rick on the other. Some of the pedestals, painted a gleaming gold, are made from carved columns salvaged from a historically Black church once on Locust Street.
"These are my George Washingtons and my Ben Franklins and my ancestry that created all these things for me to be able to choose something like going to college for pottery," Lugo says.

A gifted collection
The Penn Art Collection has been built entirely by donations or gifts to the University since the time of Benjamin Franklin and now includes more than 8,000 objects, Marsden-Altass says. Usually, a guest curator would visit campus and go through the objects in person. Because of pandemic restrictions, she says, they instead gave Lugo access to the online database, including the 1,500 historical portraits.
"In the future I hope that when people think of Penn, they will consider gifts of more diverse artists, more women artists, more artists of color, or international artists" Marsden-Atlass says. "I think that's extremely important."
Lugo chose to include black-and-white photographs from a recent gift to the collection to hang on his graffitied walls: "Blue Horizons Gym," by Larry Fink, of a Philadelphia boxing ring, and "Don't Cry When They Lynch Me," by Bruce Davidson, from a 1962 civil rights protest.
"The curators by even inviting artists like me in many ways can be pushing the boundaries, but then on top of it to give me the autonomy, to criticize the collection and make work in response to it and acknowledge its history, I think is the kind of work that really needs to be done," Lugo says.
Graffiti as art
It was in August that Lugo, who lives in Glenside with his wife and two young sons, started painting his wildly colorful graffiti on the gallery walls.
"It's really all about representation. Graffiti is about making sure that you know you exist, and that other people know that you exist, and putting your name in all these places so that you matter, your life means something," Lugo says. "I view graffiti as an art movement of overcoming oppression. And so, for me, I think graffiti is really beautiful."
When he was doing graffiti as a kid on the streets of Philadelphia it was about putting his name on the walls, he says, but since then he has recognized the artistry involved. "There's so many layers, there's so many subtleties to the line, work to the colors, and the highlighting," he says.
Lugo didn't study art in high school and says he never expected to go to college. He was in the culinary arts program at Mastbaum Area Vocational/Technical School in Kensington. His English teacher, Mimi Barton, who encouraged him to write poetry for the school newspaper, attended Friday's opening.
Nationally recognized
Now an assistant professor of ceramics at Temple University's Tyler School of Art, Lugo holds a bachelor of fine arts degree from the Kansas City Art Institute and a master's of fine arts from Penn State University. The winner of numerous awards, including a 2019 Pew Fellowship, his work is in the collections of art museums throughout the country, including the Philadelphia Museum of Art, where he was included in the "New Grit: Art & Philly Now" exhibition earlier this year.
Lugo has a solo exhibition currently at the Currier Museum of Art in New Hampshire, "Te traigo mi le lo lai – I bring you my joy." In October Philadelphia's Wexler Gallery, which represents Lugo, will have a "pop up store" of graffiti artists. His work will also be featured in New York's Metropolitan Museum of Art exhibition "Before Yesterday We Could Fly: an Afrofuturist Period Room" opening Nov. 5.
Several Penn history of art professors are planning to incorporate the Arthur Ross Gallery exhibition into their courses this fall, Marsden-Atlass says, and she expects other faculty will as well. A series of events with the artist is planned. And the Gallery team is planning to create a virtual tour for their Engaging Minds Through Art program to share with elementary schools that would have usually come in person but can't this year due to pandemic restrictions.
And perhaps it's a good idea to capture the graffiti on film. "It will have to be painted over for the next exhibition," says Marsden-Atlass. "It's ephemeral."
Update: The Arthur Ross Gallery exhibition was featured in an Oct. 3  "CBS Sunday Morning" broadcast about Roberto Lugo and his work.