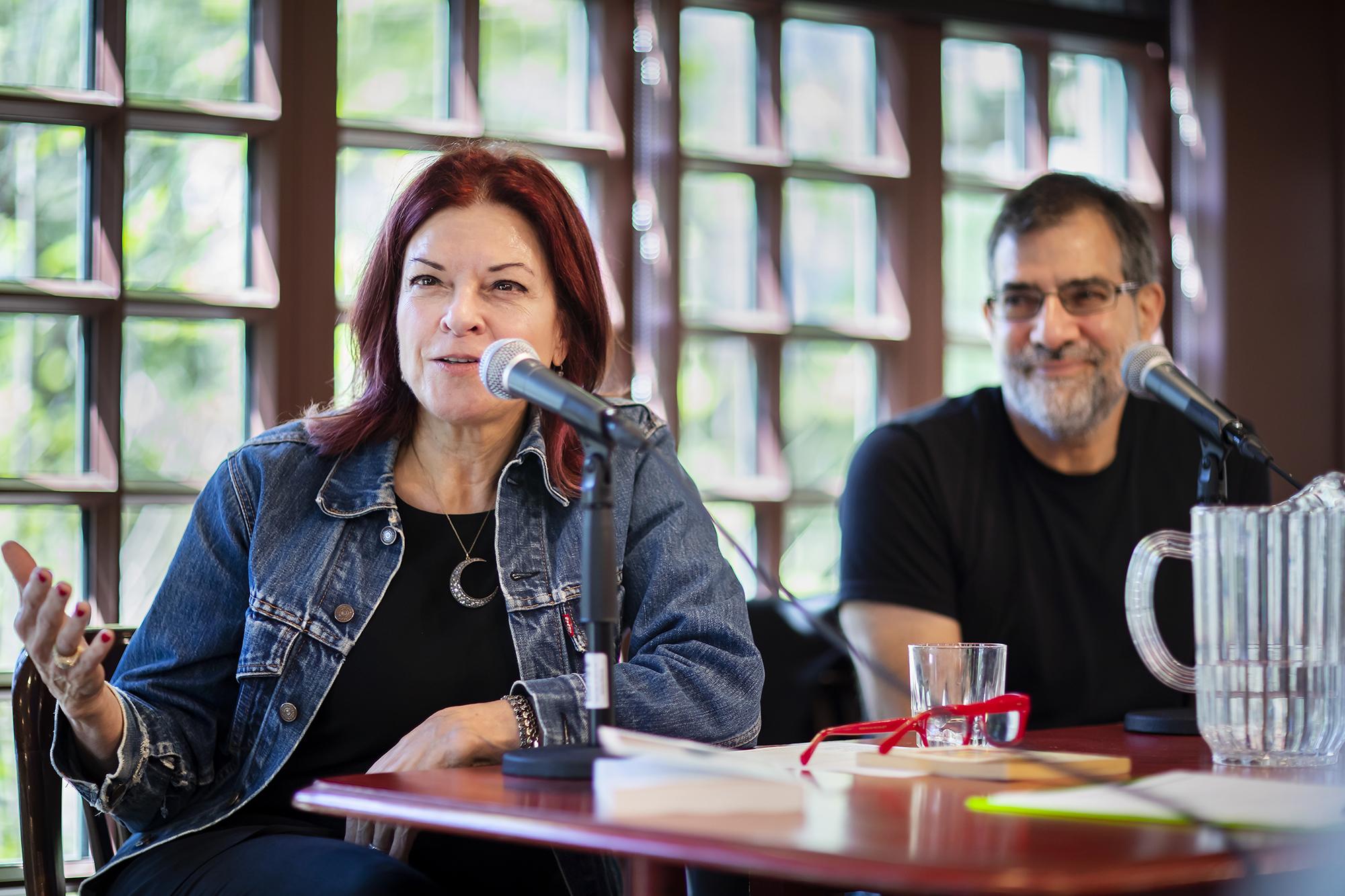 Settling in with her guitar in front of a packed Kelly Writers House, singer-songwriter Rosanne Cash said, "I think I should just start with a song," setting the tone as she sang her very first No.1 hit, "Seven Year Ache." 
Cash wrote that song in the early 1980s when she was 22 years old, about the same age, she noted, as the Penn students she had been with all afternoon, sharing her thoughts on her lifetime of writing.  
She was on campus this week as an invited Writers House Fellow, featured in a course taught by English Professor Al Filreis that focuses on three eminent writers each spring semester.  
"To have these young people reveal my body of work to me and to make these connections I never have has really left me somewhat shaken, but in a really beautiful way," Cash said to more than 100 people at the Monday night event, including the 13 students and two teaching assistants in the course. 
"I thank them for their inspiration and sensitivity and attention to detail," she said. "That in itself was inspiration for me."
An intense examination of an entire body of work is at the heart of the Fellows program, celebrating its 20th year, along with gathering students together in a personal conversation with the eminent writers. 
"After 20 years of Writers House Fellows, I am still beyond thrilled at the combination of learning and public programming at the heart of this project," said Filreis, who is also faculty director of Writers House. "For me, as a teacher, it's a fun challenge: how to select, and then how to teach, three usually very different famous artists."
Cash is the third in this year's lineup, following fiction writer John Keene in February and poet Mei-Mei Berssenbrugge in March. The inaugural program was in 1999 with one Fellow, literary journalist Gay Talese, but since 2000 has featured three each spring. Only one Fellow has come more than once, the late poet John Ashbery, in 2002 and 2012. 
A Grammy-award-winning recording artist, Cash came to Writers House in 2007 as part of the Blutt Singer-Songwriter Symposium, which focused on her music and songwriting. Through the Fellows program, students studied all of her creative work, lyrics, albums, and music videos, and also her memoir, short stories, essays, poems, and many articles in the press. 
"Rosanne has worked in so many different genres. I feel like our class is uniquely set up to cover her as an artist because we take such a deep, wide look," said Lily Applebaum, coordinator of the Fellows program and a teaching assistant in the course. "We were able to see her multi-perspective view." 
The students plan each Fellow's two-day visit, beginning with the Monday class seminar, which includes a short snack break with a spread of foods chosen from references in their writing. For Cash there were cherry tomatoes, blackberries, and homemade baked goods, said Quinn Gruber, a freshman from Cortland Manor, New York, who is studying English and Italian. 
"I enjoy compiling the lists of foods to find. I find it is interesting kind of lens to take and really kind of look at the work in different ways, also searching for that kind of reference in the text in a theoretical and thematic way," Gruber said, noting that they found the choices throughout Cash's memoir, short stories, and song lyrics.
"We talked about how songwriting is sometimes considered, falsely, as an 'inferior' form of writing, but it requires as much depth and thought as other forms, so it was nice to give songwriting the attention it deserves," Gruber said. 
Listening to her songs was part of the required preparation. "Her voice has been in the background of my life for over a month," said junior Brian Schmitt, a politics, philosophy and economics major from South Salem, New York. 
"We are literally reading everything by these people," said Schmitt, who is also a creative writing minor. "In this class you get this rare chance to truly discover a person and their thoughts and beliefs, and that is amazing." 
The three-hour class discussion was the best part of the experience for him, he said. "Being able to have a genuine connection with someone that you look up to and care about because you have been reading their work is incredible," he said. "It is almost hard to vocalize what it is like to really meet someone like that and really hear them out." 
Filreis says the authors are always "impressed and charmed" by the students during the afternoon class session, sometimes even "overwhelmed and brought to tears" by the depth of the conversation. "Rosanne Cash was brought to tears twice during our seminar discussion—once when she realized that the articulateness and thoughtfulness of the students augured well for the future," he said. 
Sophomore Elizabeth Lemieux, an English major and creative writing minor from Gorham, Maine, said that the openness of the discussion with Cash was important to her, too. "It legitimizes what we do as a student. It's not on the 'Can you sign this for me?' level. We talked talk about process and how we generate material," said Lemieux, who introduced Cash on Monday evening. 
"I felt powerful parallels between what she has created and what I aspire to create for myself. I discovered we both have the same way of beginning, with exceptional language and a resonant image, to which we return over and over," she said in her introduction. "What we return to clarifies who we are."
Cash said she was surprised at how closely her work was considered by Filreis and the students. "It's so humbling to hear you take these lyrics so seriously," she said. "A lot of people listen to lyrics and they just hear the melody, but it is very serious to me."
Putting on bright red glasses, Cash read from several works, including her memoir, "Composed," and interspersed the passages that described her life by singing several songs that did as well.
Asked about her writing process, she said she had explained to the students that afternoon that she loves deadlines, forces herself to get the words down on paper, and no longer worries about writer's block. "I don't write; I am a writer," she said to applause. "So even when I'm not writing I'm still a writer, and it will come back."
She described a seventh-grade school project on similes and metaphors that she found in a box of keepsakes, saying that even then she was "a writer in love with language." One metaphor she carefully wrote out as a middle schooler became a key lyric in one of her songs, which she started to sing at that moment, "A lonely road is a bodyguard," adding, "This one line in this one song is how I know who I am and how I know I survived."
After the public appearance on Monday night, the Fellows author typically joins a family-style meal cooked and served by the students at the Writers House. The next day, along with brunch, the writer joins Filreis for a public one-hour interview.
Calling her writing "marvelous," Filreis singled out three metaphors from the first stanza of title song of her new album "She Remembers Everything," which the class studied closely, referencing the traumatic split from girlhood to early womanhood. "Who knows who she used to be before it all went dark. Was she like a streak of fire, a pane of glass, a beating heart?" And he compared the metaphors to language in her latest work, a volume of illustrated poetry, "Bird on a Blade." 
"The birds who sing, that's me," Cash said, noting that various birds appear throughout her writing. In fact a bird is in a lyric the class chose to have imprinted on a broadside created by Penn's Common Press. "I'm the sparrow on the roof. I'm the list of everyone I have to lose."  
Family is a constant thread through her writing, including her famous father, Johnny Cash, and her grandmother, Carrie Cash, a farm wife who had seven children. Johnny's brother Jack died at 14 in an accident—a death that "informed my father's work and deepest wounds for the rest of his life," she said. 
"All of his wounds resonated from that original one," she said. "In some ways I think that is what his audience responded to, the resonance of that grief and the melancholy that played out in his music always for the rest of his life."
The connection to family continues for Cash as she thinks about what she will leave for her children, what they will carry forward, what will last for them. "I am starting to think about it as a body of work," she said. "Those things are filtered through my children in my mind. What will they think? What will they know? What will they treasure?"
Thinking about mortality, she said, is not a morbid occupation. "It can be inspiring.  It can create urgency to do that work and find that redemption."
Al Filreis is the Kelly Professor of English, faculty director of Kelly Writers House, and director of the Center for Programs in Contemporary Writing.