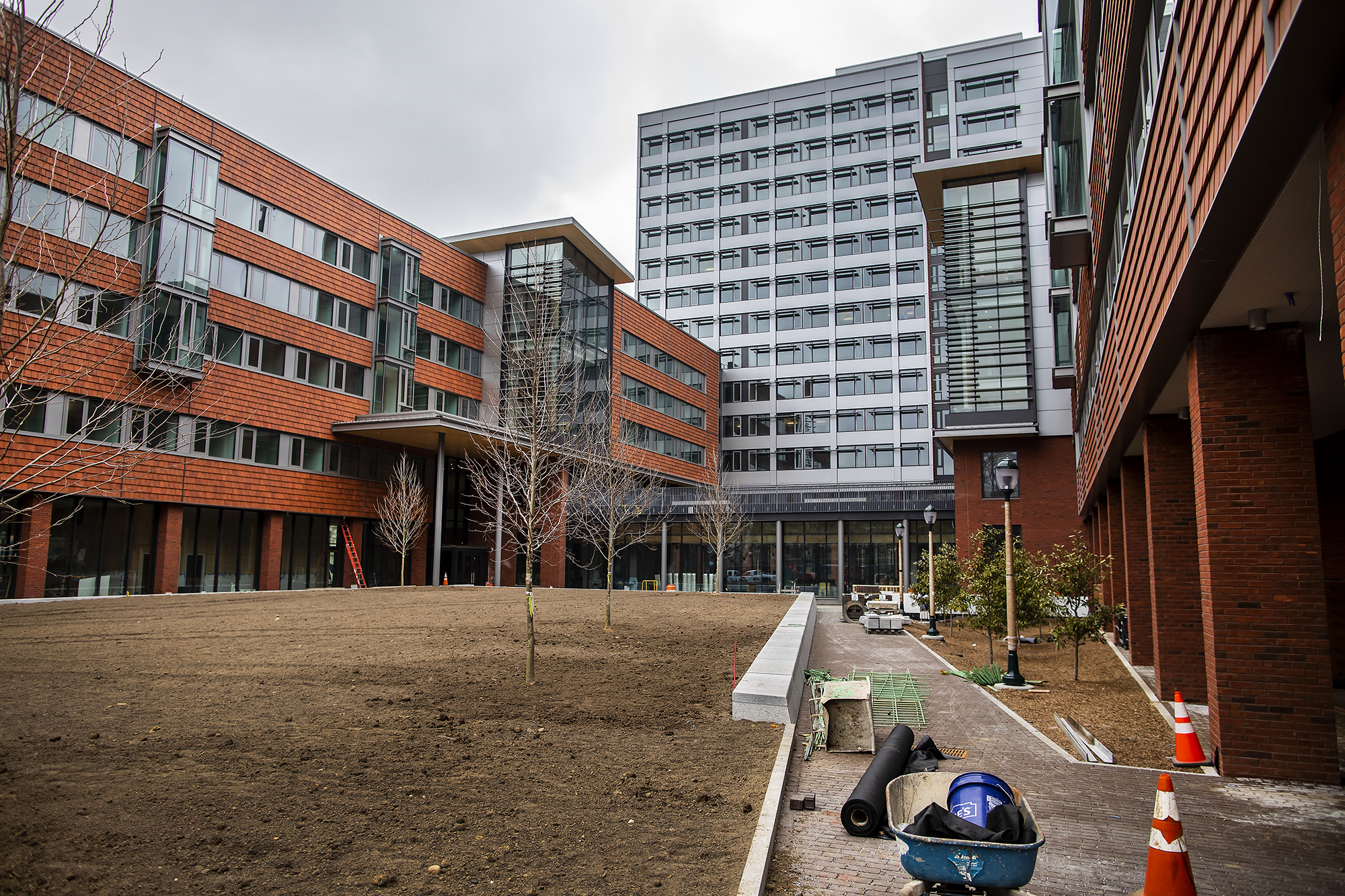 As Penn students begin to make selections for campus housing for the fall, they have a new option to consider. With rich red terracotta tiles on the outside and warm golden maple cabinetry on the inside, Penn's New College House West is in the final months of construction, scheduled for completion in August.  
Construction on Penn's newest College House started in January 2019 at Walnut and 40th streets, and is chronicled on time lapse. It has 430 beds and will house sophomores, juniors, and seniors in 98 suites with two, four, five, or six single rooms. A 13-floor center tower is flanked by two five-floor wings connected by glass-enclosed passageways, encompassing an open green space facing Locust Walk, with rain gardens and many of the more than 200 trees recently planted on the property.
Features include an expansive first-floor common living room with a wall of windows that looks out over Walnut Street on one side and a landscaped interior courtyard on the other. Adjacent is a project space for collaborative studying, as well as two seminar rooms. Other special areas include a fitness room, a meditation room, three music practice rooms, and eight club rooms with community kitchens.
A dining area with a view of the green lawn features the Quaker Kitchen, an open kitchen with an open counter designed as an educational and demonstration cooking space. A coffee bar and multipurpose room is accessible from 40th Street just past the Philadelphia Public Library on the corner.
The New College House West director is Trina Sokoloski. She started at Penn in 2015 as director of Hill College House and opened the first New College House at 34th and Chestnut streets, later renamed Lauder College House, in 2016. She will lead the team of students, faculty, and staff in managing the new House, in partnership with Faculty Director Amy Stornaiuolo, an associate professor in the Graduate School of Education. They are now reviewing applicants for two faculty house fellows, as well as undergraduate and graduate resident advisers. 
"It's exciting to think about creating our new home space. But it really doesn't become a home until the students move in," Sokoloski says. "The students who are looking for housing and want to live there will have a really great opportunity to be a part of history." 
Penn Today spoke with Sokoloski as she prepares to move into her new role as director in her new home.