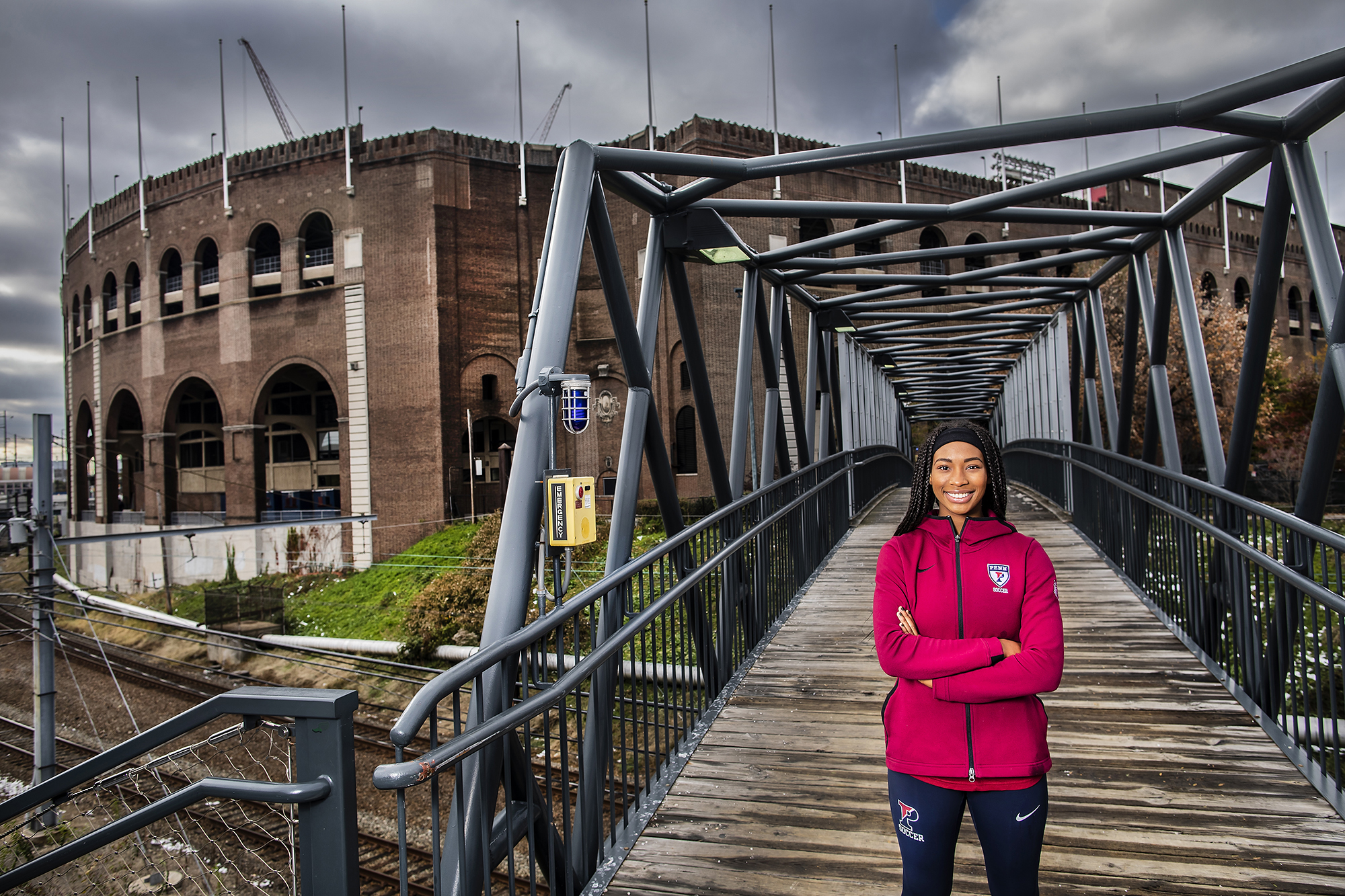 The Ivy League co-champion women's soccer team trailed just two times all season, and allowed only five goals in 16 games. Stalwart defense is a big reason the Red & Blue finished with a 13-2-1 record and amassed a 12-game unbeaten streak.
From the center back position, captain Camillia Nwokedi was a key cog in the Quaker defense, which led the country in goals-against average (0.304), save percentage (0.924), and tied for the best shutout percentage (0.750).
The conference recognized Nwokedi, a senior in the Wharton School from Burbank, Calif., for her unparalleled play with its Ivy League Defensive Player of the Year award. She is also a First-Team All-Ivy selection.
Penn Today caught up with Nwokedi at Penn Park to discuss the women's soccer team's triumphant season, playing defense and her Defensive Player of the Year award, her play-sister Michelle, and her plans post-graduation.
Congratulations on your Defensive Player of the Year award. How does it feel to be honored? It was awesome. It wasn't anything I was expecting. It's really hard to measure a good defender versus a good forward. Sometimes it's hard for me to measure if I had a good game so to get this award was just awesome. It was just a great way to go out senior year. 
Defense isn't something that stands out in the soccer box score, aside from the number of goals allowed. How do you measure if you had a good game? My metrics are, did I shut my forward down? Did I win my individual battles? Did I win my 50/50s in the air? Am I clearing it past the lines? Am I winning my tackles? Am I connecting my outlet passes?
Are you assigned a particular player to guard? You're not man-marking, usually. You usually know who your marks will be as the play progresses and as the game shifts. But what forwards love to do is switch runs, they love to switch sides mid-game to see which defender they have a better shot of beating. Someone might have a one-on-one with another player that they specifically know that they're matched up with, and it's usually because of height.
Being tall is helpful when playing defense? I'm not the tallest so I'm not usually matched up with the taller girls. I'm pretty good in the air so that is to my benefit. You don't have to be the tallest on the team to be good in the air.
What is "good in the air"? Is that when you jump in the air and hit the ball with your head? Yes, just making sure that you can get up and challenge for those 50/50s. Even if your vertical is just like an inch higher than the other girl, it gives you a real advantage to winning the ball.
Tell me about the season. The season was the most fun, most dynamic season that we've had yet. I think it was a long time coming. We put in a lot of work in the spring, as well as years past, just building chemistry with the team and I think that translated really well to the field. We played a really great preseason, which gave us a lot of confidence coming into the season. Obviously, we had a lot of success this year, but it really broke down into doing all the right things off and on the field, so coming into practice every day with the mentality of getting better, and then making sure that we took care of school so that we can get the proper sleep and nutrition. I think that all together culminated into this great season.
Can you talk about the importance of proper sleep? Two days before a game is what we highlight as the most important time to get a really good night's sleep. And then obviously just from a diet standpoint, eating the right things, making sure we had at least two to three big water bottles a day was really important because that helped a ton with the recovery aspect. We're doing a lot on the field so the sleep, and the diet, and the water really played a role, and just making sure that we can push ourselves each day and that we weren't burning out.
Are you related to…Michelle? [Nwokedi, a former superstar on the women's basketball team].
Yes. I get this all the time. We're actually not related. We're both Nigerian and Nwokedi is actually a really common last name. She's like the most incredible person/athlete so I always say I'm her sister when people ask, but no I'm not, unfortunately.
Do you know what you want to do when you graduate? I'm going to be consulting in Philadelphia at Accenture, hopefully in industries like consumer goods, retail, communications, media, and technology. I'm really into artificial intelligence and virtual reality and the beauty industry.